Commercial Mixer Buying Guide
Commercial mixers are some of the most useful and versatile pieces of equipment you can invest in! With numerous innovative features and attachments from belt drive systems to bowl guards, our mixers will be a vital asset for any commercial kitchen. To aid in selecting the perfect mixer, we even have a mixer sizing chart to break down the mixer size needed for various types of mixing jobs. Whether you're a pizza shop that mixes hundreds of pounds of dough a day, or you're a restaurant that only needs to make mashed potatoes once a week for a dinner special, we have the right commercial mixer for you!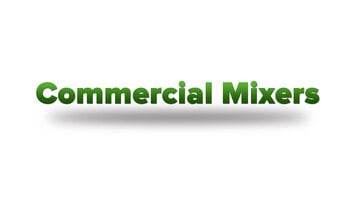 Commercial Mixers
Considering the purchase of a commercial mixer for your business? Check out this short video to find out about different types of commercial mixers and what features work well for different applications.
Mix, Knead, Beat, and Whip Foods with a Commercial Mixer
A commercial mixer is a necessary piece of equipment in any bakery, restaurant, pizzeria, or other establishment that makes dough and batter in-house. These items are used to make food preparation tasks, like mixing batters, whipping eggs, kneading dough, and making icing, much easier. Plus, by using a commercial stand mixer, you can complete these tasks more quickly than if you did them by hand.
Our selection of mixing units includes options of different styles, so you're sure to find the best commercial mixer for your specific needs. Use a countertop mixer in your lower-volume establishment, or check out a commercial stand mixer for your higher-volume needs. You'll also find floor models that are best suited for heavy-duty applications.