How to Start a Snow Cone Business
Last updated on 4/22/2022
Starting a snow cone business is an appealing venture because it has the potential to be very profitable. Shaved ice and snow cones have a high markup, which means each sale produces a large profit. Similar to other concession stand businesses, the low startup costs and low overhead make snow cones a great opportunity for a first business or supplemental revenue stream. If you're interested in selling snow cones, our step-by-step guide will help you get started.
Shop Snow Cone Machines
Click below to learn how to start a snow cone or shaved ice business:
How Much Money Do Snow Cone Stands Make?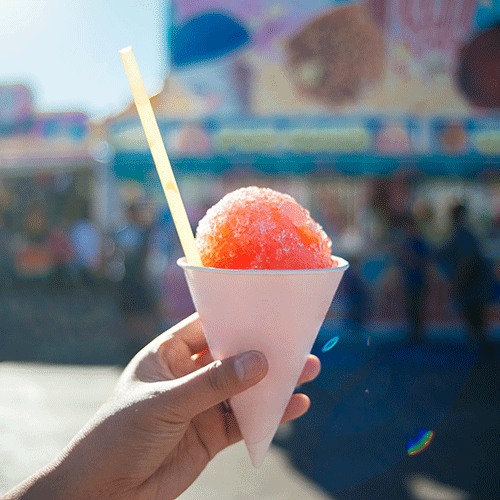 It's reported that snow cone booths and shaved ice businesses have the potential to earn $100 to $2,000 in sales a day. This is a wide range because the location of your shaved ice business and the selling season play a large role in profitability. It's much easier to examine the profit margin of the actual product to get a sense of how much money you can make by selling shaved ice.
Snow Cone Business Profit
Why is shave ice so profitable? The cost of goods sold is very low and the markup is high, so each sale puts more money in your pocket. Here is an example that breaks down the cost of goods sold per 6 oz. snow cone:
Snow cone cups or cones - $.05
Snow cone syrup - $.06
Ice - $.03
Napkin - $.01
Total cost per snow cone - $.15
Cost of goods sold per 12 oz. shaved ice:
Shaved ice - $.09
Shave ice syrup - $.17
Foam cup - $.07
Spoon - $.03
Napkin - $.01
Total cost per shaved ice - $.37
Note: To calculate the actual total revenue per snow cone, you also need to factor in your equipment and startup costs. But when each snow cone is sold for $2.00 to $4.00, the margin is still very high.
---
Starting a Snow Cone Business
Whether you call them snow cones or snow balls, these icy desserts are a popular treat all over the country. Read through our guide to learn the important steps of starting your own sno-cone stand.
1. Choose Your Snow Cone Concept
If the high profit margin has convinced you that a snow cone business is right for you, it's time to work on your concept. What type of snow cone business do you want to open? First, decide whether you want to sell snow cones or shaved ice.
Shaved Ice vs Snow Cone
These two frozen desserts have some key differences. Snow cones are made from coarse flaked ice and are usually served in cone-shaped cups. Shaved ice, also called Hawaiian ice, is made from fluffy shaved ice and served in a larger foam cup. Choosing which product you want to sell will help to determine your concept. Snow cones work well at small carnival booths and concession stands, while shaved ice tends to be better for permanent booths or food trucks.
Snow Cone Name and Logo
It's best to come up with a name and logo for your shaved ice business early on. That way you can customize your snow cone supplies for better brand visibility. You'll also need to list your business on Google My Business so that customers can find you!
---
2. Snow Cone Business Model and Location
One of the great aspects of running a snow cone business is that there are several business models to choose from. Many entrepreneurs start with one snow cone stand and then eventually upgrade to a permanent location. Check out some of the options:
Mobile Cart - Snow cone carts combine a snow cone machine with a mobile merchandising cart. They're compact machines, but they have space for everything you need to make snow cones. If you're just getting started with snow cones, this is an affordable option that you can take to carnivals, fairs, and farmer's markets.
Permanent Booth - All it takes to set up a stationary booth at an event is a folding table and a shaved ice machine. If you're looking for something more permanent, booths can be rented out at boardwalks, stadium concessions, and farmer's markets.
Food Truck - A snowball food truck can be just as popular as an ice cream truck on hot summer days. With a food truck business model, you have the flexibility to travel to residential neighborhoods, parks, and events.
Brick-and-Mortar Shop - A permanent storefront is the most costly option when it comes to opening your shaved ice business. You'll have to account for rent and utilities, which adds to your expenses. Instead of jumping into opening a brick-and-mortar shop right away, it's wise to start with a mobile cart or stand.
Year-Round or Seasonal
Snow cones are a warm-weather treat, which means that the best selling season is during the summer unless you operate in a state like Texas or Florida. Year-round sunshine and high temps allow you to operate during all four seasons. These are factors to take into consideration when you're deciding on a mobile vs permanent location. A year-round, permanent storefront will face greater challenges in a state like Pennsylvania or Maryland, where the summer season only lasts from Memorial Day to Labor Day.
Back to Top
---
3. Write a Snow Cone Business Plan
Business plans seem intimidating, but they aren't as complicated as you might think. A good business plan outlines your concept, your goals, and how you'll make a profit. If you plan to open a storefront, you'll most likely need to obtain financing, so a business plan is essential. But if you're starting with a small snow cone stand or a mobile cart, the business plan can simply serve as a tool to help you stay organized.
Every business plan is divided up into sections that look something like this:
Executive Summary - This section should come first in your business plan, but it actually helps to write it last. It's a summary of all the other sections that follow.
Company Overview - This overview is where you should go into more detail about your business. Why do you want to open a snow cone stand, and what's your mission statement?
Concept and Menu - Cover your business concept and the types of snow cones or shaved ice products you'll be selling. Maybe you have your heart set on a large menu of flavor combinations and toppings. Or you can keep it simple with four popular syrup flavors.
Management and Ownership Structure - If you'll be operating your shaved ice business on your own with no employees, this section should be short and sweet. But if you plan to grow your business in the future, you can outline your plans for what that management structure will look like.
Staffing Needs - Just like above, you may not need employees right now. But if your goal is to expand the business in the future, it helps to lay the groundwork for how many employees you will need.
Competitor Analysis - Use this section to outline your target customers and analyze any competing snow cone businesses in your chosen location.
Advertising and Marketing - What types of advertising will you use for your snow cone stand? Don't forget about social media platforms as a low-cost option for gaining more visibility for your business.
Financial Summary - The financial section of your snow cone business plan should provide a clear breakdown of your total start-up costs, overhead expenses, and profit margin. Provide a forecast of your projected profits as well.
---
4. Snow Cone Stand Startup Costs
On average, the total cost to start a snow cone stand is reported to average between $4,000 to $10,000. As far as new businesses go, there are few barriers to entry with a snow cone stand. Startup costs are low, and you may be able to fund the whole venture on your own.
If you plan to open a brick and mortar storefront, you can expect startup costs similar to any new restaurant. Snow cone stands, mobile carts, and even food trucks are more affordable than leasing or buying your own commercial space.
These are some of the major expenses you'll incur when you open a snow cone stand:
Snow Cone Machine - Entry-level snow cone machines or ice shavers can be found for $600 or less. Check out some of the best snow cone machines and compare prices.
Snow Cone Cart - A snow cone cart can be purchased for less than $1,000. This is the most affordable option, and many carts include the snow cone machine.
Vending Tent - High-quality carnival tents can be secured for $1,000 to $2,000. A simple canopy tent is $200 to $300.
Snow Cone Food Truck - If you decide to go the food truck route, your startup costs will be similar to any food truck or mobile trailer business. A small concessions trailer could cost as little as $10,000 while a custom food truck could run from $50,000 to $150,000.
Back to Top
---
5. Snow Cone Stand Permits and Licenses
Even if you're opening a small snow cone stand, you still need the required permits and licenses to operate legally. Snow cones and shaved ice desserts are considered food products, so you need the same permits as any foodservice business.
What Permits are Needed for a Snow Cone Stand?
Here is a list of the basic permits you'll need to start your snow cone stand:
Business License - A business license is required for all new businesses to operate legally.
Employer Identification Number (EIN) - Your Employee Identification Number is registered with the IRS and permits you to hire employees.
Food Service License - Just like a restaurant, you must obtain a food service license that shows your snow cone cart or food truck is inspected by the local health department and is safe to operate.
Food Handler's Permit - Most states require at least one individual working at your business to complete a food safety course and obtain a food handler's permit.
Special Event Permits - When you sign up as a vendor at special events like festivals or fairs, you'll need a permit to sell snow cones on the property.
Parking Permits - If you operate out of a trailer or food truck, you'll need the right parking permits.
For a complete list of the permits and licenses required to run your business, follow up with your local regulatory authority.
---
6. Snow Cone Equipment and Supplies
You don't need many supplies to get your snow cone business up and running. Other than a snow cone machine or ice shaver, you'll need a supply of ice, flavoring syrups, and serving supplies. The simplicity of making snow cones keeps the cost of goods sold very low.
These are the snow cone supplies you'll need to get started:
Ice Shaver or Snow Cone Machine - A snow cone machine is designed to make crushed ice for holding, while an ice shaver creates fluffy snow-like ice to order.
Flavored Syrups - Keep it simple with four basic flavors (cherry, blue raspberry, grape, watermelon) or offer a variety of flavors and combinations. Some popular combos are tiger's blood (cherry + strawberry + coconut), chocolate covered cherry (cherry + chocolate), and pina colada (pineapple + coconut). You'll also find some flavors are regional favorites, like egg custard.
Ice - Snow cone machines take bags of cubed ice while shaved ice machines can take ice blocks.
Toppings - Depending on the regional preferences in your area, you may want to serve toppings on your shave ice. In Maryland, it's a popular tradition to add marshmallow topping to snow balls.
Cones or Cups - If you want to test the waters, start with 6 oz. cones and offer one size. Or maximize your revenue with foam cups and offer small, medium, and large sizes. The extra ice and syrup for larger sizes cost pennies, but you can charge a couple of dollars more.
Spoons and Napkins - You'll need to keep your snow cone cart stocked with long plastic spoons and napkins.
Back to Top
---
7. Find Events for Your Snow Cone Stand
Now that you've invested in a shaved ice machine or snow cone cart, you're ready to start selling summertime treats! Many of your potential customers associate snow cones with nostalgic memories, happy times, and fun warm-weather activities. Park yourself at the right event and snow cones practically sell themselves.
Public events
With a mobile snow cone business, there's no limit to where you can go. These are some of the public events where snow cones are a big hit:
Beaches and Boardwalks
Public Parks
Skate Parks
Arts Districts
River Walks and Pedestrian Walking Paths
Sporting Events
Outdoor Flea Markets
Farmer's Markets
Festivals
Carnivals and Fairs
Private events
Don't forget about private opportunities! You can charge a flat fee to sell snow cones at these private events:
School Events
Birthday Parties
Weddings
Family Reunions
Summer Holiday Parties
Work Picnics
---
Now that you know the basics of starting a shaved ice business or snow cone stand, you're ready to start making a profit. Low startup costs, low overhead, and the opportunity to work outside in the sunshine are some of the factors that make snow cones so appealing.