Shipping Tips for Small Businesses
Last updated on 8/04/2022
Large companies lure people with fast, free shipping, but the modern, values-driven consumer prefers shopping small. If you can offer the same speed, efficiency, and convenience as bigger brands, you can run a successful e-commerce business. Use our shipping tips for small businesses to outperform online retailers and expand your reach.
Shop All Shipping Supplies
Navigate to the small business shipping information that interests you:
Small Business Shipping Tips
Use our small business shipping tips to save money, protect your products, and create a social media-worthy unboxing experience.
Establish a Business Shipping Account - Many shipping companies offer expense tracking services, online tools, and discounts when you set up a business account with them.
Include Padding - Padding protects your products. There are numerous packing material options, including environmentally friendly solutions, so choose one that works best for your business.
If Applicable, Add Insulation/Cooler Packs - If you're shipping baked goods or other perishables, you must line the box with reflective, insulating material and add freezer packs to keep them cool during transit. Freezing the item itself before you add it to the box helps preserve it.
Add-Ins - Add-ins encourage repeat sales. Consider including a free sample of a different product, a printed postcard of your brand values, or a recipe to go with your food item.
Handwritten Note - A handwritten note thanking the customer for supporting your small business makes them feel good about shopping with you over a larger company. Personalize 4" x 5" cards with your logo on the front and leave the back blank to write messages.
Flat-Lay - Your shipping box is the e-commerce equivalent of a window display. Carefully lay out your products, inserts, and packaging materials to tell your brand story. Create a clean background, add pops of color, and highlight the most important features.
Purchase a Thermal Label Printer - Thermal label printers save time by allowing you to print off the labels your shipping service provides. Many thermal label printers connect to laptops via an adaptor or Bluetooth. Once printed, place the label with maximum visibility in mind.
Brand Your Box - You can either custom order branded shipping boxes, or you can print a branded logo to display on your box. If customers can identify your package as soon as it arrives, it will build their anticipation and excitement. If your product is perishable or temperature sensitive like chocolate, branded boxes prompt customers to open and/or refrigerate goods upon arrival.
Use a Shipping Broker - You can secure the best shipping rates by using a shipping broker. A shipping broker secures bulk shipping rates and makes the discounted rates available to their customers.
Invest in Insurance and Tracking - Insurance and tracking provide recourse if your product is lost or damaged. UPS and USPS priority offer complimentary coverage up to $100.
Remember Customs and Declarations Forms - If you're shipping products internationally, you must include customs documentation forms. You can find these at the post office or on your carrier's website. Check with the US postal service to confirm which forms and labels your international shipment requires.
Be Selective About Which Shipping Services You Offer - If you're shipping chocolate or another heat-sensitive item, suggest the best service for the customer's order. You should deny any shipping option that would lead to your customer receiving a ruined product.
---
Best Shipping for Small Business
From free shipping to flat rate shipping, there are a lot of shipping options for small businesses. Whichever you choose, providing transparent shipping prices throughout the purchasing process is vital to your success. According to a Statista study, stores lose over 75% of sales from cart abandonment, and the number one reason for cart abandonment is unexpected shipping fees and high shipping costs. We explain the pros and cons of five different shipping options for small businesses so you can decide how to price your shipping service.
How to Offer Free Shipping for Your Small Business
To prevent customers from abandoning their cart when they see the shipping costs, many businesses choose to offer free shipping. But as your mother may have told you, there is no such thing as free! Either you or your customer will pay for the "free shipping." This leaves you with three options: you can increase the price of your products to cover the shipping, you can pay the shipping fees out of your margin, or you can split the cost of shipping with your customers by raising your prices to cover half the shipping.
Building shipping into your pricing structure and offering "free shipping" on all your products results in some wins and some losses, but it usually evens out. If this isn't a viable option for you, consider offering free shipping when the customer spends a certain amount. Choose a price above your average order value that will offset your margin of loss. Free shipping as a reward for high-priced orders encourages patrons to try more of your products and provides the profit margin you need to cover the shipping fees.
How to Offer Flat Rate Shipping for Your Small Business
Small businesses can offer flat rate shipping by charging the same fee for all orders regardless of their weight and size. Like free shipping, flat rate shipping eliminates surprises. Choosing a flat rate shipping fee that allows you to break even can be challenging. Flat rate shipping is most viable for businesses whose products fall within a similar weight and size range. For example, if you operate a coffee roastery and can predetermine how much it costs to ship your bags of beans or coffee subscription service, flat rate shipping could be perfect for you. However, if you sell handmade household goods ranging from teapots to tables, it will be difficult to produce a flat rate shipping fee.
How to Offer Real-Time Shipping for Your Small Business
You can offer real-time shipping for your small business by connecting customers to courier providers and showing them real-time shipping costs based on their order's destination, volume, and weight. This puts the patron in the driver's seat. However, if the customer doesn't like any of their options when they go to checkout, they're more likely to abandon their cart. To avoid this, consider providing a matrix rate shipping calculator on your product page. A matrix rate shipping calculator lets the customer enter their location and then estimates their shipping expenses for them.
Matrix Rate Shipping Equation: shipping cost x weight x cart value x destination = the matrix rate shipping fee
How to Offer Same Day Delivery for Your Small Business
Given the speedy shipping times of companies like Amazon, offering same-day shipping will help you compete with the industry's giants. While most major carriers provide local same-day delivery, you can also use third-party delivery services. Uber now offers Uber Direct, which employs its network of drivers to move goods from supply chain locations and deliver them to customers. Another great option is Roadie, a UPS company that uses a crowdsourced logistics platform that offers same-day delivery of any item to over 90% of American households.
If you have a storefront, make same-day pickup free. Free in-store pickup attracts delivery-fee wary patrons and lures online customers into your business, often leading to additional sales. If most of your clients are local, staffing and training delivery drivers could be worthwhile. Consider setting up an in-house delivery service to avoid third-party fees or shipping expenses.
How to Offer Drop Shipping for Your Small Business
A drop shipping service provides warehouse access and manages inventory and fulfillment for you. It is an offhanded way for retailers to fill orders. Rather than manufacturing the products they sell, companies that use drop shipping send orders placed on their site to their network of suppliers. The supplier contacts the warehouse nearest the customer, and ships their order to them. If you produce your products, then drop shipping isn't for you.
Back to Top
---
Best Shipping Company for Small Business
There are many shipping companies to choose from, but what is the best shipping company for small businesses? Some shipping companies offer better shipping rates for small businesses than others. From the best-known shipping companies to smaller providers, we explore popular shipping services and what they offer to small businesses below.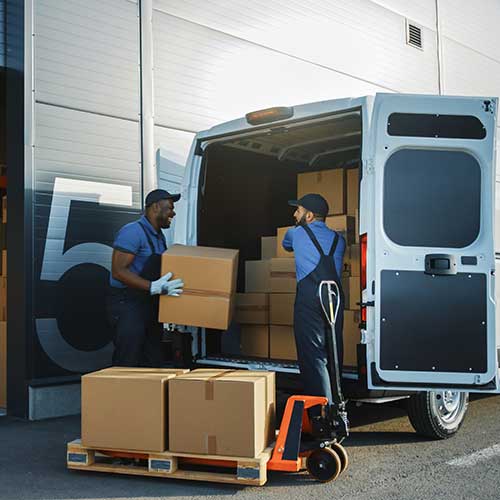 USPS Small Business Shipping
USPS shipping rates for small businesses are discounted, and they also offer loyalty credits to small businesses. If you operate a cottage food business, the home pickup service USPS provides makes them a convenient choice for small businesses that ship from home.
Free API so you can integrate shipping tools to your website
Home pickup
Loyalty credits
Volume-based discounts
Free package pickups
Direct mail marketing and advertising assistance
2-8-day average delivery timeline
FedEx Small Business Shipping
If you're looking for a fast-shipping option, then FedEx is perfect for your small business shipping needs. FexEx makes standard home deliveries on both weekdays and weekends, increasing their shipping delivery time by two days compared to other popular carriers.
Weekend deliveries
An e-commerce center that aids in online business development
Annual small business grants
Administrative support
Educational blog and podcast
Shipping cost calculator
Ground transit map
Custom boxes and inserts
UPS Small Business Shipping
UPS is ideal for small businesses that ship large packages. Their large flat rate box shipping price begins at just $18.40. UPS offers discounted shipping rates for small businesses as well.
Large flat rate boxes start as low as $18.40
Their eFulfillment portal provides a cloud-based tool that helps you store and ship products across multiple platforms
Discounts for small businesses
Tracks and manages shipping expenses
Overnight, international, same day, and group shipping options
Sendle Small Business Shipping
Sendle is the ideal shipping service for small businesses that are shipping packages under 20 lb. Discover the benefits of shipping with Sendle below:
Will beat the price charged by major carriers on domestic packages up to 20 lb.
Carbon neutral shipping
Zero contracts or subscription fees
Certified B corporation
DHL Express Small Business Shipping
If your small business is filling international orders, consider shipping with DHL Express. They provide a wealth of resources for small businesses to help them enter the global marketplace.
Expertise with international shipping
Transparency of service/rate fees
Provides resources that help small businesses navigate international shipping
ShipBob Small Business Shipping
As a third-party logistics company (3PL), ShipBob is a great shipping service for exclusive e-commerce businesses. Discover the benefits of using ShipBob below:
Bulk shipping discount rates
Warehousing and inventory management
EasyPost Small Business Shipping
EasyPost helps you secure the best shipping price for your small business by connecting you to multiple carriers and comparing their rates.
API is free for up to 120,000 shipments a year
Shows the prices of over 100 carriers
Simplifies, automates, and controls the shipping process
Data-backed optimization
Label creation tool
Real-time shipping updates
---
What Is 3PL?
A 3PL provider works in supply chain management to store, package, or transport goods. Each third-party logistics provider will offer a unique range of services, so read the contracts carefully before selecting a 3PL provider. In most cases, companies integrate their 3PL provider into their warehousing process and outsource their shipping operation to their 3PL.
Benefits of 3PL
Working with a 3PL outsources your warehousing and shipping process so you can invest in other aspects of your business. Pay the 3PL to store your inventory and then pick, pack, and ship your orders as they're received. All you have to do is ship your stock to their warehouse and sync your e-commerce orders with their inventory.
Each 3PL service will vary, but many allow you to choose between paying them a monthly fee or per order (depending on the services you've chosen). If your operation is still burgeoning, these fees will offset the benefits of using a fulfillment and warehousing service. However, if you're filling more orders than you can store and send yourself, it's time to hire a 3PL service.
3PL Pros and Cons:
As your e-commerce business grows, use our 3PL pros and cons list to decide if working with a third-party logistics provider would benefit your business:
Reduced Shipping Costs - Fulfillment warehouses secure a reduced bulk shipping rate. Most offer e-commerce shipping integration across the major shipping logistics and third-party logistics channels.
Get Products to Customers Faster - Shorten your shipping times by analyzing your data and choosing a 3PL partner with warehouses near your target customers.
Service Fees - You'll have to pay your 3PL for storing, picking, packing, and shipping your products.
Generic Unboxing - You surrender control of how your products are packaged and presented, which eliminates thoughtful unboxing experiences.
Back to Top
---
Types of Packaging Materials for Shipping
The products your small business sells determine the shipping packaging materials you need. Foremost, you must choose a vessel to contain your product. Fragile merchandise requires padding, perishables demand cooling packs, and heat-sensitive items need insulation. We break down the top three types of packaging materials for shipping below, so you can make an informed shipping packaging purchase.
Weather-Resistant Poly Mailers - Poly mailers are made from polyethylene film (plastic). They're durable, lightweight, and weatherproof, but they don't cushion your products. Poly Mailers are the best shipping packaging for tea, coffee, clothing, and other malleable items.
Padded Mailers/Bubble Mailers - Padded mailers are lightweight, which lowers your shipping expenses. Their cushioning helps protect delicate items during transit, but they're not weather resistant. Padded mailers are the best shipping packaging for books, jewelry, and small electronics.
Shipping Boxes - Shipping boxes are the best way to protect your products and create an unboxing experience. You can curate the layout of your merchandise inside your shipping box and add additional promo items. Shipping boxes are heavier than both padded mailers and poly mailers, making them more expensive to ship. Shipping boxes are the best shipping packaging for subscription boxes, large items, products that require cooling packs, or any small business that wants to create an unboxing experience.
Back to Top
---
How to Calculate Shipping Costs for Small Business
To calculate shipping costs for your small business, you must consider five factors: speed, shipping packaging, weight + dimensions, destination, and shipping frequency. We break down each of these five factors below, so you have the tools you need to calculate your small business shipping costs:
Speed - Most customers expect fast and free shipping. Depending on the size of your company and the products you sell, fast and free may be impossible. Evaluate the different carrier options and decide whether the fastest shipping choice is in your budget.
Shipping Packaging - From the cushioning material to the container, you must purchase packaging. As a small business, you use shipping packaging to curate a branded unboxing experience that includes pops of color, logo stickers, handwritten notes, etc.
Weight + Dimensions - All carriers will charge by the weight of the package. Many carriers also account for the dimensional weight (DIM) and increase fees for packages that take up a lot of space.
Destination - The farther your package travels, the greater the fee. Carriers calculate distance pricing based on how many shipping zones your package must travel through. Additionally, shipping to a commercial property often costs more than shipping to a residential location.
Shipping Frequency - If you use their shipping services often, many carriers will offer you a discount.
What Is a Shipping Zone?
Shipping zones, also known as postal zones, are predetermined geographical areas shipping companies use to measure how far a package traveled. Rather than calculating miles, shipping zones determine distance by grouping ZIP codes along the route. Shipping carriers base their distance pricing on how many shipping zones the package traveled through to reach its destination. Domestic shipments in the US go from Zone 1 to Zone 8.
---
Scale your operation with our shipping tips for small businesses. Your shipping strategy isn't just essential for getting products to customers, it's an integral part of how you do business. The shipping method you choose needs to be affordable, and it also needs to be transparent. Reference our guide to small business shipping solutions anytime you have a shipping-related question.
---