How to Open a Warehouse
Last updated on 1/11/2022
Whether you're selling food online or distributing restaurant equipment, warehouses play a significant role in the success of retailers in the foodservice industry. Although specific details can vary depending on the warehouse type, warehouses are a key component in the distribution, storage, and reception of goods. However, if you are considering starting a warehouse of your own, it may be difficult to identify a starting point. In the article below, we'll outline what a warehouse is, how to start one, and the different factors you should take into account during the process.
Shop All Industrial Supplies
Click any of the tips below to read the section that interests you:
---
What Is a Warehouse?
A warehouse is a building used to store raw materials or manufactured goods. They are most commonly used by manufacturers, wholesalers, and transport businesses, among a variety of other business types. In most cases, warehouses are built in central locations, allowing them to work with and distribute goods to many businesses in their vicinity.
Parts of a Warehouse
Although they may just appear as one large storage space, a warehouse is comprised of several different parts. Equipping each area for specific tasks keeps your facility organized and efficient. The particular products or materials a warehouse stores may require specialized equipment, but most warehouses share similar parts. Some of the most common areas found in warehouses are:
Loading area: The loading area is dedicated to the reception and dispatch of products. It allows vehicles direct access to goods and must have enough space to keep the loading and unloading process safe.
Reception: The reception area is where goods are placed once they are unloaded. In this area, items are classified and distributed throughout the warehouse.
Packaging: In some warehouses, products must be repackaged and labeled once they've been received.
Storage: The storage area is where goods are deposited and kept. Depending on your needs, this can be one of the most complex areas to navigate or one of the simplest.
Order preparation: Before products are shipped, they must be sent to the order preparation area. Depending on your preferences, this area can either be its own separate space or integrated with the shipping area. Keep in mind that an order preparation area is only required in warehouses that ship goods in a different configuration than they were originally received.
Dispatch and outflow control: The dispatch area is a designated space where goods and packages can be arranged and organized for preparation. This is where goods are placed directly before they are loaded into vehicles for shipping.
Technical area: The technical area is where technical or mechanical equipment, such as forklifts or pallet drivers, is kept.
Administrative offices: The offices are an area where the warehouse manager, administrative staff, and customer service professionals can work.
---
How to Start a Warehouse Business
Opening a warehouse requires a significant amount of research, planning, and preparation. Whether you're new to the warehousing industry or have worked in it for years, it's important to familiarize yourself with what it takes to start a warehouse before you begin the process. Below, we've listed seven steps to guide you through opening a warehouse:
1. Write a Business Plan
The first step in starting any business should be developing a business plan. Doing so allows you to plan each step you'll take as you work to open your business and helps to ensure you have an accurate concept of what it will take. Furthermore, a business plan is crucial to securing any loans, investors, or additional funding you might need to reach your goals. A complete business plan should feature information about your warehouse concept, competition, business structure, and finances.
To learn more, take time to read our article on how to write a restaurant business plan. It provides integral information applicable across industries.
2. Calculate Cost
The cost of setting up a warehouse can vary depending on your preferences and a variety of factors. In general, the cost of building a warehouse ranges from $10-$20 per square foot, meaning that the final cost will come down to how much space you need. Conversely, choosing to renovate an existing warehouse space to fit your needs can cost anywhere between $10,000-$50,000.
Beyond the cost of acquiring or renovating a warehouse space, remember to factor in other expenses including the cost of equipment, permit or licensing fees, and employee wages. Depending on your needs, you may also have to pay for software, inventory, and marketing costs.
3. Finance Your Warehouse
While it's possible to save money and pay to start your warehousing business on your own, it's more likely that you'll need to secure financing. Many external financing options are available to prospective warehouse owners, with each offering its own set of costs and benefits. Two of the most common financing options are:
Industrial warehouse loans: A warehouse loan is a specific type of financing that was created solely for the warehousing industry. These loans can be acquired for a variety of different needs including purchasing, remodeling, and further developing a warehouse. The terms of your loan, including its length and interest rate, will vary depending on the bank you work with and your finances.
Investors: Another way to secure funding is to pitch your business concept to investors. With a strong business plan and a clear path to success, you may convince an individual or a group of people to invest in your company. If you choose this option, keep in mind that in most cases, when someone invests in your company, they get an ownership stake in return.
4. Apply for Permits
Before you open your warehouse, be sure to apply for and receive the necessary licenses and permits. The types of permits you'll need can vary depending on your location, the products you sell, and even the size of your warehouse. Additionally, many permits or licenses that you may need to apply for may require that you pay a fee. Because of this, you must check with local authorities to ensure you've received all necessary permits. Two types of certifications that the majority of warehouses need to obtain are:
Warehousing licenses: A warehousing license certifies that your warehouse is permitted to store and distribute goods. The specific license you apply for, as well as its cost, can vary depending on the type of goods you work with.
Warehouse racking permits: A warehouse racking permit exists to minimize product damage and keep your work environment safe. To acquire this permit, you must prove that your racking reaches the standard of your local authorities.
5. Find a Warehouse Space
As with any business, there are multiple options available to you when it comes to finding a space for your warehouse. Depending on your experience and the size of your operation, each option can present different benefits. Three of the most prominent options include:
Buying a warehouse: If you can afford to do it, buying an existing warehouse can be beneficial. Owning the property allows you to make changes as you see fit, and makes it possible to earn a profit should you ever choose to move on from it. However, it's important to note the risks associated with buying a warehouse property. The high upfront cost and mortgage payments can be burdensome, especially for new warehouse businesses with an unclear future.
Leasing a warehouse: Generally speaking, leasing a warehouse costs less upfront than buying a warehouse. In most cases, you'll be able to negotiate your lease, ranging from how long it lasts to much your monthly rate is. One benefit associated with leasing is that you aren't financially tied to a property. Choosing to upgrade or change locations is far easier when you don't own the property. Conversely, not owning a property means that you won't be able to build up equity over time.
Building a warehouse: If you're looking to expand your warehouse business or just want to start one from scratch, building your own warehouse gives you the flexibility to design a space that matches your preferences. This option carries a high cost, but also gives you full control over the layout and design of your warehouse.
6. Buy Equipment
Without proper equipment, it will be difficult to succeed in the warehousing industry. Due to the nature of the business and the physical demands that moving and storing products requires, each section of your warehouse will need specific types of tools, machines, and vehicles. Not only do these make the job easier for your employees, but they also help to keep your working environment safe. The equipment you'll need can be sorted into distinct categories, such as:
Dock equipment: Dock boards, dock plates, truck restraints, bumpers, yard ramps, wheel chocks, levelers, and lifts
Conveyors: Gravity roller conveyors, belt conveyors, flexible conveyors, vertical conveyors, spiral conveyors, chain conveyors, and automotive conveyors
Storage equipment: Bins, shelves, racks, and carousels
Lifting equipment: Forklifts, pallet jacks, pallet trucks, hand trucks, service carts, cranes, hoists, dollies, and castors
Packing equipment: Industrial scales, strapping machines, stretch wrap, and packing tables
Be sure to also purchase general maintenance equipment, such as tools and different types of ladders, for miscellaneous tasks around your warehouse.
7. Hire Staff
No warehouse can function without qualified and dedicated employees. A successful warehouse owner should familiarize themself with the different jobs associated with the industry and why they are important. Keep in mind that while many warehouses will have similar types of employees on staff, different types of warehouses may necessitate specialized positions. The following are some of the most common jobs found in warehouses: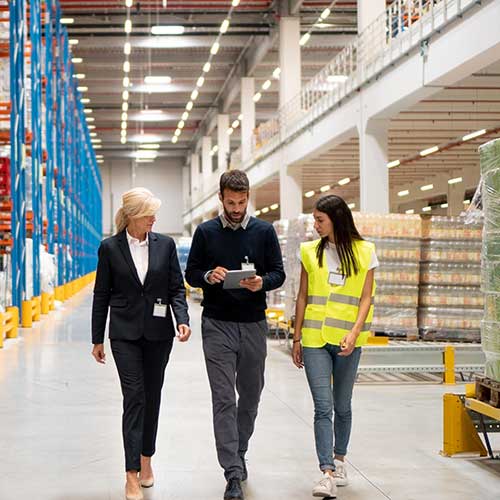 Shipping and receiving associates: Sometimes referred to simply as shipping associates, these employees perform tasks related to processing incoming and outgoing products.
Machine operators: A machine operator is responsible for the handling, maintenance, and operation of various machines and equipment in a warehouse.
Material handlers: A material handler is responsible for taking inventory of products as well as packing them, using material handling equipment to do so. In some cases, they can be asked to operate machinery or vehicles as needed.
Forklift operators: A forklift operator is trained to safely use a forklift at various locations throughout the warehouse. They are responsible for moving shipments to the right place and relocating misplaced or outgoing products.
Stockers: Also referred to as a stocking associate, a stocker keeps the warehouse organized. They stay on top of inventory, handle RF scanners, and make sure that products aren't out of place.
Warehouse clerks: A warehouse clerk meets with customers to provide information and customer service. They help customers to fulfill their needs and help to manage various tasks throughout the warehouse.
As you build out your staff, remember to hire qualified managers to oversee different segments of your business. While power structure can vary depending on the type of warehouse you operate, the products you store, and your personal preferences, some of the most common manager positions in the warehousing industry include:
Warehouse manager: The warehouse manager oversees operations in the warehouse. They are responsible for measuring and acting as an authority figure, often making final decisions.
Inventory control manager: An inventory control manager oversees all processes related to product inventory. They are required to have strong organizational skills and proficiency with required computer programs or equipment.
Distribution center manager: The distribution center manager helps to manage a warehouse's supply chain. They oversee shipping, receiving, and several other responsibilities and help to develop budgets as well as long-term warehouse goals.
---
What to Consider If Opening a Warehouse
The productivity of your warehouse can be influenced by many different factors. Before you begin extensive planning, consider how you can position yourself and your employees for success. Keep the following points in mind as you begin the process of opening a warehouse:
Workflow: Improving workflow can ease the transportation of goods throughout your warehouse. Since a warehouse features many moving parts, make a point to design a layout that makes this transportation as streamlined as possible.
Accessibility: Emphasizing accessibility allows warehouse workers to easily locate the equipment and products they need. Be sure to organize your warehouse in a way that allows for the convenient identification of items.
Space: Your warehouse's dimensions can have a significant impact on your productivity and success. Furthermore, it can impact the design of your shelves, how much inventory you can store, and your ability to effectively distribute goods.
Products: As you design your warehouse, keep in mind the products you might work with. Ask yourself how they'll need to be stored, what kind of specifications they might have, and how much a typical pallet of said product can weigh. Doing so will ensure you and your staff are prepared for any products you might have to handle.
Location: A warehouse's location is directly related to its success. It can impact how quickly you transport goods, your ability to work within different communities, and your workforce.
Warehouse Ownership
Understanding the different types of warehouse ownership structures can be beneficial throughout the process of starting your warehousing business. There are three different types of warehouse ownership agreements: private warehousing, pubic warehousing, and contract warehousing. Below, we'll introduce the differences between each type.
Private warehousing: This type of warehouse is privately owned and operated by a business and exclusively handles that business's merchandise. Since they are exclusively owned by one company, private warehouses can offer more unique and specific services depending on the company's needs.
Public warehousing: A public warehouse operates as an independent business. They offer a multitude of storage, handling, and transportation services for any company that chooses to hire them. These types of warehouses offer more generic warehouse services.
Contract warehousing: In most cases, a contract warehouse has long-term business agreements with a small number of companies. Because of their long-term contracts, these types of warehouses have the flexibility to offer a wide range of exclusive services depending on the preferences of the companies they work with.
Back to Top
---
Since warehouses differ significantly from other businesses, starting your own can be difficult. Whether you're new to warehousing or have experience working in one, familiarizing yourself with the industry can give your a significant advantage over your competition. By building an understanding of what a warehouse is comprised of, steps you should follow when opening your warehouse, and the considerations you should make during the process, you can position yourself, your employees, and your customers for success.