Wax Paper vs. Parchment Paper
If you're reading this now, odds are you're asking the question, "What is the difference between wax paper and parchment paper?" There are a handful of distinctions that make parchment paper and wax paper unique, but for the main difference, allow me to play foodservice tennis and volley a question back your way: Do you enjoy cookies that taste like crayons? Lining your sheet pans with the wrong paper can turn your delectable cookies into an unappetizing mess!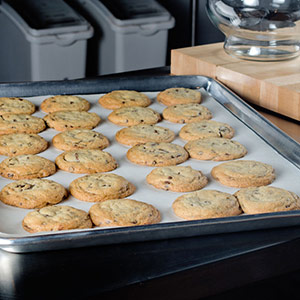 Parchment Paper
Parchment paper is coated with silicone or Quilon to give it a non-stick, heat-resistant surface that makes it great for lining pans during baking. This eliminates direct contact between food and hot metal to retain moisture and give you a better end product. It makes food safer since food never touches the pan, minimizing the chance of surface contamination while also protecting plumbing and the environment since grease goes into the trash and not down the drain.
Wax Paper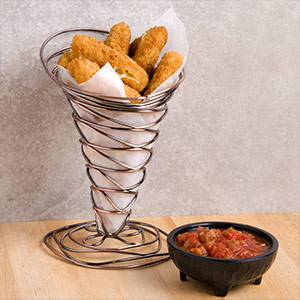 Wax paper, on the other hand, is coated with a wax like soybean or paraffin that makes it great for wrapping food while resisting moisture transitions in either direction, keeping moist food juicy, and preventing dry foods from getting soggy. Another reason wax paper is great for wrapping food is that you can safely write on it with a sharpie or apply tape for labeling and simple product identification. Unlike parchment paper, wax paper is not heat resistant and should not be used as a pan liner—many have tried to do so in a pinch, only to melt the wax and create a ... "less than desirable" smoke, odor, and flavor in your baked goods (see: previous crayon inquiry). For other ways that these two papers contrast, check out the chart below!
| Wax Paper | Parchment Paper |
| --- | --- |
| Coated with a wax like soybean or paraffin for moisture resistance | Coated with silicone or Quilon to give it a nonstick, heat-resistant surface |
| Not for use in ovens | Oven safe |
| Single use | Reusable |
| Used for wrapping food, lining pizza boxes, or as candy dipping paper | Used to line pans, bake foods en papillote and a cartouche, or as a disposable pastry bag |
| Sold in rolls or sheets (flat pack, pop-up, & patty paper) | Sold in sheets |