Sheet Cake Sizes: How to Choose the Right Size Sheet Cake Pan
Sheet cake is one of the easiest forms of cake to make for a crowd because it usually doesn't require very much layering, structural support, or elaborate decoration. It's not uncommon for sheet cake to be used at weddings to supplement a tiered cake. And just because sheet cake is simpler than tiered cake doesn't mean it can't be just as pretty or delicious. A slice of sheet cake lends itself well to skilled piping work or other edible decoration for a show-stopping presentation, and they're also easier to transport than tiered cakes, so there's less risk of damaging the icing.
Choosing the Right Sheet Cake Pan for Your Needs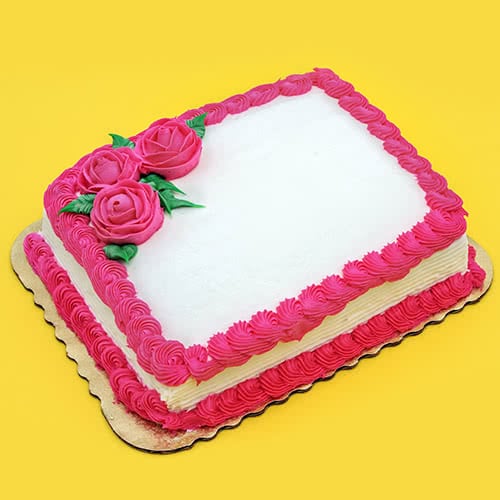 While sheet cake pans are available in a wide range of materials and styles, the most important thing to consider while shopping is the size. Sheet pans are measured Length x Width x Height, with the height generally ranging between 1 and 4 inches.
The depth of the pan is most important when you're dealing with a single layer or double layered cake. If you want a layer of filling in the center of each slice, try using a sheet pan extender to increase the height of your cake. These sheet pan extenders also help to prevent your batter from overbaking while simultaneously creating perfectly straight edges.
The Difference Between Full, Half, and Quarter Sheet Cake Sizes
Most bakers think of orders in terms of full, half, and quarter pans, which can actually mean a handful of different sizes. So, the best way to approach any conversation relating to sheet cake sizes is usually to discuss number of servings, the size of each serving. From there, you can determine which size pan (in inches) will work best for the application.
It's also important to bring the conversation back to quantity and size of servings when discussing pricing with customers, because if they're shopping around and comparing prices, you'll want to make it clear exactly how much they'd be getting for their money.
Because the size conversions can get pretty confusing, one way you can simplify things a little bit for your customers is to come up with a mathematical standard for your business. For example, if your "full" sheet pan is 18 x 24, you should find a half size pan that's 12 x 18 and a quarter pan that's 9 x 12, since those numbers divide evenly into each other.
Number of Servings Per Sheet Cake
When it comes to determining how many servings you can get out of your sheet cake, you'll first need to decide how large you want each piece to be. Typically, 2" x 2" or 2" x 3" pieces are suitable sizes for each portion. To figure out how many servings you'll yield from a given pan, simply follow this formula:
Sheet Cake Servings Formula:
Pan Length X Pan Width = Pan Area
Piece of Cake Length X Piece of Cake Width = Cake Serving Size Area
Pan Area ÷ Cake Serving Size Area = Number of Servings
For example:
18" x 26" Pan = 468" Pan Area
2" x 2" Slice = 4" Cake Serving Size Area
468 ÷ 4 = 117 Servings
In this example, your sheet cake pan can produce a cake with an area of 468". If you want to serve 2" x 2" slices, you divide the size of your slice of cake by the total pan area. When you divide those, you get 117, which is the number of servings you can get from one full-size sheet cake pan.
Sheet Cake Size Guide
Sheet cake sizes may vary by manufacturer or for various uses. We listed some common full, half, and quarter sizes as well as how many customers you can feed with each type of pan.
| | | | | |
| --- | --- | --- | --- | --- |
| Size Names | Size Dimensions | Serving Size 2" x 2" | Serving Size 2" x 3" | Uses |
| Full | 18" x 26" x 2" | 117 Servings | 78 Servings | Weddings, Banquets, Dining Halls, Church Functions |
| | 18" x 24" x 2" | 108 Servings | 72 Servings | |
| | 16" x 24" x 3" | 96 Servings | 64 Servings | |
| Half | 18" x 13" x 1" | 58 Servings | 39 Servings | Holiday Parties, Small Restaurants |
| | 12" x 18" x 2" | 54 Servings | 36 Servings | |
| | 12" x 16" x 3" | 48 Servings | 32 Servings | |
| Quarter | 13" x 9.5" x 1" | 30 Servings | 20 Servings | Small Events, Birthday Parties |
| | 13" x 9" x 2" | 29 Servings | 19 Servings | |
| | 12" x 8" x 3" | 24 Servings | 16 Servings | |
While the math is simple enough to do on your own, this chart can be a great cheat sheet for new hires or clients at your bakery. And even though there's no standard definition of a full, half, or quarter sized sheet cake, using inches to describe the size of your cake is always a safe bet. So, whether you're filling a routine sheet cake order or stocking your bakery's supplies for the very first time, we can help you find the proper sized pan for the job.