Baking cups are available in a wide array of colors, shapes, sizes, and materials, so choosing the perfect type can be somewhat overwhelming. Used primarily to line cupcake or muffin pans to prevent batter from sticking to the sides, these cups are not a one-style or one-size-fits-all product. By analyzing the options and advantages, you can ensure that your culinary and confectionery creations look and taste delicious, and that they're consistent in size, shape, and style.
Baking Cup Advantages
The first step in choosing the right baking cup is determining your purpose for baking. Will the finished product be on display? Is it intended to serve a high-volume crowd? After making these decisions, consider the many benefits of baking cups. Some common advantages include:
Easy Clean-Up. A high-volume restaurant or bakery might not have extra time to dedicate to cleaning dirty pans. Avoid the messes that result from sticky batter in unlined pans and create a finished product that has a consistent shape by using baking cups.

Sanitation. Baking cups provide a protective outer layer that helps prevent the spread of germs during the transfer from oven, to display, to customers. Great for public events during which baked goods are on display, bakery liners can offer customers peace of mind by guaranteeing that their food has not been unnecessarily touched.

Moisture. Without a baking cup, cupcakes, muffins, and other baked goods can become dried out after removing them from the pan. Using a liner helps you preserve the desirable moist taste and texture that will set your business apart from others.

Shape. Providing stability and shape, baking cups can help create a uniform look and prevent crumbling. Liners can even act as a buffer between a hot pan and the batter, which can prevent the baked good's edges from cooking too fast.

Overall Presentation. While some baking cups are not intended to be decorative, others are both functional and ornamental. Colored and patterned types of cupcake liners can complement a theme, correlate with a holiday or season, or contribute to your unique style. Match colorful wrappers with icing and designs for a fun, individualized look. Apart from baking, others may choose to use baking cups to display small candy, truffles, or fudge.
Different Muffin and Cupcake Liner Sizes
When choosing a baking cup size, knowing the dimensions of the pans you will be using is essential. Though size classifications exist, individual manufacturers might have slight variations when it comes to muffin pan sizes. Whether you're baking a large, tasty muffin to sell in your coffee shop or a delectable bite-sized truffle for your café, it's imperative to use the perfect sized baking cup for your unique needs. Perhaps you have already found the perfectly-sized cup and need to restock your business with a similar item.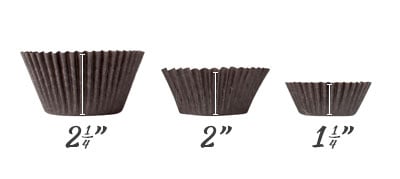 Typically, standard baking cups measure 2" x 1 1/4" and are commonly used for traditional-sized cupcakes or muffins. Mini baking cups with a 1" diameter can be used for presenting chocolate covered cherries or caramels, and 3 1/2" diameter jumbo baking cups can be used for gorgeous gourmet cupcake creations! To help simplify the search and selection process, we have consistently labeled the baking cup item titles and measurements on our site so that they are easy to read and understand. The first number listed is the baking cup's bottom diameter measurement, and the second number listed is the overall height.
How to Get an Accurate Baking Cup Measurement
Although usually available in mini, standard, and jumbo sizes, baking cups' measurements can vary slightly. To determine accurate baking cup sizes, measure the overall diameter by flattening the cup, followed by measuring the bottom diameter of the cup, which can be measured with or without flattening the sides, and then finish by measuring the wall height. Before purchasing, be sure to know the precise measurements of the pans you will be using.

Styles of Baking Cups
White Paper Baking Cups:
These fluted cups provide a neat, sanitary look and ensure easy clean-up.
Colored/Decorative Paper Baking Cups:
Enhance presentation with a variety of colors and patterns that will complement themes, seasons, or decor.
Glassine Baking Cups:
Both air- and water-resistant, glassine cups provide an easy release and attractive grease-resistant presentation.
Foil Baking Cups:
Prevent unwanted grease marks or stains with a variety of stylish foil baking cups. These opaque cups keep batter hidden and offer a clean, eye-catching presentation.
Specialty/Decorative Baking Cups:
Featuring unique designs, these baking cups can complete the look your bakery or restaurant is striving to achieve, and are available in
tulip
and
lotus
varieties.

Solid Board Baking Cups:
Perfect for freezer-to-oven applications, these solid board cups have an extruded polymer coating that provides a robust barrier to resist moisture and grease, eliminating the need for release spray. Made of 100% recycled content, they're a great alternative to foil, paper, or glassine cups.
Eclair Cups:
Neatly display pastries in sanitary white eclair liners that provide stability. Available in 4 1/2" and 5 1/2" lengths.
Paper Fluted Holders:
Ideal for serving burgers, tacos, bagels, and more, these versatile fluted holders/burger cups are a sanitary solution to your serving needs.
Which Baking Cup is Best for You?
Used for sanitation
Provides Stability
Grease/oil proof
Fluted
Available in Mini
Available in Standard
Available in Jumbo
Baking Cups (Before Baking)
Tulip Liner
Lotus Liner
White Paper Liner
Foil Liner
Colored Paper Liner
Glassine Liner
Solid Board Liner
n/a
n/a
n/a
Dry Wax Liner
n/a
Wrappers/Display Cups (After Baking)
Wrappers
Eclair Baking Liner
n/a
n/a
n/a
Additional Features:
Environmentally Friendly: These liners are made with sustainably sourced materials.
Freezer Safe: These liners allow you to safely store your goods in low temperatures.
Microwave Safe: These liners allow you to reheat your baked goods without worry.
Troubleshooting Baking Cup Mishaps
Choosing the right baking cup could be a quick fix to many of the problems encountered during baking. Maximize efficiency and create the perfect look, taste, and consistency by following some of these recommendations!
| When this happens... | ...Try this quick fix! |
| --- | --- |
|  Oil or grease bleeds through the baking cup |  Try doubling paper cups or opt for a foil or glassine variety. |
|  Dark-colored cake makes a decoration on a baking cup difficult to see |  Bake the dark-colored mix in a white paper cup, then drop it into a second darker or decorative liner after cooling. |
|  The cake crumbles when peeling away the liner |  Be sure to bake the cupcakes completely. Under-baked batter can cause peeling. To make peeling even easier, try lightly spraying the cups with non-stick cooking spray or another similar spray release. |
|  The liner peels away from the cake after baking |  Be sure that cupcakes have cooled and reached room temperature before storing them in a container. Storing them when they are too hot can cause the liners to detach. |
Loaf and Pan Liners
If you're planning to bake bread, cookies, or other treats in addition to your cupcakes and muffins, other types of liners can help you eliminate labor time and cleaning costs that are associated with greasing and washing pans. Consider using one of these great products:
Oblong Loaf Liners:
These paper fluted liners are dry waxed and suited for specialty breads and delicious coffee cakes
Minimize clean-up time and extend the life of your pans by protecting them with a liner. Need help choosing the right kind? Check out the
pan liners buying guide
for helpful tips!