Brewery Licensing & Safety Regulations
Last updated on 9/08/2021
Starting a brewery is an exciting process, allowing you to pursue your passions of making alcoholic beverages while simultaneously providing you with a profitable business opportunity. There is great potential in owning your own brewery and brewing different types of beer, but the industry is heavily regulated by the government. For this reason, breweries must receive a variety of licenses and follow many safety protocols just to operate. Understanding these legal requirements can be confusing, so if you're looking to start your own brewery check out our guide to brewery licensing and safety regulations.
Looking for supplies and equipment for your brewery? Click below.
Shop All Beer Brewing Equipment
---
Use these links to learn more about each aspect of brewery licensing and safety regulations.
Commercial Licenses
Before you can apply for brewery-specific licenses like a liquor license, you first need to establish your brewery as a legal entity and a business. To do this, there are several commercial licenses that you'll have to apply for and receive. The most important commercial licenses you'll have to acquire for your brewery are listed below:
Business License - A business license is a document issued by the government that allows a business to conduct operations. To legally operate as a business, you are required to obtain a business license.
EIN - Every business in the United States requires a nine-digit Employee Identification Number for easy tax identification.
Seller's Permit - A seller's permit authorizes your business as a collector of sale's tax, a requirement if you're selling alcohol directly to consumers.
Trademarks - It's important to trademark the name you choose for your brewery and the names of the beer you plan to make, securing your brewery's brand and its potential products.

---
TTB License
The Alcohol and Tobacco Trade and Tax Bureau (TTB) must approve of your brewery's operations before you are allowed to legally operate. Applying for a TTB license can be long and complicated, as the TTB will sift through all aspects of your brewery before approval.
Important documents like financial estimates will be required to be approved. The application process could also include background checks on owners and management, a thorough analysis of the brewery's location, and a review of beer recipes, labeling, and marketing. Applying for this license requires no fee and can be done through the TTB website, but the approval process can take anywhere from a few months to a year to complete.
---
Brewery Business Plan
To increase the likelihood of being approved for a TTB license, you should create a business plan that outlines the different aspects of your brewery. While the document doesn't have to be as extensive as a restaurant business plan, it should still contain critical information that gives insight into your brewery's future plans and potential success. Some of the most important aspects to include in your brewery business plan are listed below:
Executive Summary - Provide a brief overview of your business and outline the information included in your business plan.
Company Description - Give a written description of your brewery of your brewery, typically expanded on from the one given in the executive summary.
Management and Ownership Structure - Cover what type of ownership structure your brewery will have, as well as what your management will look like.
Location - Include the prospective location of your brewery, outlining the advantages of the location and how it fits within government regulations.
Employees and Staffing Needs - Outline the number of employees your brewery will need initially, as well as their responsibilities and requirements.
Financial Projection and Summary - Provide financial estimates for your brewery, including a break-even analysis.
Back to Table of Contents
---
TTB Bond
When you are approved for a TTB License, you'll have to get a TTB bond in tandem. A TTB bond is a type of surety bond, a guarantee that your brewery will pay all taxes the government requires. The bond is a legally binding agreement between three entities: your brewery, the government, and an insurance company that guarantees the bond.
Under a TTB bond, the government can make a claim if you fail to pay the required taxes. If you default on your tax payments, initially the responsibility falls on the insurance company that guarantees the bond. However, your brewery will quickly be on the hook for that money on top of any other fees and fines for tax evasion. TTB bonds typically insure an amount somewhere between $1,000 to $50,000 and will require a premium of around 1-15% of the insured amount.
---
Liquor License
For breweries looking to open a taproom or take advantage of on-site sales, a liquor license is required. A liquor license gives a business the right to serve alcohol on-site and regulates items such as the type of alcohol a business can sell, the legally allowed ABV of beverages, what time they can sell alcohol at, and what packaging the alcohol is sold in. Each state issues its own liquor license, meaning the scope of liquor licenses varies from state to state.
It's important to research your state's alcohol laws and understand what type of liquor licenses are required for your brewery. In some cases, individual municipalities and local governments have their own liquor licenses that need to be obtained in addition to state liquor licenses. Applying for a liquor license can be just as long and difficult as obtaining a TTB license, so be sure to apply early in the process of starting your brewery. To get the application process started, contact your state's alcohol control board to properly understand the requirements required for a liquor license.
---
Alcohol Beverage Control Board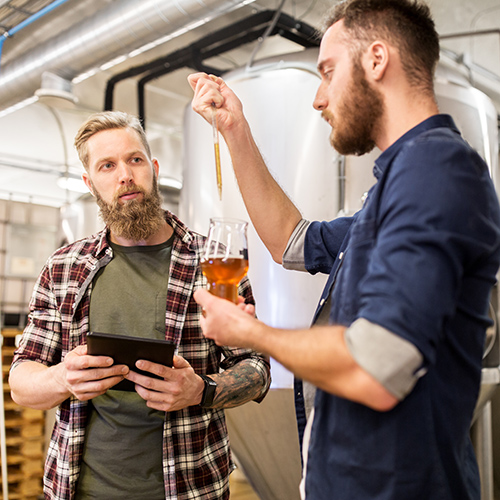 In the United States, each state has the power to regulate the production, sale, and distribution of alcohol. Due to this, many states have different laws regarding the topic, with some being more strict than others.
Each state has its own Alcohol Beverage Control Board, dictating state alcohol laws. Following prohibition, some states sought to continue to regulate some portions of the alcohol industry, leading to the creation of these governing bodies. Before starting your brewery, get in contact with your state's Alcohol Control Board and ensure you understand all the requirements and regulations your state has regarding the sale of alcohol.
Back to Table of Contents
---
Federal Food Safety Modernization Act
On January 4th, 2011, President Barack Obama signed the Federal Food Safety Modernization Act into law, placing breweries under the regulation of the U.S Food and Drug Administration (FDA). Under this law, alcohol like beer is classified as food items. Breweries are now subject to FDA approval and random FDA inspections to ensure compliance.
FDA Inspections
Similar to health inspections, failing an FDA inspection has major repercussions, resulting in fines, reputational damage, and disruption of business. To be safe, your brewery should always be prepared for random FDA inspections. Here are a few steps you can take to ensure that your establishment is always ready to face FDA inspection:
Keep all important safety documents up to date and easily accessible.
Ensure all materials in your brewery are clearly and accurately labeled.
Train staff on proper safety and hygiene techniques with frequent refresher courses.
Maintain a clean and sanitary environment within all areas of your brewery.
---
Brewery Health and Safety Regulations
Due to the heavy equipment and hazardous chemicals required to brew alcohol, many health and safety regulations are in place in breweries. Brewery health and safety regulations are in place to prevent workplace accidents and protect your employees. Understanding these health and safety regulations and OSHA, the governing body that oversees them, is key to creating a safe workplace.
---
What Is OSHA?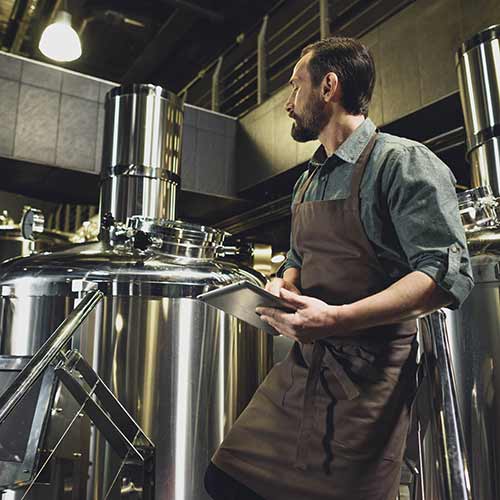 The Occupational Safety and Health Administration also referred to as OSHA, is a regulatory agency of the United States Department of Labor. The agency was created by the Occupational Safety and Health Act of 1970 to ensure safe, sanitary, and risk-free working conditions for employees. OSHA helps ensure a safe environment for workers by setting and enforcing workplace regulations and standards, as well as outlining safety training and educational courses for employees.
Back to Table of Contents
---
OSHA Compliance
To ensure workplaces are safe and reduce accidents for employees, OSHA has a variety of safety regulations in place that workplaces must follow. These regulations are mandatory and most of the private sector must follow them, including factories, restaurants, and breweries. Failure to comply with OSHA regulations results in massive fines or even the complete shut down of your brewery, so compliance is key. In order to ensure your brewery complies with OSHA regulations, here are some of the most common violations that you should look out for:
Safety Equipment
Brewery employees work with dangerous heavy machinery and hazardous chemicals, so the protection of your employees is key. To ensure your employees are well protected from the potential dangers of working in a brewery, OSHA mandates that employees are provided with the proper protective clothing. Here are some of the most important safety equipment you should outfit your employees with:
General Duty Clause
Under the General Duty Clause of the OSHA Act of 1970, workplaces are mandated to provide an environment that is free of hazards that have the potential to cause serious injury or death. The biggest problem breweries face under this mandate is ergonomic hazards involving lifting and transporting. In a brewery, employees will be required to lift large kegs and heavy sacks of grain, something that is considered an ergonomic hazard under the General Duty Clause.
To lessen the ergonomic hazards your employees face from lifting, provide training and refresher courses covering safe and proper heavy lifting techniques. Also, provide employees with the proper machinery and equipment to lift heavy objects so that employees don't always have to lift heavy objects by hand. Lastly, set your own rules dictating that items over a certain weight need to be handled by either multiple employees or by heavy equipment.
Process Safety
OSHA has regulations and requirements in place regarding the handling of hazardous chemicals in the brewing process. The Process Safety Management of Hazardous Chemicals not only outlines proper handling methods for these items but also requires businesses to keep paperwork and information on each hazardous chemical. Breweries frequently deal with dangerous chemicals like acids and caustics so process safety is important to protect employees and prevent accidents such as spills.
Control of Hazardous Energy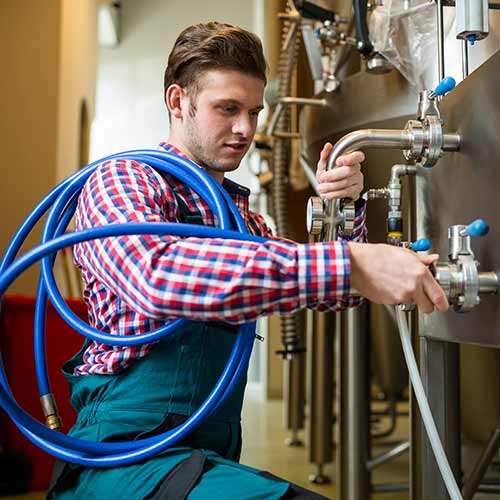 When heavy machinery like brewery equipment requires maintenance work or repairs, OSHA mandates that the machinery be turned off and disabled. If not disabled, machinery can inadvertently turn on or release hazardous energy, potentially injuring the maintenance crew. OSHA has outlined a procedure know as lockout tagout (LOTO) to ensure that equipment is shut down and inoperable before any maintenance work can be completed.
Permit-Required Space Entry
OSHA mandates that certain spaces, known as permit spaces, must have special precautions taken before anyone is allowed to enter. OSHA defines permit spaces as confined spaces with the following characteristics:
Contains a hazardous atmosphere
Has the potential for entrapment or asphyxiation
Holds dangerous material such as exposed live wires
Spaces with these characteristics always require a permit to enter. Before entry, employees must be aware of all dangers. A permit verifies that all proper steps have been taken to ensure the space is safe for entry and that the proper equipment is being worn by the employee. A permit also outlines the roles of the permitted attendees and provides a step-by-step process for leaving and sealing the space. Once completed, the permit needs to be handed to higher-ups to ensure no changes occurred in the space and to identify any extra measures that need to be taken to protect employees.
---
Brewery Safety Checklist
To ensure that your brewery is a safe environment for employees, you should create a brewery safety checklist to follow. Outline important areas to address and work on to mitigate risk and reduce the potential of workplace accidents. Here is a list of ideas that you may want to include on your safety checklist:
Emergency Evacuation Plan - Have an emergency evacuation plan in place to protect all employees. Make sure a plan is in place in case of extreme emergency so that every employee knows how to exit the area safely. Ensure that the plan is up-to-date and that employees are trained to know the evacuation plan.


Safety Data Sheets - You should keep safety data sheets on all of the hazardous chemicals and liquids you have housed in your brewery. A safety data sheet is a document that lists information relating to the safety risks associated with a material. The information includes how to safely use the material and instructions on what to do in case of an accident such as a spill.


Safety Violations Reports - Ensure that there is a direct line of communication for employees to report potential safety violations and hazards without fear of repercussions. An open line of communication between employees and management is key in identifying potential hazards and quickly dealing with them.


Employee Safety Training - OSHA regulations require employees to receive basic training, but you can take this a step further. Regular safety training and meetings help to keep employees refreshed on safe workplace practices.


---
Understanding the licensing and safety requirements for breweries is key to running a successful business and avoiding trouble. Although opening a brewery presents an amazing business opportunity, in the U.S the alcohol industry is heavily regulated at both the state and federal level. For your brewery to fully realize its potential, you'll have to take the proper steps when it comes to licensing and safety, allowing you to avoid legal trouble and create a safe and successful workspace.