How to Stock a Housekeeping Cart
Last updated on 3/05/2019
Clean guest rooms are vital to the success of any hotel, resort, or vacation rental. With limited time to prepare each room for the next guest, your housekeeping staff needs to be organized and efficient. You can help your cleaning staff to perform the best job possible by beginning with a well-stocked housekeeping cart.
Housekeeping Cart Check List
Provide your staff with a housekeeping cart check list so they can stock their carts at the beginning of their shift. It's important that no items are missed because it wastes time when your staff has to make a trip back to the supply room. Take regular inventory counts on your supplies so that you never run out of important items.
We've created a helpful checklist that you can provide to your cleaning staff. To download the list, select the PDF below:
Download Our Housekeeping Cart Checklist PDF
How to Stock a Cleaning Cart
The method of stocking may vary slightly from business to business, but the basic items that every hotel needs are the same. Start stocking a cart from the bottom up, beginning with linens and towels, then paper products, and ending with amenities and cleaning supplies. Keeping the cart organized and clean is important because it will be in plain view of your guests as your cleaning staff is working.

Check out our infographic below to help you visualize the best way to organize your cart.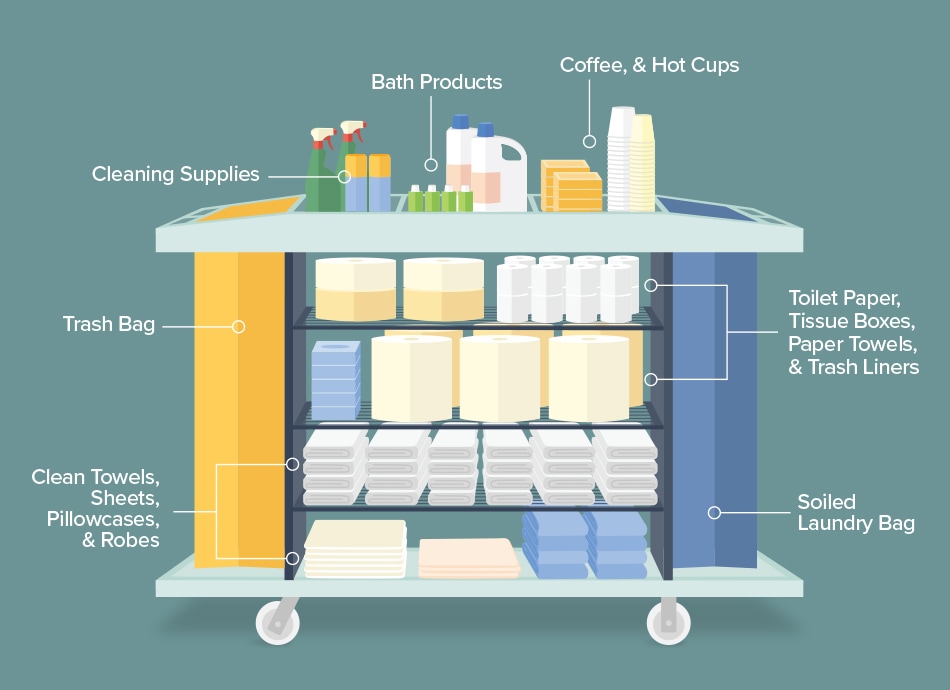 Linens and Towels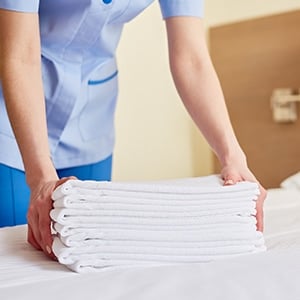 Keep your guests comfortable by providing clean linens on a daily basis. Towels and sheets are usually placed on the bottom shelves of the cart.
Bed Sheets
Pillowcases
Bath Towels
Hand Towels
Bath Mats
Washcloths
Robes
Paper Products
Paper products like tissues and toilet paper should be replaced as needed. These items can be placed on the upper shelves of the cart where there is ample room.
Toilet Paper
Tissue Boxes
Paper Towels
Cleaning Supplies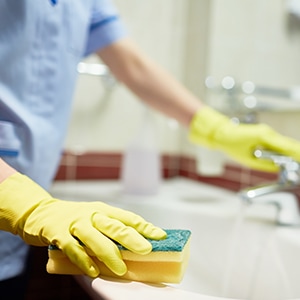 Since these are the items your housekeepers will reach for frequently, they can be placed on top of the cart. Using a top shelf organizer will help keep spray bottles and cleaners right side up while the cart is moving.
Cleaning Spray / Sanitizer
Cleaning Cloths / Sponges
Cleaning Gloves
Toilet Brush
Toilet Bowl Cleaner
Window / Mirror Cleaner
Dusting Polish
Dusting Cloths
Trash Can Liners
Bath Products
Your guests will appreciate the availability of hotel bath products in their bathroom. These small items can be placed in organizers on top of the cart to keep them from rolling around.
Shampoo
Conditioner
Lotion
Hand Soap
Face Soap
Amenities
Amenity items like coffee and tea are usually replaced on a daily basis so keeping them in an easy-to-reach place on top of the cart is convenient.
Coffee Cups
Coffee and Filters
Tea Bags
Sugar, Creamer, and Stirrers
Ice Bucket Liners
Drinking Cups
What Makes a Good Cleaning Cart
Good housekeeping starts with a functional cleaning cart. There are some important features you should look for when choosing hotel cleaning carts for your business.
Bag Holders - Choose a cart with bag holders on each end, one for soiled laundry and one for garbage.
Multiple Tiers - The cart should also have multiple tiers with ample room for supplies.
Adjustable Shelves - Adjustable shelves can be moved around to account for items of different heights.
Vacuum Bracket - It's much easier to attach a vacuum onto your cart than to carry it separately.
Top Shelf Organizers - Top shelf organizers are useful for storing the items that need to be accessed quickly.
Casters with Brakes - Brakes will keep the cart in place while the room is being cleaned.
Providing your housekeeping team with a checklist will help them to stock their carts successfully for each shift. You can ensure that all of your rooms are cleaned in a timely manner and that your guests are always provided with the appropriate amenities.