Types of Amenities
To provide your guests with quality amenities that will pamper them from head to toe, there are a variety of options available in single-use portions, perfect for bathroom counters, amenity trays, or nightstands. Round out your amenities package with several of the following complementary products to give your guests the ultimate experience.

Keep in mind that many of our lines offer several or all of these items in the same scent so that you can mix-and-match products to create your own ideal set.
Sizes
Hotel soaps are listed in either nominal or actual sizes. While this may be confusing to the consumer, nominal size does not refer to the weight of the soap. Instead, it references a size standardized by the amenities industry.
For example, a No. 3/4 bar of soap does not mean the bar will weigh 0.75 oz. The nominal size is 3/4, while the actual size of the bar may be between 0.3 and 0.4 oz.
Here is more information on both methods of sizing and their differences:
Nominal soap sizing actually dates back to the beginning of the soap industry. Adopted by leading amenities manufacturers, it has been used for so long that it is considered an acceptable option for soap sizing and is, in fact, the most advantageous technique for most companies to use so that their labels remain competitive. Nominal size works out to be about .25 ounces more than if you were to state the soap size in actual ounces.
Actual soap sizing is the most important sizing method when it comes to soap bar sizing. This refers to the exact amount or weight of the bar. Pay attention to this whenever it is available so that you know how much you are really paying for!
Scents
Give your guests a relaxing bedtime routine after tours, business conferences, or conventions with a variety of amenities in calming almond or milk & honey, or wake them up and replenish their energy with invigorating grapefruit and sage, lemongrass, or bergamot orange. The following scents are all available in our Disposable Hotel Bath Amenities category and offer a variety of soothing additions, like aloe, or with exfoliating properties. One is sure to suit your needs!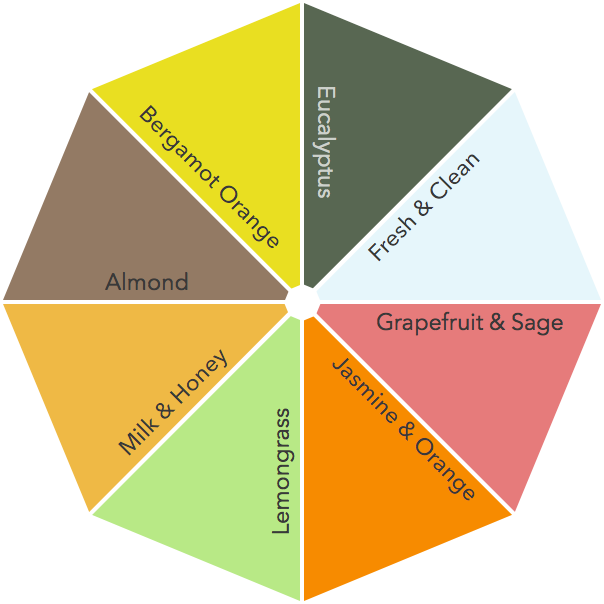 Almond
Calming with subtle sweetness and moisturizing properties
Fresh, zesty, and bold, this scent recharges the senses while vitamin C replenishes skin elasticity
With antibacterial and anti-inflammatory properties, this calming scent will refresh your guests and remove the exhaustion of a long day.
Mild and cleansing scent without additives
Fresh and citrusy with peppery herbal notes
Jasmine & Orange
Bold and sweet orange scents mix with delicate hints of jasmine for hydrating and de-stressing aromatherapy
With energizing properties, this bright and clean scent will wake up your guests' senses
Milk & Honey
Sweet and moisturizing, these ingredients draw out skin's impurities while rehydrating
Our Lines
Aromae distributes hair and skin care products with luxurious additions such as aloe, sage, rosemary, chamomile, bergamot, green tea, eucalyptus, and fresh citrus that hydrate and energize, stimulate and rejuvenate. And, as always, Aromae products are never tested on animals.
Basic Earth Botanicals combines elegant simplicity and quality ingredients to pamper the body and delight the senses. These vegetable-based soaps contain the finest ingredients and fragrances with a citrus blend of eucalyptus and lemon myrtle and are sold in biodegradable packaging.
A widely recognized bath care company, Dove offers a dermatologist-recommended cleansing bar to gently clean skin. Dove hotel amenities are made with quality moisturizing ingredients.
The Ecossential Naturals Collection is designed to delight the senses with crisp notes of citrus and herbs. Ecossential amenities offer refreshing lemon breeze blends, nutrient rich botanicals, paraben-free formulations, and ERP biodegradable plastic packaging.
Perfect for a morning wake-up or evening relaxation, Judith Jackson Spa amenities will refresh your senses with paraben-free citrus scents that combine the essences of orange, grapefruit, and lime with jojoba oil and vitamin C to leave your guests energized and refreshed.
With coordinated graphics that highlight the beauty of nature, Lord & Mayfair shampoo, conditioner, hydrating lotion, and revitalizing shower gel incorporate soothing fragrances like apricot, rosemary, chamomile, and jasmine. These sweet but subtle scents are perfect for all hospitality venues.
Refreshing and invigorating, with a clean scent, the Tulip line of hotel amenities is both affordable and stylish. The high-end packaging adds value to your guests' freshening up routine while the simple scent and ingredients fit in at any hotel.
For a more economical alternative to keep guests fresh and clean, consider our generic soap brands. These offer universal packaging, a fresh and clean scent, and gentle cleansing without stripping away natural moisture to gently clean the most sensitive skin.
Other Amenities
To further enhance the stay of each guest, consider the additional hotel and bath amenities we offer! Give weary travelers, tourists, and business associates a night of luxury and relaxation, and leave a lasting impression with repeat customers by including one or several of the following in every room, or offering them at the front desk as a courtesy.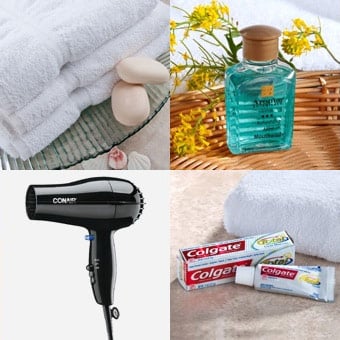 Hotel Bath Amenities