NSF International
Last updated on 8/27/2018
When you're shopping for restaurant supplies and equipment, you might notice a round blue NSF certification mark on some products. You know it's a good thing, but what does it mean, and what does NSF International do, exactly?
The NSF certification can have a significant impact for your restaurant. Purchasing NSF approved items can help you maintain a high level of food safety in your establishment, protect customers, and even protect your reputation. To learn more about what NSF International is and how they can help you keep your doors open, keep reading.
What Is NSF International?
NSF International is an independent public health and safety organization whose influence and stringent standards for developing public health regulations, certifying equipment and products, and educating people about public health reach around the globe. The NSF acronym stands for "National Sanitation Foundation," and their motto is "the public health and safety company." This is a testament to their prominence in the fields of food service, healthcare, and more. NSF International is dedicated to leading the industry in providing public health education and safety-based risk management solutions through strict public health standards and rigorous testing of products.
Brief History
NSF International emerged in the town of Ann Arbor from the School of Public Health at the University of Michigan in 1944. Their mission was to standardize food safety and sanitation protocols to promote public health. Still based in Ann Arbor, the company has since grown to a point where they have helped to establish more than 80 American National Standards in the areas of public health and safety through the American National Standards Institute (ANSI). ANSI is the organization that accredits NSF International. Today, NSF International serves as a testing, inspection, education, and certification organization in 155 countries around the world.
The Importance of NSF Certification
A health code violation or foodborne illness claim relating back to your restaurant can be devastating to your business. Purchasing NSF certified products can help you avoid violations and improve the reputation of your establishment in the long run.
Cost of Foodborne Illnesses
The CDC (Centers for Disease Control) estimates that approximately 48 million Americans contract foodborne illnesses each year. Though not all foodborne illnesses are contracted in restaurants, it is worth putting in the time and money, even beyond what is required by law, to reduce the risk that your customers could become ill at your establishment. Foodborne illness can end up costing you:
Customers and sales
Funds for reparations
Negative media exposure and inspection reports
Lowered staff morale
Time and money to retrain staff
Possible lawsuits
Higher insurance premiums going forward
Your reputation
Why Should I Buy NSF Listed Products?
Though many consumers may be worried about a higher price when they look at an NSF listed product versus a non-NSF product, the benefits certainly outweigh the extra cost.
Choosing NSF approved products may help boost your overall health inspection scores
Making sure that the products you use to serve your customers are NSF listed reduces the chance of foodborne illness
Cleaning NSF certified products is often easier and more efficient, saving your employees time and therefore saving you money
The reason why NFS listed items may be a wise choice for your kitchen is because the strict standards that NSF International upholds. NSF International reviews material choices, manufacturing processes, manufacturing facilities, and the final product to confirm that all phases of production meet their standards. After a product is certified, the organization may perform regulatory inspections of the facilities or retest the product to maintain that certification. That means that when you choose an NSF product you can be sure of the following for its manufacturer:
They are complying with national (and sometimes international) safety standards and regulations
They are committed to safety and quality in their products
Their items are made with added product safety and sanitiation features
How Do Products Become NSF Listed?
Much of the contact that food service professionals have with NSF International will be through products that the foundation certifies. NSF International is accredited as an independent, third-party certification company that tests and analyzes products to make sure that they meet high safety standards. When a product is approved by NSF International, it will be associated with the familiar round certification mark.
The Certification Process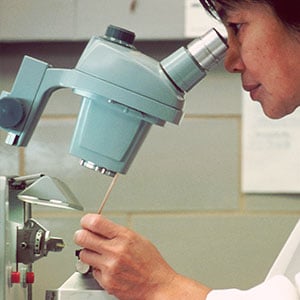 To certify a product, NSF International looks for food service equipment to be nonabsorbent, smooth, corrosion-resistant, easy to clean, and resistant to damage, among other things. Many health codes at the local, state, or national level require that specific equipment you use in your restaurant be approved and certified by NSF International to meet sanitation requirements.
For instance, some health codes require that the 3 compartment sinks in restaurant kitchens be NSF listed. These sinks must have smooth welds, covered bowl corners, and specially designed drain-boards that reduce the ability of harmful bacteria to reproduce in them. In order to be tested to meet NSF criteria, products go through a seven-step process:
Application and submission of information to NSF International
Product evaluation
Product testing in a lab
Manufacturing facility inspection with confirmation of production and product sampling
Review of test results
Contract is signed and product is listed listed
Annual plant inspections and retesting to maintain certification
After these steps have been completed, the product is marked with the NSF symbol to help buyers know which products have been certified.
How Do I Know If an Item Is NSF Listed?
You can tell if a product is NSF list by finding the NSF symbol on the item itself. NSF International has developed the symbol associated with their name over the last 70 years, changing it from a more intricately designed logo to the simple blue logo that they use now.
The basic NSF International logo is the round blue mark with white lettering. This logo simply means that a product has met basic NSF certification standards.
The NSF logo with a C and US underneath it indicates that a product has met the safety standards of both the United States and Canada.
If you are not sure if a product is NSF approved or if the certification may have expired, you can look items up on the NSF website to confirm the certification. You can also check to see which NSF ratings an item has been tested for. For example, a beverage machine may be NSF approved but may not be tested and certified to be used with milk. If it passes a particular set of testing procedures, it may be given a NSF 20 certification indicating that it is safe to use in bulk milk dispensing applications. Find more certification ratings on the NSF website.
Although there are more elements required to pass your restaurant inspection, purchasing NSF products can be a key factor towards your success. It is also important to note that NSF listed products are nearly guaranteed to at least meet the health codes in your jurisdiction, if not exceed them. If you are undecided between two products while shopping for new restaurant equipment, consider purchasing the NSF certified product so that you have the added safety benefits for your establishment and your customers.
---