High Altitude Baking Adjustments
Baking is an edible chemistry that can produce completely different results based on the smallest ingredient. One ingredient to successful baking is your understanding of your environment. (Yes, your literal environment!) If you're aiming to open a bakery in a high altitude environment, getting a consistent product can be a challenge due to the lower air pressure. For products to turn out as intended, bakers should understand how high altitudes impact baking and what they can do to compensate for those effects.
Effects of Baking at High Altitudes
High altitude begins at approximately 3,500 feet or more above sea level. At high altitudes, there is lower atmospheric pressure, or air pressure, which changes the temperature at which water boils and how quickly leavening gases expand. If you live at this altitude or higher, you will likely need to make adjustments to how you bake cakes, cookies, and breads.
Changes in air pressure affect baking in these ways:
Because water boils at lower temperatures, moisture evaporates quicker and can leave baked goods dry.

Yeast, baking soda, and baking powder create bubbles of air, carbon dioxide, or water vapor in baked goods called leavening gases. These gases expand quicker when baking at high altitudes, making baked goods rise and fall faster while in the oven, thus creating a dense or flat end product.
To offset these effects, you may need to change the baking time, the oven temperature, and the amounts of ingredients you are using when preparing baked goods.
How to Make Recipe Adjustments for High Altitude Baking
High altitude baking adjustments vary depending on what you are making and the height of your elevation. Generally, the higher your altitude, the greater the adjustment you need to make.
Yeast Breads
Breads that contain yeast are most affected by higher elevations because the lower air pressure makes dough rise faster, resulting in dry or misshapen loaves after baking. For your recipes to turn out right, you will need to experiment with how you prepare and bake your bread. Here are some high altitude baking adjustments you can try to help you perfect your yeast bread recipes:
Decrease yeast and use ice water with yeast to slow the reaction

Bake bread above a pan of boiling water to increase

moisture, removing the water

during the last 15 minutes of baking
Decrease proofing time; let loaf rise to 1.5 times its size rather than double

Try punching dough down twice

Decrease flour or increase liquid (if necessary)
Pies
Pie crusts, on the other hand, are not usually affected by high altitude baking as much as other baked goods, but slightly increasing the liquid in your recipe will help with dryness. Because the filling takes longer to bake at higher altitudes, it is recommended that you cover the crust with foil to prevent burning.
Cakes, Cookies, and Quick Breads
For a concise high altitude baking adjustment guide on cakes, cookies, and quick bread recipes, follow the chart below:
Item
Flour
Liquid
Leavening
Sugar
Shortening
Temperature
Tips

Cakes
Increase flour 1-4 tbsp;
Generally 1 tbsp per cup of flour
Increase liquid 1-4 tbsp;
Or increase eggs, use larger eggs
Decrease leavening from 1/8 to 2/3 tsp for each tsp in recipe
---
Decrease shortening 1-2 tbsp
Increase temperature about 25 degrees Fahrenheit
If not increasing temperature, increase baking time 10-15 minutes
Cookies
Increase flour 1-4 tbsp
Increase liquid, but not too much
Decrease leavening, if using
Decrease sugar 1-4 tbsp
Decrease shortening 2 tbsp to 1/4 cup
Increase temperature from 15-25 degrees Fahrenheit
Decrease bake time if necessary;
Use cool baking sheet to prevent additional spreading

Quick Breads
Increase flour 1-4 tbsp
Increase liquid 1-4 tbsp
Decrease leavening from 1/8 to 2/3 tsp for each tsp in recipe
Decrease sugar 1-4 tbsp
Decrease shortening 2 tbsp to 1/4 cup
Increase temp 15-25 degrees Fahrenheit
Adjustments will depend on the bread's consistency being closer to muffins or cake
Pans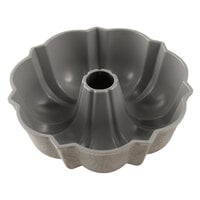 Sometimes, using an angel food cake pan or a pan with a tube in the center can help cakes to rise better because there is more heat conduction in the center of the batter. Additionally, bakers should consider greasing and flouring pans as well as using parchment paper to be sure their baked goods will release from their pans when baking at high altitudes.
Most of these high altitude baking adjustments are very small, so you can only be sure how your recipes will work in a high altitude through trial and error. Try adjusting one ingredient at a time to identify which ingredient has the biggest impact on your baked goods.