Patio Stoves
Uses: Patio stoves are used mostly for cooking with a stock pot or large, heavy cast iron cookware. Fry chicken, fish, or even a whole turkey. Steam vegetables and seafood. Boil water or make large batches of stew. These are also very popular for brewing beer. If you need to do many different things, this is a good piece of equipment.
Production: Low volume. Good for small gatherings such as company / church picnics or tailgating events.
Burner: Buying a model with a larger burner will let you hold larger cookware. The higher the BTU rating, the faster the stove will reach temperature.
Height and Stability: These start at less than 10" high and can be over 20" high. A taller model will make it easier to lift heavy stockpots, but this added height also makes it easier to knock over accidentally. Square stoves are also generally more stable than round ones.
If you are loading very heavy stockpots and/or are concerned about foot traffic near the stove, a shorter, square model is the safest option.
Fuel: Propane.
Other Features:
A hose guard is a great safety feature, preventing damage to the hose at the connection point.

Wind reduces your burner's effectiveness since you're cooking with an exposed, open flame; a guard will help to minimize its effect.

We sell kits that have everything you need to steam and fry foods outdoors, in one convenient bundle!
Outdoor Fryers
Production: When buying an outdoor fryer, this is your biggest consideration. Many of our fryers list approximately how many people they can feed each hour. Buy something that meets your current needs but gives you a little bit of room to grow if you're planning on frying for larger events in the future.
Number of Fry Tanks / Fry Baskets: Multiple tanks prevent cross-contamination (so that the shrimp isn't sharing oil with the French fries). Multiple baskets let you do smaller batches of the same or similar items in the same tank.
Fuel: Propane.
Other Features:
Also be sure to check out all of our outdoor fryer accessories and replacement parts!
Outdoor Grills and Griddles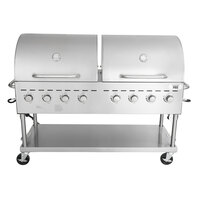 Production: This is your biggest consideration when buying an outdoor grill or griddle. Below are some general guidelines, but also think about what you plan to make. You'll need a bigger grill if you're planning on doing a lot of ribs instead of burgers.
NOTE: These measurements reference the grilling surface, not the total width of the grill:
36" and under: low production; tailgating events, company or church picnics, small catered events.

36" – 60": low – medium production; small to mid-size catered events, rentals, concessions.

60" and above: medium – high production: BBQ competitions, fairs, large catered events, rentals, large tailgating events.
Mobile or Built-In: You basically have 3 options:
Portable: Most have wheels or a removable stand, so they're easy to move for cleaning, storage, etc.

Towable: Great if you need to take the grill to different locations. These are high-production units for large events, and you can tow them behind a vehicle.

Built-In: These are built into the outdoor dining areas of restaurants, country clubs, and similar establishments. They give a more aesthetic look, but once they're in, they're not going anywhere.
Fuel: Propane, natural gas, or charcoal
Other Features:
Also be sure to check out all of our outdoor grill accessories and replacement parts!
Smokers and Smokehouses
Smoker Grill or Smoker:
Smoker grills: You can grill meats and/or smoke them. Great if you will spend most of your time grilling, but want to do some smoking on the side, too.

Smoker / smokehouse: If you'll be doing a lot of smoking, this is the unit to use – these give you a little more control over your finished product because they're designed specifically for smoking, and in larger units you can hang sausages, fish, and other meats on hooks.
Production: A smoker grill or small smoker cabinet will work for most users who want to make some occasional smoked meats.
If you are a commercial operation that plans on having smoked products as a big part of your menu, you'll want to look at bigger units and/or multiple units for different types of smoked items (you don't want to smoke fish at the same humidity / temperature as beef or pork, for example).
Since you need to prepare the meat well in advance, know how many people you are feeding, what you're feeding them, and compare against the capacity of our smokers – that will help gauge the size / number of units you need.
Fuel: Propane, electric, or charcoal.
Other Features:
The Backyard Pro Line
Featuring a full line of outdoor grills and patio stoves, Backyard Pro's products let you take your culinary expertise out of the kitchen and into one of the very best venues for enjoying a great meal - the outdoors.
Fry turkey at a tailgate with our patio stoves and fryer / steamer kits, or be the grill-master at the company picnic with a reliable 30" or 60" charcoal grill. Backyard Pro even offers a smoker grill with independent charcoal and gas sections, a side burner, and smoker box. So you can throw on a few burgers and use the gas side for fast turnaround, or use the charcoal side to craft a perfect, smoky, savory steak.
Compare the full Backyard Pro line below to find the right grill or stove for your needs!
Backyard Pro Stoves and Grills Comparison
| Item | Height | # of Burners (Total Burner BTU) | Cook Surface | Material | Features |
| --- | --- | --- | --- | --- | --- |
| | Adjustable; 13" – 25" | 2 (110,000) | 12" x 25" | Steel | |
| | 9 3/4" | 1 (210,000) | 17" diameter | Steel | |
| | 13" | 1 (185,000) | 14" diameter | Steel | |
| | 13" | 1 (55,000) | 16" x 16" | Steel | |
| | 13" | 1 (55,000) | 16" x 16" | Steel | |
| | 21" | 1 (55,000) | 14" diameter | Steel | |
| | 13" (stove) | 1 (55,000) | 16" x 16" | Steel stove / aluminum fry pot | |
| | 13" (stove) | 1 (55,000) | 16" x 16" | Steel stove / aluminum fry pot | |
| | 13" (stove) | 1 (55,000) | 16" x 16" | Stainless steel | |
| Item | Cook Surface | Material | Fuel Type | Features |
| --- | --- | --- | --- | --- |
| | 60" x 24" | Steel | Charcoal | |
| | 60" x 24" | Stainless Steel | Charcoal | |
| | 30" x 24" | Steel | Charcoal | |
| | 30" x 24" | Stainless Steel | Charcoal | |