Features to Consider
Gas vs. Electric
The choice is yours. We offer both gas operated and electric versions so that you have all of the options you need. Each has its benefits, so it comes down to a matter of personal preference and the needs of your kitchen. Electric crepe makers may be more energy efficient in the long run, plus they can simply be unplugged for portability. Gas units, on the other hand, require a natural gas line or liquid propane source, so they may not be as portable. At the same time, gas equipment tends to heat up faster, which can increase the productivity and profitability of your kitchen.
Temperature Range
Many commercial crepe makers, like the Waring WSC160, offer a temperature range of approximately 120-575°F. Since some recipes may require higher or lower heat than others, such a wide temperature range means that these crepe makers can be used for a variety of different crepe recipes.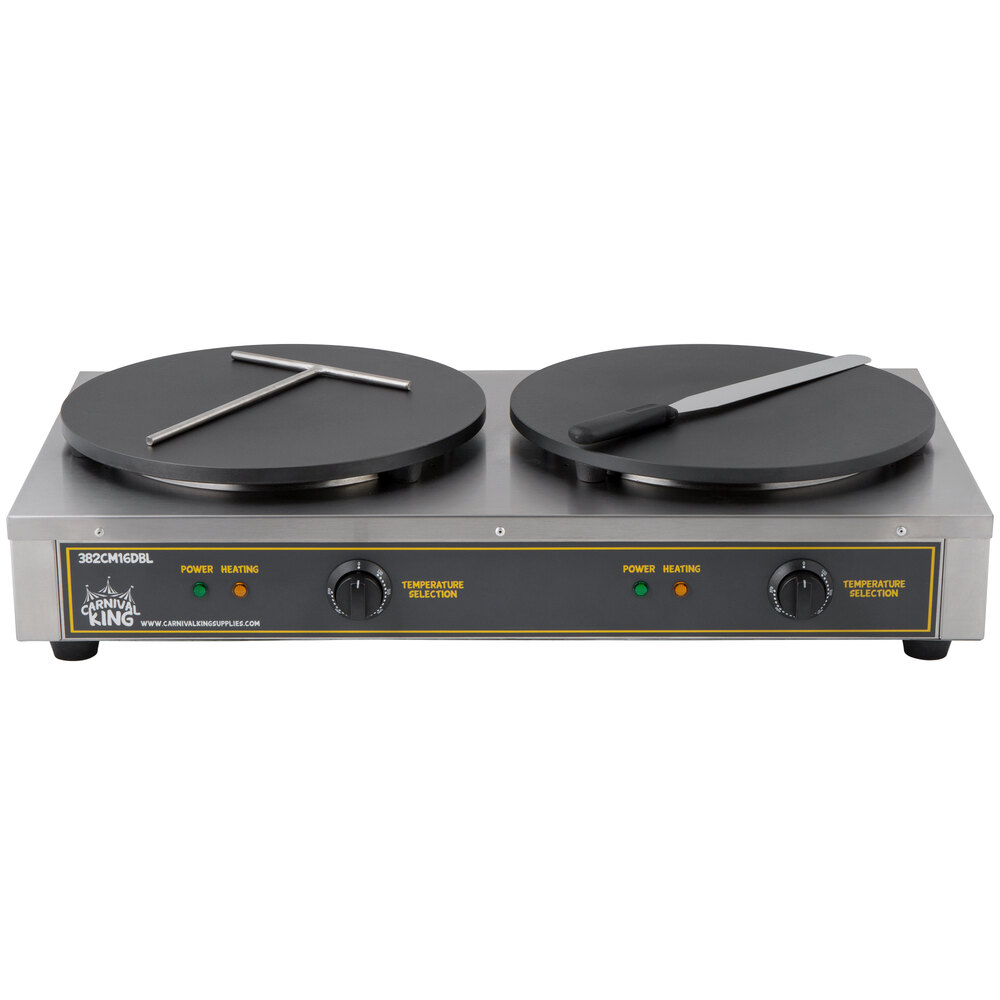 Single vs. Dual
Depending on the volume of crepes that you plan to produce and how much space you have, it's important to keep in mind whether a single or dual version will work best for your application. If you plan to produce a high volume of crepes and have enough continuous counter space, a double version may be just what you need. If you are only looking to test out crepes on your menu or serve a limited selection, a single unit will do the job. Plus, a single unit saves counter space in a crowded kitchen.
Size
Most of the crepe machines that we offer have a 15 3/4" or 16" griddle plate, a standard size for most commercial units. If you are looking for something smaller to start out, the Krampouz CEBPB2 electric crepe maker features a 13" griddle plate.
Materials
For a commercial business, you will want materials that stand up to the amount of use you will require from your crepe maker. Most of the commercial crepe machines that we offer come with a stainless steel exterior and frame that make the machines easy to clean and durable enough for commercial use. Some, though, have lighter plastic frames and exteriors that are more suitable for light duty use. Most crepe makers have a cast iron griddle plate that will stand up to the test of time; however, non-stick coated griddle plates are available with light duty models.
Cooking Surface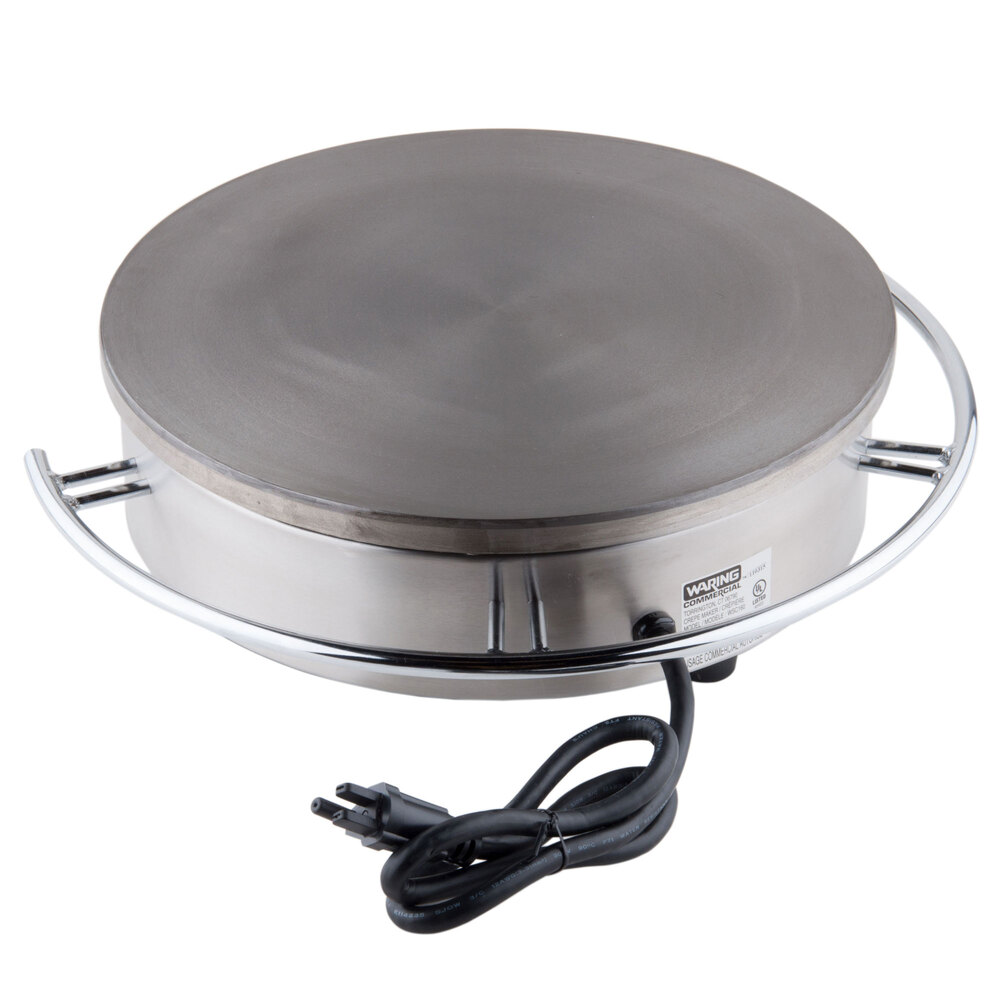 Nearly every commercial crepe maker has one thing in common—a cast iron griddle or cooking surface. Why cast iron? As opposed to steel or aluminum alloys, cast iron heats evenly and consistently, making it a perfect choice for cooking specialty crepes! Plus, after seasoning, it can be practically non-stick and will last a very long time with proper care. To learn how to season your new crepe machine's griddle plate and maintain the surface for years to come, check out our short video below.
Though most commercial crepe makers come with cast iron griddle plates, some crepe makers have non-stick griddle plates. These reduce the need for seasoning but still allow you to easily turn and remove crepes. Non-stick is ideal for light duty applications where you do not want to put in the time and effort to season your crepe maker's griddle plate. For high-volume commercial applications, however, a cast iron griddle plate will better stand up to abuse and can last much longer, saving you time and expense in the long run.
How to Season A Crepe Maker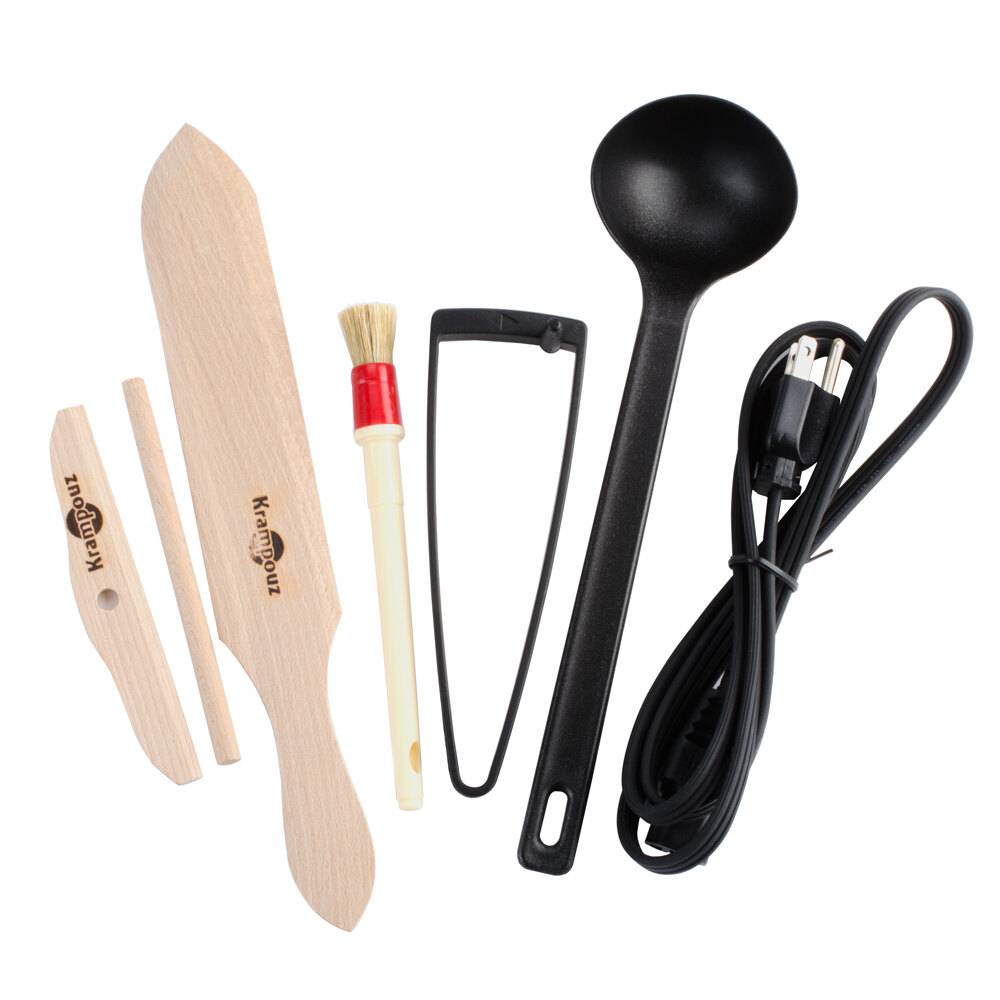 When purchasing a crepe maker, it is important to consider what crepe maker accessories you may need in order to accomplish the results you want. If you are looking to create authentic crepes, you may need a batter spreader to correctly spread the batter over the griddle plate to make the thinnest possible crepes. Also, a specialized spatula often comes with a crepe maker. The spatula slides under the edge of the crepe to help you more easily turn, fold, and serve the crepe. Many crepe makers come with these accessories, but others may require them to be purchased separately.
Crepe Pans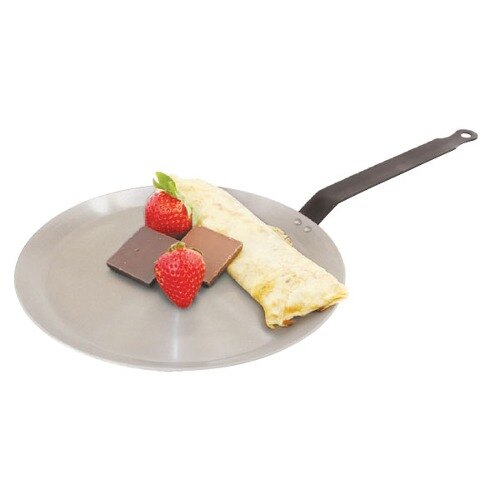 If you have a limited budget and wish to test crepes on your menu before purchasing a crepe maker, or if you want to create smaller dessert crepes, we offer a selection of crepe pans ranging in size from 8 5/8" to 11 3/4". These pans are smaller than commercial crepe makers and, the added bonus, they can be used on a regular range without any special equipment. Available in both cast iron and steel, you are sure to find the perfect crepe pan to complement your cookware lineup. For additional considerations when buying pans, be sure to read over our
Cookware guide
.