Keg Sizing Chart
Before we get into
kegerators
, let's begin by gaining a basic understanding of the different types of kegs that are available.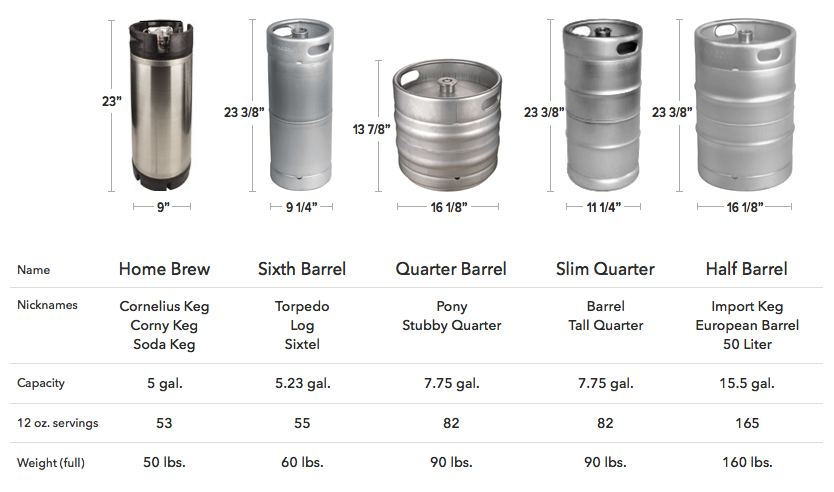 Kegerator Parts
Now that we understand kegs, let's look at the different parts of a kegerator. On a basic level, kegerators have a hollow inner cavity where the keg is stored, a standard latching or sealing door, and a dispensing tower, which is located on the top of the unit. However, there's a lot more that goes into them. Here are the parts needed to operate a kegerator.
Keg: The keg is where beer is both stored and chilled in the kegerator.
Coupler: The coupler is a valve that taps the keg.
CO2 Tank and Regulator: Carbon dioxide enters the keg through the coupler, which allows the gas to push beer up through the beer line and into the tap tower. The regulator is connected to the CO2 tank, and it allows you to change the pressure or maintain a constant one.
Tap Tower: Beer travels from the keg to the tap tower where it is almost ready to be dispensed. Tap towers come in many different styles with varying numbers of faucets.
Tower Adaptors / Manifolds: Adaptors, also called manifolds, allow you to convert single-faucet towers into double and even triple faucets, increasing your output.
Faucets: Faucets are attached to the tap towers and they dispense the beer. The number of tap towers is not always the same as the number of faucets, as multiple faucets can be attached to each tower.
Drip Tray: The drip tray sits on top of the unit at the base of the tap tower. It conveniently collects beer overflow or accidental spills when dispensing.
Guard Rail: Guard rails rest on top of the kegerator. If you choose to store glasses on top of the unit, this rail will keep them from falling off.
Casters: Casters allow for easy maneuverability on freestanding units.
Note:
Unless stated otherwise, most kegerators do not include these parts. You will need to buy the essentials, like the CO2 tank, tap tower, coupler, and regulator separately.
Indoor Kegerators
Indoor kegerators are great for bars, pubs, and caterers who are doing indoor events. They fall under the indoor kegerator category because they should not be used in environments below 50 degrees or above 85 degrees. Take this into consideration when deciding on the kegerator that is right for you. Some units are freestanding and others have the option of being built into a countertop. Before you start your search, it's important to note that all indoor kegerators fit into three main categories: single keg units, multiple keg units, and multi-purpose units. Next, we'll outline the various features of each type.
Single Keg Units
These are the smallest kegerators available and, as a result, they hold the least amount of beer. Still, you might be surprised at just how many people one of these can serve. A single 1/2 barrel keg holds about 15 1/2 gal. of beer, or approximately (165) 12 oz. servings. The average customer will have 1.5 drinks per night, meaning that a single keg will serve draft beer to approximately 110 people. The convenient size of single keg units makes them great for caterers looking for something that is both easily maneuverable and durably built. Due to the lower capacity of these single keg units, many are freestanding and cannot be built into a countertop. Depending on the model, you may also need to store the CO2 tank outside the unit because of space restrictions.
Multiple Keg Units
Multiple keg units offer more keg configurations for added flexibility and more beer! Most likely, if you're looking for something with a larger capacity, you want to install it directly into your bar rather than use it as a freestanding unit. Casters can be purchased, though, if you want the option to move the machine around more easily. Multiple keg models include extra tap towers for increased serving efficiency. The extra towers, often attached to their own kegs, allow you to serve more than one kind of draft beer. Multiple keg units can typically hold (2-5) 1/2 barrel kegs depending on the model you choose.
Multiple keg units can also accommodate sizes of kegs other than the traditional 1/2 barrel, such as a 1/4 barrel or the less common 1/6 barrel for more keg configurations. These smaller kegs are ideal for sampling, but they're not great for serving a big crowd.
Multi-purpose Units
Multi-purpose units give you maximum versatility. These machines double as regular back bar coolers with room to store bottles and cans in addition to your keg(s). Many models have glass doors that provide a stunning, professional display of whatever beer, soda, or even wine that you choose to store in your multi-purpose kegerator. These units are great for bars, as customers can see the additional drink options through the glass doors. It makes for a wonderful presentation, and it couldn't be more convenient for your bartenders. All of your drinks are in one place!
Outdoor Kegerators
Outdoor kegerators are specifically designed to work in temperatures both significantly lower and higher than typical indoor temperatures. For most models, this range is from 45-100 degrees. They're great for garages, unfinished basements, outdoor patios, and caterers who are working outdoor events. If you need something a little more portable, keg container beer dispensers are a great option! They're easy to use and maintain. Just drop the 1/2 barrel keg into the container and fill with ice to chill the beer. The rest of the unit works just like a kegerator by using CO2 to dispense draft beer through a tap tower. These are great for tailgating and outdoor parties. When you're finished, they're easy to clean.
Light Duty Kegerators
This Avantco single keg unit is great for caterers and first time kegerator buyers looking to serve draft beer at parties and other small scale events. Beer can stay fresh inside a kegerator for up to two months, so you won't have to worry about the possibility of waste as you would with a non-refrigerated keg. Guests will love being served draft beer, and you'll actually save money in the long run by cutting costs on bottles. One of the biggest advantages to this model, in particular, is that it comes with almost everything you need to get started right out of the box, including an empty CO2 tank, a dual regulator, a tap, and 3" casters that allow for easy maneuverability. Just have the CO2 tank filled, plug the machine into the wall, and you're ready to start drinking and serving draft beer! It has a temperature range of 32-50 degrees Fahrenheit and comes in either a black or stainless steel finish with a plastic liner interior. This kegerator is UL Listed.
Important Factors
Here are some important things to consider when selecting a kegerator. Keep these questions in mind when you're looking at the different options.
How many people do you need to serve on a daily basis?
Where will you put the kegerator?
Do you want a kegerator with casters?
Do you want extra fridge space for bottles and cans?
How many tap towers and faucets do you want?
Do you need to use your kegerator outside?
Note:
All of the models shown in the comparison table below have a temperature range of 33-38 degrees Fahrenheit. Kegerators are grouped based on how many 1/2 barrel kegs they can hold. Stainless steel finishes are more expensive than black finishes.