Find the Best Beer Dispensers for Your Business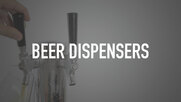 A direct-draw beer dispenser is the best way to serve frosty brews to your thirsty patrons at your bar, nightclub, or party hosting facility. We carry a huge selection of kegerators and beer dispensers in various configurations and sizes, so you'll have no trouble finding just what you're looking for. Whether you need a small, portable commercial kegerator for your catering operation or a large club top beer dispenser capable of holding several kegs and chilling glasses, we've got you covered. Many of these products are NSF Listed for easy cleaning, and we also carry Energy Star Certified beer dispensers for establishments looking to save on energy costs. If you're hoping to customize your beer dispenser even further, you can choose from models with alternate condenser locations, LED lighting, and items designed to store wine. To learn more about the differences between these products, explore the tabs above and the filters on the left side of the page.
Other Bar Refrigeration Supplies
Commercial kegerators and beer dispensers are the perfect choice for keeping cold, refreshing beer on tap regardless of location. Whether you are interested in dispensers with back bar coolers, club top dispensers, kegerators, or remote cooled dispensers, our wide selection is sure to provide you with the best direct-draw appliance. For more beer-related products, check out our bottle coolers, back bar coolers, and tap brushes. If you're wondering where to buy beer dispensers, we have a large selection available at the lowest prices.
If you're wondering where to buy beer dispensers, we have a large selection of beer dispensers for sale at the lowest prices.