Strip warmers have many different features that can be customized to suit your specific needs.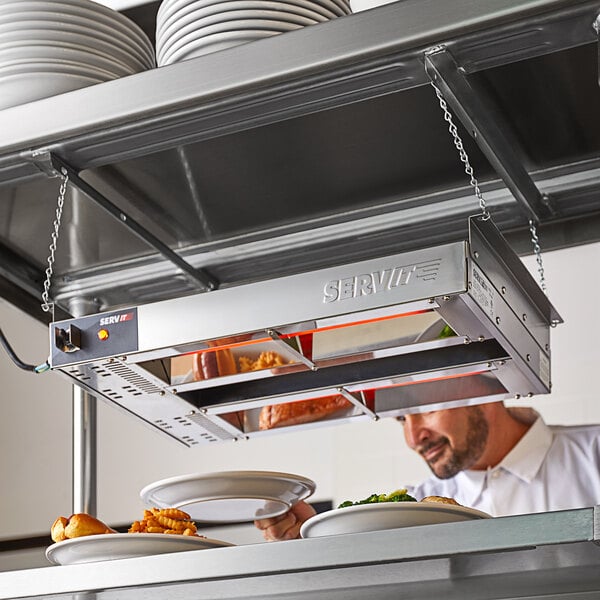 Usage / Wattage
The wattage of the strip warmer heating elements dictates the level of usage. Choose a low-wattage unit for small spaces and light-duty use. Level up the wattage for high-volume kitchens that require heavy usage.
Double vs Single
Strip warmers come in two styles: single-element or double-element. A single unit has one heating element and a dual unit has two. Consider the depth of coverage that you need before choosing. A single-strip unit will heat a narrower surface, while a double-strip unit provides heat to a wider surface area.
Heat Source
There are two common types of heating elements in strip warmers. Metal-sheathed elements are comprised of wires encased in metal. They're effective and economical, which makes them popular for most foodservice applications. Ceramic heating elements provide more intense heat for covering greater depth and height clearance. However, they do come with a higher price tag than metal-sheathed strip warmers.
Installation
Strip warmers are available with different mounting hardware. For permanent installation, use mounting brackets to attach the strip heater over a food pickup area. Support chains can be used to hang the strip warmer from the ceiling. To create a portable solution, a leg stand can turn a strip warmer into a mobile food heater that you can use on any countertop.
Electrical Connection
Hardwired strip warmers are permanently connected to your electrical system. If you plan on moving the warmer around, choose a cord and plug option for greater mobility.
Control Type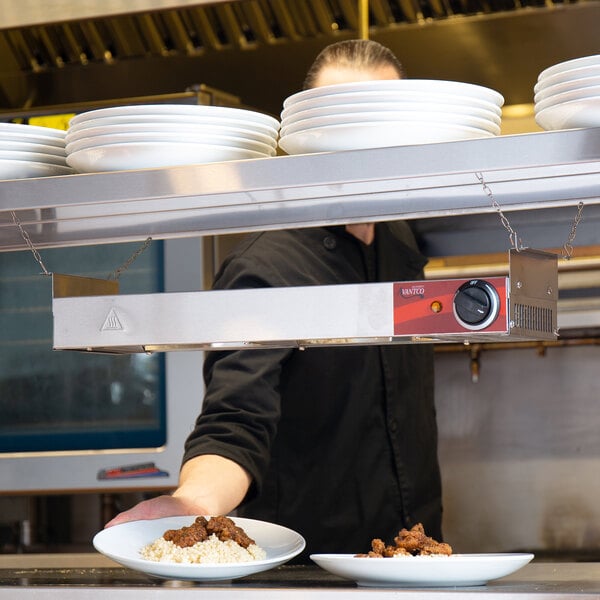 Choosing strip warmer controls can be a little bit confusing. We'll walk you through the four types of controls and explain the benefits of each one.
Attached Toggle - An attached toggle control has a simple on/off button on the strip warmer. The unit is either turned on or it's turned off. There is no temperature control with an attached toggle button, which makes it simple for anyone to use.
Attached Infinite - An attached infinite control is a dial located on the unit. You turn the dial to power on the unit and also to adjust the heat level. This gives the user more control over the amount of heat being applied.
Remote Toggle - A remote toggle switch is located in a different location than the strip warmer, which is useful for a couple of reasons. The heat from a strip warmer can take its toll on attached controls. Placing the remote control box in a cooler location can extend the life of the components. This toggle control is limited to powering on or off and has no temperature control.
Remote Infinite - The remote infinite control is a great option if the strip warmer is located in the dining room. You can power it on from a distance and turn the dial to control the temperature. This also prevents guests from tampering with the controls.