What is a Drawer Warmer?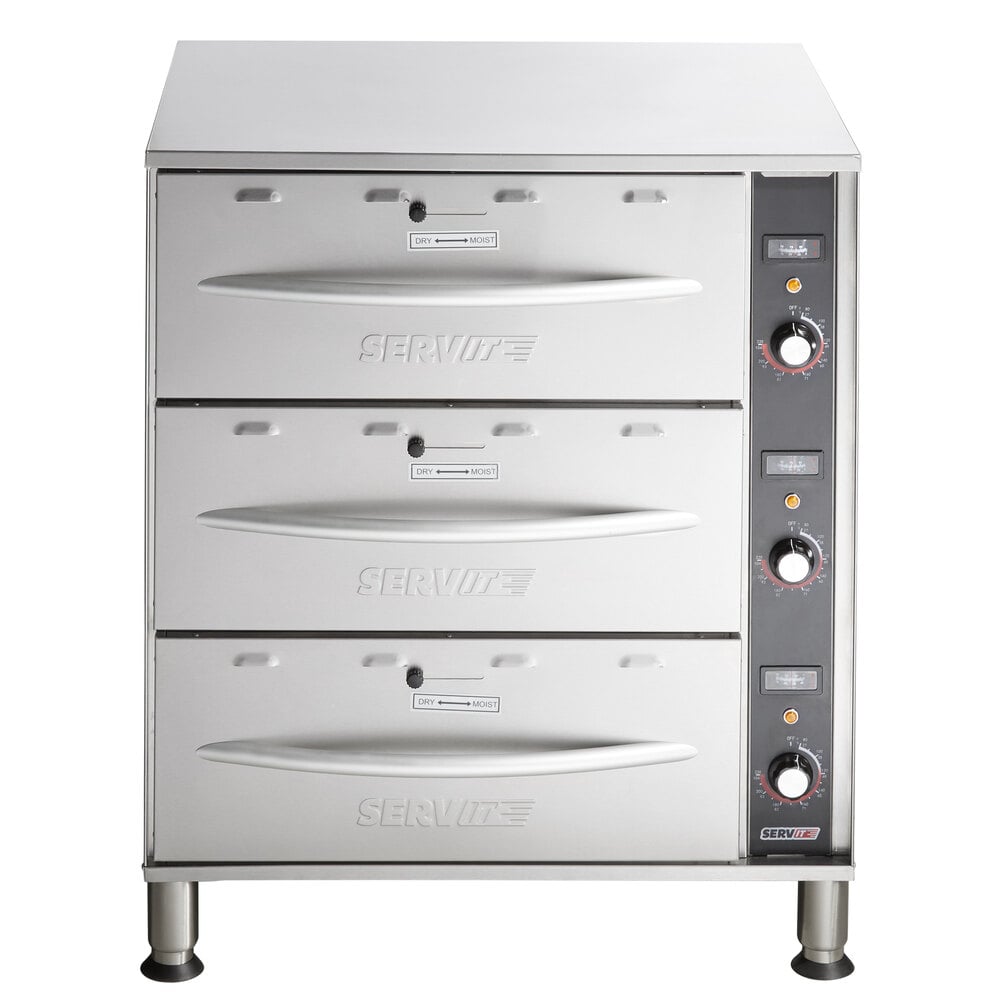 A drawer warmer is an electrical appliance used by food service professionals to keep food that will not be served immediately fresh, flavorful, and at the proper serving temperature once it has been removed from the oven. Whether you run a buffet, commonly coordinate meals for large groups, or just need a reliable way to keep staple menu items hot and fresh until it's time to serve, a warming drawer can help you streamline your operation to keep up with demand during peak serving times, while remaining confident in the quality of the food making its way to the table.
Warming drawers typically operate at temperatures between 60 and 220 degrees Fahrenheit. This allows for high-volume food products such as bread rolls to be kept warm for immediate serving, and ensures that hot, easily-perishable foods such as meats remain well above approved temperatures (140 degrees Fahrenheit or greater) to ensure they don't spoil and that guests dine safely. Temperature can be adjusted either by digital or thermostatic controls, with many units featuring controls that automatically re-activate when significant temperature drops are detected.
What Are Drawer Warmers Used For?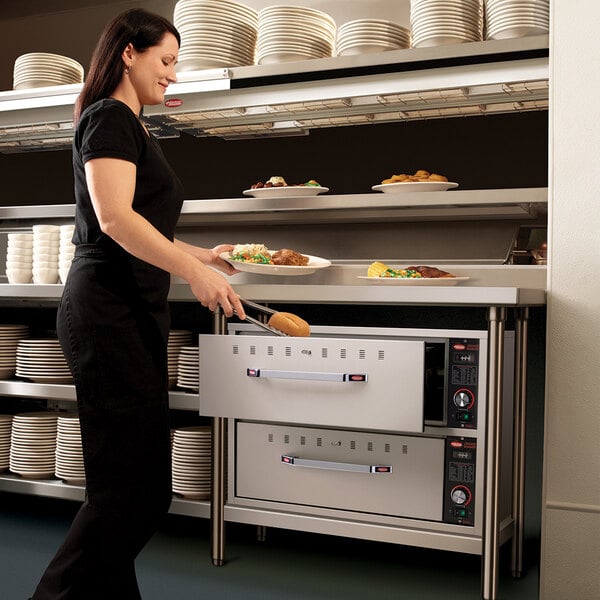 Used by prep and line cooks to keep hot components of daily specials ready to churn out, cutting down on cooking times and turnover rates
Used by servers and front-of-the-house staff to hold frequently ordered appetizers and sides such as nachos, tortillas, bread loaves, and bread rolls
Used by caterers to hold pans of cooked food before departing for events
Great for holding a variety of foods, from soft and moist to crisp or fried
Can be used to warm plates, bowls, cups, and other oven-safe dinnerware
Occasionally used at low temperatures to proof bread dough
Sometimes used as a gentle method for defrosting food, though it is discouraged to prevent cross-contamination involving potentially hazardous raw foods

Warming drawers should never be used...

To cook or heat up any type of food, especially potentially hazardous foods
Warming plates and other dinnerware that is not oven safe
With plastic wrap or conventional plastic containers, which can easily melt
With aluminum or any other type of foil lining the drawer itself; placing individual aluminum foil food pans into warming drawers is fine
Should I Invest in a Drawer Warmer?
An important factor to consider when thinking about investing in a drawer warmer for your business is quantity. If output of specific menu items or staple ingredients is high, and being able to cook ahead of time will help you easily meet demand and even sell more in the process, a drawer warmer will be a welcomed addition.
If catering is your specialty or you find yourself frequently preparing for large groups, a warmer will help you maintain that just-cooked look and taste to achieve a satisfying standard of quality while meeting quantity requirements. A warmer can serve as one of the workhorses of your kitchen and ease any concerns you might have when those large groups arrive. If the demand is there, this versatile piece of equipment may be well worth the investment.
Benefits of Drawer Warmers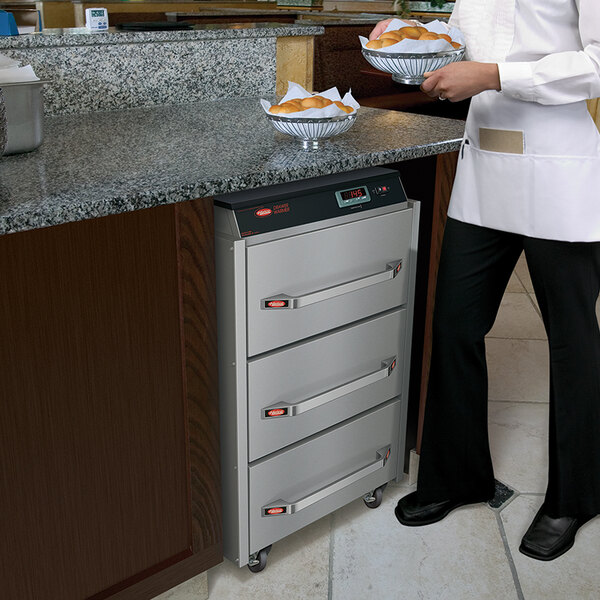 Energy-efficient alternative to microwaves and conventional ovens for holding hot food
Keeps food fresh, flavorful, and visually appealing
Allows you to cook food ahead of time, freeing up labor during peak serving times
Simple, intuitive controls make it easy for even your newest cooks or servers to operate
Provides a designated space for hot food holding that does not need to be in the vicinity of your cooking equipment (e.g., an oven or microwave)
Frees up space on griddles and ranges and in ovens and microwaves, which are often used as a warming method
Built-in and mobile units help maximize countertop space to make room for other important preparation and cooking tasks
Typical Features of Drawer Warmers
The features and components of different drawer warmer models vary, but below you will find a general overview of important features to look out for when making a purchase.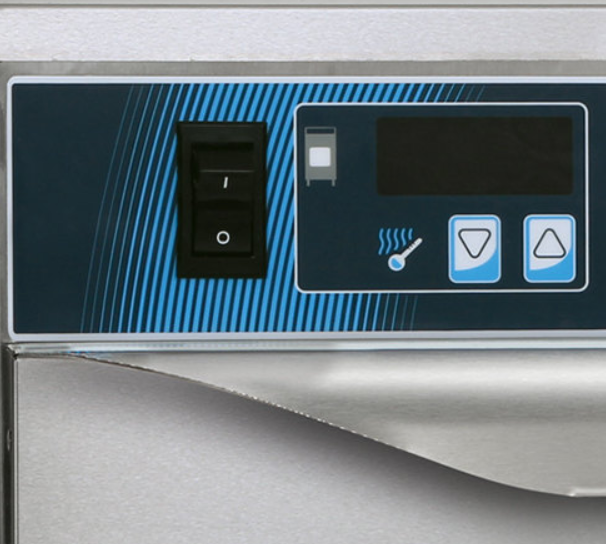 Digital or thermostatic controls allow you to select a desired temperature suitable for specific foods.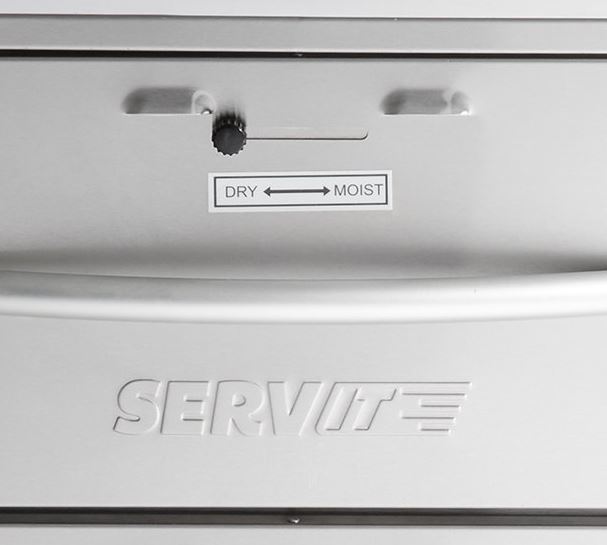 Vents allow for airflow control to manipulate moisture and humidity to maintain the quality of different foods.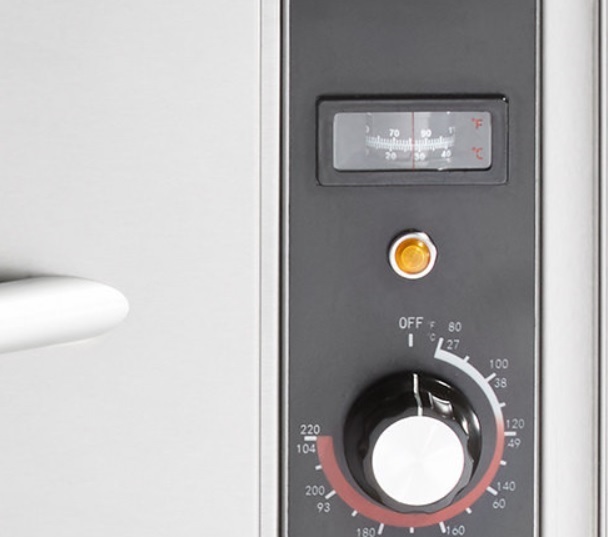 Indicator lights alert the operator that the desired temperature has been reached after preheating.
Casters or legs offer different degrees of mobility, while a built-in design allows for discreet, permanent installation.
Different Types of Drawer Warmers
All drawer warmers perform the same essential function of holding hot food at serving temperature, but different models are designed to serve you best depending on the different types and quantities of food you need to hold and how much space is available to you. Some units, like rice warmers, are designed to hold specific types of food and even utensils. Below, you'll find comparisons of the common styles and types.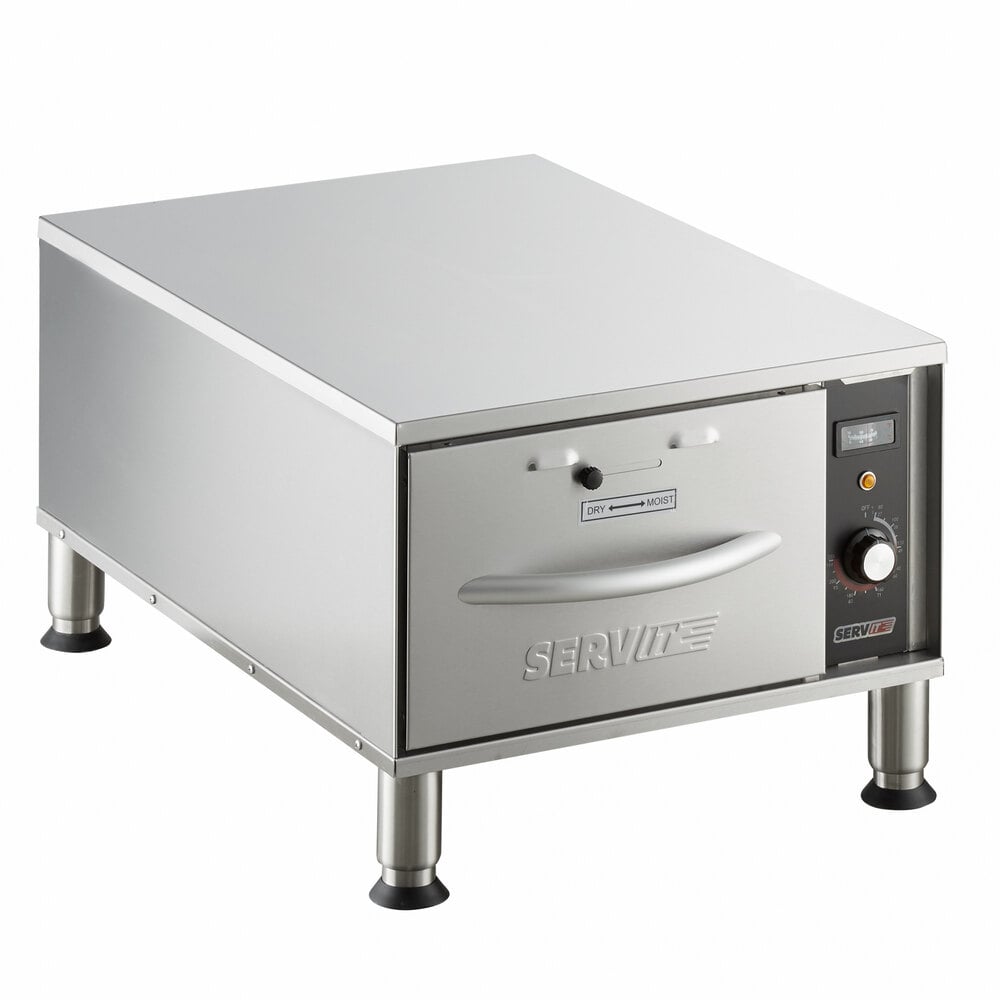 Advantage: An ideal option when space is limited, output is low, and/or items are replenished frequently
Disadvantage: Smaller capacity drawers limit the amount of food that can be warmed at a given time.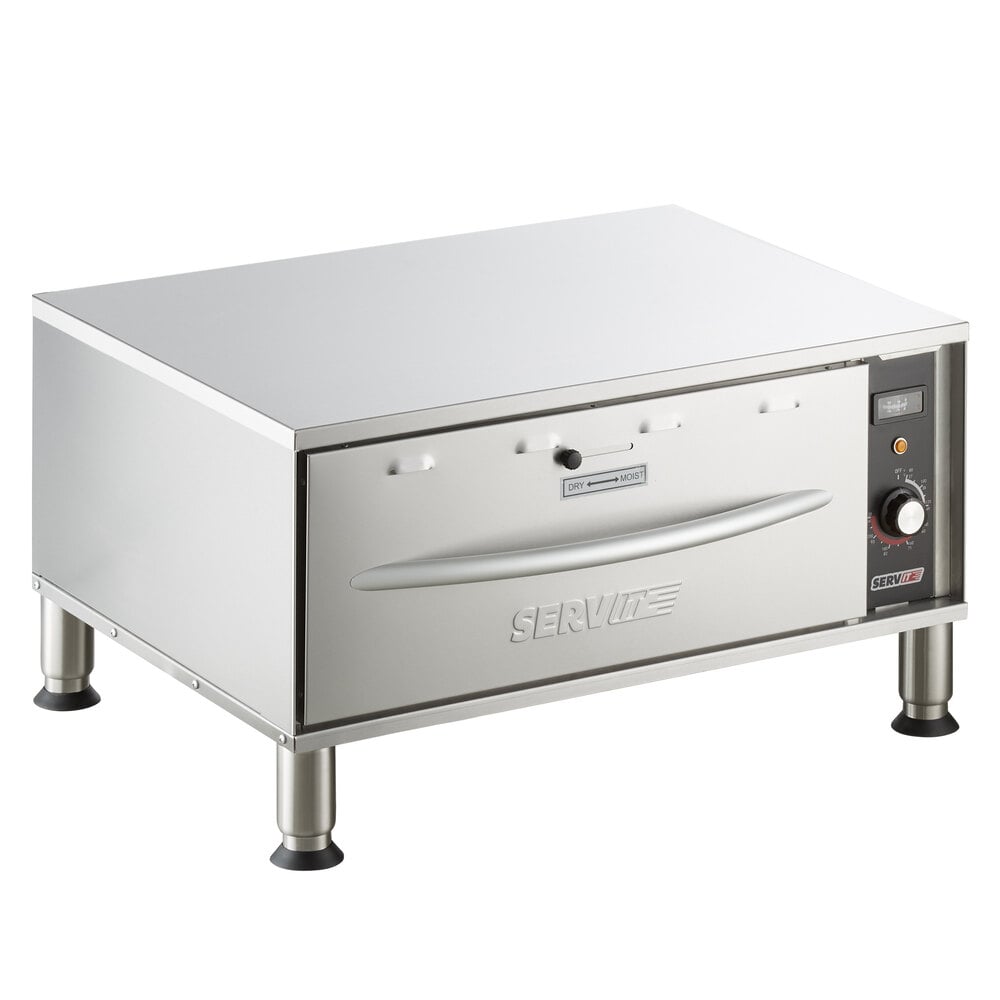 Advantage: Ideal for use with larger quantities of hot food, and allows for greater output during peak times or when serving large groups
Disadvantage: Requires more thoughtful consideration of the designated placement, and may be more difficult to move if necessary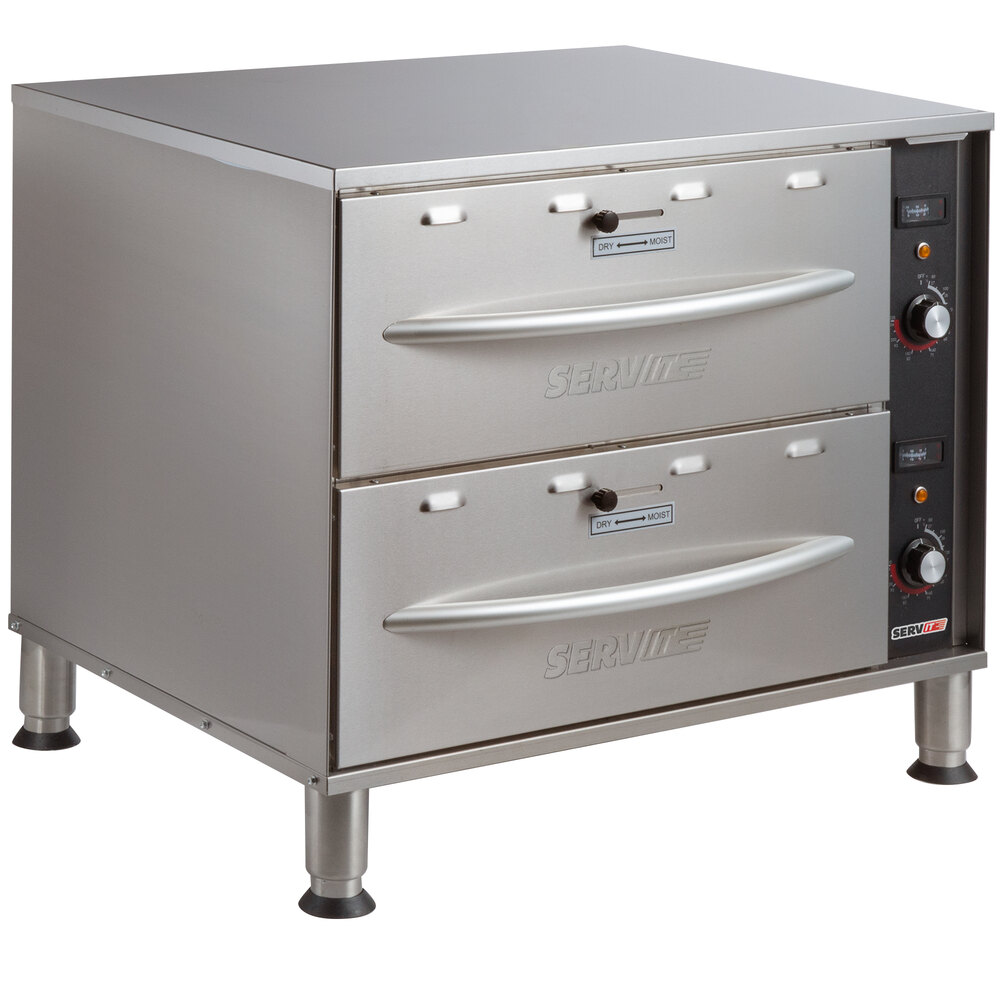 Advantage: Most units with 2 or more drawers feature split operation, allowing you to control the temperature, airflow, and ultimate food quality for each drawer separately
Disadvantage: Requires more attention than using a single unit with one food item, yet has the same easy-to-use controls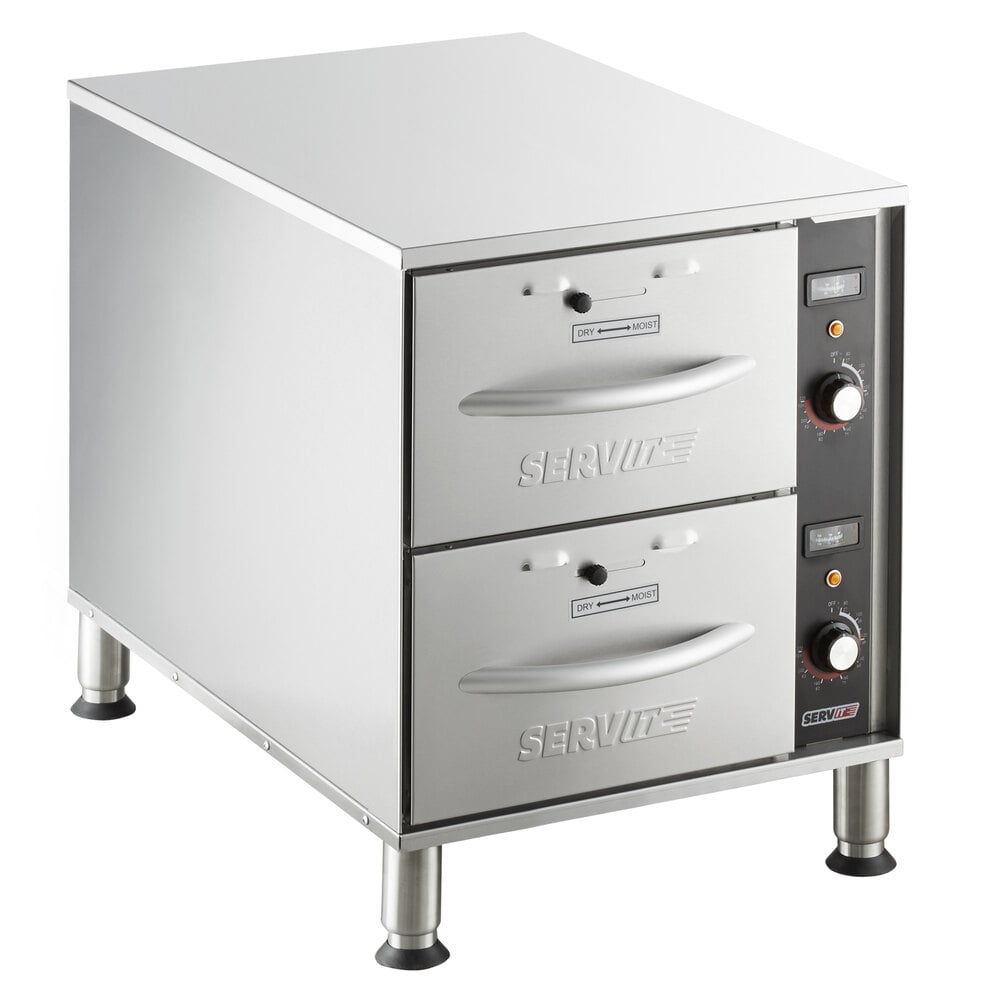 Advantages
Generally remains in a fixed position, but offers some portability
Grants comfortable access to staff when placed at counter height
Option to replace legs with casters for added mobility
Some models are stackable to increase capacity
Disadvantages
Requires designated countertop or floor space
More difficult to move larger units if necessary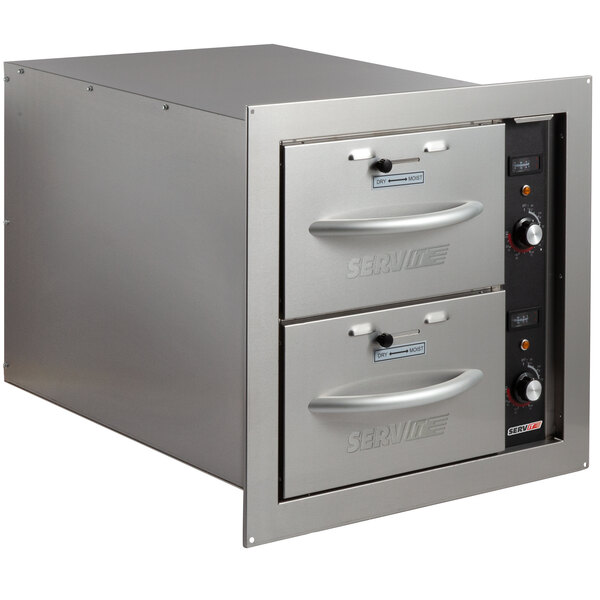 Advantages
In-counter installation allows for the most efficient use of space
Frees up space for prep work on countertops
Frees up space in/on cooking equipment used for hot holding
No need to move it around at any time
Disadvantages
Requires designated installation space
Requires planning and may require additional cost of installation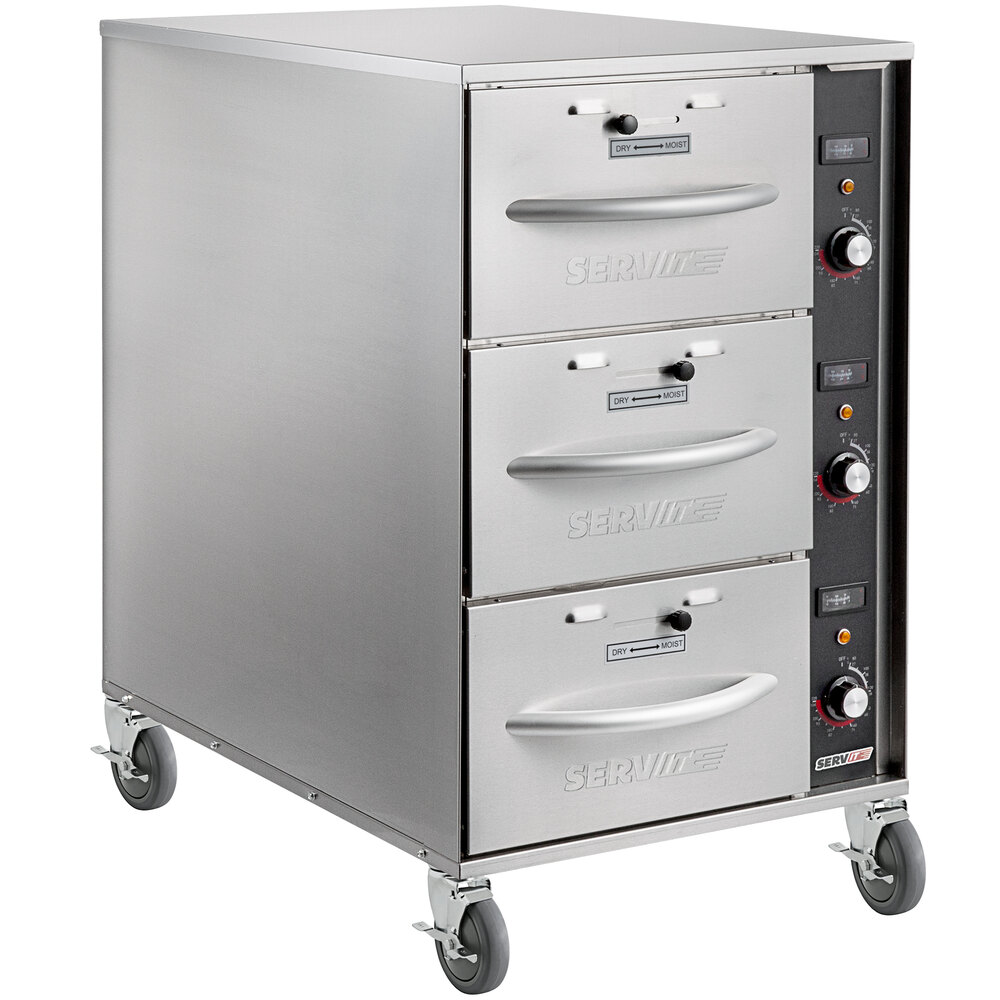 Advantages
Offers the most mobility; easily move from the kitchen to the line
Can be rolled in and out of storage if used occasionally
Rests on the floor or seamlessly under a table
Does not take up counter space
Disadvantages
Requires designated floor space
Requires frequent bending to retrieve items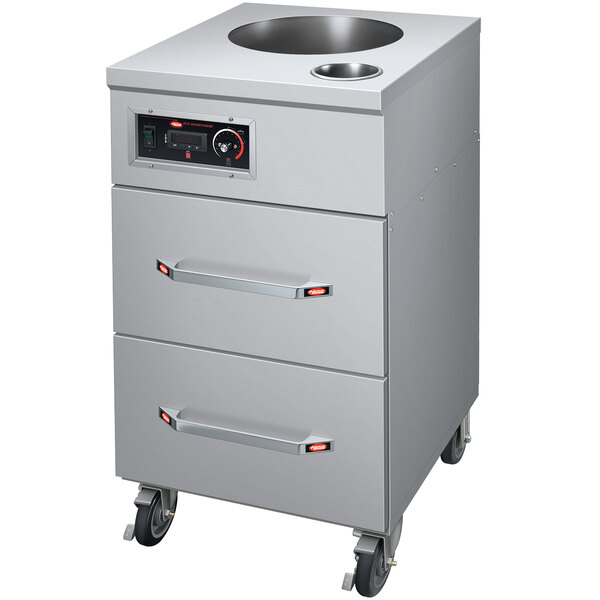 Specially designed to hold rice
May include a hot food well and/or a utensil well, ensuring the proper serving utensil is always on hand
Holds rice in the same container used to cook it
Holds rice at the proper serving temperature, ensuring food quality and safety after leaving the rice cooker
Types of Drawer Warmer Controls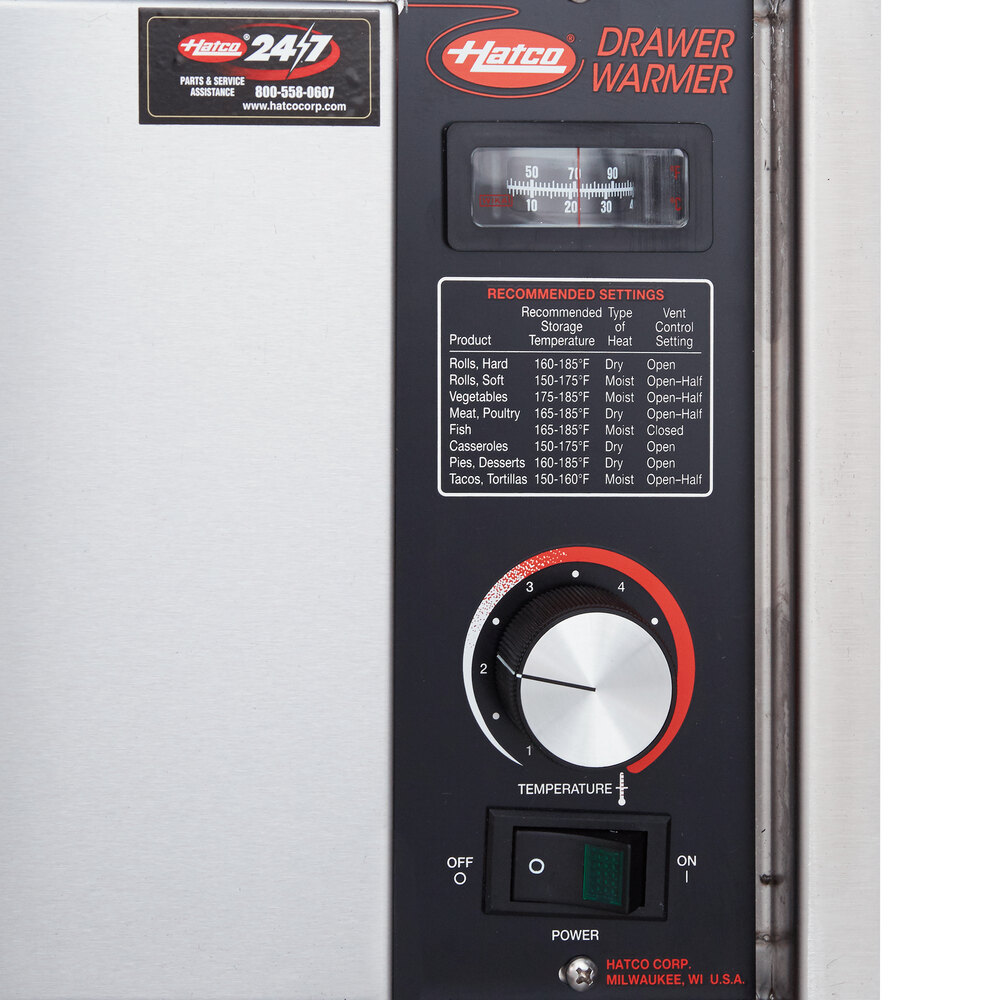 Easy for anyone to use
Typically include an on/off switch and a temperature dial
May or may not have actual temperatures listed, some interfaces opting for number settings corresponding to temperatures
Some may also include a temperature gauge and/or a heat indicator light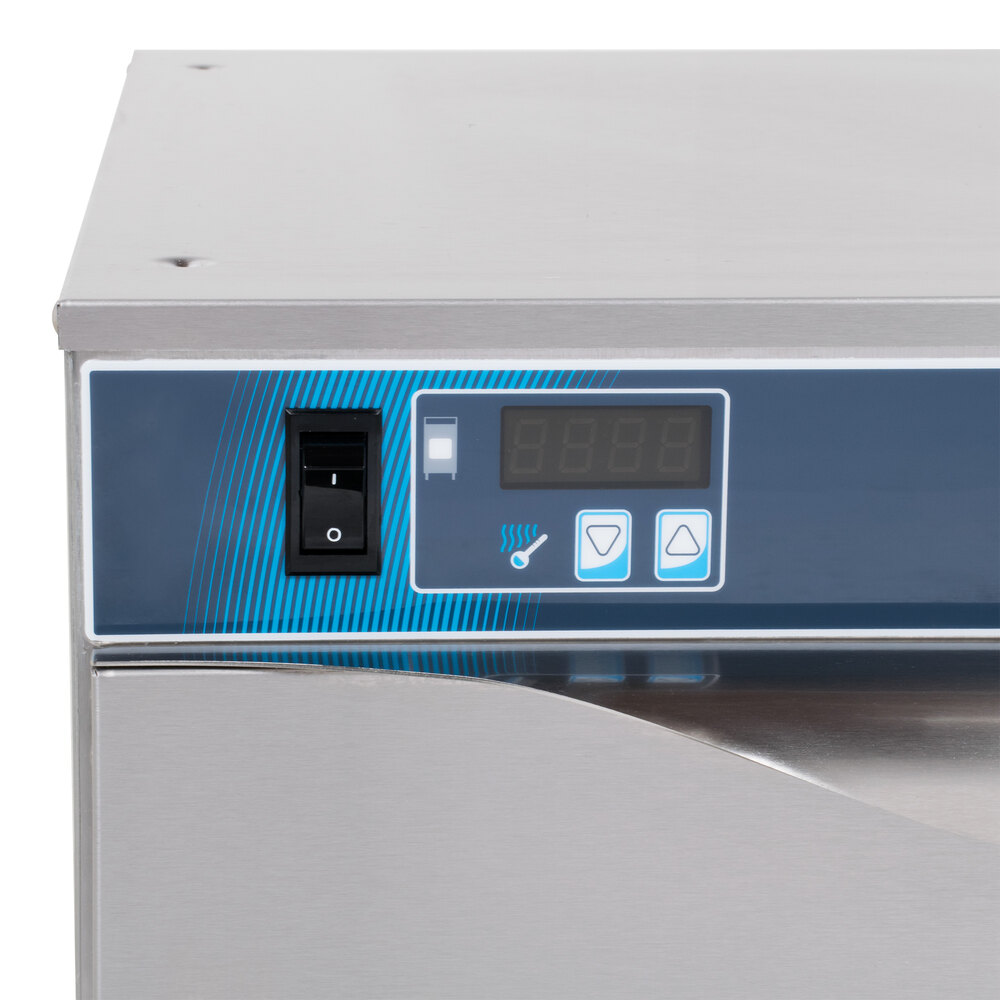 Simple, intuitive controls
Typically include a digital or physical power button/switch
Up and down arrows typically control temperature and time settings
Heat indicator light
LCD screen that displays time and temperature settings; may also display error codes
How to Use a Commercial Drawer Warmer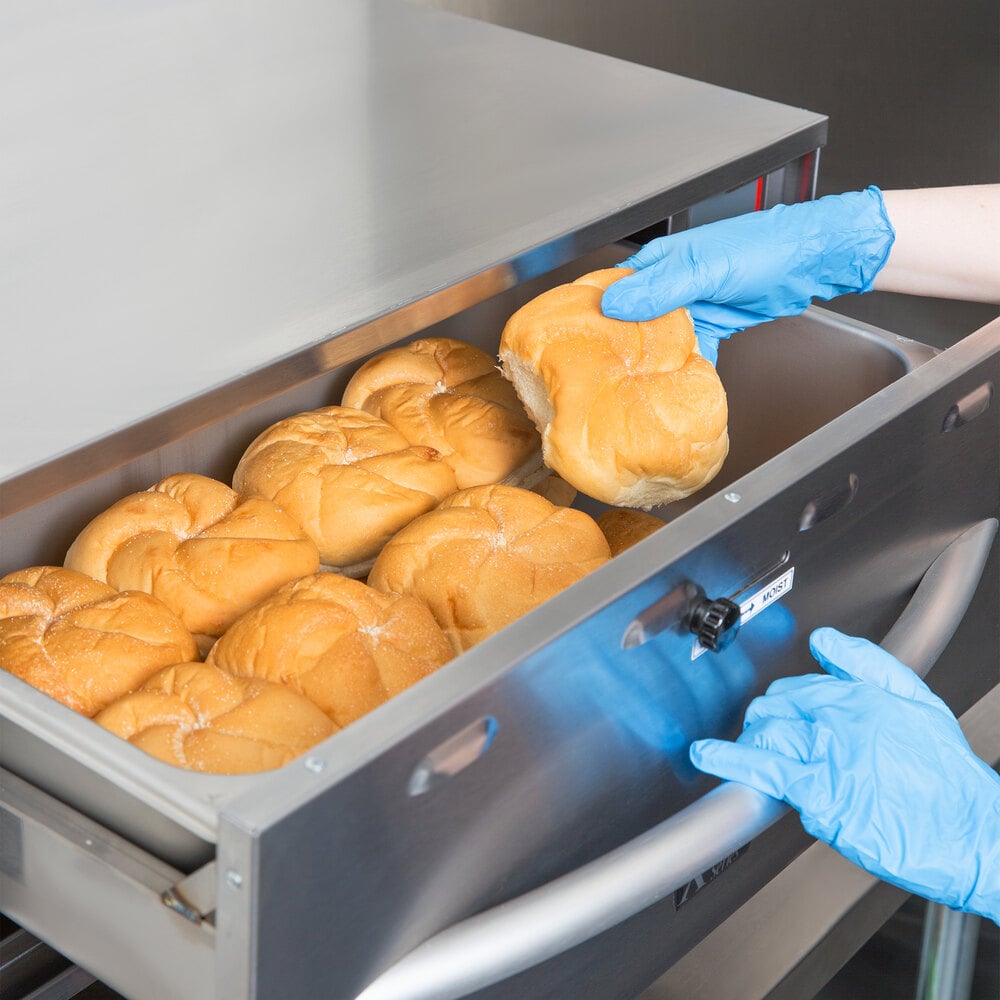 With proper training, using a warming drawer is simple for your most experienced cook and your newest server alike. Though control options may vary across models, the same basic functions apply to all units. After you've selected the right warmer for your business needs, ensure that it is securely resting or installed in an ideal location away from water sources. Use the following tips and instructions for optimal results.
Voltage.
Be sure that your unit is powered by an outlet suitable for the voltage rating of the appliance. Here's a quick run-through of the typical voltage ratings available: 120V warmers, 208V warmers, 230V warmers, 240V warmers, 208/240V warmers.
Temperature Setting.
After powering the unit on, set it to the desired temperature and allow it to preheat, which may take up to 30 minutes for high settings. Preheating ensures that your hot food will not fall below the desired temperature. If your unit has a heat indicator light, it will either illuminate or shut off to indicate that the desired temperature has been reached.
Digital displays will likely also provide a visual indication of set temperature or actual temperature. After preheating, simply place hot food in the drawer as soon as possible, using
drawer warmer accessories
such as high-heat plastic or stainless steel food pans, if needed. Refer to the following table for a basic overview of food safe internal temperatures for perishable meat and seafood.
| Type of Food | Safe Internal Temperature / Holding Temperature |
| --- | --- |
| Beef, Pork, Veal, Lamb | 160°F |
| Turkey, Chicken, Duck, Goose | 165°F |
| Chicken & Turkey, Whole | 165°F |
| Steak Roasts, Chops | 145°F |
| Pork | 145°F |
| Raw Ham / Precooked Ham | 145°F / 140°F |
| Eggs and Egg Dishes | 160°F |
| Casseroles | 165°F |
| Fish, Shellfish, and other Seafood | 145°F |

Airflow Control. Use the vents located on the front of warming drawers to adjust the amount of air entering a given drawer. The more opened the vents are, the more air enters the drawer, ultimately decreasing the moisture level within. Dry foods that do not require moisture, such a tortilla chips, will retain a perfect crunch with little to no moisture.

Moisture. Closing the vents allows you to increase the moisture level inside a drawer. Keeping vents closed maintains the natural level of moisture for foods that should stay moist. To further increase the moisture and resulting humidity of a drawer to accommodate foods that are prone to drying out, such as grilled chicken and other meats, fill a stainless steel food pan with a small amount water and, if desired, place a splash baffle inside the pan to prevent splashing when the drawer is moved. Set another, slightly smaller pan inside the first pan and fill it with the food that requires additional humidity. Place it in the warming drawer for the duration of holding.

Proofing Dough. Though less conventional, it is possible for a warming drawer to be used as a proofing drawer. This is discouraged by some, as cold proofing via refrigeration is said to allow for a longer, more stable rise, resulting in improved taste and structure. Some warmer units have a proof mode that will fall between 80 degrees Fahrenheit (or lower) up to 110 degrees Fahrenheit, though at normal ambient room temperature of around 75 degrees Fahrenheit, it is recommended to proof dough between 80 and 90 degrees Fahrenheit.

Typical proofing cabinets have relative humidity levels of around 80%, meaning you should aim to restrict airflow to the drawer, keeping the vents closed and placing a separate pan of water into the drawer alongside the dough for optimal humidity. Proof dough in a separate container, and do not rest it directly on the bottom of the drawer. Allow dough to rest in the drawer for around 40 minutes, or until it has doubled in size and an impression remains in the surface after pressing it with a finger.

Warming Dinnerware. Keeping dinnerware warm before plating and serving is another less conventional use for drawer warmers and is surely not the most economical use for your unit. However, some prefer to do so based on the notion that some hot dishes maintain better flavor and consistency and stay warm longer when using preheated plates, bowls, or other dinnerware.
Drawer Warmer Cleaning Tips & Instructions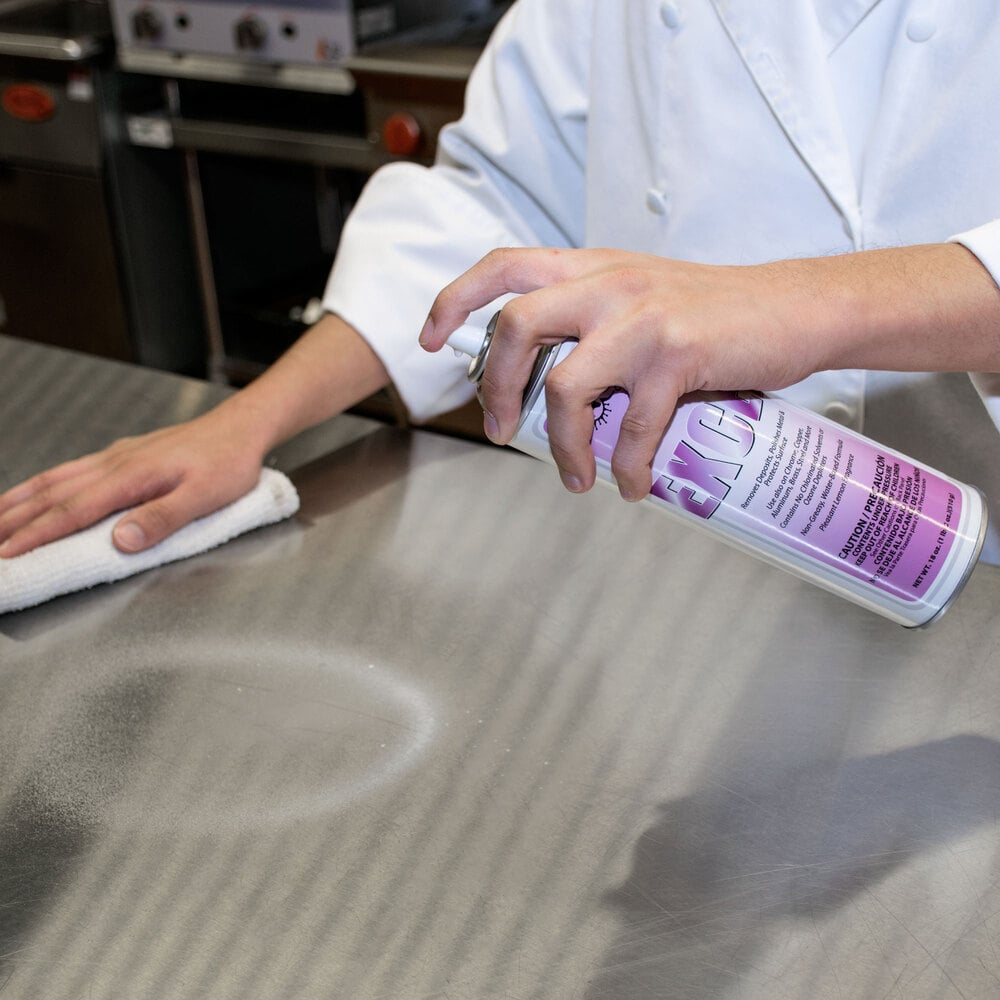 Clean Daily.
To ensure that you are always operating in a food safe manner, clean the drawers of your unit and any inserts daily, giving the exterior a good wipe down as needed.
Turn it Off.
Before cleaning, be sure to turn off and/or unplug the unit first to avoid any potential hazards. Allow any type of unit to cool down for at least 1 hour before cleaning or servicing.
External Cleaning.
Never immerse any part of your unit, including the power cord, in water. When cleaning the exterior surface only, use a damp rag with a minimal amount of warm, soapy water, avoiding any areas containing electrical components. Or, utilize cleaners and polishes
specifically designed for stainless steel
, making sure to avoid any surfaces that come into contact with food.
Synthetic Scrubbers.
Use a minimally abrasive synthetic fiber scouring pad or sponge with a mild cleanser to remove water scale and dried-on food.
Remove Pans.
If your unit includes inset drawer pans or liners, remove them and wash and sanitize in a three-compartment sink or commercial dishwasher.
Remove Drawers.
Lift the drawers themselves off of their tracks and hand wash as needed using the hand washing method above.
Remove Lime Scale.
A 3:1 ratio of water (75%) and white vinegar (25%) may be used to remove lime scale and other mineral deposits. Fill the existing water pan or a separate stainless steel pan with the mixture and place it into the drawer of the unit. Power the unit on and allow it to run for 30 minutes, then turn the unit off and let the pan sit in the unit for 2 or more hours depending on the severity of the buildup.