Mixer Types
A planetary mixer (also called a vertical mixer) is so named because it features an agitator that turns on an offset shaft, while the mixing bowl remains stationary. This motion is similar to the way the planets move around the sun, hence the name.
A variety of interchangeable agitator attachments let you mix anything from dough to icing to meringues and puddings.
Many feature a Power Takeoff (PTO) hub, which lets you add slicing, grating, chopping, and other attachments.
You can usually mix smaller batches by using a smaller mixing bowl.
---
Dough mixers (also known as spiral mixers) consist of a spiral-shaped agitator that remains stationary, while the bowl revolves around it. This specialized design makes them great for mixing large quantities of dough at a time.
They don't have a variety of agitator attachments like a planetary mixer, but mix high volumes of dough much quicker.
Unlike a planetary mixer, you do not need to change the bowl or agitator when mixing smaller batches.
---
Vertical cutter mixers feature a large covered mixing bowl, a high horsepower motor, and an interior agitator that lets them perform a variety of functions, though when it comes to things like dough and batters, they generally can't achieve the same level of precision a planetary or spiral model can.
Mainly for fast, bulk production.
A variety of functions: mix batters or sauce, chop nuts, salad material and bread, chop cooked meat, and knead dough depending on the attachment configuration.
Mixer Features
Mixer Size
You'll want to consider how big you want your mixer to be, and along with that where you want to place it in your kitchen. Smaller (less than 10 qt.) countertop mixers are designed to fit on a countertop, while slightly larger (10-20 qt.) stand mixers are often best suited for an equipment stand. Just about anything above that size is considered a floor mixer and is designed to sit directly on the floor.
---
Drive System
Mixers generally come with either a gear or belt-driven drive system. While both types are designed to stand up to the rigors of commercial use, there are some benefits and disadvantages to both:
Belt Driven:
These can experience belt "slip," or insufficient grip between the belt and drive, which reduces the velocity ratio of the mixer system. However, if repairs are required, they tend to be cheaper to fix than a gear system.
Gear Driven:
Gears eliminate the risk of drive system slip. However when repairs are needed, they tend to be more expensive than a belt system.
---
Mixer Speeds
Mixers typically feature several different operating speeds which affect how quickly the agitator (or bowl, in the case of spiral mixers) revolves. Be sure to read the manufacturer's literature, as certain products will mix better at certain speeds, and on a planetary mixer the different agitator attachments will perform differently.
Also consider whether the mixer lets you change speeds during operation. Many models allow you to adjust on the fly, which can be a big boost to your productivity. However, not all mixers are engineered to handle the mechanical stresses associated with this, requiring you to shut the unit off before changing the speed to prevent internal damage, and also as a safety feature.
---
Horsepower
Larger mixers tend to have a higher horsepower motor than smaller models since they're mixing more material at a time, and larger mixers are also better suited to handle thicker, stiffer dough (like pizza dough), which require more power to mix than lighter mixtures.
---
Bowl Lift
On planetary mixers, the mixing bowl usually attaches to a yoke at the sides or near the vertical column on the machine, and is raised and lowered one of two ways:
Manual Bowl Lift
The most common variety, manual lifts raise and lower the bowl via a wheel or lever. On some smaller countertop planetary mixers, however, the bowl does not move. Rather, the entire upper housing of the mixer, mixing device included, tilts back and permits access to the bowl.
As the name implies, this system raises and lowers the bowl automatically with buttons or a similar interface. This is more common on larger mixers with larger mixing bowls.
---
Bowl Guard
A plastic or wire housing around the top of the bowl, the guard prevents hands, clothing, or foreign objects from coming in contact with the agitator during mixing, and most mixers are required to include one to comply with OSHA regulations (Standard 29CFR 1910.212).
The primary point to take from this is that your staff should understand the dangers of operating the mixer; for example, trying to bypass the guard by putting hands / fingers / utensils in or under it during operation can have very negative consequences and your training should teach the dangers of such things.
Choosing the Right Mixer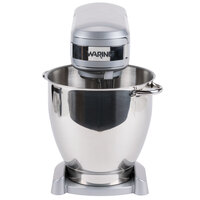 Before making your purchase, there are three main questions you will want to ask yourself:
1.) What will you be mixing? Different types of dough and batter will have different consistencies, and as a result not every mixer is right for every job - kneading a batch of thick, stiff dough is going to require more power than mixing meringue or icing, for example. A bread mixer and pizza dough mixer will be different than a mixer meant for whipping delicate egg whites.
Finding the absorption ratio (lbs. of water divided by lbs. of flour) for some of your most commonly used dough is a good way to figure out what types of mixers might best suit your needs; the lower the absorption rate, the more difficult the dough will be to mix and in turn, the more powerful your unit should probably be.
---
2.) What type of usage do you expect from your mixer? All mixers are designed to handle the rigors of commercial use, but some are better equipped for certain types of mixing than others; be sure to check the manufacturer's literature on the product pages for more information.
Style

Description

Common Applications

Popular Models

Light Duty Mixers




The light duty mixer is best suited for establishments that only need a mixer for occasional or infrequent use.

Light prep work
Small batches of baked goods

Standard Duty Mixers




The standard duty mixer is ideal for a catering business, restaurant, or cafe that makes batter and dough in house.

Egg Whites
Whipped Cream
Cake Batter
Occasional batches of pizza dough on low speed

Heavy Duty Mixers




The heavy duty mixer features a more durable construction suited for applications where thick, heavy dough is constantly being mixed. For example, this is the perfect mixer for pizzerias consistently making large batches of pizza dough. These types of dough mixers also have deluxe accessory packages to give you more options out of the box.

Large or bulk batches of pizza dough and baked goods
---
3.) How much will you be mixing? How much you will be mixing plays a large role in what size of mixer you will want to look at. A small restaurant can take care of most needs with a 5 - 20 qt. planetary mixer. In contrast, a pizzeria or bakery will want to look at 40 qt. or larger, or even a spiral mixer in very large-scale applications. This is because the mixer is being used almost constantly and turning out high volumes of product.

Also, be mindful of the fact that the bowl can't be filled to the brim and different ingredient factors will affect how big each batch can be:
Higher flour protein content = smaller batch size
Lower water temperature = smaller batch size
Less water in the dough = smaller batch size
Higher mixing speed = smaller batch size
More oil / shortening in the dough = smaller batch size
Our mixer capacities chart (below) is a great way to determine what size of mixer is best for you.
PLEASE NOTE:
This chart is not a definitie guide for every mixer; the values represent a typical capacity for the products that we carry and are meant to help you decide which mixer size best suits your needs. Please refer to the manufacturer literature (located under "Specsheet" on our product pages) for more detailed information about what each specific model can handle.
N/A = Certain mixers in this size category may not be suitable for this type of mixing. Consult the manufacturer's literature for more information.
Mixer Sizing Chart
| | 5 - 7 Qt. Mixers | 10 - 12 Qt. Mixers | 20 Qt. Mixers | 30 Qt. Mixers | 40 Qt. Mixers | 60 Qt. Mixers | 80 Qt. Mixers | 100 Qt. and Above |
| --- | --- | --- | --- | --- | --- | --- | --- | --- |
| Egg Whites | 0.25 qt. | 0.5 qt. | 0.75 qt. | 1.5 qt. | 1.75 qt. | 2 qt. | 2 qt. | 4 qt. |
| Icing | 2 lbs. | 5 lbs. | 9 lbs. | 18 lbs. | 25 lbs. | 36 lbs. | 65 lbs. | 100 lbs |
| Mashed Potatoes | 3 lbs. | 5 lbs. | 12 lbs. | 23 lbs. | 30 lbs. | 40 lbs. | 60 lbs. | 100 lbs. |
| Mayonnaise (Qt. of Oil) | 1.5 qt. | 3 qt. | 6 qt. | 12 qt. | 13 qt. | 18 qt. | 30 qt. | 50 qt. |
| Pancake Batter | 2 qt. | 4 qt. | 6 qt. | 12 qt. | 16 qt. | 24 qt. | 32 qt. | N/A |
| Shortening & Sugar, Creamed | 3 lbs. | 6 lbs. | 12 lbs. | 24 lbs. | 35 lbs. | 48 lbs. | 65 lbs. | 120 lbs. |
| Whipped Cream | 1 qt. | 2 qt. | 3.5 qt. | 6 qt. | 8 qt. | 12 qt. | 16 qt. | 30 qt. |
| Cup Cakes / Muffins | 3 lbs. | 12 lbs. | 20 lbs. | 30 lbs. | 45 lbs. | 60 lbs. | 90 lbs. | 165 lbs. |
| Layer or Sheet Cake Batter | 3 lbs. | 8 lbs. | 15 lbs. | 30 lbs. | 40 lbs. | 60 lbs. | 90 lbs | 165 lbs. |
| Pound Cake Batter | 3 lbs. | 8 lbs. | 14 lbs. | 30 lbs. | 40 lbs. | 55 lbs. | 100 lbs. | 185 lbs. |
| Sponge Cake Batter | 2 lbs. | 5 lbs. | 9 lbs. | 18 lbs. | 40 lbs. | 36 lbs. | 65 lbs | 140 lbs. |
| Bread / Roll Dough, Light | 4 lbs. | 5 lbs. | 18 lbs. | 45 lbs. | 45 lbs. | 75 lbs. | 170 lbs. | 180 lbs. |
| Bread Dough, Heavy | N/A | 3 lbs. | 16 lbs. | 30 lbs. | 35 lbs. | 60 lbs. | 140 lbs | 175 lbs. |
| Doughnut Dough, Raised | N/A | 2 lbs. | 7 lbs. | 15 lbs. | 25 lbs. | 30 lbs. | 60 lbs. | 100 lbs. |
| Pasta Dough | N/A | 4 lbs. | 7 lbs. | 8 lbs. | 15 lbs. | 30 lbs. | 65 lbs | 100 lbs. |
| Pie Dough | 3 lbs | 5 lbs. | 13 lbs. | 27 lbs. | 35 lbs. | 60 lbs. | 75 lbs. | 60 lbs. |
| Pizza Dough, Light - Medium | N/A | 3 lbs. | 10 lbs. | 20 lbs. | 32 lbs. | 60 lbs. | 155 lbs | 125 lbs. |
| Pizza Dough, Heavy | N/A | 4 lbs. | 20 lbs. | 40 lbs. | 45 lbs. | 70 lbs. | 155 lbs. | 190 lbs. |
Accessories and Attachments
Mixer accessories can be used to increase the versatility of your unit. Some of the most common ones include:
Mixing Bowl:
Used for mixing ingredients, mixers come standard with an appropriately-sized bowl (i.e. a 60 qt. bowl for a 60 qt. mixer) but one advantage of planetary mixers is that you can generally trade this out for a smaller bowl if you want to mix up smaller batches.
---
Mixer Table:
A good support platform for countertop mixers, a mixer table provides added stability and we offer models with offset edges to contain spills. You can also choose from mobile units that come with casters, and others that have tray slides so you can keep bun pans close at hand.
---
Dough Hook:
This attachment consists of a spiral-shaped hook, which allows your mixer to knead and fold pizza dough, bread dough, and more.
---
Flat Beater:
A flat beater provides a wide, flat surface that is perfect for mixing up batter for cakes and brownies, and also firm to hard cookie dough. You can also use it for making icing and even mashed potatoes.
---
Wire Whip:
The wire whip is made of wire strands arranged in an oval shape. Its primary use is for mixing light items like custards, puddings, and whipped cream, and it's also great for creating the light, thin texture found in meringues and souffles.
---
Pastry Knife:
The pastry knife is designed to mix and cut heavy pizza and pie dough, easily combining even thick ingredients.
---
Bowl Scraper:
A bowl scraper continuously scrapes the sides of the mixing bowl as the agitator turns. This makes it a great way to minimize ingredient waste and reduce the need for manual bowl scraping.
---
Mixer Attachments for PTO Hubs
There are a variety of attachments that can be used on the Power Takeoff (PTO) hub on your mixer, letting you perform many tasks beyond mixing just dough and batter! However, the hub size on the attachment has to match the hub on the mixer. Most commercial mixer hubs and attachments are #12 size so this is seldom an issue, but still check this before purchasing. These are some of the most common attachment types:
Meat Chopper / Grinder:
These attachments usually come with a feed pan and stomper to direct meat down into the chopper unit where the meat is ground up or chopped.
Meat Chopper / Grinder Attachments
---
Grater / Shredder:
Perfect for shredding up items like vegetables and cheeses into fine pieces, these attachments consist of a housing with shredder disc, and you can adjust the size of the finished product by using a different disc.
---
Vegetable Slicer:
Similar to the shredder in concept, a slicer attachment features slicer knives that cut food into smaller pieces; use it to cut up potatoes, fruits, cabbage for salads or cole slaw, and more. Many slicer attachments can also be converted into shredders by replacing the slicer blades with a shredder disc, instead.
Also check out all of our other mixer accessories and attachments, to find other great items that can help improve efficiency in your kitchen.