Materials
We offer plastic bags in several different materials. Because each type of plastic has specific characteristics, understanding the differences can help you narrow your choices.
HDPE (High Density Polyethylene)
HDPE features a variety of qualities that make it one of the most common plastics used in the world and many of these qualities translate to making it an excellent material for plastic bags. HDPE is light-weight, resistant to temperature, water, and vapor, has high tensile strength, is relatively transparent, and meets FDA/USDA food handling guidelines. These qualities combine to make versatile bags that are excellent for both serving and storing food in retail and take out situations. HDPE plastic food bags will allow your grocery store, convenience store, deli, or restaurant to work with greater efficiency, no matter how you choose to utilize them.
Shop for HDPE Bags
---
LDPE (Low Density Polyethylene)
This type of plastic is commonly used for food bags and utility bags. Because low density polyethylene is breathable, products stored without refrigeration or freezing will not last as long, compared to a polypropylene bag. Though not as strong as HDPE bags, LDPE bags are capable of storing bulk food items like fresh vegetables and fruits. Additionally, the clear plastic makes it easy to identify contents, so you can keep up in the fast-paced setting of a commercial kitchen. Highly versatile, the low melting point of LDPE makes these bags popular for use with heat sealing. Like HDPE, LDPE meets FDA/USDA food handling guidelines.
Shop for LDPE Bags
---
LLDPE (Linear Low Density Polyethylene)
The biggest difference between LLDPE and LDPE plastic bags is that LLDPE food bags have a thinner gauge, but with the same strength. For example, a 0.85 mil thick LLDPE bag has the same strength as a 1.5 mil LDPE bag, allowing the user to "down-gauge" and save money! Similar to LDPE bags, LLDPE bags can be used for storing food in both refrigerators and freezers and the meet FDA/USDA food handling guidelines. These bags also allow for easy identification, and, as a highly versatile product, they are perfect for use in commercial kitchens.
Shop for LLDPE Bags
---
PP (Polypropylene)
Polypropylene bags combine excellent chemical resistance and strength. Unlike LDPE or LLDPE bags, polypropylene bags are not breathable, resulting in longer product shelf life for retail situations. Items like herbs, nuts, candies, and other confectioneries are perfect for storing in PP bags. Additionally, polypropylene bags are clearer than LDPE or LLDPE bags for enhanced product visibility. PP bags also have a high melting point, meaning they are great for heat sealing, and, similar to the other plastic food bag options, they are FDA/USDA approved.
Shop for PP Bags
Gauge
Gauge is the term used to describe the thickness of a plastic sheet, or in this case, bag. It's usually measured in mil's or microns. Generally, a higher gauge food bag should be used if the contents are particularly sharp or heavy. The higher the gauge mil or micron, the thicker the bag is.
1 mil = 0.001"
25.4 microns = 1 mil
Plastic Food Bag Gusset Styles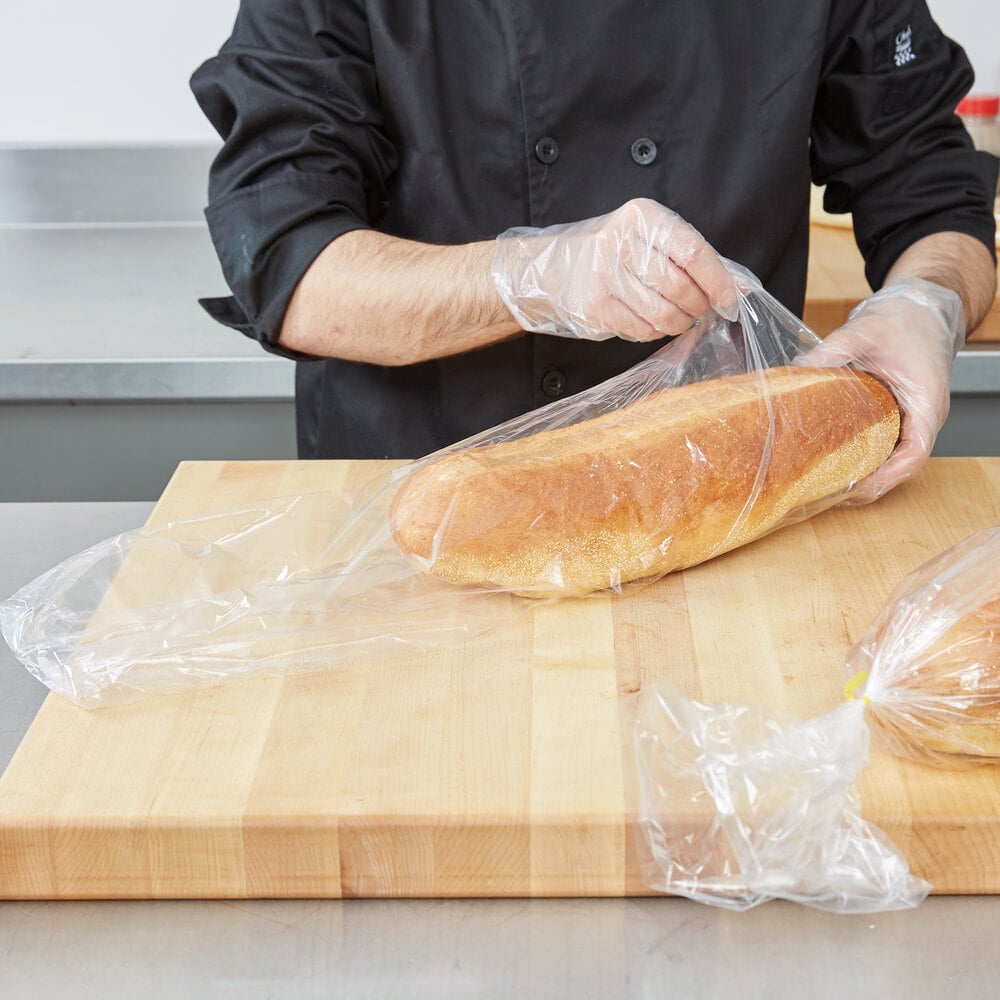 Side Gusset:
This style of gusset allows the bag to expand into a box like formation when it's fully packed. This allows for more efficient storage than other style bags. Side gusset bags have many uses and come in a variety of sizes.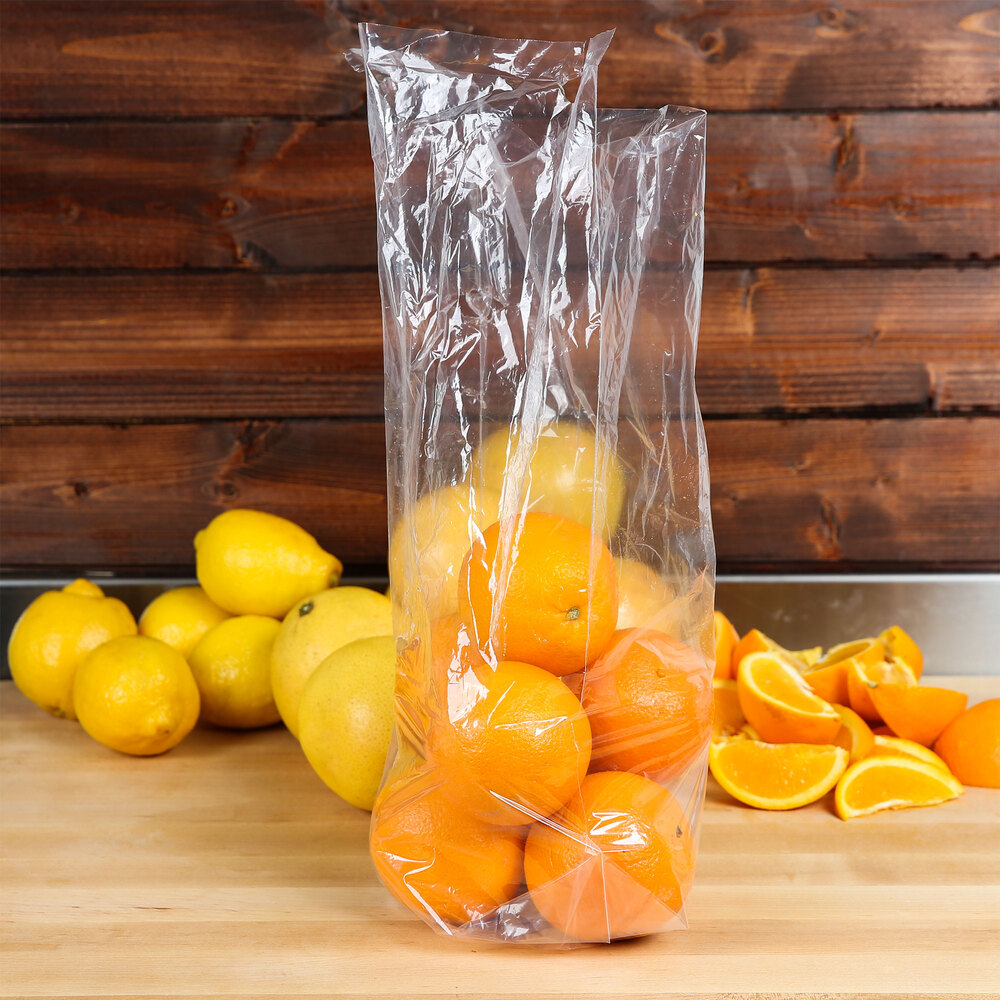 Bottom Gusset:
The bottom gusset allows a bag to stand up while being filled. Bottom gussets come in round bottom, k-seal bottom, and plow bottom; the differences in these styles being how the gusset is sealed. This style is generally considered to be the most appealing gusseted bag. Bottom gussets do sacrifice volume efficiency when compared to side gusset bags.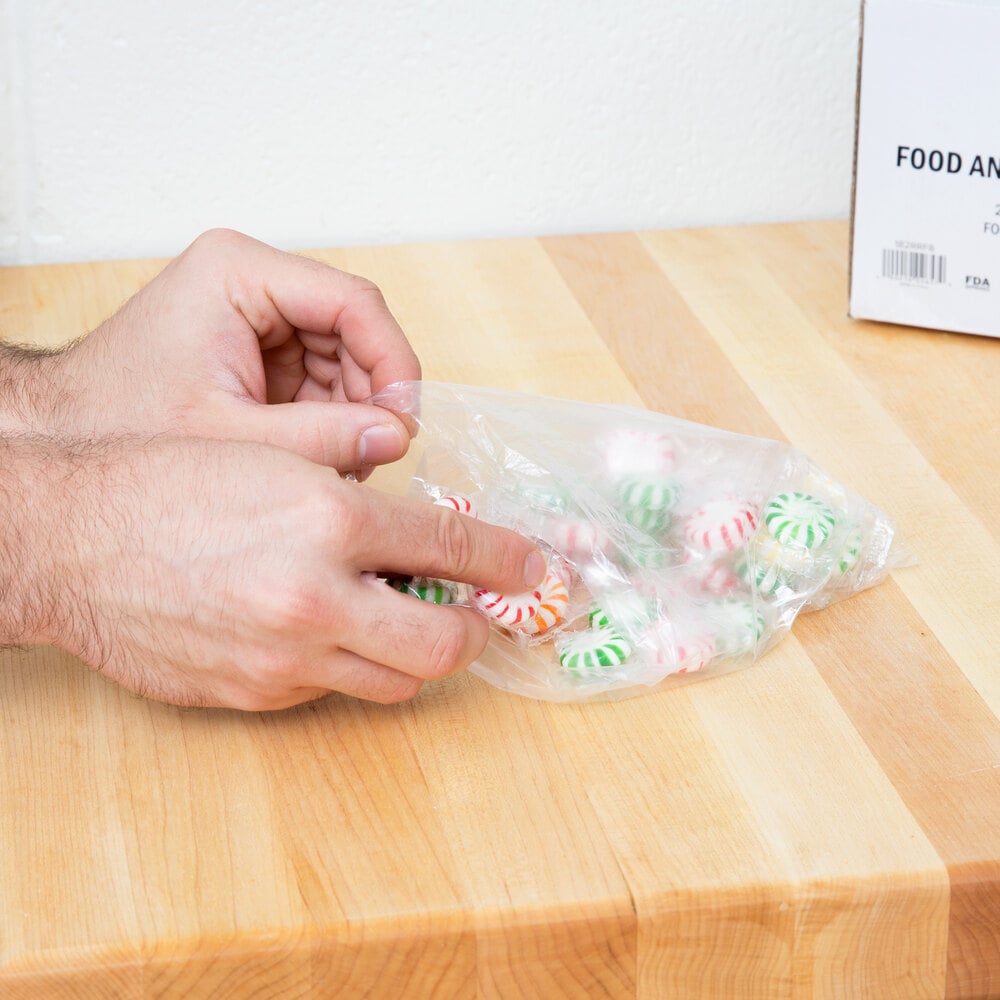 Flat Bag:
This style of bag doesn't expand as much as side or bottom gusset bags. Flat bags are ideal for small, lightweight items such as cookies, pretzels, chips, or candy.
Seal and Closure Styles
There are several common seal styles available for food service bags.
Flip Top or Tuck Top
Flip Top or Tuck Top bags may also be referred to as "Flip and Lip". This style is common in deli saddle bags and sandwich bags. To close the bag, the extra "flip" material can be tucked and rolled into the "lip".
Shop for Flip Top Bags
---
Seal Top
Seal Top, or recloseable, bags close securely to seal in freshness better than fliptop bags, or bags that close with a twist tie. Seal tops are available in sandwich, deli, and storage bag styles.
Shop for Seal Top Bags
---
Slide Seal

Slide Seal bags are similar to seal top except they feature a small plastic "zipper" to close the seal, resulting in a more secure closure. Slide seal bag styles commonly include sandwich, deli, and storage bags.
Shop for Slide Seal Bags
Common Bag Styles
This section discusses the main types of plastic bags we carry along with some purchasing considerations.
Deli Saddle Bags
Deli Saddle Bags are available plain or printed, with your choice of closure style. They're usually HDPE and can be used with a saddle bag stand for easy dispensing. Deli saddle bags are mainly designed for the sale of sliced deli meats, cheeses, and vegetables, but are also great for cookies, sandwiches, rolls, or other similar items.
Shop for Deli Saddle Bags
---
Reclosable Food Bags
Recloseable Food Bags, whether in seal top or slide seal configuration, are most often used for food storage or portioning where the bag will be opened repeatedly. Recloseable food bags keep products fresh longer, and are most often used to portion or store vegetables, cereals, dry ingredients, crackers, cookies, lunch meats, sandwiches, and other similar items.
Write-On Blocks, available on some recloseable bags, allow employees to clearly label the contents for easy organization and identification.
Hang Holes through the tops of some recloseable bags (above the seal) allow the bags to be hung on racks in retail merchandising situations.
Dispenser Boxes feature a perforated cutout opening for neater, easier dispensing of your recloseable food bags.
Shop for Recloseable Food Bags
---
Plastic Bread Bags
Plastic Bread Bags are similar to regular plastic food bags in terms of gusset styles. However, they're usually specifically sized for common types of bread, such as French bread or 1 lb. loaves.
Micro Perforations available on several of the bread bags we carry allow excess moisture to escape while letting a small amount of air in to keep crusty breads crusty!
Shop for Plastic Bread Bags
---
T-Shirt Bags
T-Shirt Bags are versatile and widely used in a variety of retail situations from grocery stores to convenience stores, take out restaurants and even markets. Made of HDPE, the most common t-shirt bag sizes are 1/6 (22" x 7" x 12"), and 1/8 (18" x 5" x 10"). We provide t-shirt bags of varying color for any situation or theme, and we even have "Thank You" bags for an added touch of customer appreciation. We also offer convenient t-shirt bag racks that keep your bags organized and tidy in your front- or back-of-house area.
We also offer a "green" option for those looking to be environmentally friendly. Our
Green Herc biodegradable t-shirt bag
utilizes an oxo-biodegradable additive to assist in the break-down process, giving it a faster rate of decay than normal plastic t-shirt bags.
Shop for T-Shirt Bags
---
Bags on Rolls
Bags on Rolls are available for several food service applications. For example, produce bags on rolls dispense easily and take up minimal shelf space. Additionally, several of our sandwich bags and other food bags come on rolls for easy dispensing when used in high volume pre-packaging applications. Additionally, some of the bags without seal tops include twist ties to provide you with a secure closure for increased freshness. For bags that don't have twist ties included, twist ties can be found here.
Shop for Bags on Rolls