Warehouse Job Titles and Descriptions
Last updated on 2/9/2022
A major part of opening up a successful warehouse is hiring the right staff. With a wide variety of warehouse roles and responsibilities, it is important to become familiar with the job titles and descriptions to create a cohesive team. Whether you're looking to hire warehouse workers or are applying to work in a warehouse, we've created a list of warehouse job titles and descriptions you can use to better understand the available roles in a warehouse setting.
Click below to learn more about each warehouse position:
1. Warehouse Workers
The most common entry-level position in a warehouse is a general warehouse worker. You may find this position listed under these titles as well:
Warehouse Associate
Warehouse Specialist
What Does a Warehouse Worker Do?
Warehouse workers perform various tasks in a warehouse setting and may be moved from station to station depending on where more hands are needed. A warehouse associate will work closely with all warehouse teams and managers, completing jobs to help the facility operate smoothly. A warehouse worker's tasks may include the following:
Stocking and picking
Packing and shipping products
Loading and unloading trucks
Tracking and counting inventory
Back to Top
---
2. Warehouse Managers
With the various departments that exist in a warehouse, each one has a manager that oversees the employees and productivity of these departments. Warehouse manager positions may also be listed under the titles below on job sites:
Warehouse Supervisor
Warehouse Shift Leader
Some large warehouses may have all three of these positions, a manager, supervisor, and shift leader in their hierarchy.
What Does a Warehouse Manager Do?
A warehouse manager oversees the employees in their department and ensures that everything is running smoothly. They assign workers to each shift and strive to maintain a well-balanced workforce. They are also in charge of distributing responsibility and that their employees are using the proper safety compliance practices as they go about their day. Warehouse supervisors are generally expected to have experience and expertise in several areas of the warehouse. For that reason, this position is usually hired from within the company. Here are some additional warehouse manager tasks:
Oversee tasks during a particular work shift
Hire and train new employees
Manage inventory levels
Ensure that routine maintenance is completed on warehouse machinery
Enforce warehouse health and safety codes, including OSHA regulations
Keep track of employee management and compliance forms
Record shipments numbers each day
Manage the department budget
Back to Top
---
3. Forklift Operators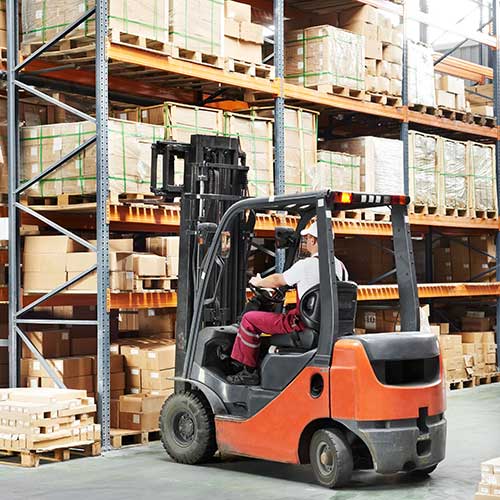 Forklift operators play an essential part in the organization of a warehouse. They are certified to safely operate heavy material handling equipment in order to move pallets of products through the facility.
What Does a Forklift Operator Do?
Forklift operators work with the receiving, picking, and shipping departments, navigating pallets of products through the warehouse. A forklift operator would need to be trained and certified according to the laws of the jurisdiction to operate the heavy machinery. A forklift operator's tasks include:
Move shipment to and from the loading dock
Bring pallets in and out of storage
Help with inventory organization
Monitor stock levels
Inspect machinery and report maintenance needs
Oversee warehouse safety procedures
Back to Top
---
4. Receivers
Receivers stand at the forefront of incoming shipments in a warehouse setting. They will be the ones to primarily interact with deliveries and see that the products are properly accounted for before going into storage. Warehouse receiver positions may be listed under the following titles:
Receiving Associate
Unloader
What Does a Warehouse Receiver Do?
A warehouse receiving associate is responsible for accepting deliveries that arrive at the warehouse, verifying the shipments, and ensuring that they are picked up by the stockers to put away. These are the additional tasks a warehouse receiver and unloader may perform:
Unload delivery trucks
Check packing slips to confirm delivery is correct
Weigh incoming shipments
Check for and report any shipping damages
Sign for deliveries
Report new inventory numbers to stocking team
Properly stack products on pallets
Receiving Managers
Receiving managers oversee the receiving department to ensure that incoming shipments are quickly and efficiently unloaded, inspected, and placed in the proper place for the stocking department. They are responsible for hiring and training the staff in their department, checking inventory reports, and filing claims for shipments that arrive damaged.
Back to Top
---
5. Stockers
Once incoming shipments are unloaded and processed by the receivers, they move on to the stocking department. The stockers ensure that new products get sorted and put in the appropriate location within the warehouse. You may find stocking jobs listed under these titles:
Stock Clerk
Stocking Associate
What Does a Warehouse Stocker Do?
A stock clerk is responsible for taking items from the receiving team and shelving them appropriately. They work closely with the products to ensure that inventory levels are accurate at all times. These are some of the tasks stockers may be expected to complete:
Check inventory to report what products need reordering
Label, store, and organize new products
Break down bulk purchase for resale
Generate price labels
Bring items from the storage location to a sales floor
Back to Top
---
6. Quality Control Inspectors
With the amount of product that circulates through a warehouse, it is important for each item to be inspected for quality assurance. A quality control inspector keeps a close eye on inbound and outbound products to ensure that items are without damage or flaws. The quality control position may be listed under these titles:
Quality Control Auditor
QC Inspector
QC Auditor
What Does a Quality Control Inspector Do?
QC inspectors are responsible for inspecting the warehouse inventory for damage and loss as items arrive and are shipped out. Their tasks include the following:
Inspect deliveries before they are stored
Count inventory in storage
Inspect packages before they ship out
Weigh and measure products to ensure consistency
Inspect returns and refurbishment products to put back in stock (In a large warehouse, this task may be performed by a Returns Specialist instead)
QC Manager
The quality control manager oversees the QC department and enforces the quality standards that should be upheld in the warehouse. They are responsible for hiring and training new QC inspectors. QC managers set the inspection guidelines for what to do with damaged products and returns.
Back to Top
---
7. Pickers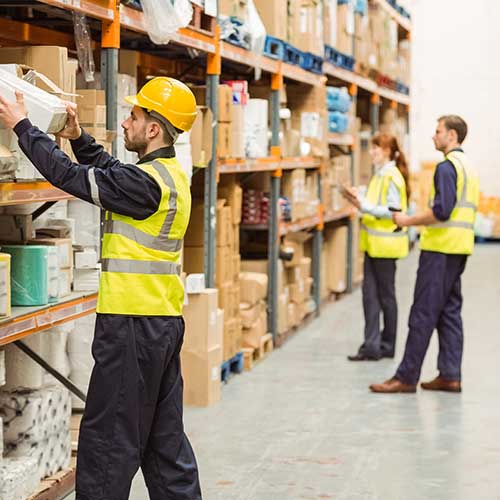 As orders come into a warehouse, the picking team is responsible for collecting the items for the orders before they ship out. Warehouse pickers spend most of their time in the main storage area in the facility and handle the products first hand. A picker job listing may also be listed under the following names:
Order Selector
Order Picker
What Does a Warehouse Picker Do?
Warehouse order pickers are provided a list of items to collect from the warehouse shelves to fill orders for customers. They navigate the various aisles and bins of the warehouse and are most familiar with the layout and organization of the facility. The following are some additional tasks that warehouse pickers perform:
Ensure all items from the packing slip are accounted for
Communicate inventory shortages to management
Check that the right packing slip is paired with the appropriate package
Report any damaged product they see to the QC team
Climb warehouser ladders following safety precautions to reach items on high shelves
May be required to operate warehouse vehicles, like forklifts and warehouse stackers
Picking Manager
The picking manager oversees the picking team and makes sure that the appropriate safety protocols are being respected as items are retrieved for orders. They hire and train pickers and keep records of the incoming and outbound inventory, sending requests for additional inventory purchases when needed.
Back to Top
---
8. Warehouse Packers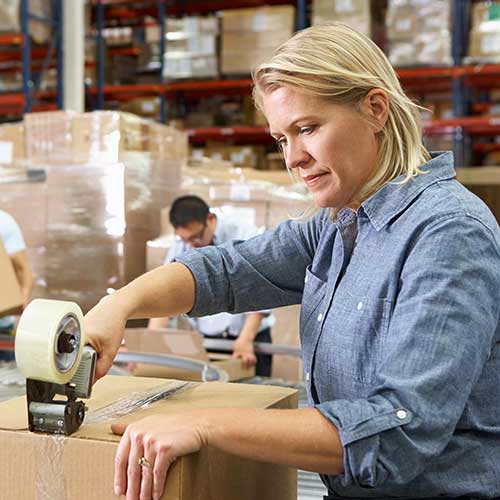 Once the picking team collects the items for an order, it is delivered to the packing team. Warehouse packers are responsible for processing packages before they ship out from the warehouse. This position may be listed under the following titles:
Shipping Associate
Warehouse Packager
What Does a Warehouse Packer Do?
Warehouse packers prepare picked inventory using industrial packaging supplies to be safely shipped out from the facility. Packagers inspect, weigh, and label boxes at packing stations so they are ready to be loaded on trucks for delivery. The following are among the tasks a packer may perform:
Weigh products before packing
Generate shipping labels
Add padding to packages to prevent damage in transit
Organize prepared shipments onto pallets
Wrap pallets in a protective film
Load shipment onto the truck for delivery (In a large warehouse, the responsibility of placing shipments on an outbound truck may be performed by a Truck Loader instead)
Shipping Manager
Warehouse shipping managers are responsible for supervising the shipping and delivery teams in a warehouse. They oversee the shipping schedule and ensure that products are packaged securely and in a timely fashion to depart on time and arrive successfully. They train and manage the shipping staff and act as a liaison between the packing team and logistics units.
Back to Top
---
9. Logistics Analysts
With the amount of product that flows in and out of a warehouse setting, it is important that the inventory numbers and shipping schedules remain organized. The logistics team oversees the distribution flow to maximize efficiency. The position of logistics analyst may be listed under these titles:
Logistics Specialist
Logistician
What Does a Logistics Analyst Do?
A logistics analyst is in charge of monitoring the pick-up and delivery schedules in a warehouse to keep the location operating smoothly. They use logistics software to increase productivity in the warehouse. Large distribution centers may have a logistics team that operates outside of the warehouse facility. These are some of the tasks logistics specialists perform:
Monitor incoming common carrier deliveries and schedule pickups to maintain a steady flow of inventory
Ensure that there aren't too many trucks arriving and departing from the facility at a given time
Research and hire cost-efficient third-party shipping companies if the warehouse does not have an in-house team
Monitor inventory levels to identify reduction opportunities
Ensure that the warehouse layout is flowing efficiently
Logistics Manager
The logistics manager supervises the logistics department and looks for opportunities to improve the logistical flow in the warehouse. They are the primary contact for the warehouse with common carrier companies. Logistics managers also keep track of supply chain activities and relay them to warehouse management.
Back to Top
---
10. Warehouse Administrators
In order to maintain a sustainable flow of inventory in and out of a warehouse, an administrative position is needed to supervise the comings and goings. Warehouse administrators are essential in the facility to ensure that stock levels remain balanced and organized. You may find the warehouse administrator position listed under the following listings:
Warehouse Admin
Warehouse Clerk
Warehouse Processors
What Does a Warehouse Administrator Do?
Warehouse administrators are responsible for monitoring the supply and demand of inventory to ensure that they remain balanced. They analyze the stock levels to determine if more or less stock should be ordered depending on sales. Their work may include some of the tasks below:
Complete inventory data entry
Process receipts and document details of all orders
Manage occupational health and safety procedures
Address department needs and complaints, if needed
Assist in general duties on the warehouse floor
Back to Top
---
11. Operations Managers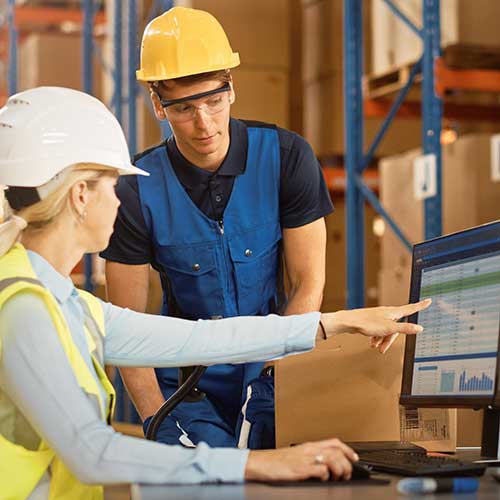 The numerous positions in a warehouse are all overseen by the operations manager. Warehouse operations managers work directly with all of the teams to ensure that they are fully staffed and that they have everything they need to accomplish their tasks. The operations manager position may also be listed as the Director of Operations.
What Does a Warehouse Operations Manager Do?
A warehouse operations manager oversees all of the departments in the warehouse. They manage the team of supervisors in the warehouse and enforce overall productivity from the top down. Some of the tasks of a warehouse operations manager include the following:
Approve the hiring choices of department managers
Schedule training and coaching sessions for manager certifications
Enforce health and safety standards and policies on the warehouse floor
Evaluate the flow and layout in the warehouse and find ways to optimize the processes
Analyze inventory reports for accuracy and potential changes
Back to Top
---
12. Security Guards
The overall safety of the ground in a warehouse is enforced by the warehouse security team. A warehouse may have hundreds of employees coming and going through the facility. It is the security guard's responsibility to make sure that the right people have access to the establishment for the safety of the staff. A warehouse security guard's role may also be listed under the title of Warehouse Security Officer.
What Does a Warehouse Security Guard Do?
A warehouse security guard manages the safety of the property and regulates who is allowed to enter the facility. Under their responsibilities, you may find the following tasks:
Ensure that members of the public cannot access the facility
Prevent the theft of the inventory
Respond to security emergencies and violations
Investigate security claims and reports
Enforce property rules and regulations
Back to Top
---
13. Maintenance Technicians
In order to keep the equipment in a warehouse operating smoothly, a warehouse maintenance technician is needed to perform repairs and run preventative diagnostics. There is usually a member of the technician team available at all times to address any mechanical issues that may occur during a warehouse shift. The position of warehouse maintenance technician may also be listed under the following titles:
Handyman
Warehouse Laborer
Facility Maintenance Tech
Maintenance Associate
What Does a Warehouse Maintenance Technician Do?
A warehouse handyman is responsible for simple repairs and routine maintenance on the warehouse machinery to keep the operation running smoothly throughout the day. A maintenance technician may be responsible for performing some of the following tasks:
Inspect and clean conveyor belts, forklifts, and other machinery
Replace damaged and worn-out parts on equipment
Run diagnostics on equipment and call in warranty technicians if needed
Address reports for defective machinery and determines if units need to be replaced for the overall safety of the warehouse staff
Back to Top
---
14. Warehouse Custodians
A warehouse is a bustling setting that requires thorough cleaning to prevent a build-up of dust and debris. The custodial staff ensures that the warehouse remains a sanitary space for its employees. The role of warehouse custodian is often listed under the following titles:
What Does a Warehouse Custodian Do?
A warehouse custodian cleans and maintains the facility inside and out to make sure it remains a presentable and sanitary workplace for the warehouse staff. They tidy up and use a variety of janitorial supplies to keep the establishment clean. A warehouse janitor's tasks may include the following:
Cleaning and sanitizing facility restrooms
Emptying trash cans
Sweeping, vacuuming, and mopping floors
Dusting and sanitizing surfaces
Replenishing paper products like paper towels, tissues, and toilet paper
Cleaning up spills and broken glass
Back to Top
---
A warehouse requires numerous staff members performing a variety of roles to keep it operating productively and efficiently. With clear and descriptive job listings for your warehouse careers page, you are sure to attract, hire, and retain great employees to keep the operation running smoothly.
---