WebstaurantStore / Food Service Resources / Blog
Purchasing Heavy Equipment Online: What You Need to Know
If you're considering purchasing large restaurant equipment online, you probably have a lot of questions regarding delivery, compatibility, and costs. While ordering equipment from the comfort of your home and having it shipped to your restaurant may seem daunting or unsafe, it's actually a great way to save time and money. To learn more about the most important questions to ask when purchasing restaurant equipment from WebstaurantStore, keep reading!
Shipping Questions
Because WebstaurantStore is an e-commerce business with no brick and mortar stores, any and all equipment purchases are shipped from warehouses. Here are a few important questions to ask:
How will my item be delivered?
Webstaurant equipment traditionally ships through FedEx, but once an order reaches a certain size in weight or dimensions, shipping switches from ground to common carrier. You'll be informed how your equipment will ship upon placing your order.
Will my equipment be installed for me?
No, your equipment will not be installed for you. You'll need to install it yourself or hire a professional.
Do you offer call before delivery service?
Yes! This free feature is optional for all commercial customers and required for all residential customers shipping via common carrier. Call before delivery means the shipper will contact the phone number listed with your shipping address approximately one business day prior to delivery to arrange a four hour drop-off window. This ensures someone at your facility will be available to receive your order, saving you time and money.
Do I need lift gate service or White Glove delivery?
Depending upon the size and weight of your Webstaurant restaurant equipment, you may elect to purchase lift gate service or White Glove delivery. Keep reading to learn more about these two options:
Lift Gate
If your equipment cannot be delivered by FedEx and you don't have a loading dock, consider using our lift gate service. If you add lift gate service during checkout, you'll pay a flat rate of $45 to have your equipment delivered on a truck with a lift gate that lowers your items onto the ground. Adding lift gate service for your equipment delivery after it ships is $60.
Keep in mind that delivery truck drivers aren't responsible for anything other than lowering your equipment to the ground via the lift gate. They won't take your order inside or unpack it.
White Glove
If you purchase White Glove delivery service, two trained movers will bring your equipment inside, unpack it, and remove any packaging debris from the premises. Please note that they will not remove your existing equipment. You'll also be provided with a four hour delivery window. Remember that White Glove delivery typically adds 5-7 business days to your order's transit time and that costs are determined based upon the equipment's weight and the distance White Glove agents have to travel.
When should I inspect my delivery for shipping damage? How do I note any damage?
Regardless of how your purchase is delivered, it's essential that you inspect your equipment while the truck driver is still there. If you see or suspect any damage, note it on the bill of lading and contact WebstaurantStore customer service immediately. If you don't inspect your order while the driver is still there, it can be nearly impossible to be fully reimbursed by the equipment manufacturer or carrier.
Can I ship my equipment purchase to a residence? How do I determine if my purchase is approved for residential use?
Most equipment product pages feature a disclaimer explaining whether or not the product is designed for residential use. Most equipment warranties are voided if the purchase is delivered to a residence, and we may sometimes refuse shipment altogether.
Can I pick up my equipment order from a WebstaurantStore warehouse?
No, you cannot pick up your equipment from one of our warehouses. All purchases are shipped directly to your business or residence.
Compatibility Questions
Ordering equipment that isn't compatible with your restaurant's utilities costs you money in return shipping expenses and restocking fees. Avoid this situation and save yourself time by asking these questions:
How do I know if my equipment will fit my restaurant's utilities?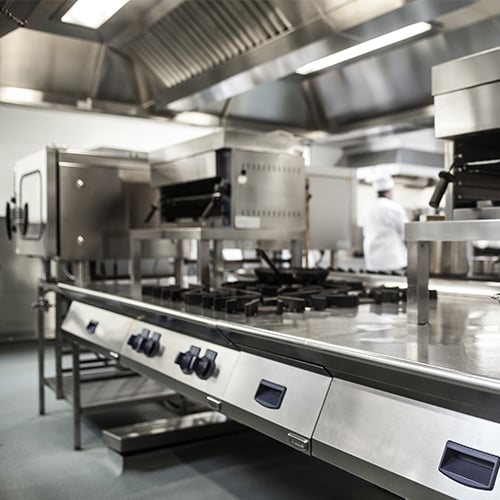 Before placing your Webstaurant kitchen equipment order, it's essential that you ensure your purchase is compatible with your establishment's existing utilities. If you're not completely sure, check with a professional before ordering. To determine the utility connections your purchase requires, check the specsheet or manual on its product page on our website.
Electric-Powered Equipment
Make sure that your business can meet the voltage, phase, and amp requirements of the electric-powered equipment you're interested in. Additionally, ensure the cord and plug that come with your order are long enough and compatible with the electrical outlet you'll be using. Some pieces of equipment don't include a cord and plug with purchase, so you should also pay attention to that.
Gas-Powered Equipment
You'll also need to determine beforehand whether the gas requirements of the equipment you're purchasing match the gas that's available in your restaurant. Pay attention to whether the equipment is powered by natural gas or liquid propane, as these are two different fuel types. Your restaurant also needs to supply sufficient gas pressure to the equipment in order to maximize its efficiency and effectiveness.
How do I know if my equipment will fit into my kitchen?
To ensure your equipment purchase will fit through your doors, pay attention to whether the listed dimensions include handles, casters, and legs. Doing so ensures that you'll have the clearance required above and on either side of your equipment to get it inside and installed. You'll also need to make sure your hallways are wide enough for the number of bends and curves required to transport your equipment to where you want it. Check the specsheets and manuals on the product's page on our website for your purchase's specific dimensions.
Are my equipment's included casters pre-installed?
The specsheet and manual included on your item's WebstaurantStore product page should mention whether or not the included casters are pre-installed. If you can't find this information, be sure to contact customer service before placing your order.
Costs Questions
Here are a few of the most important questions to ask when it comes to the costs associated with ordering Webstaurant restaurant equipment online:
Are discounts available if I purchase several pieces of equipment at once?
Because WebstaurantStore's prices are wholesale, additional discounts are very rare. However, if your order is particularly large in size or price, you can request a quote via an online form. The quotes team will review your application and let you know if any discounts are available for your order.
How are equipment shipping costs determined?
All WebstaurantStore shipping costs are calculated based upon your order's weight, dimensions, and shipping distance. The cost of your order doesn't play a role in determining shipping costs.
If you're shopping for a new reach-in refrigerator, gas range, or stainless steel work table, purchasing restaurant equipment online is a great way to save time, money, and hassle. Asking the right questions as you make Webstaurant kitchen equipment purchases will also keep you informed and help the ordering, shipping, and receiving processes proceed as smoothly as possible.

Posted in:
Management & Operation
| By Nora Fulmer