Why You Should Buy Heavy Equipment Online
For many years, when restaurant owners needed to buy new equipment or supplies, they either went to a dealership or a cash and carry store. While this is what many restaurant owners are used to, purchasing heavy restaurant equipment and supplies online is much easier, faster, and cheaper than buying from traditional stores and dealerships.
Additionally, some restaurant owners may be hesitant to buy large and expensive items like refrigerators, ovens, and ranges online, but our system is streamlined to get your equipment to you faster, safer, and cheaper than traditional wholesalers. In this blog, we'll explain why you should buy restaurant equipment and supplies online, and why buying equipment on WebstaurantStore is a better option than going to a dealership, cash and carry store, or other online store.
Shop All Restaurant Equipment
In addition to providing a great selection of commercial equipment, WebstaurantStore has an experienced Customer Solutions team that caters to foodservice professionals. Check out this video to see how WebstaurantStore makes it easy for customers to buy heavy equipment online:
Buying Restaurant Equipment Online vs Traditional Dealerships
When buying heavy restaurant equipment like ovens, ranges, and fryers, the restaurant dealership is the place that comes to mind for many people in the foodservice industry. Additionally, a salesperson at a dealership might come to your business and take measurements, but, for restaurant operators that are looking for a more convenient and independent shopping experience, here are some great reasons WebstaurantStore instead:
Salespeople work on commission, so it's in their interest to upsell you. On the other hand, when buying online, you don't have to deal with a salesperson who is going to give you the runaround.
Salespeople are incentivized to make recommendations that are good for them, not for you. It's always in the best interest of the salesperson to offer you the top-of-the-line piece of equipment that your business might not need, whereas when buying at WebstaurantStore, you can choose exactly the product that meets your needs and budget.
When ordering at a dealership, there are more middlemen and more chances for mistakes. With so many people handling your purchase, there is a greater risk that mistakes will be made, costing your business time.
Buying online fits into your schedule. Dealerships have set business hours, which don't always line up with your restaurant's schedule. Fortunately, when buying online, you can browse and order when it's convenient for you.
Dealerships have increased overhead which result in higher prices. Salespeople at dealerships drive company cars and shipments are made on dealership trucks, all of which drive up their overhead costs. To cover these costs, dealerships offer higher prices than you can find online.
Buying Restaurant Equipment Online vs Cash and Carry Stores
Cash and carry stores can be a convenient option for many restaurant owners and managers, because they can quickly stop in to pick up supplies, replacement components, or place orders. And while cash and carry stores are convenient, ordering on WebstaurantStore gives you a wider range of products and convenience. Here are some of the benefits of buying equipment online rather than at cash and carry stores:
Some cash and carry stores have club fees. You don't need a WebstaurantStore membership to make a purchase, plus making an account with WebstaurantStore is free!
Cash and carry stores have overhead costs that increase their prices.
Physical stores have limited capacity and stock. Due to size constraints, stores may only have a few thousand types of products on hand, whereas we have over 300,000 products available on our site, providing more options and customizability.
Our customer service representatives are more knowledgeable than typical store staff. As a result, we'll be able to make better recommendations that will fit your needs.
Buying Restaurant Equipment on WebstaurantStore vs Other Online Stores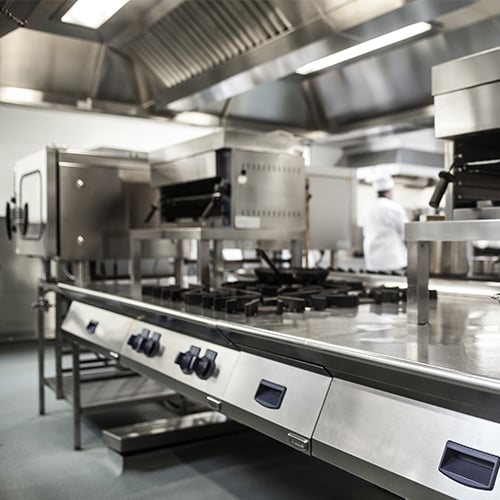 Purchasing heavy restaurant equipment online can help your business save time and money, and is much more convenient than traditional brick-and-mortar stores. But, how does WebstaurantStore compare to other online restaurant suppliers? Here's a few reasons that WebstaurantStore stands out from the rest:
Our prices are lower. We offer unbeatable prices on restaurant equipment and supplies.
We have a bigger selection. With over 300,000 products on the site, we're sure to have exactly what your business needs.
The option for customizability. Along with a larger catalog of products, we have the option to customize your order to fit your unique needs.
Our products have thousands of reviews. Don't just take our word for it, you can read through reviews left by other customers.
Reordering is simple with our auto reorder feature. WebstaurantStore auto reorder lets you conveniently schedule orders at regular intervals, so you can have essentials like paper towels, spices, and food items shipped to your business regularly.
Deals on equipment with minor damage. Visit the Scratch and Dent Outlet to find discounted prices on items with minor superficial flaws that won't affect performance.
A WebstaurantPlus membership helps your business save on shipping. Helping you cut costs even further, our WebstaurantPlus program offers free shipping for a low membership fee.

Additionally, many large equipment items ship free whether you're a Plus member or not.
While many restaurant owners and managers are used to ordering their restaurant equipment from traditional businesses like cash and carry stores and dealerships, ordering heavy equipment online is more convenient and can help you save money.

Posted in:
Company Information
|
Management & Operation
| By Richard Traylor