WebstaurantStore / Food Service Resources / Blog
Everything You Need to Know About WebstaurantStore Shipping
WebstaurantStore is dedicated to investing in distribution in order to become the fastest and most reliable shipper in the foodservice industry. We have shipped millions of orders across the nation and have a selection of over 290,000 products, making us the best choice for all of your restaurant equipment needs. This blog post will explain our shipping options and policies in detail to help you place your next order with confidence.
How to Select Your Shipping Method During Check Out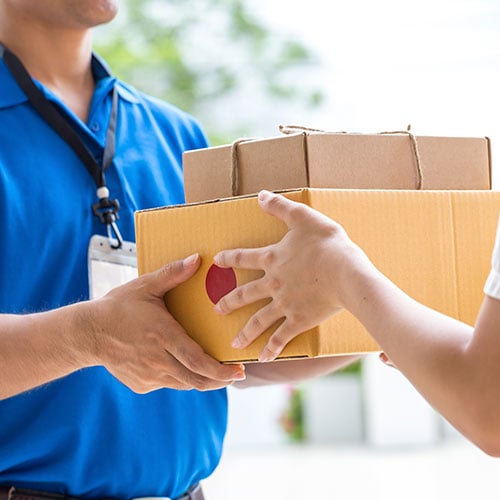 To choose your shipping method while checking out with WebstaurantStore, you'll want to:
Add your items to your cart
Calculate your shipping on the Cart page where it says "Ships To"
Select your shipping method from the options listed
Enter your shipping details on the Billing and Shipping page
Review your order and submit it for completion
Once your order is complete, you'll receive an email confirmation. As soon as your order ships, an email will be sent to you with your tracking information and the tracking will activate in 24 hours from that point, letting you know when to expect your purchase.
How to Save on Shipping at WebstaurantStore
To save on shipping costs on our website, we recommend that you order in bulk, ship to a commercial address, and join the WebstaurantPlus program. It is important to keep in mind that shipping costs are calculated based upon your order's weight, dimensions, and distance shipped, not the order's cost.
Ship to a Commercial Address
When possible, ship your order to a commercial address to save on shipping. Our carriers also provide us a discount when we ship to commercial addresses, which is reflected in the shipping calculator when you check out. A commercial address is defined as a location with a public entrance and posted hours of operation.
Buy in Bulk
You can cut some shipping costs with WebstaurantStore by adding more products to your cart. Because WebstaurantStore is a wholesale distributor, we do not conceal the cost of shipping in the price of our items so you may see a higher shipping cost than expected. However, when you purchase in bulk, this provides us a discount with our shipping companies which we can then pass along to you. Before you place your order, see if there are any other items you may also be needing that can be found on our site to maximize your savings.
Join the WebstaurantPlus Program

WebstaurantPlus is a program that provides unlimited free shipping with WebstaurantStore on over 165,000 items for just $99 a month. You can save on items like disposable cups, receipt paper, glassware, napkins, and more when your order surpasses the minimum subtotal of $29 of eligible items. The program is available to all United States customers (excluding Alaska and Hawaii). Find out more about the WebstaurantPlus program facts and benefits in the following useful resources:
Click the button below to sign up for WebstaurantPlus!
Enroll in WebstaurantPlus
How Long Will It Take for My Order to Ship?
The processing time of an order in our warehouse is generally 1-2 business days, and the shipping time can vary depending on your proximity to the warehouse where your items are located. We typically see a 1-7 business day shipping time frame on ground orders. We primarily ship with FedEx. Please note that we are unable to ship on our customers' personal FedEx accounts.
Our Warehouses
WebstaurantStore has warehouses all over the United States, so we can get your order to you as fast as possible. We have locations in the following cities:
Cumberland, Maryland
Dayton, Nevada
Leola, Pennsylvania
Madisonville, Kentucky
Albany, Georgia
Durant, Oklahoma
The varied geographic locations of our warehouses ensure you receive your order in an efficient and timely manner regardless of your shipping address. However, we do not offer pick-up services from our warehouse locations.
Ultimately, we can reach 95% of the nation's population within two business days, which is one of the many reasons why you should choose WebstaurantStore for your next order.
For more information on ground delivery estimates, check out our shipping time details page.
Expedited Shipping
If you need a guaranteed shipping time on your parcel order, be sure to select an expedited shipping method. These options will guarantee your delivery date as long as your items are in stock.
The order must be placed before 2pm EST to ship out the same day. Additionally, expedited shipping operates on a Monday through Friday schedule.
Next Day Shipping orders will arrive on the following business day from when your order is placed.

For example: Orders placed on Monday before 2pm EST will arrive on Tuesday before the end of the business day.

Second Day Shipping orders will arrive within two business days from when your order was placed.

For example: Orders placed on Monday before 2pm EST will arrive on Wednesday before the end of the business day.
Common Carrier Shipping
Once your order reaches a certain size in terms of weight or dimensions, it will switch from ground to common carrier shipping. This means it will be palletized and shipped to you on a common carrier truck.
For an additional fee, you can select our lift gate option, which means the delivery truck will come equipped with a lift gate to lower your items to the ground or a shipping dock. We even offer a free call-before-delivery option where the shipper will call you the day before and provide a four-hour delivery window. Common carrier deliveries are available within the United States and Canada.
For more information on common carrier shipping, check out this in depth resource.
Drop Shipments
It is important to keep in mind that some items ship directly from the manufacturers that we partner with and are identified as drop ship items. Shipping times on drop ship orders can vary so if you need an item by a particular date, please contact our reliable customer service team. They would be happy to contact the manufacturer on your behalf to check lead times and shipping estimates.
International Shipments
We do ship parcel orders internationally to some select locations:
Austria, the Bahamas, Bermuda, the Dominican Republic, France, Germany, Guam, Hong Kong, Ireland, Italy, Jamaica, Japan, Mexico, the Netherlands, New Zealand, Norway, Puerto Rico, Singapore, South Africa, Spain, Sweden, Trinidad and Tobago, the United Kingdom, and the U.S. Virgin Islands
For larger shipments and countries not listed, we can ship to U.S. based freight forwarders as well. You would be responsible for contacting them and setting up an account prior to placing your order.
Duties and taxes on international orders are not included at checkout.
What If My Item Is Damaged During Shipping?
If your WebstaurantStore order sustains shipping damage, be sure to contact our customer service team within 1 business day of receiving your purchase. Take pictures of the damaged item and the packaging so that our team can efficiently assist you.
You can find more information on our returns and damages process in this resource.
For any additional shipping questions you may have, take a look at our Frequently Asked Questions page.

Posted in:
Company Information
| By Janine Jones