How to Set Up a Warehouse
Last updated on 12/01/2021
If you've outgrown your current space, starting your own warehouse could be the next logical step in storing and selling your company's products online. Or it could be a profitable new venture to create a warehouse and rent out your space to other businesses. No matter what your business goals are, setting up a warehouse from scratch requires some careful planning. The layout and allocation of your space need to be mapped out early on. We've created this warehouse layout guide to help you set up any type of warehouse for maximum efficiency.
Shop All Industrial Supplies
Click below to learn more about basic warehouse design:
Warehouse Layout
Before you being laying out the schematic of your warehouse, you should be familiar with the essential functions of a fulfillment center and the equipment used to handle materials. Goods come in, they get put away in storage, and they get picked for shipping. To make this happen, the goods flow from one section of the warehouse to the next. Your warehouse setup will be the most successful if you provide space for the following locations:
1. Inbound Loading Dock
The loading dock, also called a receiving dock or loading bay, is the entry point where inbound trucks deliver goods to your warehouse. On the exterior of the building, a large parking area provides room for trucks to back up to the building. The dock floor is built to be flush with the truck beds so workers inside the building can enter the trailer with forklifts and pallet jacks.
Loading Dock Layout Tips
The parking area outside the dock should provide enough room for the largest trucks to turn around and back up to the loading bay.
Dock height should be based on the bed height of the most common delivery vehicle used.
Consider the number of pallets you'll be unloading during peak delivery times and allocate space for the goods and the loading dock equipment.
---
2. Receiving
The receiving process begins as soon as goods are unloaded on the dock. Shipments are inspected, invoices are checked, and permanent storage locations are assigned for each item. By allocating a holding space for these tasks to be performed, you avoid bottlenecks when multiple shipments arrive at once.
A successful receiving area should be located right next to the inbound loading dock. You'll need space for pallets and boxes to be unloaded and a temporary space for receiving tasks to be performed. The receiving manager needs a home base to work from, which might include a permanent desk with outlets for a computer and room for filing cabinets if you use paper invoices.
Receiving Area Layout Tips
You can make your receiving process more efficient by including space for temporary holding locations where goods can be staged before putaway.
Allow space for performing a thorough quality control check before goods are put in storage. Catching any defects or damage now will help you in the long run.
---
3. Storage and Putaway
Most of the square footage in your warehouse will be dedicated to storage space. When you look at your warehouse space in terms of cubic feet, your storage area should take up between 22% to 27% of the total warehouse space. That percentage may sound small, but it's because cubic feet accounts for all the vertical space in between the floor and ceiling, not just floor space. For maximum efficiency, you'll need to take advantage of the clear height of your warehouse.
What Is Clear Height in a Warehouse?
Clear height is the maximum usable vertical space in your warehouse where goods can be stored. The clear height in your building will be lower than the ceiling height and must account for sprinkler systems or ductwork.
Storage Area Layout Tips
Take advantage of the available clear height by using pallet racks and industrial shelving to store goods vertically.
Using warehouse management system software helps you to maximize your storage space and assign locations.
Aisles in your storage area need to be wide enough to accommodate pallet jacks (4' to 5' wide) and/or forklifts (12' to 13' wide)
Don't forget to install the proper lighting in your storage area so that goods are visible to order pickers.
---
4. Picking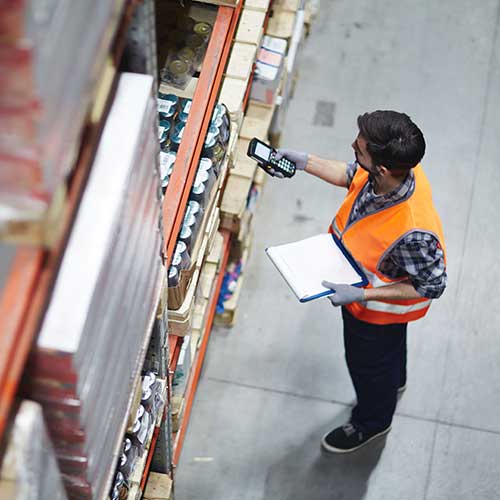 Picking is the process of retrieving goods from storage to fulfill customer orders. The warehouse employees that perform this task are called pickers. Your picking area is the home base for order pickers — it's the place where they receive their list of items and where they bring orders that are fulfilled. Picking should be located very close to the storage area and may even share some square footage.
The picking area should have enough room to store picking equipment like forklifts and pallet jacks. You'll also need space for the picking manager's desk and computers for accessing the warehouse management system.
Picking Area Layout Tips
Add space in your layout for roller conveyors to carry fulfilled orders from picking to shipping.
If your warehouse is small and you don't store items on pallets, shopping carts and shopping baskets can be used to collect smaller items during picking.
---
5. Shipping
After orders have been picked, they are sent to the shipping and packaging area to be boxed up for fulfillment. The shipping area should be close to your storage and picking locations so that goods flow efficiently from one area to the next. Make space in your shipping area for shipping stations — work tables that are set up with all the shipping supplies your workers need to package goods.
Shipping Area Layout Tips
Besides shipping stations and packing tables, you'll need space to store your backup inventory of shipping boxes and supplies.
It can be helpful to add space for order staging, or organizing shipments by carrier so they are ready to be loaded onto outbound trucks.
---
6. Outbound Loading Dock
The outbound loading dock is the end of the line for your products. It's the exit point where goods are loaded onto trucks for shipping. Just like the inbound loading bay, the outbound bay area should be the same height as the truck beds that back up to the dock. Pallets that are staged in the shipping area can be quickly moved onto trucks and then onto their final destination.
Creating two loading bays (inbound and outbound) in your warehouse is necessary for a couple of reasons. For efficiency, goods should always be flowing forward in your warehouse. If you use the same dock for shipping and receiving, you will have goods moving both ways, which creates space issues and confusion. You also have to consider the truck yard and how many trucks are coming and going from your warehouse. Separating the inbound and outbound traffic helps alleviate bottlenecks.
Outbound Loading Dock Layout Tips
Include plans for proper ventilation on your loading dock because idling trucks create a lot of exhaust fumes.
Organizing outbound shipments by carrier type helps to make shipping more efficient.
Provide enough space for your outbound loading equipment like pallet wrap machines, pallet jacks, and dock ramps.
---
Other Warehouse Spaces
There are other warehouse spaces you'll need to include in your building layout. These locations aren't related to the product cycle but are necessary for business operations.
Returns
No one wants to think about their products being returned, but it's a fact of life that returns will happen, and they need to be processed the right way. A separate space for processing returns helps to keep those items segregated from the other products in your warehouse. Returns require their own receiving, inspection, and putaway process.
Offices
In smaller warehouses environments where you are the owner and operations manager all-in-one, you might not need a dedicated office space. Sometimes a desk on the floor of the warehouse or a mezzanine will do. But in other cases, where you have a diversified team of managers and supervisors, it's useful to have office spaces for conducting phone calls, meetings, and administrative duties.
Breakrooms
Your employees need a place to take breaks, eat their lunch, and store their personal belongings. Designing a space for your workers to unwind when they are off the clock is important for job satisfaction and employee retention.
Restrooms
Restrooms are essential for any business. You'll need to base the number of restrooms in your warehouse on the size of your workforce. If you have under 15 employees, one restroom might be sufficient. OSHA provides guidance on their restroom and sanitation requirements page.
Maintenance and Parts
Outside of the storage space needed to hold your products, you'll need a space to store all the parts and replacements that keep your warehouse running. Items like lightbulbs, hardware for industrial equipment, and tools for performing maintenance should all have an organized home in your warehouse.
---
Types of Warehouse Layouts
If you are building a warehouse from the ground up, there are three popular layouts that you can rely on when you plan your schematic. These designs all feature a universal rule — keep the inbound and outbound docks separated.
U-Shaped Warehouse
U-shaped warehouses are very common. The layout is similar to a semi-circle, with the inbound loading dock on one side and the outbound dock on the opposite side. Storage and picking are usually stationed in the center. Products are delivered on one side of the U and flow in one direction to the other side.
I-Shaped Warehouse
In the I-shaped layout, also called a through-flow layout, the warehouse is shaped like a large rectangle. The inbound dock is positioned at one end of the rectangle with the outbound dock on the opposite side. Storage is located in the middle of the rectangle.
L-Shaped Warehouse
The L-shaped warehouse also positions the inbound and outbound docks on opposite sides. The flow of traffic and goods move from one side of the L to the far side, with storage located in the "corner".
With the increase of consumer online ordering and e-commerce fulfillment, warehouse space has become very valuable. If your business is outgrowing a garage or stock room, it might be time to think about building your own warehouse space to store and distribute goods. Keep all the essential warehouse functions in mind when you create a layout and don't forget to account for future growth.