Everything You Need to Know About Melamine Dinnerware
Last updated on 7/10/2018
Even if you've never heard of melamine, you've likely eaten off of a melamine plate. Because this unique material is lighter and more durable than china, many eateries turn to melamine to avoid constantly replacing broken dinnerware. Another benefit is that it makes service less strenuous for staff who need to carry large trays loaded with plates of food. But melamine tableware isn't just limited to plates and cups. You'll also find melamine bowls, saucers, display trays, ramekins, fry cones, and even chopsticks. Melamine can also be made in a wide range of colors and styles, making it an extremely versatile product that can be used in a variety of settings.
Learning about melamine can be a huge benefit to your business. Read on to find out how melamine is commonly used, how to care for it, and what makes it so unique.
What is Melamine?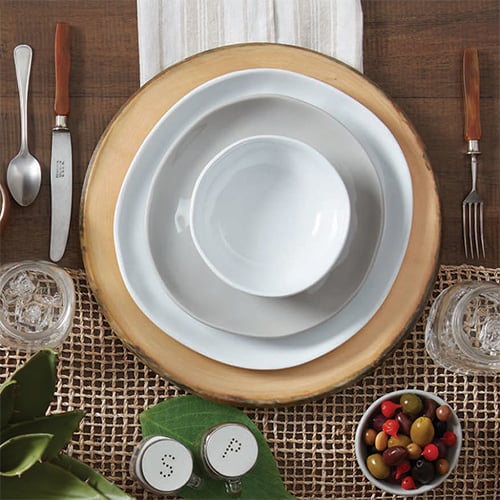 Melamine is a chemical compound with a number of uses, including manufacturing laminates, glues, dinnerware, and more. This hard plastic can also be made in a wide range of colors and styles, making it an extremely versatile product that can be used in a variety of settings. It is created by combining melamine resin with strengthening materials, which means it can stand up to the rigors of everyday use.
Is Melamine Safe?
Many reports have surfaced questioning the health hazards of melamine tableware. However, the FDA's Safety and Risk Assessment of Melamine states that this type of plastic tableware is safe for use. The study concludes that the chemicals in melamine will not migrate, or transfer, into food product as long your food is not heated to 160 degrees Fahrenheit or higher.
While some melamine products may contain safe amounts of BPA, many brands offer certified BPA-free melamine products if that is a concern of your customers. Additionally, many lines of melamine dinnerware and kitchen tools meet NSF approval for food safety.
Is Melamine Dishwasher Safe?
Unlike glazed dishes, melamine tableware is 100% dishwasher safe. In fact, many lines of melamine servingware can handle heat that exceeds recommended dishwasher water temperatures. And thanks to melamine's high heat-retaining properties, it dries faster than standard dishware.

Is Melamine Microwave Safe?
As mentioned above, melamine can withstand high temperatures, but it should not be heated while in contact with food. For this reason, use in the microwave is not recommended.
Is Melamine Breakable?
Melamine is extremely difficult to break, but there have been instances of chipping around the edges of melamine dishware when it's handled very roughly. The good news is that melamine will not shatter if dropped, like typical china or porcelain would, and is overall far more durable than any other traditional dinnerware material. Due to it's durable construction, melamine dinnerware has a much lower replacement rate than china, which can save your business a lot of money in the long term. For example, melamine has an annual replacement rate of around 10 to 20%, whereas china has a replacement rate between 50 and 150%. Plus, melamine is relatively resistant to scratch marks from forks, knives, and other utensils. Look for models with a reinforced rim and foot for additional durability.
Is Melamine Tolerant to Hot and Cold Uses?
Melamine is an insulator, not a conductor. This means that while it may maintain temperatures longer than other types of plastic, it takes a long time for the temperature of the material to change. So, melamine stays cool to the touch when serving hot foods because the food does not produce enough heat for a long enough period of time to change the temperature of the material itself. This protects restaurant servers and diners from burn hazards associated with hot plates and other servingware. Thanks to its heat-resistant properties, melamine is also great for kitchen tools that are used when handling hot soups and boiling water.
Because melamine is such a great insulator, it's also ideal for cold food and buffet displays. Melamine food pans are great for cold applications like deli displays, buffets, salad bars, and more. For a stylish catered display, place melamine in an ice-filled container to keep plated items cool.
Where is Melamine Used?
Thanks to its durable, light weight construction, melamine is a popular choice for a variety of commercial settings, like dining halls, day care facilities, and assisted living communities. However, you can find designer melamine dinnerware that looks just like handcrafted ceramic for an upscale feel that's appropriate in more sophisticated restaurants. The low risk of breakage makes melamine an ideal choice for restaurants that serve appetizers poolside or on the beach. From bistros to barbecue shacks, you can find melamine dinnerware that suits the decor of nearly any foodservice establishment. Melamine's durability makes it ideal for use in a variety of outdoor or high-volume settings.
How Does Melamine Affect Presentation?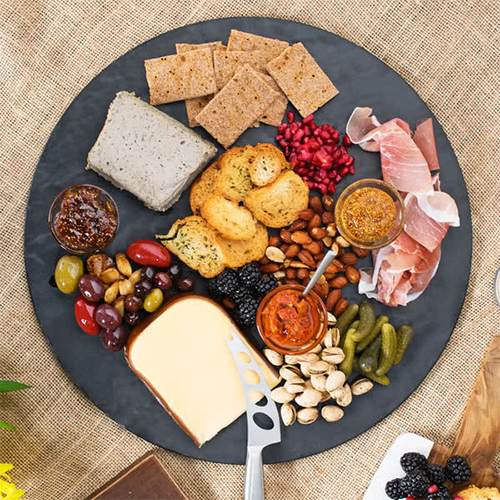 There's melamine tableware designed for just about every application, from contemporary catered events to Mexican restaurants. Melamine molcajete bowls have the same mortar and pestle look as traditional salsa and guacamole bowls, without the weight and expense. For your Chinese restaurant or hibachi grill, check out the traditional decorations that adorn our Asian-inspired dinnerware collection.
There are dozens of designer melamine lines created to mimic the look of fine china and other ceramic dinnerware. Available in both solid color and patterned designs, you're sure to find the perfect high-end melamine dinnerware to match your restaurant theme. Because melamine is so versatile, you can get the same visually appealing presentation from melamine that you can from other materials like porcelain, china, or even slate.
Is Melamine Expensive?
You can find different lines of melamine in a range of prices, many of which are very affordable. Not only can investing in melamine dinnerware save you money initially, but it's also a smart long-term investment. While chinaware and other ceramic dinnerware shatters when dropped, melamine's durable construction means that it stands up better to use and abuse over time. No more replacing plates, cups, bowls, and other servingware every time they're dropped.
Can Melamine be Recycled?
Many earth conscious consumers wonder where melamine falls on the list of recyclable plastics. Melamine is categorized under Class #7 on the list of Plastic Resin Codes. This means that it is a widely used plastic that does not fit into the more commonly used #1-6 classifications and should not be thrown in your recycling bin. Melamine cannot be melted for recycling like other plastics. However, it can be ground down and used as a filler for other plastics or wood composites. So, ask your local recycling center for more details about how to dispose of your melamine products.
Eco-friendly lines like Elite Global Solutions Greenovations are changing the way restaurateurs think about recycling melamine. Made of 50% bamboo and 50% melamine, this eco-conscious dinnerware is biodegradable. It boasts the same durable features as regular melamine and, like all melamine, is dishwasher safe. The GET BambooMel line boasts a similar "go green" design.
What is the Best Way to Care for Melamine?
To extend the life of your melamine dinnerware, try following these simple guidelines:
If you need to soak your melamine products before putting them in the dishwasher, use a a high-quality presoak dishwashing detergent.
Do not use serrated knives on melamine products.
Do not use melamine products in a conventional oven.
Do not use melamine products in a microwave oven.
Do not use harsh abrasive cleaners, steel wool, or metal scouring pads on melamine products. For safe scrubbing, use a light-duty white scrubbing pad.
Do not use chlorine bleach on melamine products.

If you constantly have to replace shattered china or porcelain dishware, switching to durable melamine may be the perfect solution for your establishment. Melamine is a smart choice for a variety of different settings, especially dining halls and other operations that serve a high volume of customers. Because this unique material is both break resistant and suitable for serving hot and cold foods, it provides restaurant owners with the flexibility they need to complete their daily tasks. So, by using melamine in your business, you can cut down on the frequency of dishware breakage, while also keeping your customers and staff from having to handle hot servingware. If you're looking for a more versatile dinnerware material, consider using melamine in your foodservice establishment.