What is a Charger Plate?
Last updated on 2/21/2019
A charger plate is a large, decorative base setting on top of which other dinnerware is placed during formal occasions such as catered events, weddings, upscale parties, banquets, or in fine dining restaurants. Also known as service plates, under plates, or chop plates, charger plates are merely decorative, and are not meant to come in direct contact with food. Charger plates provide an elegant way to serve multiple course meals, where each course is served in its own separate bowl or plate, and placed on top of the charger.
Charger plates are available in a variety of colors, materials, lengths/diameters, and shapes for you to choose from to match the decor, mood, and style of your particular event. Chargers are used in multiple course meals as an elegant way to serve salad plates, soup bowls, and main dinner entrees in order to create unique presentations for guests.
Navigate through the article by using the links below:
Why Should I Use a Charger Plate?
Charger plates have many practical purposes, besides the fact that they provide elegance and enhance the table decor in a fine dining establishment. Not only do they anchor the dining table, create ambiance, and are aesthetically pleasing to guests, chargers also protect the table and tablecloth from becoming dirty during service. Charger plates can catch pieces of food, and prevent spills and messes that would otherwise stain the tablecloth or flow onto the table. Chargers also help to retain the heat in dinnerware since they are placed directly underneath plates and bowls.
Charger Plate Materials
WebstaurantStore features charger plates in a variety of materials including the ones listed below. You may use the links directly below the images to navigate to our selection of chargers in that particular material.
Common Charger Plate Features
When it comes to picking the right charger plate for your dining area, there are a few common features to consider:
Dishwasher Safe: Opt for dishwasher safe charger plates for faster clean-up at the end of service.
Environmentally friendly: These eco-friendly charger plates were produced using sustainable materials.
Microwaveable: For a quicker warming solution, these charger plates are able to be microwaved before use.
Oven Safe: Charger plates that are oven safe can be safely warmed in the oven without causing the materials to crack, warp, or melt.
Back to Top
How to Use Charger Plates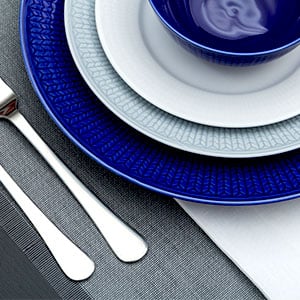 Choose a charger plate that will help complement the decor of your dining table, and add visual interest to your event's overall feel. Take into consideration the type of plates, bowls, beverage glasses, flatware, serving platters, and linens you plan to use, and then choose a charger that will balance those styles. Don't forget about the tablecloth, fabric overlays, floral arrangements, and centerpieces that will be placed directly beside the charger plates.
Place a charger at each guest's corresponding place setting. Set it on top of the tablecloth or placemat, in between the arranged flatware, and below the beverage glasses. Chargers should be two feet from one another to give guests enough elbow room.
Align menu cards, napkins with napkin rings, or name cards in the middle of the charger plate for use before the dinner service.
When guests are ready to be served, soup bowls, salad plates, and dinner entrees are then placed directly on top of the charger.
After each course, charger plates should be wiped clean, or replaced to maintain the purity of the table.
Charger Plate Etiquette
Follow these specific etiquette rules when using charger plates at your upscale catered event, wedding, fine dining restaurant, or dinner party:
Charger plates should be dressed and ready when guests arrive.
Chargers are always removed from the table after all guests are finished eating the main entree. Chargers should then be taken away with the dinner plate still on top, as this clears the table and leaves it ready for dessert to be served. Chargers are never used when serving dessert.
Chargers can be removed once all guests are seated, or they may remain on the table throughout the entire length of the meal.
Place charger plates one inch away from the bottom edge of the table to create perfect alignment.
Never serve food directly on top of a charger plate, unless it is coated in a food-safe material.
Other Uses for Charger Plates
The elegance of a charger plate does not need to be restricted to just holding a dinner plate. Here are some additional uses for your chargers:
Use charger plates as a tray or platter to pass around small appetizers or desserts, but make sure to place a doily or a linen napkin on top of the charger when coming in contact with food.
Group pillar candles together to create an elegant centerpiece.
Set floral centerpieces on top of chargers to create a colorful base.
Back to Top