How to Start a Meal Prep Business
Last updated on 2/24/2021
As people continue to fill their lives with busy work hours, hobbies, and family obligations, the time for creating weekday dinners becomes more difficult. A meal prep delivery business caters to those busy lifestyles, providing customers with delicious meal options that are quick and easy to prepare. Whether you want to start a food delivery business for your local community or are thinking of providing on a national level, we've listed the steps below on how to start a meal prep business.
Shop All Meal Prep Supplies
Learn about the meal prep business steps by clicking below:
What Is a Meal Kit?
A meal kit is a collection of pre-portioned ingredients that make up the components of a recipe. Companies assemble meal kits, place the recipe card alongside them, and then ship the meal to the customer for them to cook at home. Sometimes the ingredients are partially cooked, the vegetables pre-cut, or the whole meal is assembled and ready to bake. The idea behind meal kits is for customers to save time in the kitchen and cook something new while ensuring it's a delicious meal they'll enjoy.
---
1. Choose Your Meal Prep Business Concept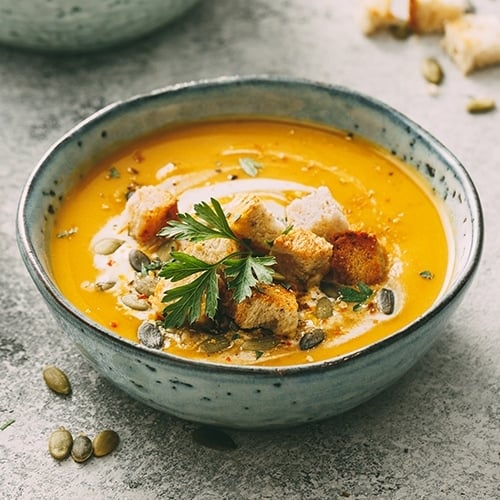 Now that you're interested in starting a meal delivery service, it's time to choose the concept. The below points outline key questions to ask yourself about how you'd like your meal prep delivery service to run in terms of the food being prepared and who it's for:
Types of Cuisines
So, what are you cooking? Are you an expert in a certain global or regional cuisine? If so, this could be an exceptional way to introduce traditional recipes and ingredients to potential customers that may be unfamiliar but want to learn. You can also create a fusion concept where you take different aspects from two or more cuisines and blend them into new recipes.
If you aren't an expert in a specific international cuisine, try framing your concept around ideas like healthy meals or comfort foods. Your meal prep business could also be about experiencing specialty ingredients that your customers have possibly never used in their cooking. Or, if your meal delivery service is centered around making the recipe from scratch, maybe your recipes can bring in various cooking applications so customers can try out different techniques in their kitchen.
Dietary Restrictions
Whether it be allergies, lifestyle changes, or following various weight loss methods, millions of people have an altered way of eating in some form. To target all people and demographics, catering to specific diets is a smart business move so you never have to turn down a potential customer.
Target Market
With all of your concept ideas in tow, think about who would benefit from this meal kit delivery service. Whether it's everyone and anyone, busy families with kids, people who want to learn how to cook, or those who have no interest in cooking at all, make sure you keep this person in mind. If you're making premade dinners that just need to be heated, market to families or busy people that don't have time to cook an extravagant meal at the end of the day.
When choosing your meal kit delivery concept, it's important to find your niche. There are both small businesses and national suppliers that offer delivered meal kit subscriptions or fully meal-prepped dishes right to a door. So, as you think about the three points above, think about what your niche will be so you can stand out from the competition. Are all of your fruits or vegetables saved from being thrown away because they're not up to cosmetic standards to be stocked in grocery stores? Is the meat in your recipes a specific type of game that most people don't eat daily or know how to cook? Whatever your niche is can also be one of your biggest marketing points.
---
2. Write a Meal Prep Business Plan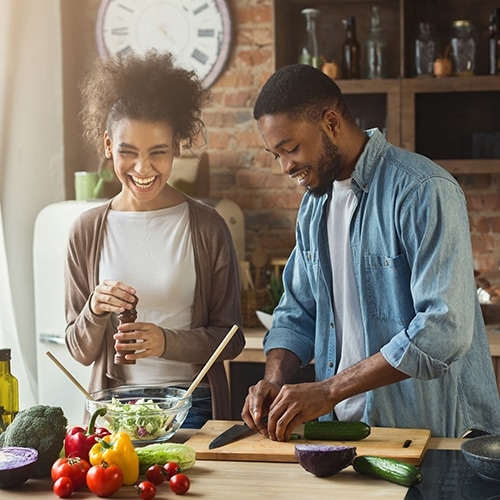 Whether you're starting a food delivery business from home or beginning a meal prep business in a commercial kitchen, you'll need to write out a business plan. A business plan lays the foundation of your business and can help you get loans from investors, forecast your sales, stay organized with the tasks you need to complete, and map out any gray areas about operating your business. Your business plan should include the following:
Executive Summary
Company Description
Concept and Menu
Management and Ownership Structure
Employees and Staffing Needs
Market and Competitor Analysis
Advertising and Marketing Strategies
Financials
For additional information on how to write a business plan, check out our piece on how to write a restaurant business plan.
---
3. Obtain Funding for Your Meal Prep Business
Now that you have the financial projection from your business plan, you'll know the amount of funding you'll need to get started. Even if you're starting a food delivery business from home, you'll need startup supplies to begin your meal kit business. If you're working with a bigger operation, add up the costs of supplies, rent, utilities, salaries, and any other operational expenses you have. From there you can create a budget and forecast how much money you'll need to apply for loans.
---
4. Find a Meal Prep Workspace
The next step to starting your own meal prep business is to find a workspace that is best suited for your needs. If you plan to operate your food delivery business from home, you'll be running most of your operations from your personal kitchen. If you're planning to operate a meal prep business on a larger scale, you will most likely need a workspace that has enough square footage and professional equipment to keep up with the demand. A ghost kitchen may be the best fit for your operation as you won't need to worry about having a front-of-house area. You could also expand your current restaurant into a meal prep delivery business to expand the reach of your menu.
When looking for your workplace, find a suitable establishment that has separate areas for the following:
Kitchen - This is the most important room of your business. There should be enough room in this kitchen for the size of the operation you will handle, as well as all of the necessary amenities to recipe test or prepare your meal kits.
Packaging Station - A specific place for packaging and putting together your meal kits is needed for proper organization, handling, and keeping track of orders.
Shipping and Distributing - Make sure you have optimal refrigeration storage space to keep your meal kits cold before loading them onto the truck or taking it to a shipping center.
Office Space - A designated place for desks, computers, and phones for your accounting, marketing, and customer service teams.
Meeting Rooms - If you would like to host potential clients or business investors, having an on-site meeting room to conduct business is a great investment. It's the perfect place to start or end your tour of the facility.
---
5. Obtain Permits
Starting a meal prep business from home or in a facility requires special permits. Below we've outlined which permits you will need to get your business off the ground and running:
Employer Identification Number (EIN)
Seller's Permit
Business License
Catering License
Health Department Permits
Zoning Permits
Dumpster Placement Permit
If you plan on operating a meal prep delivery business from home, reach out to your local jurisdiction to make sure you are meeting all of the qualifications and acquiring the correct permits.
For more in-depth information about each permit, check out our Restaurant Permits and Licenses article.
Back to Top
---
6. Order Supplies for Your Meal Prep Business
To make your product, you will need the correct supplies to start making meal kits or meal prep food deliveries. Below are a few necessities you'll need to get started on your meal kits:
Ingredients - Based on your projected sales, figure out how much ingredient inventory from your recipes you will need in your kitchen to make your meal kits. Buying in bulk is a great way to keep costs down, but throwing out spoiled food at the end of the day is throwing money in the garbage.
Portion packaging supplies - Before purchasing your meal packaging supplies, think about how you would like your partially cooked meals or pre-prepped ingredients to be presented when your customer opens up their box. Keep that presentation image in mind when you choose the size, material, and shape of your containers. If you're not changing up your menu too frequently, consider buying this type of container in bulk to save on costs.
Shipping supplies - Once your meals are packaged, it's time to put them in their designated boxes to get them shipped out. You'll need boxes, dry ice to keep everything cold, packing tape, and a printer for labels.
Shop All Take-Out Containers
---
7. Set Up Your Meal Prep Business's Shipping Strategy
Making sure your customers' orders arrive cold and fresh is extremely important. To get it all in place to be done right the first time, figure out what cooling method you would like to use to keep your products safe, what shipping service you will use, and how much it will cost to ship one of your meal kit boxes. That way you'll know the shipping cost to charge your customers so you're not overcharging or undercharging.
---
8. Create a Meal Prep Business Ordering Platform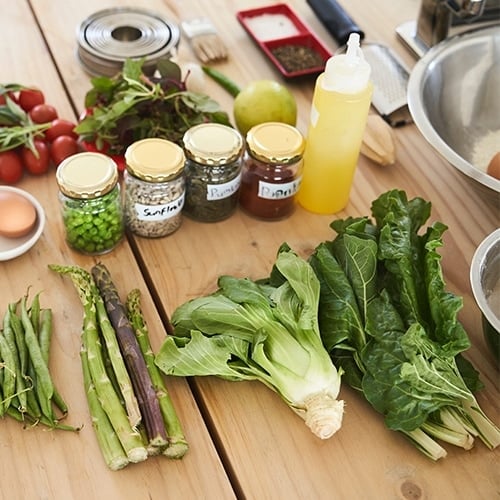 Your website is one of, if not the only, place where you will get your sales. Therefore, your website needs to be top-notch and performing at its best. Investing in a great website that's user-friendly is the best way to obtain sales. You can create websites for free by using Squarespace, Weebly, or Wix, and you can pay a small amount for domain names and cool business features. These types of websites also provide pre-made templates, so you can browse and select one that speaks to your business's aesthetic.
When choosing your template and creating your website, think about the colors, pictures, and fonts you will use to target your key demographic:
If your concept prioritizes simple ingredients that make the meal easy to put together, try to keep the website minimalist
If your concept prioritizes plant-based eating, use bright, fun colors that match the hue of fresh vegetables
If your concept prioritizes omnivore eating, studies have shown that warm colors such as red, orange, and yellow make people hungrier rather than cool tones. You could also put drawings of animals and vegetables together in your design.
Try to implement these six tabs into your website:
The Meal Plans - Show off all of your meal kits that you have to offer, as well as any set meal plans that allow customers to buy two or more meal kits for their week's meals.
How It Works - Explain how the process goes in case your customer is new to purchasing from a meal prep business: pick your meals, get them delivered to your home, and cook them. Help your customer see how easy it is to use your service.
Pricing - Whether you're showing the price per meal or your set meal plans, it's important to be upfront about your cost. Use this page to help your customers understand that they can save on the price per meal when they shop in a bundle.
Gifting - People love to give gifts that share a moment and make memories, and that's exactly what your meal kit does. Providing this option to gift a meal or week's bundle can drive up your sales. When someone buys the meal(s), provide a printable e-gift card option or a scheduled email.
About Us/Your Business's Name - This is where you can describe the story of your business and convince your customer to pick your meal prep delivery business over the competition. Show the faces of the people that made it happen so your customers can have a more personable relationship with your business.
Contact Us - Give your customers the ability to voice questions, comments, or critiques, which can help to improve your meal prep business in the long run.
---
9. Hire Employees for Your Meal Prep Business
As you start out, you'll probably begin small. If you want to stay a small, local business, then that's great! If you want a large team and to distribute nationally, also great! Either way, you'll need to hire kitchen staff, and maybe even marketers, accountants, and distributors to take the contents of a recipe card to the steps of a customer's front door.
Cooks - Trained, skilled, and knows the different knife cuts, cooks help get the meal prep work done and come up with recipes for future menu ideas.
Marketers - Having the product ready to go is one thing, but making it known and selling it to consumers is a whole other ballpark. Hire a marketer or two to help with advertising your meal prep business.
Accountant - Keeping track of sales, expenses, and making sure everyone is paid on time: a trained accountant keeps your meal kit business's finances in order.
Packagers - When the orders start coming in, a packager helps with properly storing the food and creating the meal kits that your customers purchased. Everything needs to be sent out perfectly and safely, which will be your packager's top priority.
Customer Solutions Specialists - When customers have questions, comments, complaints, or compliments, you need to make sure they are heard and answered. Having a customer solutions specialist on the team to prioritize these problems can give you a step up with your customer service needs.
---
10. Advertise Your Meal Prep Business
Once you have your target demographic identified and have found ways to market yourself to be different from the competition, it's time to take that information and start advertising. Below are some great, and oftentimes free, ways to market and advertise your meal prep business:
Utilize social media - With apps like Facebook, Twitter, and Instagram, you can post, update, and inform customers of all of your offerings. Make sure you're using Instagram best practices to not only highlight your meal kits but also reach out to potential customers, or let them find you.
Create an email list - Create newsletters with catchy subject lines to pull in your reader's attention. Your email should communicate your brand and forge a relationship with guests who will look forward to choosing your meal prep delivery business.
Offer promotions to new customers - Utilizing this strategy is a great way to spread the word about your meal prep business. When a customer purchases a certain amount of meal kits (either all at once or over time), give them a gift certificate to send to a friend that offers one free meal kit. You can also use holidays as times to create discount codes for celebrations such as Valentine's Day or a New Year's Eve night indoors.
Create a loyalty program - Show your regular customers your appreciation for their business by making a loyalty program. For example, for every 10 meal kits they buy, throw in a new one they haven't tried yet for free! Providing a new meal kit will expand their knowledge of your menu and will introduce something new that they will love and crave.
Feature ads on podcasts - If it's within the budget, using podcasts' commercial breaks is a smart marketing investment. Let the show's hosts try out your meal kit for free so you know they'll love it, and give them a loose script with room for improvisation. That way they can effectively sell your meal kits and share their own experiences of cooking with them.
Back to Top
---
Now that you've become familiar with the ins and outs of how to start a meal prep business, it's time to start planning so you can make your dream a reality. Whether you're creating meal kits or fully prepped meals to quickly heat up, you now know how to run the meal prep business and make a profit while doing it.
---