The Best Way to Set Restaurant Goals
Last updated on 11/21/2018
When it comes to owning a restaurant, every detail is important to ensure the success of your business. On any given day, restaurant owners and restaurant staff work on a wide variety of tasks, from crafting delectable meals and providing impeccable service to updating their inventory regularly and working with an accountant. To juggle these moving parts, it can be useful to have restaurant goals that guide your day-to-day activities. Below is a compilation of tips to assist you in coming up with and attaining restaurant business goals.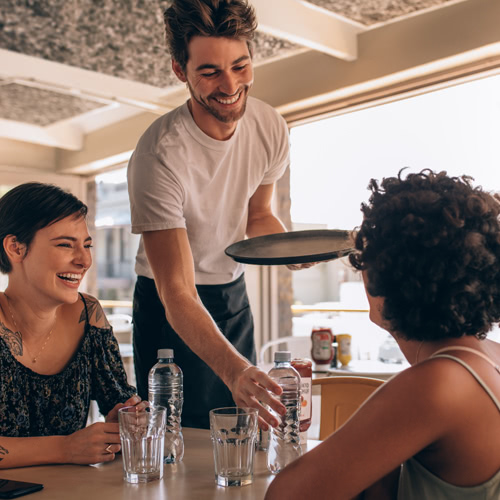 Identify Restaurant Goals Through 4 Core Elements
Whether you're starting a restaurant or looking for ways to improve your existing restaurant, going through your restaurant's core elements is a good place to start. Below are 4 common pillars of a restaurant that can help you identify goals for your foodservice business.
1. Staff and Customer Service
"If the staff is top notch, then the service will be, and customers will in turn have a great dining experience and return," states Courtney Rozsas of Lotus Farm to Table in Media, PA.
To maintain a high level of service, having ongoing, high-quality training ensures that your employees know how to do their jobs and feel confident.
Invest in a POS system with mobile features. With mobile POS, you can set up order and pay options at the table that eliminate person to person contact. This puts the power in the hands of your guests and automates a process that usually takes up a lot of time for your servers. When you take the pen and paper out of the equation, your staff has more time to focus on the important things.
The difficulty in finding employees committed to your business can be an obstacle to achieving restaurant business goals. Therefore it's important to develop strategies for employee retention and for hiring dedicated staff members.
Additionally, internal harmony and contentment of your staff is also imperative to the success of your restaurant. Michelle Zimmerman, co-owner of Las Bugambilias in Philadelphia affirms that holding positive, upbeat team meetings, stressing teamwork, and relieving tensions between employees is crucial to the ongoing operation of a restaurant.
2. Food
The type of food, quality of ingredients, and meal presentation are all key to a flourishing restaurant.
Adopting consistent, quality food preparation standards and finding a consistent, quality food supplier, Zimmerman notes, should be established in the beginning stages of opening your restaurant.
Among the most important goals of Emerson's Coffee & Tea, states Jinorio, is to always try and improve the product. Similarly, Zimmerman adds that updating the menu ensures that restaurants remain competitive and modern.
Rozsas cultivates a farm-to-table approach at her restaurant, drawing in a demographic looking for a local, seasonal, and sustainable meal.
3. Marketing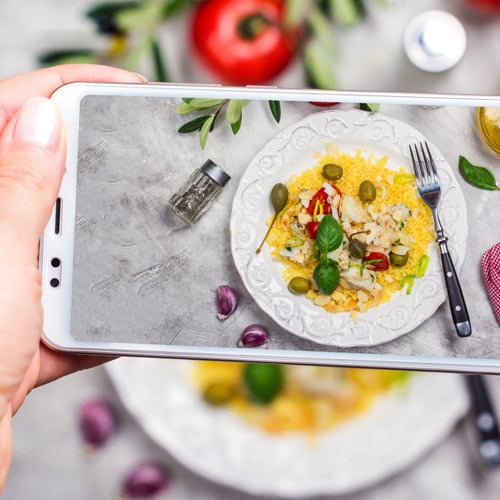 Marketing refers to promoting and selling your restaurant's offerings, and it encompasses both branding and advertising. Your restaurant's identity, personality, and mission comprise your brand. Advertising, on the other hand, includes how you communicate information about your restaurant to draw in customers.
Your restaurant brand and concept should be palpable upon entering your dining room. The decor, service style, and music playlist should emanate your intended ambiance and communicate who you are, creating a meaningful experience for guests who will want to return.
Email lists, loyalty programs, ads in the local paper, an attractive website, and a Yelp account are all forms of popular advertising.
"Stressing the goal of social media in the restaurant industry cannot be overstated, and advertising is always a goal," says Zimmerman. Creating Facebook, Twitter, and Instagram accounts for sharing news, photos, and tidbits about your restaurant is a great way to draw in guests and inform customers of your restaurant news.
4. Finances
From restaurant startup loans to yearly sales, understanding your restaurant's finances ensures it can continue to function, remain lucrative, and thrive.
"Always try to maintain continuous revenue flow during all hours of operation," advises Zimmerman, "Understand when your restaurant makes money and when it doesn't. Then work on boosting the slow times through specials, discounts, and offers."
At Lotus, Rozsas works with Lotus' chef, Ryan Sulikowski, to keep the food cost low but the quality high. In addition to setting quarterly goals of sales versus food cost, Rozsas works to set new revenue streams. For example, she opened a small market in the restaurant and partners with Ubereats.
Jinorio states that every year, Emerson's Coffee & Tea looks at the prior year's sales and tries to beat it through various tactics, including upselling.
Consider the various avenues to improve profit.

1. Try to lower your cost of goods sold (COGS) by improving your inventory system.
2. Zimmerman suggests that owners try and lower variable costs by cutting staff when slow, keeping hours down, or buying less food and liquor during slow periods.
3. Rozsas stresses the importance of trying to lower overhead costs. This includes assessing the cost of the lights used or the price of the dish machine and changing equipment if necessary. Lotus also reevaluates contracts it has with different services.
Restaurant Goals Change Over Time
"Goals for restaurant owners change over time," remarks Zimmerman. For new entrants, she says, letting potential patrons know about your new restaurant is most important. On the other hand, a restaurant with more than ten years might be thinking about opening additional locations or branching into different venues, such as farmer's markets or retail outlets to offer the restaurant's branded food products.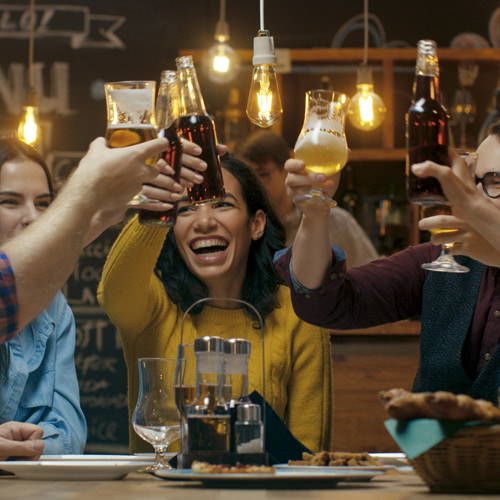 Restaurant Goals Should Be Holistic
Rozsas explains that a combination of food, staff, and ambiance is essential to her restaurant. "Without all three of these things a restaurant cannot be successful. If I served the highest quality, best-tasting food, and had a dirty bathroom or a server that was mediocre at best, it wouldn't matter. The customer would not return. I treat my restaurant as a destination, not just a food establishment."
Setting S-M-A-R-T Restaurant Goals
Now that you've thought of some areas in which your restaurant could improve, it's time to develop actionable business goals. Whether you are a restaurant owner or restaurant manager, creating goals that are SMART (Specific, Measurable, Achievable, Relevant, and Timely) empowers you to better reach your goals. Below we go through the SMART acronym, which was originally created by George T. Doran to help individuals and groups develop goals.
Specific
Your goal should identify an exact desired outcome. It should be clear and well-defined. This helps clarify the necessary steps to achieve your goal. Below are examples of specific goals.
Increasing restaurant sales over the prior year is always a goal for Emerson's Coffee & Tea. To make this specific, try coming up with an exact weekly or monthly sales goal.
Improving social media engagement, as suggested by Zimmerman, should be an ongoing goal. Set a specific goal, such as a 50% increase in your Instagram and Twitter following.
Reducing food waste is an important environmental goal. Choose the maximum amount of wasted food that you will tolerate, and keep food waste at or below the amount.
Measurable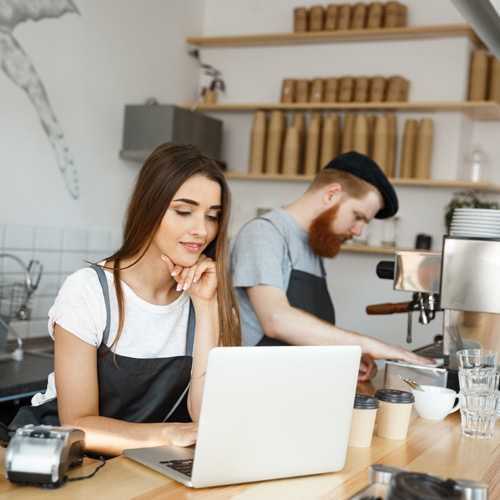 If you have set criteria, you can easily assess your progress. You should come up with either a quantitative or qualitative measurement for each goal. Below are examples of goals that are measurable.
$80,000 increase in sales this year, 50% increase in social media, and 20% decrease in food waste are all quantitative ways to measure your progress.
An example of a qualitative goal could be to foster more hospitable service. You can include several quantifiable and qualitative factors to measure this goal: every server has to say an opening phrase that emanates a hospitable energy, servers must know the menu well, and bussers follow certain etiquette when dropping off food and clearing tables.
Achievable
Your goal should be one that pushes you and your staff but that is still realistic and attainable. Below is advice for creating achievable goals.
If you currently generate $15,000 in sales a week, a goal of $30,000 in the first week of the year might be unrealistic.
In general, try starting out with goals of small incremental increases to avoid overwhelm.
Achievable goals are also those that can be done with regard to your restaurant's current financial situation. For example, if one of your goals is to carry out major repairs or renovations, Zimmerman suggests waiting until revenue at your restaurant is high rather than low.
Relevant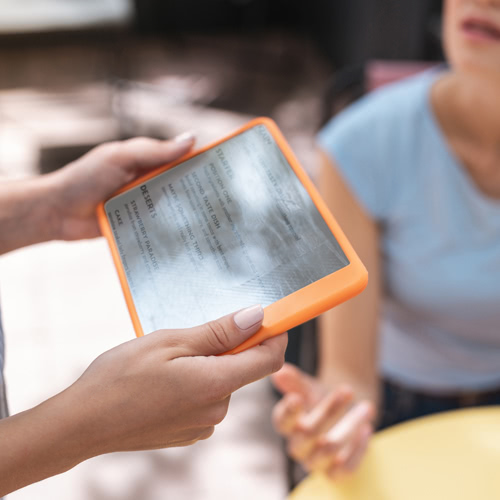 This quality refers to how pertinent and appropriate the goal is. Does it address your restaurant's current needs, and does it adhere to your brand? Does it apply to the current socio-economic situation? Is it relevant to your target demographic?
For example, if your goal is to boost social media engagement, but your restaurant's demographic uses Instagram more than Twitter, it's a good idea to focus more of your energy on Instagram.
Or if you have a goal to redecorate your restaurant, make sure it still adheres to your current brand.
If recent competition has just entered the neighborhood, it's a good idea to invest much of your time towards efforts to continue attracting customers and staying relevant: incorporate the latest technology, such as a more efficient POS system, work diet trends into your menu (gluten free, dairy free), offer specials, or host events to continue attracting guests to your restaurant.
Time-bound
Your goals should have a timeline to avoid procrastination and to create a sense of urgency. However, these timelines should be feasible. Setting up milestones or steps to achieve your goal makes the process more manageable.
Keeping your restaurant business thriving is no easy feat. "I find if I'm not constantly present or hands on in most situations, my goals are not reached," says Rozsas. Restaurant owners are reminded to remain in the moment, stay mindful of their restaurant's needs, and take a constant, active stance on improving their business. "[Attaining goals] is always a challenge, but your restaurant will have a much more difficult time succeeding with no goals in place," reminds Zimmerman.
---