What Is Stoneware?
Last updated on 11/16/2021
With so many types of dinnerware to choose from, finding the right one for your restaurant can feel like a daunting task. Aside from patterns, colors, and shapes, there are other important factors to consider including firing temperature, overall durability, price point, and longevity. Stoneware dinnerware is a suitable choice for many restaurateurs, but this dinnerware material can raise a lot of questions. Whether you operate a casual or fine dining restaurant, we'll teach you the ins and outs of stoneware and why it may be the right choice for your business.
Shop All Stoneware Dinnerware
Stoneware Definition
Stoneware is a type of non-porous ceramic dinnerware made from stoneware clay that has been fired at a temperature between 2150 and 2330 degrees Fahrenheit. This dinnerware often has a thicker build than porcelain and china. The relatively high firing temperature, thick build, and mix of clay with vitreous ceramic materials all help to make stoneware a durable, hearty dinnerware option for restaurants.
What Does Stoneware Look Like?
Stoneware is more opaque than porcelain or china because of its thicker construction and material makeup. It gets its name from the stone-like appearance this dinnerware takes on after its high-temperature firing. Before being glazed, stoneware will often have color patterns and variations similar to natural stone as well.
Much like other dinnerware, it can be glazed to have a colorful matte or glossy finish. In general, stoneware provides a rustic, earthy appearance that makes it great for casual restaurants or those looking for a farm-to-table feel.
Is Stoneware Oven Safe?
Yes, stoneware is oven safe. Additionally, it's microwave, dishwasher, and freezer safe. However, you'll want to confirm this information with the manufacturer before use, as these features can be affected by certain glazes or paints.
Avoid extreme temperature changes when using stoneware. For example, do not remove the plate from the refrigerator or freezer and place it directly into the oven. This can cause the stoneware to lose some of its structural integrity or crack.
Is Stoneware Dishwasher Safe?
Most stoneware dinnerware is dishwasher safe, but you'll want to check the manufacturer's instructions before placing the piece in your dishwasher. To better preserve your stoneware, it is recommended to wash it by hand. Below we'll show you how to wash stoneware by hand.
How to Clean Stoneware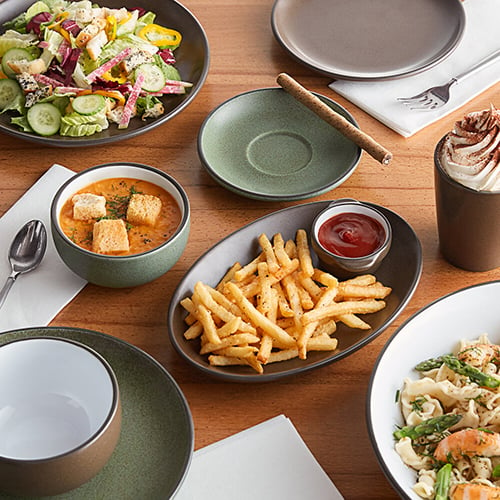 While most stoneware is dishwasher safe, you always want to avoid soaking your stoneware dishes and plates in water for any extended period. Even as little as half an hour can start to break down the materials and make your dishes more susceptible to breakage or chipping.
To remove tough stains or some stuck-on foods from stoneware, make a paste out of vinegar and baking soda and gently rub along the surface with a damp cloth. Avoid using heavy-duty metal scrubbers, as these can scratch up the painted or glazed surface.
To remove grease from stoneware, juice half a lemon and use a damp cloth to rub the lemon juice into and around the affected areas. The acidity from a lemon, or any citrus fruit you have on hand, helps to cut through the grease and release it from your dishes.
What Is Ironstone?
Ironstone is stoneware that has been produced to feature a thinner and more refined appearance. It often mimics the look of porcelain but contains the same durability and opaqueness as traditional stoneware. Ironstone is almost always glazed or painted, and it historically featured elaborately painted Ancient Chinese or Japanese scenes, making them perfect for Asian restaurants.
Other names for Ironstone include:
English porcelain
Opaque porcelain
Stone china
Semiporcelain
Stoneware Comparisons
To get a better idea of whether or not stoneware may be the right choice for you, take a look at these comparisons to other popular dinnerware types below. We explain the difference you'll find when you compare stoneware vs porcelain dinnerware and stoneware vs earthenware dinnerware.
Stoneware vs Porcelain
Porcelain and china are fired at a higher temperature than stoneware but feature similarly durable and nonporous constructions. Both china and porcelain are made of a finer particle clay than stoneware, which results in a thinner construction and more translucent body. Additionally, the thinner construction and higher firing temperature allow for special shaping or patterning.
Depending on the glaze, embellishments, or manufacturing process, many porcelain pieces are similarly dishwasher, microwave, and oven-safe. But, just like stoneware, you should always refer to the manufacturer's instructions before use.
Stoneware vs Earthenware
The difference between earthenware and stoneware is that earthenware is derived from clay and features a much more porous surface than stoneware. Additionally, it is fired at a lower temperature and must be glazed or painted before use. Earthenware is often a more economical choice of dinnerware, but it tends to chip and break much easier than stoneware. Similar to stoneware, earthenware has a rustic look to it.
Stoneware vs Ceramic
When comparing ceramic vs stoneware, you'll find that stoneware is a type of ceramic. Stoneware is considered one of the more durable ceramics because it is fired at a much higher temperature than most. Ceramic dinnerware is dishware made of clay that is fired at temperatures between 1800 degrees Fahrenheit to 2400 degrees Fahrenheit.
Educating yourself and your staff on the dinnerware you use in your commercial kitchen can help ensure you get the most out of your dishes and plates. Stoneware is a hearty, attractive choice for many establishments. Alternatively, some fine dining or contemporary restaurants may find its thick and earthy construction out of place. After learning the ins and outs of stoneware and how it compares to other popular dinnerware types, you can feel confident in deciding whether or not it's the right dinnerware for you.
---