Storing and Transporting Folding Chairs
One of the key benefits of folding chairs is their space-saving qualities. To save more space and increase your establishment's efficiency, folding chair carts provide excellent storage and transportation options. Maximize your location's floor plan with a folding chair rack or chair dolly.
Folding Chair Carts
Benefits: Hanging chair trucks are perfect for organizing different colors of chairs since you can designate a row for each style.
Capacity: Available units hold up to 84 chairs
---
Benefits: Stacking carts allow you to lay your chairs face down in order to utilize vertical storage space.
Capacity: Available units hold 20-36 chairs
---
Benefits: Standing carts hold your folding chairs in an upright position. Unlike stacking carts, standing carts store all of your chairs at the same low height for easy access.
Capacity: Available units hold 29-50 chairs
Types of Folding Chairs
Folding Chair Frame Material: We have three different chair frame materials for folding chairs to choose from so you can find the perfect balance of durability, function, and style for your business. We also carry the same style of chair, like the chiavari chair, in each material to help you select the exact chair for your needs.
Highly durable
Great for both indoor and outdoor use
Can stand up to the rigors of frequent use
Resist scratches for increased longevity
---
Offer a realistic wood look
Easy to keep clean
Lightweight
Easy to transport
---
Provide a classic, elegant look
Great for weddings and other formal events
Offer exceptional durability and tensile strength
---
Folding Chair Seat Material: Many of our collapsible chairs feature padded seats that offer additional comfort for longer events. If you're choosing a padded seat, we offer fabric or vinyl options.
Padding is soft for additional comfort
Excellent at resisting temperature changes
Designed for indoor applications
---
Padding resists staining
Easy to wipe clean
Offer better protection against moisture
---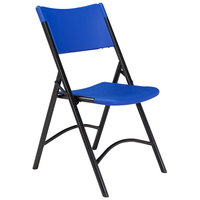 Folding Chairs Colors: You'll find a variety colored folding chairs available to you, from classic black or white folding chairs to beige, blue, gray, and more. Pick the colors that match the style of your venue for a cohesive look!
Folding Chair Weight Capacity: The weight capacity of a folding chair is important to consider before making your purchase. Evaluate your customer base to help you decide if a high capacity folding chair may be a better option for establishment.