Important Factors to Consider
Uses
In general, countertop warmers, soup kettles, and rethermalizers are all useful and convenient for buffets, cafeterias, healthcare food services, and restaurants, but there are circumstances in which one product may be more suitable than another.
A countertop warmer maximizes product visibility and can display multiple products at one time. This design is especially helpful at buffets where customers rely on sight to choose their meals. Countertop warmers are often used in the back of the house to hold prepared foods, saving space in the kitchen, providing more time for chefs to prepare and cook other foods, and helping staff quickly plate already-prepared entrées, sides, and more.
The cylindrical shape of soup kettles is perfect for liquid-based foods, and allows guests to easily serve themselves. In the back of the house, these warmers keep soups in one convenient location, making service more efficient for staff. A soup kettle is great for soup and salad stations or soup kitchens where a lot of soups, gravies, stews, and sauces are served.
A rethermalizer is helpful if you are a caterer with limited preparation time. It is possible to prepare the food the day prior and reheat it within two hours for your event if you use a rethermalizer. This option is also convenient for allowing dishes to reheat within their serving stations and to reduce preparation time.
Capacity
Capacity is the most important factor to consider with food warmers. Look for each item's capacity prior to purchase so you know it can accommodate your needs. Soup kettles can range from 4 quarts to 22 quarts, while countertop warmers are usually classified by the size and number of pans they hold.
Pan Configurations and Depths
Countertop warmers use pans, and soup kettles use insets. Some countertop warmers are combination warmers that use both pans and insets. Food pans are rectangular and best for product visibility, while insets are cylindrical and good for holding soups or other liquids.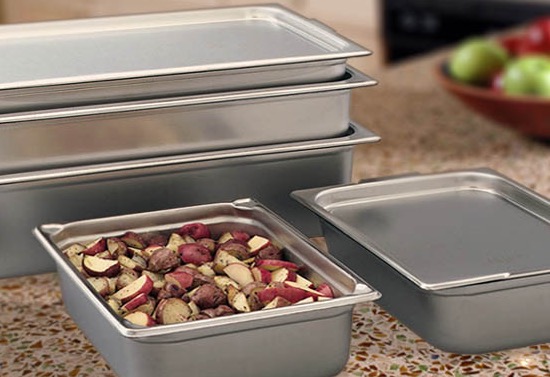 The industry standard for a full-size food pan is 12" x 20". Rethermalizers and countertop warmers can fit one, two, or more
heating pans
or a combination of different size pans and insets. This is helpful for restaurant kitchens that need to keep certain foods together in one location for ease-of-serving or space constraints. Buffets and
cafeterias
can also use different configurations to display many food items at one time. A full-size warmer could hold one full-size pan, two half-size pans, three 1/3 pans, etc., or it could fit one 2/3 pan and one 1/3 pan. There are many combinations! Pan depths also vary from 3/4" to 8" or more. Look at the depth of your warmer, leaving at least one inch of space for water, to determine the depths your pans should have. Check out this
guide
for more information on how to choose the correct food pan size.
Control Type
Food warmers typically come with two options for control type: infinite and thermostatic. An infinite control cycles on and off based on a time cycle. Instead of waiting for food to reach a certain temperature, infinite controls can be adjusted based on amounts of time, which allows the output of heat to be customized. A thermostatic control cycles on and off based on the temperature of the heating elements. This is good for keeping food at a certain temperature, but heat output is less customizable than with infinite controls.
Low Water Indicator Light
Food can fall into the danger zone if water levels are too low in your countertop warmer, soup kettle, or rethermalizer, and the machine itself can be damaged. A water indicator light, which glows when the water gets too low in the machine, can help your staff monitor and maintain more than one warmer along a buffet line. When the low water indicator light comes on, your staff will know it's time to refill the machine without the hassle of lifting out pans of food to check the water level. This also reduces the chance for cross-contamination by ensuring your staff is only moving food pans and refilling the well when absolutely necessary.