Sizes
Full size food pans are the standard in the foodservice industry, measuring approximately 20" long by 12" wide. All other sizes of food pans are simply a variation on those dimensions.

Gastronorm Pan Sizing
Similar to the non-metric sizing that is largely used by the United States, gastronorm sizing was invented to provide an industry standard for pans and other kitchen equipment. The term, also known as gastronomical-normal, originated in Switzerland and is now widely used across most European countries. The main intention of the sizes was to promote flexibility in every kitchen and allow individual containers to be used with or transferred to a variety of appliances. Gastronorm sizes are comparable to American sizes and can generally be interchanged. Here's a list of the standard gastronorm (GN) sizes:
Depths and Capacities
Depths
Food pans come in a variety of depths and are often purchased primarily based on personal preference.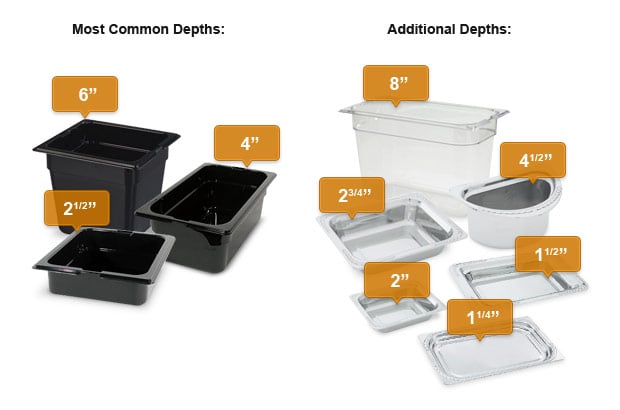 Capacities
Across the industry, food pans feature similar capacities based on size and depth. Here's a chart that describes the approximate volume sizing for food pans.
Pan sizes, depths, capacities, and total number of 4 oz. portions are approximate. Variations may occur between manufacturers. Please consider this when ordering.
Pan Size
Gastronorm Size
Pan Length
Pan Width
Pan Depth
Pan Capacity (Quarts)
Total 4 oz. Portions
Full Size
GN 1/1
20 3/4"
12 3/4"

9 qt.
15 qt.
22 qt.
31.5 qt.

2/3 Size
GN 2/3
13 3/4"
12 3/4"
1/2 Size
GN 1/2
12 3/4"
10 3/8"

4 qt.
7 qt.
10 qt.
15 qt.

1/2 Size Long
GN 2/4
20 3/4"
6 7/16"

4 qt.
7 qt.
10 qt.
15 qt.

1/3 Size
GN 1/3
12 3/4"
6 7/8"
1/4 Size
GN 1/4
10 3/8"
6 3/8"
1/6 Size
GN 1/6
6 7/8"
6 1/4"
1/8 Size
N/A
6 5/16"
5 3/16"
1/9 Size
GN 1/9
6 3/4"
4 1/4"
Materials
Food pans come in a variety of materials - the most popular are stainless steel and plastic. Many operators find that a combined stock of stainless steel and plastic pans allows them to separate equipment inventories for each station, and lets employees organize production according to hot or cold temperature needs.
Stainless Steel
Stainless steel food pans
offer the ability to go from freezer to oven to steam or refrigerated tables, making them ideal for operations as varied as fine dining restaurants or central kitchens employing cook-chill systems. Since stainless steel is a hard metal, it resists scratches and dents from metal utensils and is relatively easy to clean.
Stainless Steel Gauges
Gauges indicate pans' heft, and while 22-gauge is a standard weight for hotel pans in the foodservice industry, lighter and heavier weights are available. The lower the gauge, the thicker the steel, so lower-gauge pans are often a good choice for busier kitchens, while operators with less volume may prefer more economical high-gauge pans. While thicker metal is often preferable because of its durability, there are always pros and cons to account for.
Download Conversion Chart
Pros of thicker metal
Cons of thicker metal

Sturdier
Provides more even heating
More resistant against denting and warping

More expensive
Heavier
Takes longer to heat up
Optional Features Available on Some Pans
Like we mentioned earlier, not all pans are created equal. Slight variations are available from one pan to the next in order to more precisely meet the unique needs of the growing foodservice market. Here are the most common variations available:

Plastic
Translucent Polypropylene Food Pans
Translucent (polypropylene) food pans offer an economical option for cold food storage, while providing a BPA free food contact surface. They feature a high chemical resistance and can withstand temperatures from -40 to 160 degrees Fahrenheit.
---
Regular Temperature (Polycarbonate) Food Pans
Regular temperature (polycarbonate) food pans offer a shatter-proof option that resists food acids and oils to maintain a crystal clarity. They can withstand temperatures from -40 to 210 degrees Fahrenheit and are designed primarily for cold foods. These pans come in a variety of colors, ranging from clear to black.
---
Cold Pans
Cold pans are designed to keep contents chilled at or below HACCP guidelines at 41 degrees Fahrenheit, without the use of messy ice. Simply freeze each durable, ABS plastic pan for eight hours (or overnight) before filling with your pre-chilled products. The eutectic fluid inside the pan will freeze, and therefore keep the contents cold for up to eight hours.
---
High Temperature (High Temp Polysulfone) Food Pans
High temperature (high temp polysulfone) food pans offers the same great resistance to food acids and oils as standard shatter-proof polycarbonate food pans, but give you the added versatility to go from the refrigerator or freezer to the microwave or steam table, with no need to swap pans. They can withstand temperatures from -40 to 375 degrees Fahrenheit and feature an easily identifiable amber coloring. These pans come in amber and black.
Melamine Food Pans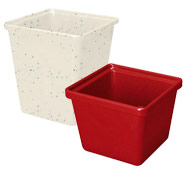 Melamine food pans
offer an upscale, attractive alternative to stainless steel food pans and can be used in wet heat applications like chafers, just like stainless steel pans. They can stand up to heavy use and are a durable, practical, and inexpensive addition to any presentation.
China Food Pans
China food pans
offer an upscale, sophisticated appearance, without sacrificing their superior heat and cold retention. These pans are specifically designed to distribute heat uniformly and help prevent scorching during use and often feature bold glazes that bond to the china body to prevent chipping, crazing, or cracking.
Lids & Other Accessories
Covers
Stainless Steel
Plastic

Dome Covers

These covers offer an elegant presentation for front-of-the-house buffet and chafer service with their sophisticated, domed design.
Shop
No

Flexible Plastic Covers

Thanks to their flexible design, these covers snap on and off to keep contaminants out of your food during storage. Additionally, they feature a strong seal to prevent spillage during transport.
Shop
No

Flip Top Lids

Flip top lids flip upward to allow easy access to contents without removing the lid.
No
Shop High Temp Shop Regular

GripLids

With their virtually unbreakable polycarbonate design, each GripLid features a molded-in polyurethane gasket that provides superior grip to pan. These lids are perfect for covering food pans in any commercial kitchen where spills and cross-contamination pose a hazard.
No
Shop

Handled Covers

The easy-to-grasp handle on these covers makes lifting lids off of pans fast and efficient for easy access.
Shop
Shop High Temp Shop Regular

Hinged Covers & Roll Top Covers

Because these lids remain attached to your pans at all times during service, they help maintain food temperatures, while still providing easy access to food.
Shop
No

Slotted Covers & Notched Covers

With a convenient slotted design, these covers allow for sanitary storage of serving utensils inside food pan while the lid is on.
Shop
Shop High Temp Shop Regular

Soft Food Pan Covers

Soft pan covers keep food fresh and maintain superior leak resistance. They are perfect for transporting food to off-site locations, and can be used in temperatures ranging from -40 degrees Fahrenheit to 180 degrees Fahrenheit.
No
Shop
Adapter Bars

When placed between pans of either the same size, or varying sizes,

adapter bars

help eliminate gaps to prevent steam loss and reduce energy consumption.

Adapter Plates

Similar to adapter bars,

adapter plates

help eliminate gaps to prevent steam loss and reduce energy consumption. Additionally, thanks to their sleek appearance, adapter plates enhance the food presentation.

Perforated Stainless Steel Steam Table Food Pans and Plastic Colander Pans

Perforated stainless steel steam table food pans

and

plastic colander pans

easily slip into food pans to drain liquids and grease away from hot foods, improving food quality. You can also use them in steamers to crisp, fresh foods. Simply lift out of the food pan for safe and quick disposal of liquids as needed.

Disposable Pan Liners

Disposable pan liners

come in several sizes and can be especially useful for kitchens that need to reuse pans quickly.
Certifications to Look For
NSF Listed
NSF International – In the food service industry, NSF International's primary function is to create sanitation safety standards for testing products. NSF also uses these testing standards to approve anything from large restaurant equipment to small manual prep tools for safe use in food service operations. In most instances, restaurants will be required to have NSF Listed equipment and supplies to pass health inspections.
We add an NSF Listed certification for every product that meets these industry standards. Look for this symbol when you shop!
---
Jacob's Pride

Jacob's Pride is a certification used for select Vollrath items, signifying that it is covered by a lifetime warranty.