What Type of Range Do I Need?

We offer ranges of several different types, with a large number of options and configurations to choose from. Let's start with the basics.
The two basic types of ranges in the industry are usually referred to as "Restaurant Ranges" and "Heavy Duty Ranges", which may also be called "Master Series" or "Modular" ranges. Restaurant Ranges are the most common type, and are designed with ease of use and durability in mind.
Heavy Duty ranges are designed for higher volume usage, and boast more durable construction, and often are available with more features and options.
Restaurant Ranges
Designed to stand alone, available in a variety of widths in 12" increments from 24" to 72"; gas connection usually in back
Somewhat lighter duty construction than a heavy duty range, but still designed for busy commercial kitchens; most common choice in the industry.
Burners provide plenty of BTUs for most cooking tasks.
Less expensive.
Heavy Duty Ranges
Designed to be banked together "in battery" with other ranges or pieces of equipment; gas connection is often on front or side to facilitate this.
Designed for heavy, high volume use; often thicker gauges of metal and more welded components
Higher energy output per burner than a restaurant range.
More expensive.
---
Specialty Ranges
We also offer a few specialty types of ranges:
Wok Ranges
are used primarily in Asian cooking establishments for preparing stir-fry dishes. They're specially designed with high-BTU burners and a raised ring that supports round bottomed
woks
to deliver the high temperatures needed for this style of cooking.
---
Stock Pot Ranges
boast a lower height and only one or a few burners and are specifically for heating large
stock pots
full of liquid. This low height reduces the risk of spills and makes it easier to lift the large and heavy pots, improving worker comfort and safety.
What Size Range Do I Need?
The most common range widths are 36", 48", and 60", but models are available anywhere from 12" up to 72". When determining the best size range for your kitchen, keep the following things in mind:
Hood Space
Most health/safety codes require the hood to extend at least 6" beyond each piece of equipment you put under it. For example, if you have a 48" wide hood, the widest range you could put underneath it would be a 36" model. It's always best to check with your local regulators to be sure.
Menu & Application
If you're only serving breakfast, do you need open burners, or would you be better off with a griddle or griddle top? If you serve a wider variety of food or different meals, think about how many burners versus griddle space, etc. you might need.
Most range manufacturers offer griddle options in 12" wide increments, so you can tailor the exact configuration of griddle space versus burners to match your cooking needs
Some sizes, such as 24" and 48" typically feature "space saver" ovens
What Top Configuration Do I Need?
You should select the top configuration based on what you want to do with your new range. Here are the main types:
Gas Open Burner
Most common in the industry
BTUs for most models range from 30,000 per burner on a Restaurant Range up to 35,000 per burner on Heavy Duty models
Excellent for a variety of cooking styles and techniques including boiling or frying with a pot or pan
---
Hot Top, AKA Even-Heat Top
Smooth surface makes it easy to move large pots or pans around
Designed for use with stockpots
---
Tubular Electric & French Top Electric
Tubular burners heat up fast and are great for saute
French tops provide a softer, more even heat that's great for stockpots. They are also easier to clean
---
Griddle Top
Commonly used in restaurants that serve breakfast, or where cooking on a griddle makes sense for a lot of menu items
Great for eggs, pancakes, grilled sandwiches, burgers and anything else that doesn't need to be cooked in a pot or pan
---
Combination Surface
Common configurations include several burners plus a hot top, or a griddle plus burners
Best for applications where you want to make the most out of available hood space; can do multiple types of cooking on a single piece of equipment
Additional Options and Accessories to Consider
Salamanders
use infrared heat to do anything from melting cheese in a sandwich to cooking a thick steak.
---
Cheesemelters
look a lot like salamanders, but generally use tube-type heating elements to provide a more gentle heat. They're great for holding hot foods or finishing off dishes topped with cheese.
---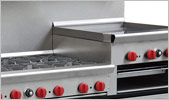 Griddle Broilers
are another common option, and is built right into the range top. It combines a raised griddle, with a broiler area underneath for finishing or melting cheese right before plating.
---
Oven Bases
comprise of either a "space saver" oven, which is approximately 20" wide by 26" deep, or a "standard size" oven which is 26" wide or more, depending on the overall size of the range.
With a space saver oven, you'd only be able to put in full size sheet pans lengthwise; with a standard oven you could put pans in either way. If you're using multiple racks, you can "stagger" the facing of the pans for more even heating.
Keep in mind that these do not heat as evenly as a dedicated convection oven, so if you plan to do a lot of baking, you might be better off choosing a storage base and purchasing a separate convection oven.
Storage Bases
are simply an open cavity beneath the range top, in lieu of an oven, and provide a place to hold pots, pans, and other kitchen tools close at hand.
Electronic Ignition
for gas burners is an option on some ranges. It eliminates the need for a standing pilot light and can save you some energy. However, they also add to your purchase price and are expensive to replace.
Casters
are a good choice because it makes cleaning around and under your range easier. Make sure to use a quick disconnect gas hose with restraining device if you order casters.
Caster Ramps
like the
Dormont Caster Placement System
, are a good accessory to purchase along with casters for your range. It lets you easily place your range back exactly where it belongs once you clean under it, maintaining proper hood coverage.
Gas Hoses
are easy to purchase with your range from us. We have the correctly sized
quick disconnect gas hose kit
with restraining hardware as a Companion Item with all of the ranges we sell.