Host and Hostess Training Guide
Your hosts and hostesses are the first employees to engage with customers when they walk through your door. We know first impressions are critical in foodservice, but host training is often neglected to make time for training servers or kitchen staff. If you invest time into developing your host staff, the far-reaching benefits will have a positive effect on your entire restaurant staff. We've made a guide to help you prioritize your host and hostess training so your guests receive the best service possible.
What Is a Host at a Restaurant?
Hosts and hostesses greet customers and take them to their seats. It seems simple, but hosting is more involved than you may realize. A good host has to be aware of the flow of service in the dining room at all times. They must handle reservations, server seating rotation, and customer wait times, all while welcoming each guest that walks through the door. The host may also have to juggle answering phones, cashing out customers, and packaging carryout orders.
Host vs Hostess
Which is the preferred title, host or hostess? If you want to use inclusive terminology in your job postings or employee handbook, it's acceptable to say host and/or hostess. Host, or host staff, is also considered gender neutral.
What Does a Restaurant Host Do?
From the guest's perspective, the host welcomes them to the restaurant and leads them to their seat in the dining room. But a restaurant host or hostess does more than just greet and seat. A great restaurant host knows the dining room floor plan by heart, including table numbers, covers per table, and server sections. They multitask behind the scenes to keep the flow of service on track and maximize table turnover.
Maitre D vs Host
The position of the maitre d' is similar to a host or hostess but with more responsibility. A maitre d' (pronounced may-tra-dee) oversees the entire front-of-house, manages the server staff, and takes ownership of guest satisfaction. Unlike a host or hostess, you won't find a maitre d' working at a casual restaurant. They're employed in fine dining environments where service is expected to be elevated.
Host Training Guide
We'll help you understand the intricate aspects of restaurant hosting and how you can train your host staff to provide impeccable service.
1. Reservations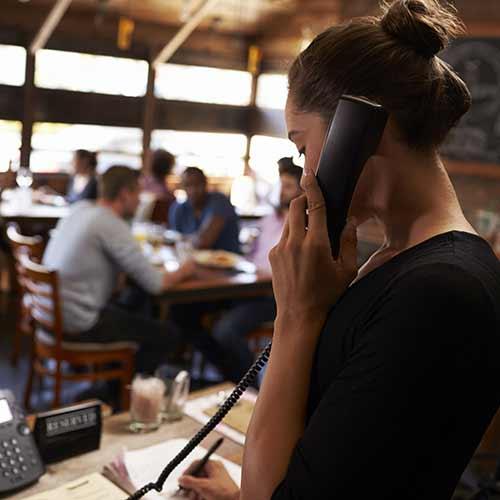 Taking reservations isn't as easy as you think! If you take reservations by phone, your host staff should be trained to ask for the following information:
Number of guests
Highchairs or boosters
Wheelchairs, walkers, or service animals
Table or booth preference
Indoor or outdoor preference
Dietary restrictions
Birthdays or events
Time and date
Contact Information
What Is Floor Management?
The art of balancing open tables, reservations, and waiting guests is called dining room floor management. At the start of the shift, the host or hostess reviews the reservations and selects the appropriate table for the guests. This requires critical thinking because the host cannot reserve a table too soon and leave it empty. It needs to be seated with paying guests as often as possible, so it's up to the host to decide when to block off the table in time for the reserved party. Reservation software can help with floor management, but many restaurants still require the host staff to manage seating for reserved guests.
2. Greeting Guests
Never underestimate the importance of greeting! First impressions are made within seconds, and a poor greeting from your host or hostess can blemish a guest's experience. During host training, make sure to cover greeting as one of the most crucial aspects of the job.
Never Leave Your Post Unmanned

- This simple rule ensures that every guest is greeted properly. If a host or hostess must walk away from their post, they should ask someone to keep a lookout while they are gone.

Open the Door

- Instead of waiting for guests to come to them, a great host is proactive about opening doors and greeting guests before they enter.

Make Eye Contact

- Asuperior host or hostess can't afford to be shy! Making eye contact shows you value a guest's patronage.
Greet Each Guest - Offer a warm welcome to every guest, but change up the greeting each time so it's not robotic.

Pay Attention to the Order of Guests

- One of the quickest ways to earn a customer complaint is to neglect the order of a guest's arrival. First come, first serve is what customers expect.

No Personal Chatting

- When guests are present, it's good manners for the host staff to avoid chatting with each other about personal matters. Chatting between coworkers becomes a huge problem when it distracts the host from noticing a guest walking through the door. Customers should never be made to feel as if they aren't the top priority.
3. Managing Wait Times
In a perfect world, one party of guests arrives at a time, but that's not the case in a busy restaurant. A line at the door is great for business if it's handled properly. That job falls to the host or hostess, and it's not a simple task.
Taking Names

- Once all tables in a restaurant are filled, the host staff should jump into action and start taking a list of names. Taking down a guest's name, the number in their party, and their seating preference is the best way to seat all guests in order. It helps to assign one host or hostess to the door so they can greet all customers and write down their information. Another host should monitor the dining room floor and take guests to their seats.

First Available

- The term first available is used to identify the guests that have no table preference and therefore get seated more quickly. Make sure your host staff is trained to explain the meaning of first available to guests.

Guest pagers

- Guest pagers are a convenient way to keep track of waiting guests. Using a paging system eliminates the need to call out a guest's name, which is sometimes hard to hear in a busy restaurant. You also avoid the awkwardness of mispronouncing a last name! Guests with pagers have the freedom to sit at the bar or take a walk while they wait for their table.

Observing the Flow of Service

- The host's job isn't complete after guests are seated. Observing the flow of service means monitoring the stages of the meal (drinks, ordering, payment) for every table. A seasoned host or hostess can tell roughly how long it will take for the diners to complete their meal based on their observations. This is a skill that helps the host staff to manage wait times.

Working with Busser Staff

- In a full dining room, the host staff must work closely with the bussers to prioritize cleaning the right tables. It's up to the host to identify which tables should be bussed first based on the parties that are waiting. For instance, if a party of six guests is waiting, it would be unfortunate to waste time cleaning several two-tops before finishing a six-top.
4. Seating Guests
To an observer, seating guests might seem straightforward. In reality, a host or hostess is managing several considerations when they choose a table. The guest's preferences are a top priority, but floor plans and rotation are also involved in the decision.
Floor Plans

- Every dining room layout has a floor plan that separates tables into server sections. There could be multiple floor plans based on how many servers are working per shift. For example, on a slow night, the floor plan might only divide the dining room into three sections. On a busy night, there could be upwards of 10 different sections. It's the host's job to memorize every floor plan, choose the right floor plan for the shift, and know which sections belong to which server.

Rotation

- Seating rotation refers to the order in which each server's section is seated. Because there are multiple servers on duty, the host must seat each section in turn. The purpose of rotation is to ensure all servers are seated equally. Sometimes there is no floor plan used, and the host must keep a tally of how many tables each server receives.

Communication with Other Hosts

- When there is more than one host or hostess seating guests, they must be in sync with each other. Instruct your host staff to pay attention to where guests are being seated at all times. That way, two hosts won't go to the same table and cause confusion.

Special Requests

- Regardless of server rotation and floor plans, the host staff should always honor special requests from guests. If a request isn't feasible, they should do their best to find a solution that makes the guest happy.

Emergency Exit Routes

- Hosts and hostesses must be aware of all emergency exit routes so they don't become blocked by diners. It's common for guests to add a chair to the end of their table if an additional guest shows up, but if it blocks an emergency route, the host needs to move the party to another table.

Highchairs

- Not all tables can accommodate highchairs. Hosts need to know where highchairs can be added safely without blocking walkways.

Guests with Disabilities

- Wheelchairs, walkers, or service animals need to be accommodated safely and comfortably. It's the host's responsibility to seat any guests with disabilities in the right location.
What Is Overseating or Double Seating?
Overseating or double seating occurs when a host or hostess seats too many guests in the same server's section at one time. It's highly frowned upon and creates tension between staff members for a few reasons. Every server depends on their tips, so if one server gets all the tables and the other servers get none, it affects their livelihood. It also impacts the level of service one server can provide if they have too many tables at once.
An experienced host knows that double seating will inevitably occur during a shift, no matter how carefully they follow rotation. Some guests prefer to sit by a window, some prefer a booth, and some request their favorite server. Requests always throw a wrench into the rotation plan, but knowing how to handle it the right way keeps guests and servers happy. Keep reading to learn how hosts can support server staff.
5. Supporting Server Staff
Train your host staff to imagine they have two types of customers - the hungry guests coming through the door and the servers on duty. It's the host's job to keep all their customers happy. Sometimes it seems like an impossible task, but there are ways to seat all guests and support the server staff through busy shifts.
Communication

- An efficient host or hostess will know every server by name and let them know when they have a new table in their section. They'll also communicate special requests to the server and provide helpful info.

Modified Rotation

- If a server's section is skipped during rotation, the host staff should adjust the order so that particular section is seated next. It requires flexibility and critical thinking to modify rotation in the midst of a busy rush.

Staggering Tables

- By staggering tables, or adding a little time in between each seating, the host staff can help servers provide better service. It also helps the kitchen staff when tables are staggered instead of seated all at once.

Getting Drinks or Rolls

- If the host or hostess double seats a server, it's a good practice to provide some assistance so the server can catch up. This can be done by getting water for the table, taking a drink order, or serving bread.

Know the Server's Shift

- The host or hostess should be aware when a server's shift is coming to an end and avoid seating tables in their section.
6. Carryout Orders
Seating and floor management take up a lot of time, but your host staff must be able to switch gears and handle carryout orders when needed. Even if you have online ordering set up for your restaurant, the orders must be double-checked, packaged, and handed off to the right customer.
Menu Knowledge

- Just like on-premise diners, carryout customers have menu questions too! Train your host staff to be as knowledgeable about your menu as your server staff.

POS Training

- If you don't have online ordering setup for your business, hosts need to know how to enter takeout and curbside orders into your POS system.

Packing Up Orders

- Every host or hostess should be conscientious when packaging takeout orders. All the dishes need to be checked for accuracy and placed in the right containers. Additional items like straws, utensils, and condiments must be included.
7. Checkout Station
Many restaurants offer a pay-your-server option, but there are still some establishments that utilize a cashier station. The host-on-duty is responsible for operating the cash register and handling payment from guests. It's just one more task that must be managed, along with all other hosting duties.
Receipt Paper

- Running out of receipt paper in the middle of a rush is a rookie mistake. Instruct your hosts and hostesses to stock the right receipt paper and teach them how to load it quickly.

Counterfeit Bills

- Anytime you accept large cash bills, it's a good practice to check for counterfeiting. Train hosts on what to look for and how to use counterfeit money detectors.

Coupons and Discounts

- Coupons are a great way to promote your business, but they add an extra layer of complexity to the checkout process. Your host staff should be aware of all coupon campaigns and know how to apply the correct discount to a customer's bill.
8. Host Dress Code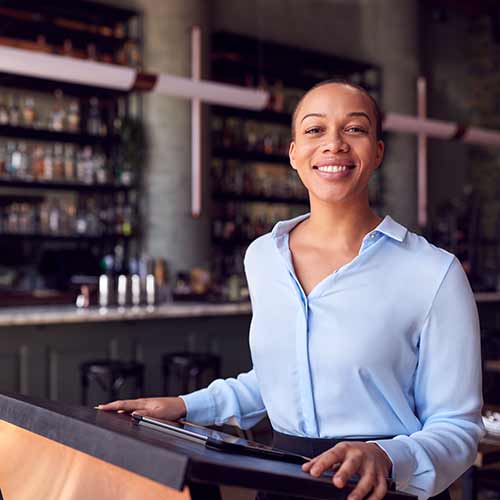 Just like all other front-of-house employees, your host staff should follow the proper dress code.
Uniforms / Dress Code

- It's common for the host staff to wear their own dressy attire instead of uniforms to set them apart from the server staff. Make sure you outline the terms of the dress code you expect from your hosts.

Grooming and Hygiene

- Hosts and hostesses should be well-groomed at all times and clothing must be free of wrinkles or stains.

Acceptable Footwear

- You've probably seen host staff employees at other restaurants that are dressed to the nines with fancy footwear. A note of caution - hosts and hostesses should follow the same footwear rules as the rest of your staff. They walk through the kitchen and are just as likely to slip and fall on a wet floor.
Your host staff is responsible for many tasks and must learn to manage the floor, help guests, and stay in sync with other staff members. It's not just a simple "greet and seat" job, no matter how it appears to observers. The best hosts are detail-oriented, conscientious, and supportive teammates. Treat the position with respect and develop your host training program to cover all the bases. Your staff morale will improve, employee retention rates will rise , and your customer service will be flawless.

Posted in:
Management & Operation
| By Michale LeRoy