What Is Tempeh?
Tempeh is a soy-based protein that goes through a process of fermentation and is formed into a firm, dense cake. Because tempeh is plant-based, it is vegan and vegetarian friendly. Tempeh is known for its nutty or slightly bitter taste.
Shop All Tempeh
What Is Tempeh Made of?
Tempeh is made of soybeans, whole grains, various spices and seasonings, and a variety of other beans. When you look at tempeh, you can actually see the soy bean shape in the patty. Many people appreciate the texture that this adds to the cake.
Upon further inspection, you may see slight discoloration that looks grey or black. This coloring is completely natural and is a result of the fermentation process that tempeh goes through.
Benefits of Tempeh
Tempeh is plant-based, which means its ingredients can provide nutritional value. Here's a list of some of the many benefits of tempeh.
High in protein
Helps reduce inflammation
Can promote bone health
Helps lower cholesterol levels
Tempeh vs Tofu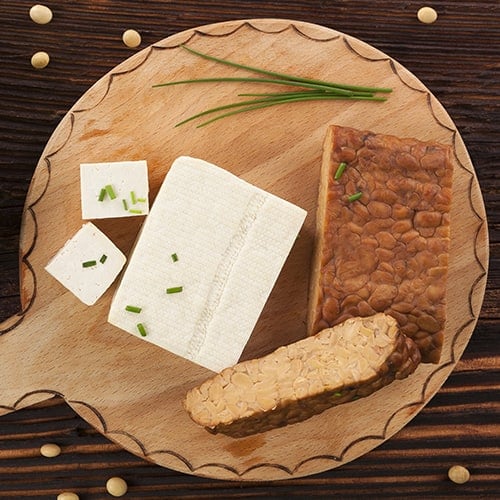 Tempeh is higher in calories, protein, and fiber compared to tofu. Tempeh also has a firmer texture than tofu does. Although tofu is also a soybean-based protein, it is higher in sodium and contains a lower amount of calories than tempeh.
Here's a closer look at the differences between tempeh and tofu.
Tempeh
Made of fermented soy beans
Contains more protein
One serving size is 140 calories
Higher in fiber
Lower in calcium
Offers more cooking versatility
Known for its nutty, bitter taste
Can be cooked right away
Tofu
Made of condensed soy milk
Contains less protein
One serving size is 80 calories
Lower in fiber
Higher in calcium
Can have cooking limitations
Has a mild, flavorless taste
Water must be pressed out before cooking
How to Cook Tempeh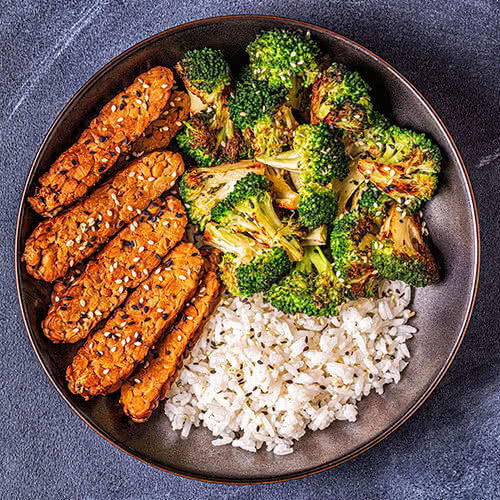 Tempeh is known to have a bitter or nutty taste, but when cooked, this taste can be drawn out. One rule of thumb for how to cook tempeh is to cook it like you might cook meat. We have rounded up a few tips for you to use when cooking tempeh.
Blanch or steam tempeh with veggie broth
Marinate tempeh in anything you would marinate meat in
Batter and fry tempeh
Marinate, cook, and cube tempeh to top off seasonal veggies or a salad
Slice thinly and cook like bacon or chicken
Crumble and use in tacos, chili, lasagna, nachos, and more
Now that you know all about tempeh, you can try cooking it! Take any vegetarian or vegan dish to the next level with tempeh and enjoy its full flavor and versatility.
Posted in:
Kitchen & Cooking Tips
| By Angalena Malavenda