Top 10 Alternatives to the Traditional Hamburger
The traditional beef burger patty has long been a staple of American cuisine. As customers become more health-conscious, many restaurants and bars are choosing to offer both vegetable- and meat-based burger alternatives. We investigated potential substitutions for the beef burger and have come up with a list of 10 delicious options that are sure to spice up your menu.
Shop All Veggie Burgers
Veggie Burgers
1. Impossible Burger
Taking the burger market by storm in 2019, the Impossible Burger has made a unique name for itself as the not-so-veggie veggie burger. With the support of the fast food chain Burger King, the popularity of the Impossible Burger increased quickly, becoming loved by both herbivores and omnivores. Customers who order an Impossible Burger can expect the pink meaty color, juice, and seasoned smoky flavor that a real meat burger provides.
Impossible Burgers offer these benefits:
Made of soy protein, but still boasts 19 grams of protein per serving
Comes in ground packages for cooking versatility
Contains no cholesterol
2. Beyond Burger
The Beyond Burger, created by plant-based food producer Beyond Meat, made its debut back in 2016 and has recently been receiving a lot more attention because of the similarities between it and the Impossible Burger. The Beyond Burger can be purchased in the form of pre-made burger patties, which speeds up prep time before cooking. The Beyond Meat Burger is made up of pea protein, opposed to soy-based, and also contains a variety of natural flavors that help it taste like the real beef deal.
Beyond Meat Burgers provide these benefits:
Can be purchased in burger patty or ground beef form
Contains beet juice extract to achieve a meaty color
Made of pea protein and other non-GMO certified ingredients
3. Black Bean Burgers
The dense texture of black beans makes them an excellent meat substitute. Try recipes for black bean burgers that incorporate legumes, vegetables, and a variety of dried and fresh spices for a flavorful twist on the traditional hamburger.
Here are some benefits of black beans:
Promotes better digestive health
Helps stop blood sugar spikes
Fights cardiovascular disease
4. Quinoa Burgers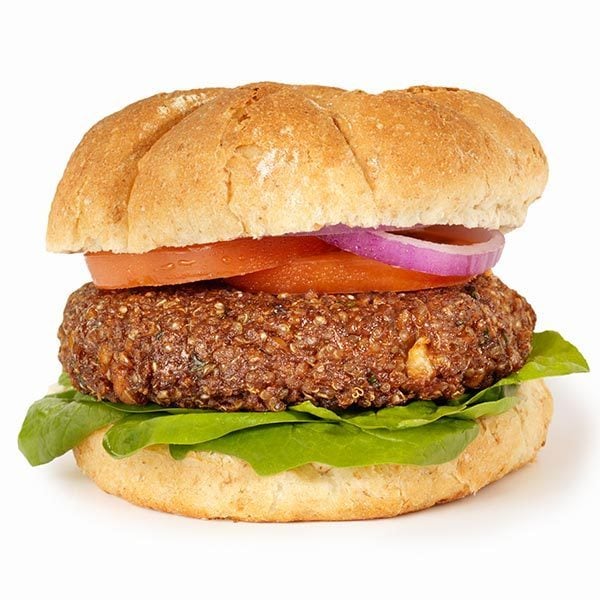 Quinoa is a seed that is related to vegetables like Swiss chard and spinach. Use this "superfood" as a base for your burgers to create a meal that is packed with nutrients.
Check out these benefits of quinoa:
Provides all 9 essential amino acids
High in fiber
Rich in antioxidants
5. Chickpea Burgers
Garbanzo beans (also known as chickpeas) are easily mashed to make a hearty patty. Plus, chickpeas are a tasty complement to a wide variety of ingredients, so you can customize your chickpea burgers however you'd like.
Here's some benefits of chickpeas:
Good source of protein
Low in saturated fat
Rich in fiber
Alternative Meat Burgers
1. Turkey Burgers
Turkey burgers are one of the most popular and flavorful non-beef burger options. Cook it like a regular burger by adding spices, sauces, and toppings to make it taste like a real burger. Plus, turkey burger meat can be purchased pre-ground to save time when preparing tasty burgers.
Turkey offers these health benefits:
Good source of protein
Rich in vitamin B6
Low fat content
2. Salmon Burgers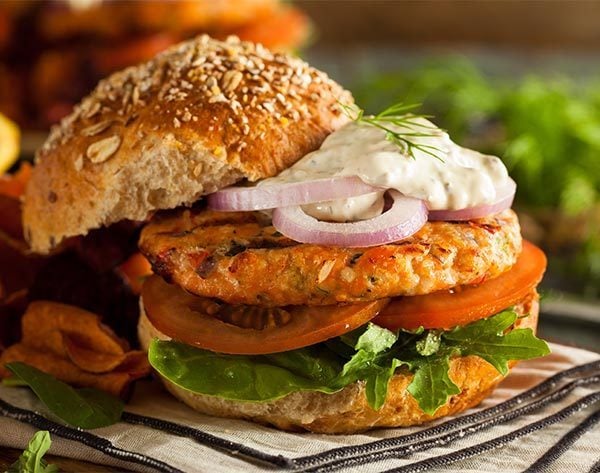 Salmon is one of the most nutritionally well-rounded burger alternatives available. Salmon offers a variety of health benefits if you are maintaining a low fat diet. You can enjoy salmon burgers as a fillet or combine shredded salmon with vegetables, aiolis, and flavorful spices.
Here are some benefits that salmon provides:
Fights inflammation with omega-3 fatty acids
Promotes cardiovascular health
Supports healthy blood pressure with potassium
3. Bison Burgers
Bison burgers are beginning to sky-rocket in popularity due to their lean meat. Bison meat promotes better heart health and provides essential vitamins and minerals like iron and zinc. Bison burgers can be cooked like any regular beef burger and topped with lettuce, tomato, mayo, ketchup, mustard, or any other toppings of your choosing.
Learn more about the benefits of bison meat:
High protein content
Contains less fat and calories
Provides Omega 3 fatty acids
4. Chicken Burgers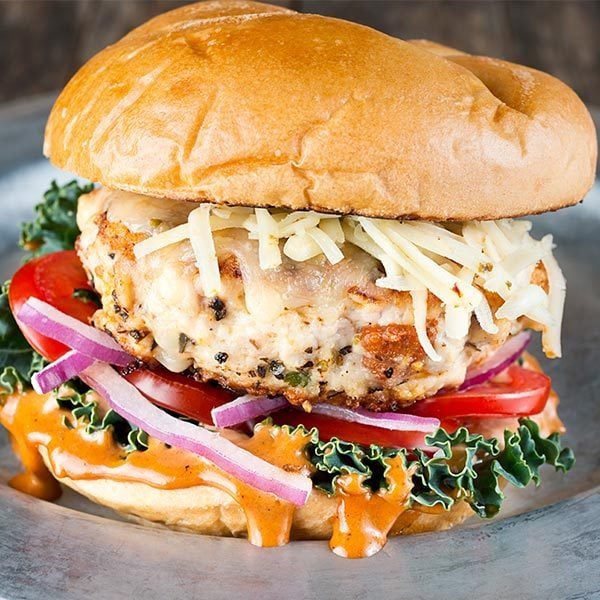 This lean and low-fat protein is an excellent alternative to beef. When purchasing chicken for burgers, do not buy pre-ground chicken. Instead, choose boneless, skinless chicken breasts and use your own meat grinder for better texture.
Chicken has the following health benefits:
Contains cholesterol-reducing vitamins
Supports bones and teeth with phosphorus
High protein content
5. Pork Burgers
Pork is a great source of protein, and it is particularly well suited for pairing with sweet and tangy flavors. Try grilling pork burgers and topping them with barbecue sauce or Asian sauces like hoisin and teriyaki.
Here are some benefits of pork:
Supports immune system with zinc vitamins
Great source of iron
Promotes brain function with B12 vitamins
From turkey to black beans and everything in between, alternatives to the traditional beef burger patty are a great way to draw health-conscious customers to your restaurant. While some of these options are perfect for vegetarians and vegans, omnivores are sure to love these non-beef choices, as well.

Posted in:
Recipes
|
By Christine Potts
The information provided on this website does not, and is not intended to, constitute legal advice. Please refer to our
Content Policy
for more details.