WebstaurantStore / Food Service Resources / Blog
Top 10 Alternatives to the Traditional Hamburger
The traditional beef burger patty has long been a staple of American cuisine. As customers become more health-conscious, however, many restaurants and bars are choosing to offer both vegetable- and meat-based burger alternatives. We investigated potential substitutions for the beef burger and have come up with a list of ten delicious options that are sure to spice up your menu. These substitutes are both delicious and jam-packed with essential vitamins and nutrients traditional beef patties may not offer. Plus, you'll never have to use a meat grinder!
1. Black Bean
The dense and meaty texture of black beans make them an excellent meat substitute. Black beans promote better digestive health and can help fight type 2 diabetes and cardiovascular disease. These three recipes for black bean burgers combine legumes, vegetables, and a variety of dried and fresh spices for a flavorful twist on the traditional hamburger.
2. Cauliflower
The ever-delicious and versatile cauliflower is another alternative to the beef burger. Cauliflower is an excellent source of vitamins C, K, and B6, which are essential for tissue growth, blood clotting, and converting carbohydrates into glucose. Cauliflower can also reduce inflammation, improve digestion, and help your body detox. To prepare cauliflower burgers, add grains like quinoa and binders such as eggs and breadcrumbs for a solid and hearty patty.
3. Chicken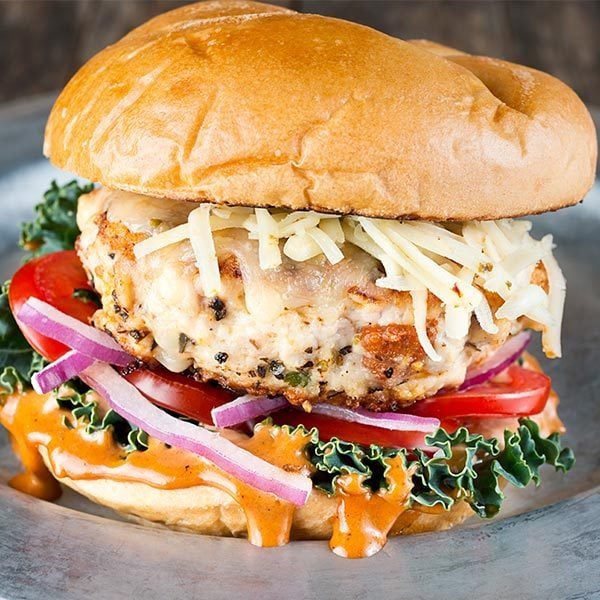 While chicken burgers are not as popular as their turkey burger counterparts, this lean and low-fat protein is an excellent alternative to beef. Chicken provides vitamins that reduce high cholesterol and improve cell function. Consuming chicken also helps build muscle, improves bone health, relieves stress, and promotes heart health. When purchasing chicken for burgers, do not buy pre-ground chicken; instead, choose boneless, skinless chicken breasts and grind it yourself.
4. Chickpea (Garbanzo Bean)
The thick texture of garbanzo beans (also known as chickpeas) make them a perfect replacement for the all-beef patty. When prepared properly, chickpeas are bursting with flavor and are a tasty complement to a wide variety of ingredients. Garbanzo beans are high in protein and low in saturated fat, sodium, and cholesterol. For delicious chickpea burgers, combine them with a variety of vegetables, bread crumbs, and spices.
5. Portobello Mushroom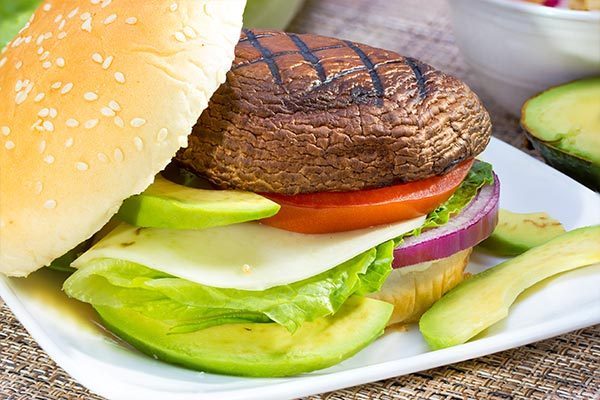 The dense, meaty texture of portobello mushrooms make them an outstanding alternative to the traditional hamburger. Adding portobellos to your diet can help fight cancer and cardiovascular disease, while also reducing inflammation and boosting your immune system. They also promote supple skin, a healthy digestive system, and facilitate the production of red blood cells. Portobello mushrooms taste best when grilled or sauteed in olive oil.
6. Pork
Pork is another lean, low-fat protein that can be transformed into nutritious (yet delicious) burgers. Lean cuts of pork contain plenty of thiamin, niacin, B6, and B12, all of which are essential to healthy cell function. Patties made with "the other white meat" are particularly well-suited for pairing with international cuisines. Pork burgers taste best when grilled, which brings out their natural flavors and juices.
7. Quinoa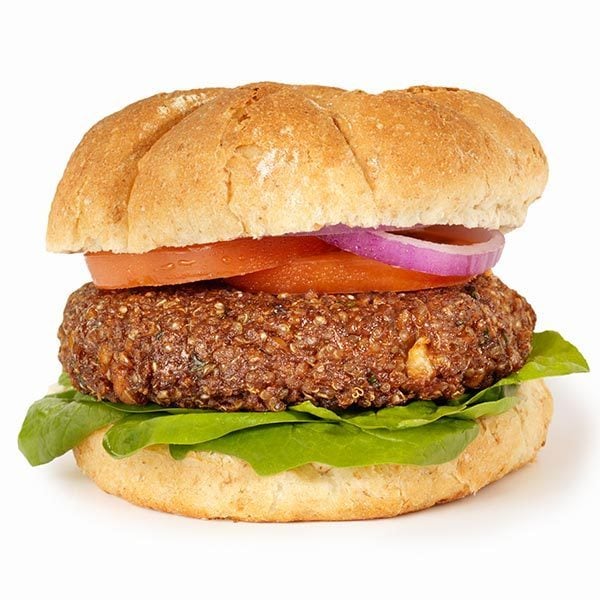 Praised as a "superfood," quinoa is a gluten-free alternative to simple carbohydrates like pasta, rice, or couscous. Quinoa is not related to grains such as wheat, barley, and rye; instead, it is a cousin to ultra-nutritious cruciferous vegetables like Swiss chard and spinach. Quinoa also provides all nine essential amino acids that build strong muscles and boost your immune system, making it a so-called "complete" protein.
8. Sweet Potato
Rich in beneficial complex carbohydrates, fiber, and pro-vitamin A, sweet potatoes are another delicious burger substitute. Sweet potatoes can be prepared any number of ways, and their soft, pliable texture makes them easy to combine with other ingredients for delicious burger patties. A diet high in sweet potatoes can help stave off diabetes, high blood pressure, and inflammation, while improving digestion, immunity, and vision.
9. Salmon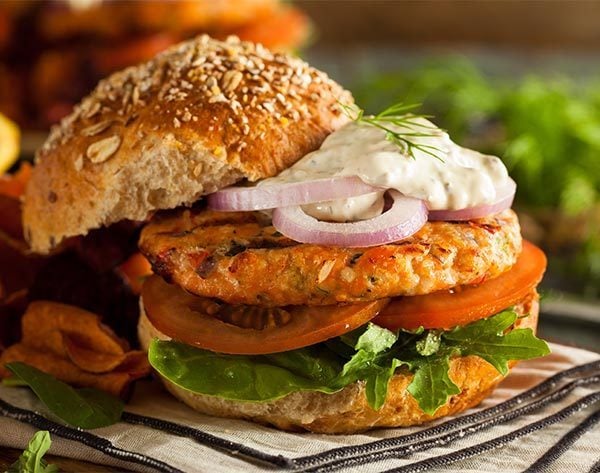 Salmon is one of the most nutritionally well-rounded burger alternatives available. Salmon is rich in fatty acids and omega 3's, which help your body fight inflammation and improve cell and brain function. Eating salmon improves cardiovascular health, cognition, and strengthens your joints. You can enjoy salmon burgers as a fillet or combine shredded salmon with vegetables, aiolis, and flavorful spices.
10. Turkey
Turkey burgers are one of the most popular and flavorful non-beef burger options. Turkey is low in calories, fat, and simple carbohydrates, but still provides plenty of protein. It can also help build lean muscle mass and plays a role in creating feelings of fullness. Turkey can be purchased in tenderloins, cutlets, thighs, breasts, and slices, making it an outstanding red meat alternative.
From black beans to turkey and everything in between, alternatives to the traditional beef burger patty are a great way to draw health-conscious customers to your restaurant. While some of these options are perfect for vegetarians, vegans, and pescetarians, omnivores are sure to love these non-beef choices, as well. If you're looking to add some variety to your burger and sandwich offerings, our list of 10 Burger Alternatives is the perfect place to start.

Posted in:
Recipes
|
Menu Tips
| By Nora Fulmer