Types of Whiskey Glasses
With whiskey's recent comeback in American popularity, it is important to know how to serve this oaky spirit to best showcase its richness and versatility. Are you unsure of when to use a high ball glass instead of a rocks glass? Are you confused by the difference between a snifter and a Glencairn glass? Or, are you simply trying to learn what the many different types of whiskey glasses are called? Keep reading to familiarize yourself with all kinds of whiskey glasses and their individual benefits.
1. The Old Fashioned (or Rocks) Glass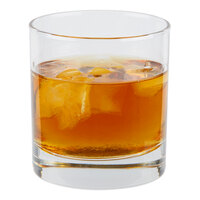 For drinking whiskey neat (no ice)
For drinking whiskey on the rocks (with ice)
For drinking whiskey in cocktails
An Old Fashioned or rocks glass is the standard choice for serving whiskey drinks. These glasses are typically 7 to 12 oz. in capacity, and can be used to serve whiskey neat, on the rocks, or for whiskey cocktails (like the Old Fashioned, for which the glass is named). This versatile glass has a wide brim to allow for mixing ingredients or adding ice cubes and whiskey stones. Additionally, its thick base lets bartenders muddle non-liquid ingredients right in the glass and without using a separate mixer or shaker.
Whiskey cocktails served in rocks glasses include:
Old Fashioned
Whiskey Sour
Rocks glasses are good to have on hand for any bar serving whiskey or whiskey cocktails. Depending on what you need, you can branch out from the traditional glass and experiment with more modern or fun rocks glasses. Rocks glasses are a great opportunity to inject some personality into your glassware because they come in lots of colors, shapes, and designs.
2. The Shot Glass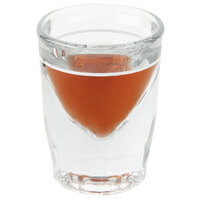 Shot glasses are meant for drinking a small amount of whiskey quickly and without ice. As a result, these glasses are great for high-volume bars. Their small size means perfect portion control to help your bartenders avoid overpouring and wasting liquor. The thick base of shot glasses protects against damage from even your rowdiest customers, though we can't promise the same for the surface of your bar!
The Shooter Glass

A variation of the shot glass, shooter glasses are used for double shots or layered shots. Serving a double shot of whiskey in a shooter glass looks more satisfying to a customer than a thin layer of liquid at the bottom of a rocks glass. These glasses also give you the opportunity to make creative whiskey shots with more space for ingredients and garnish than in a traditional shot glass.

Whiskey shots served in shooter glasses:




Cordial Glasses from $17.81

Three Wise Men
Alabama Slammer
Ruby Slipper

The Cordial Glass

Similar to shot glasses, cordial glasses are designed to serve strong spirits without ice in a 1 or 2 oz. glass. These glasses limit the quantity of alcohol consumed with a more formal appearance than a shot glass. Typically stemmed, cordial glasses are easy for mingling guests to hold. For this reason, you may want to serve whiskey in cordial glasses if you run a catering business or banquet hall.
3. The High Ball Glass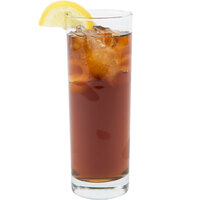 For drinking whiskey in cocktails
High ball glasses, named for the cocktail of the same title, are tall glasses used for serving whiskey cocktails over ice. Like a rocks glass, a high ball glass has a thick base that makes muddling ingredients easy. Additionally, this base helps to keep the tall glass balanced and prevent spills. Because of its height, the high ball glass is best for cocktails with higher proportions of non-alcoholic mixer.
Cocktails served in a high ball glass include:
High Ball
7 and 7
Washington Apple
These glasses are perfect for restaurant bars or lounges where guests may drink slowly and even eat, as well. With lots of room for your bartenders to experiment with ingredients, high ball glasses are also great for drink customization. You can try mixing unique flavors and even local whiskey to concoct a memorable "signature drink" for your establishment.
4. Snifter Glasses and Glencairn Glasses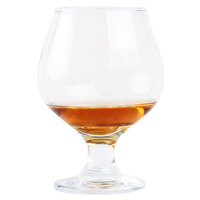 For drinking whiskey neat (no ice)
Upscale use
Snifter glasses cater to seasoned whiskey drinkers who expect an authentic experience. The snifter glass is a short, stemmed glass with a wide bottom and narrow top often used for tasting whiskey. The wide bottom easily fits into the hand and allows for the drink to be warmed and swirled as it is held. This warmth causes evaporation, which is then trapped by the narrow opening at the top of the glass. These glasses promote a richer flavor because the drinker smells the evaporated whiskey as he or she sips. Perfect for upscale venues without much customer turnover, these glasses are suitable for slowly savoring top-shelf whiskeys. Additionally, you can use them to serve brandy and certain types of beer.
Originally designed by a Scottish crystal company, the Glencairn glass was the first style of whiskey glass to be endorsed by the Scotch Whisky Association. Glencairn glasses function similarly to snifter glasses, with a wide bottom to encourage warming and swirling while showing off the color of the whiskey. However, these glasses have a more tapered mouth than a snifter glass to allow for easier drinking. Recommended for single malt whiskey and scotch as well as single barrel bourbon, Glencairn glasses are best for upscale establishments.
Serving whiskey can keep your bar, tasting room, or lounge on trend and allows you to try out all sorts of new drinks. Choosing the right glass can maximize the flavor and visual appeal of your whiskey and whiskey cocktails. If you're ready to start a whiskey service, use this guide to help you make an informed decision when stocking your glassware.