Bartending School Vs. Experience
For a thirsty customer, there's nothing worse than to order an Old Fashioned at the bar only to receive a glass of Irish whiskey with an orange in it. For a bar owner, the difference between success and failure often depends on the skill of their bartenders, and for bartenders, that skill is dependent on two things: workplace experience and / or education from a bartending school or class.
No matter what kind of establishment you run, whether it's a dive bar or an upscale lounge, it can never hurt to have well-trained, professional bartenders on your staff. If they do their jobs right, they'll help save you money and ensure repeat customers, resulting in a successful, profitable business. But what's the best way to become a great bartender? Through formal bartender education, or by working your way up?
Bartending School
Although many professional bartenders never attend a bartending school, or have a bartending license, there are owners who prefer to hire graduates of bartending schools. While some bartenders and bar owners look down upon such establishments, there are benefits to hiring a somewhat inexperienced grad who hasn't already adapted bad bar habits such as overpouring, failing to upsell, and fixating on tips.
For those looking to break into the business, bartending school offers several advantages:
Ability to experiment at a mock well (without real liquor, though)
No-pressure environment
Learn around 150 standard recipes
Feedback and instruction from real bartenders (usually)
Additionally, many of the best bartending schools will offer helpful services to their students and graduates, such as:
Workplace experience during coursework
Additional classes on customer service and upselling
Training for spotting and dealing with intoxicated patrons
Resume writing and resource services
Networking and job placement services
How long is bartending school? Most courses last up to 40 hours split up over several days or weeks, though there are some that only last a few hours. However, for a state's board of education or its board of vocational or postsecondary education to certify a course, it must be 40 hours or more, so if you're looking for a "real" diploma, or license, you'll need to attend a 40 hour program.
While no serious bartending school will guarantee you a job (if they do, they're lying), there are many that try hard to get you as much real-world experience as possible to help potential employers get over that "experience" hang-up. For beginners who have limited drink knowledge, attending a school can be a good step towards getting into the bartending business, or at least learning the ropes.
Experience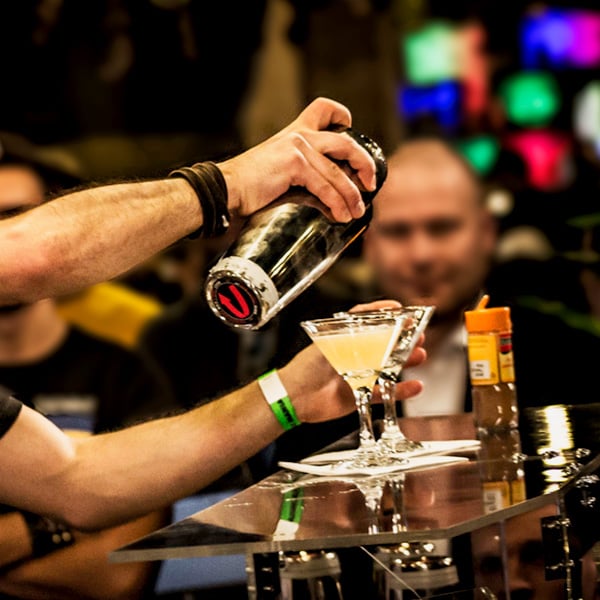 Being a great bartender doesn't depend on a formal education. For example, take Lee Bonds, bartender at Art and Soul Restaurant in Washington D.C. "It isn't necessary to go to bartending school or classes to become a bartender at an upscale restaurant or in the industry in general," says Bonds, who has a culinary background and no bartender license. "Most bartenders start off working in a restaurant and work their way up to bartender learning the tricks of the trade along the way."
The path that Bonds took is very similar to the majority of bartenders in the industry. Most of today's successful bartenders started out in other areas of the restaurant and got their shot at bartending after learning the basics of customer service and the fast-paced style of the restaurant industry.
"Most bartenders start off working in a restaurant and work their way up to bartender learning the tricks of the trade along the way."
Another great way to gain bartending experience and have a more direct line to the bar is to become a barback. Barbacks undoubtedly have the most unappealing job in a bar, but becoming a great barback is a guaranteed way to eventually become a good bartender.
Sure you'll be switching out kegs, refilling lime buckets, cleaning up broken glasses and spills, answering phones, serving plates (and occasionally beers), stocking the bar, and even running to the store for emergency ingredients, but learning to adapt quickly and professionally to all of those challenges is great preparation for the immediate and varied demands placed on a bartender.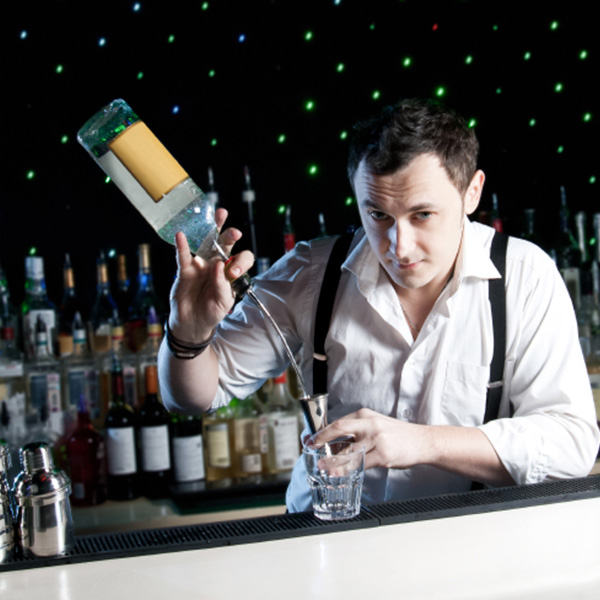 There is no surefire way to become a bartender overnight. Learning the craft takes time, focus, and certain intangibles that many people simply don't possess, like getting people what they want before they ask for it and knowing when to stop talking. A combination of both bartender education, either formal or work-related, and on-the-job experience are both crucial to being a good bartender. Bartending is not as glamorous as many people believe, but for those that have the skill and determination, it can be a rewarding and lucrative career.
Even if you never go to bartending school, the truth is your education and progression as a professional doesn't stop after you've achieved success as a bartender. There are always new techniques, products, recipes, and service strategies to learn and master, and with the help of classes, both paid and free, trade magazines, and various certifications, keeping up-to-date and well-educated is not only a good idea; it's vital to continued success and long-term job security.