How to Clean a Cutting Board
Some of the most common items found in almost all commercial kitchens are cutting boards. Understanding the proper care to give to these boards will not only increase their lifespan and eliminate the hassle of having to replace them, but appropriate care also prevents bacteria from spreading and dangerous cross-contamination. Whether you run a small bistro, fast food restaurant, or upscale steakhouse, cleaning your cutting boards and understanding how to maintain them is key to running a successful foodservice operation.
Wood Cutting Boards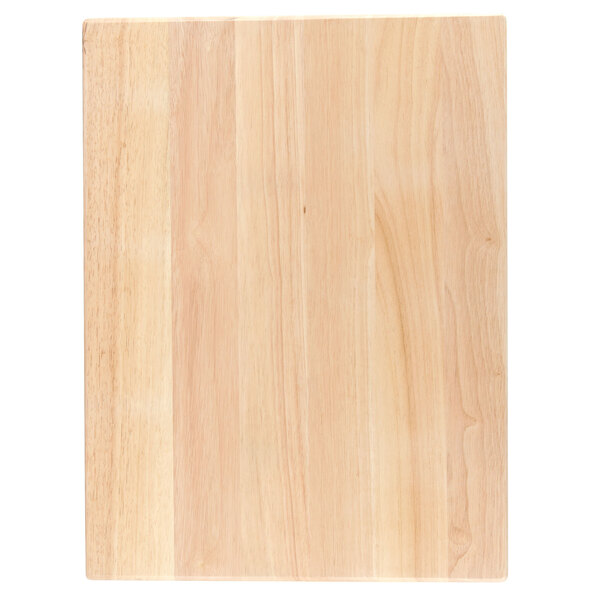 Wooden cutting boards feature naturally porous surfaces that can sometimes harbor bacteria. Tiny cuts or grooves also provide a natural habitat for bacterial to grow, which makes cleaning extremely important to prevent cross-contamination. You should begin seasoning your wood cutting board as soon as you purchase it to prevent damage and bacteria growth.
How to Clean: To clean a wooden cutting board, hand wash immediately after use with hot water and soap. Pat dry with a paper towels or a clean dishtowel immediately after since water and heat are a wood cutting board's worst enemy. (Never dry with a used towel hanging in the kitchen since this can spread bacteria easily). For an extra deep clean, sanitize wood cutting boards with 1 teaspoon bleach to 1 quart water, pour over top, and then rinse after a few minutes with hot water.
How to Maintain: Never submerge wood cutting boards under water or clean in a dishwasher since absorption can cause splintering and warping of the boards. It is important to routinely season your boards to preserve and extend their lives. You can technically season a wooden cutting board with olive or vegetable oil, but it is not recommended, as the oil can become rancid over time. It is better to use a food-grade mineral oil, like Emmet's Elixir, which is an NSF Listed blend of mineral oil and other oils with anti-microbial properties. Seasoning your cutting board creates a protective seal on the wood, which helps to prevent the growth of bacteria.
Bamboo Cutting Boards
Bamboo cutting boards will not crack, warp, or stain as easily as natural wood thanks to their higher density. These boards also resist cuts or scars caused by knives better than wood, therefore making it harder for bacteria to grow and spread.
How to Clean: Use hot water and soap, or a dilution of bleach and water for a deeper clean. Never put bamboo cutting boards in a dishwasher or soak under water.
How to Maintain: Apply a food grade mineral oil or beeswax once every two weeks to recondition and prevent the natural fibers of the bamboo from drying out. To freshen up these boards in between treatments, slice a lemon in half and rub over the entire bamboo board's surface.
Rubber Cutting Boards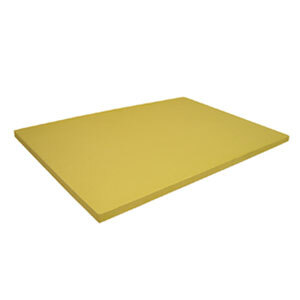 One of the advantages to owning and using a Rubber cutting board is its non-porous and non-absorbent surface, which is warp resistant and won't retain as much bacteria as wood cutting boards.
How to Clean: Unlike wood and bamboo boards, rubber cutting boards can safely be placed in the dishwasher for easy cleaning.
How to Maintain: Rinse off surfaces before cleaning in the dishwasher, and replace the board when heavily scored by kitchen knives to prevent bacteria from entering below the imperfections.
Composite Cutting Boards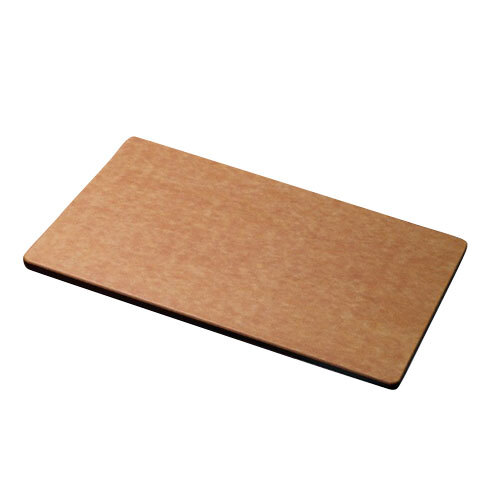 Composite boards are made from a heavy-duty resin material, making them an ideal choice for cutting boards since they're extremely long-lasting. Composite boards are able to withstand temperatures up to 250 degrees Fahrenheit, which is perfect for carving meat or for use as a pizza peel since the heat won't cause the board to warp.
How to Clean: Simply rinse and place in a dishwasher so you can quickly reuse again at your restaurant, buffet, or catering event.
How to Maintain: Even though composite cutting boards are more resistant to scratches and gouges compared to wood and plastic boards, they will eventually wear out. Be mindful of the severity of these cuts and replace when they give off an odor when wet.
Flexible Cutting Boards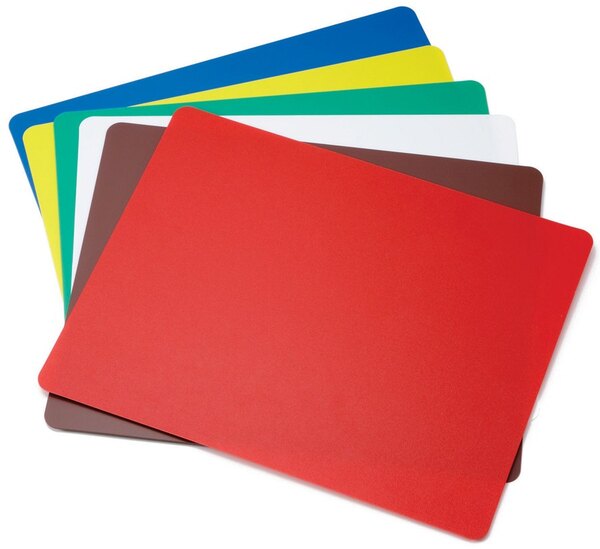 Flexible cutting boards feature a bendable and flexible design that allows you to easily bend and shape these mats into a funnel in order to transfer chopped and sliced ingredients from the board and into a bowl or pan. Flexible boards are often made of antibacterial plastic resin which helps to resist bacteria growth.
How to Clean: Rinse and place in the dishwasher when ready to clean.
How to Maintain To keep your white flexible cutting boards staying bright and clean, use our Diversey Block Whitener which is formulated for use on food contact surfaces, and works in just 15 minutes!
Plastic Cutting Boards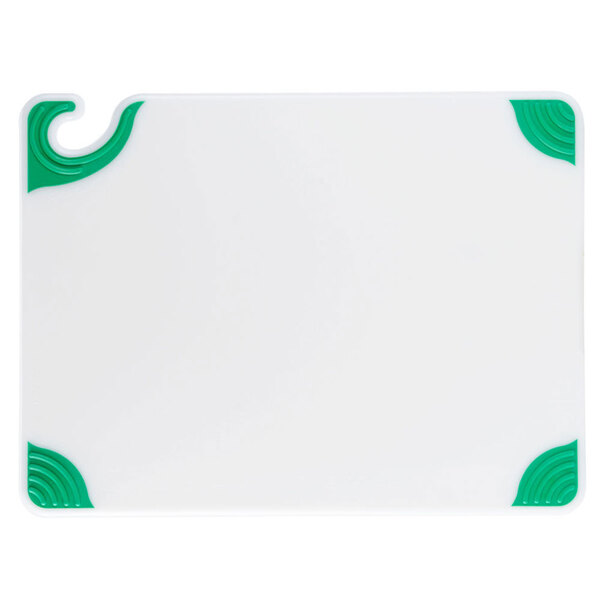 Cutting boards made from plastic feature a non-porous poly material which makes them extremely safe for food handling. Since their surfaces are resistant to cuts, these boards won't allow bacteria to seep into the board which ensures greater kitchen sanitation.
How to Clean: Plastic cutting boards are dishwasher safe, but if your boards are more prone to warping, try sanitizing with 2 teaspoons of bleach per one gallon of water. Let stand for a couple minutes, then rinse and air dry.
How to Maintain: Just like with all cutting boards, you will start to notice wear and tear on your boards over time. If these plastic boards are starting to leave behind indentations caused by knives, use this tried and true food service industry trick to increase you board's life span and boost your kitchen's cleanliness! First, use a steel scouring pad to remove any loose plastic particles from the board's surface, and then use a belt sander to smooth out the surface.