Choosing a Bakery Floor Plan
Last updated on 7/09/2018
If you are starting a bakery or are re-designing your bakery layout, the bakery floor plan that you choose will depend on a number of factors. Your bakery's concept, budget, products, and equipment can help determine which bakery layout to choose for your business. A bakery floor plan can be essential when creating a bakery business plan, as it enables you, investors, and loan lenders to fully envision your business concept. Below, we provide general tips for creating a bakery layout, and we go through basic bakery floor plans.
Make the Most of Your Space with a Bakery Floor Plan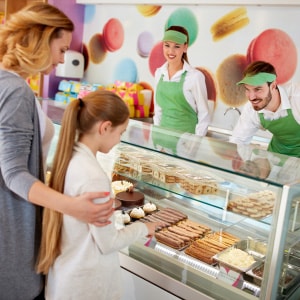 Strategically planning a customized bakery floor plan lays a firm foundation for your business. Not only will your bakery layout give you an idea of how many customers you can accommodate and where your equipment will be placed, but it will also bring your daily workflow to life.
Seeing your plan on paper or on a computer screen allows you to better understand your business and will help you organize everything else. When mapping out the floor plan for your cake or pastry shop, try to make it equally efficient and visually appealing, so you can maximize service and profits.
Tips for Creating a Bakery Layout
No matter what type of bakery floor plan you choose, every bakery can benefit from the following tips:
Ensure aisles promote maximum movement. Your bakery's aisles should be at least 4 feet wide to prevent congestion. If the aisles are overly crowded, customers will feel uncomfortable and move on to another aisle, which can cause a decrease in sales.
Set up a visually appealing front-of-store dessert display. Excite customers and make them feel welcomed by setting up an enticing bakery display that's visible as soon as they walk in. This makes your customers interested in what else your business has to offer.
Direct your customers to move to the right. Try designing your bakery so that customers are drawn to the right side of the entryway, which is the natural way people tend to move.
Create breaks in your aisles. Studies have shown that shoppers skip up to 2 percent of your products if your aisles are too long and uninterrupted. By adding breaks in your aisles, customers will remain more engaged.
Research your state's health department codes. Be sure to know your state's health codes to prevent violations down the road that would require you to adjust your floor plan.

Four Basic Bakery Floor Plans
The following four common business floor plans boast different benefits. You can decide which one works best for you based on your type of bakery, your bakery service style, and your bakery's unique needs.
Straight Floor Plan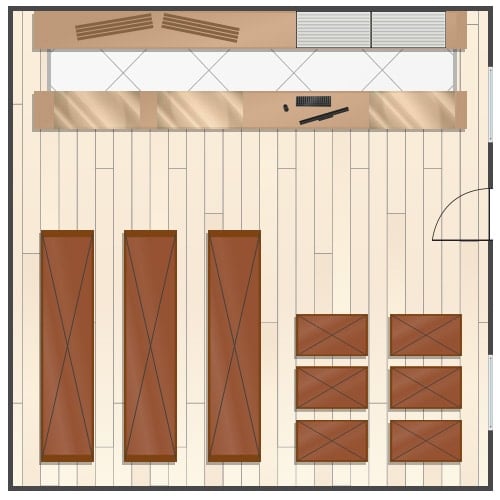 A straight floor plan is one of the most efficient and economical floor plans, and it's highly recommended for many small businesses. Below we explain some of the benefits of having a straight floor plan for your bakery.
The fixtures and displays are positioned at right angles, making the most efficient use of both the floor and wall space.

Commonly unused areas, like corners, can be used for display and shelving.

It's highly customizable, allowing business owners to experiment with aisle layouts.

This plan is less costly to create than other floor plan types.

Angular Floor Plan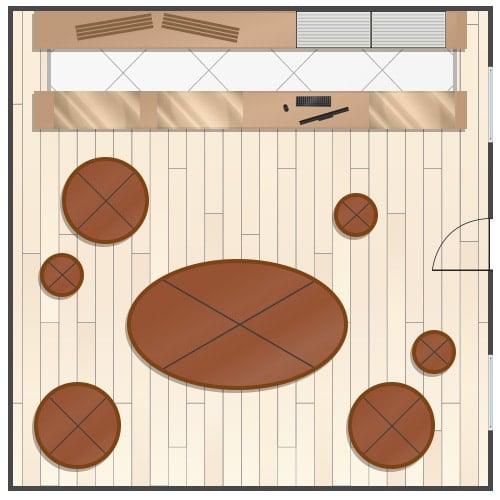 An angular floor plan utilizes curved displays, so customers move through the aisles in an angular motion, giving it a more sophisticated feel. Here are some reasons why an angular floor plan could be fit for your upscale bakery or patisserie.
Angled aisles and curved displays create visual diversity and a sophisticated presentation.

There is less room to display your products, which means the products on display receive much more attention.

Specialty bakeries with fewer products, such as wedding cake shops, can ensure emphasis is placed on their wedding cake displays.

Diagonal Floor Plan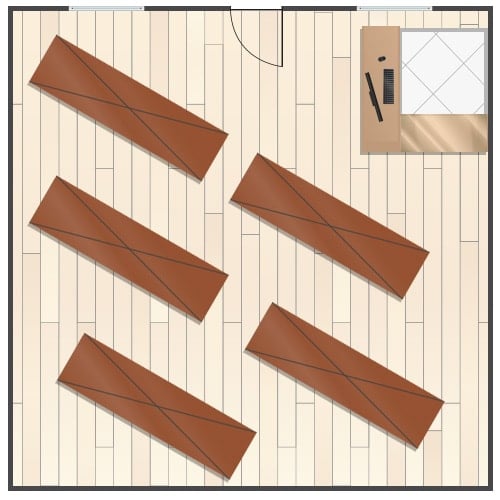 A diagonal floor plan enables smooth traffic flow and movement throughout your space, making it excellent for self-serve bakeries or cafes. Below we delve into why a diagonal floor plan can be convenient for staff and customers at your self-serve bakery.
The diagonal setup offers excellent visibility for both cashiers and customers.

Cashiers can easily see if customers are having difficulty shopping and can offer help.

This layout ensures smoother traffic flow, preventing aisle buildup and long lines.

Mixed Floor Plan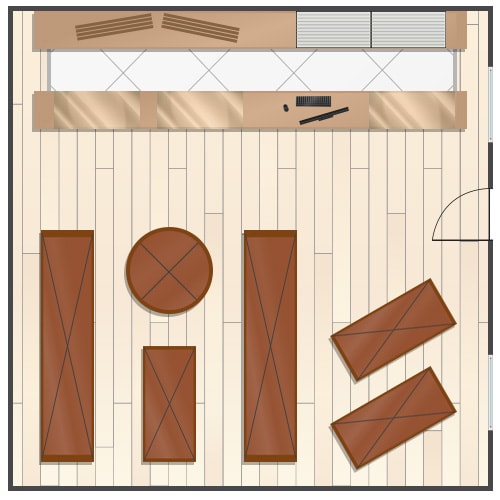 A mixed floor plan combines the benefits of the straight, diagonal, and angular layouts, allowing business owners to create the most functional layout possible. See below for the benefits of having a mixed floor plan for your bakery.
Since this floor plan combines multiple layout types, business owners can truly customize their bakery to meet their needs.

Business owners can create various themed displays in their store to draw customers to certain areas. You could include a section with gumball machines geared towards kids or a refined area with coffee and tea for adults.

Different products can be highlighted throughout the shop. For example, one corner of the bakery can be a self-serve candy station, and the opposite corner can house a bakery display case with freshly made pastries.

Your bakery floor plan has the potential to greatly enhance your bakery concept. Plus, it not only ensures a pleasant experience for your customers but can also increase sales. It's important to take into account your bakery's unique needs in order to optimize your workflow. So whether you are creating an upscale wedding cake shop or a casual and vibrant cupcake spot, your business can flourish with the right bakery layout.