Independent Ownership vs. Restaurant Franchising
Whether you're considering investing in a franchise or thinking about starting an independent restaurant, the types of risks and the potential rewards will vary. Consider your start-up responsibilities, creative abilities, monetary resources, and level of experience before making the big decision.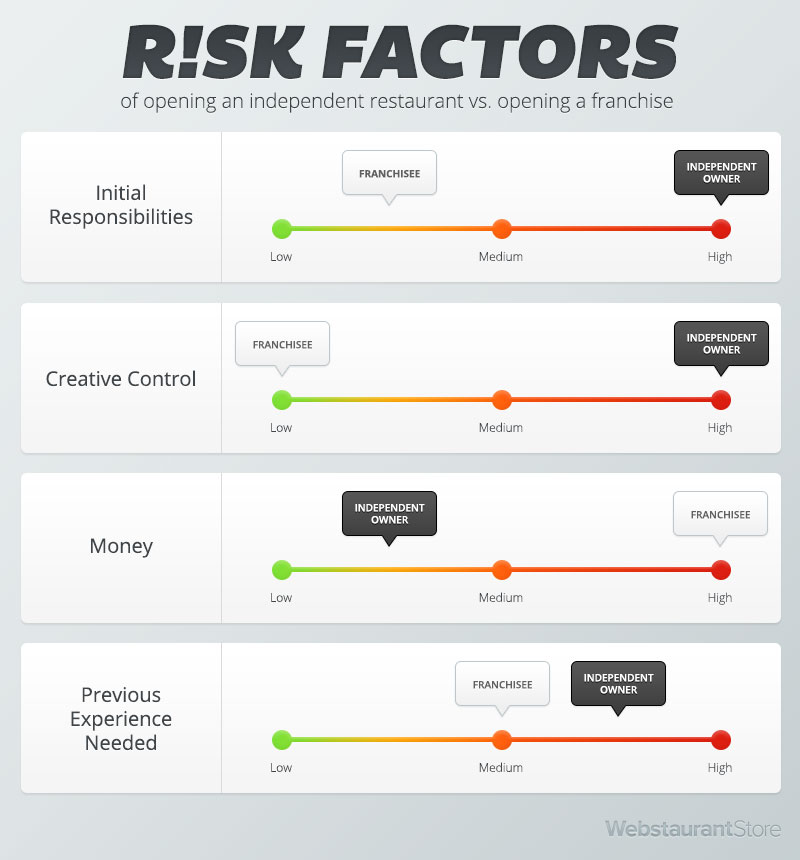 You can also ask yourself the following questions to determine the best path toward success:
What type of business experience do you have?

Do you work better under a set of guidelines or do you have a clear vision of what you want your restaurant to be?

How much money do you have available to start your business?

Is support and training a necessity for your success? Or is determining your own path more appealing?
As a future business owner, your strengths and limitations are unique. Consider your goals and the pros and cons of the following four factors to determine if independent ownership or becoming a franchisee is best for you.
1. Initial Responsibility
The most intimidating part of opening a restaurant is the possibility of failure. In order to succeed in this industry, business owners need to have a distinguishable operating concept that impacts things like the menu, the operations philosophy, and even the customer service.
Independent Owner
If you choose to open an independent restaurant, then this responsibility falls on you alone. Though rewarding in the long run, opening your own restaurant certainly requires a clear, organized vision and a good deal of work to gain respect for your business within the community.
Franchisee
If you are buying into a well-established company, then most of the branding and reputation-building has already been done for you!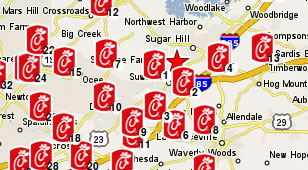 Most franchises have a clear marketing strategy and business concept. This means that an average consumer can easily recognize a national brand and its food no matter where the franchise is located. However, if you are investing in a newer franchise, or bringing a chain to a new market, the brand power may not yet exist. Be sure to ask how the franchisor plans to develop its brand in the future before agreeing to purchase.
2. Creative Control
The level of creative control you will have in your restaurant is almost directly tied to whether you choose to buy into a franchise or open a restaurant on your own.
Independent Owner
If having full-control over the creative aspects of your company is a necessity for you as a business owner, then designing your own restaurant may be the better choice. It may be difficult to create an appealing menu and unique atmosphere from scratch, but having complete control of your vision can outweigh the time commitment.
Franchisee
Because a chain restaurant is already established as a business, there are obvious advantages to working within existing business and menu guidelines. Franchises are built on tried and true methods. The benefit of this is that everything from individual food items to customer service rules and regulations are based off of models that were deemed successful before you invested into the brand. The downside is that as an owner, you must strictly adhere to these existing regulations. Altering the menu or even the décor of your franchised establishment isn't usually an option.
3. Money, Money, Money
Independent restaurants and franchises each have initial start-up costs, but the methods of financing and division of funds differ.
Independent Owner
Deciding to open your own restaurant means that you determine your own budget for the start-up costs, but there are still many initial costs to consider. You must purchase a space, design it, develop a menu, and shell out the money for aggressive marketing campaigns to get your name on the map. There are also insurance, permit, and licensing fees that will vary depending on where your restaurant is located. Lenders are more hesitant to provide small business owners with money when there is no guarantee that the business will be profitable. Despite obvious financial demands, entrepreneurs looking to open their own restaurant should not be completely deterred. Brand recognition is often the biggest obstacle for new, independent restaurants to overcome, but the social media craze has helped combat this issue. A strong social media presence on Facebook, Twitter, Instagram, FourSquare, or Yelp can help decrease advertising costs for establishments and even provide the business with a fast, convenient way to communicate with their customers on a day-to-day basis.
Franchisee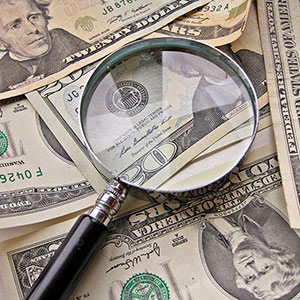 In order to open up a chain restaurant, potential candidates must meet the franchise's initial financial requirements. This typically includes liquidity, which means that you, as the franchisee, have the funds available to help keep your company afloat during the first few months, and meeting the company's minimum net worth requirements to prove that you have the money to invest in the business. On top of these requirements, you must secure a location for the franchise and pay an initial franchising fee which can range from a thousand to several hundred thousand dollars. Once you have opened the franchise, royalties and national advertising campaign fees are often involved.
While these high costs may seem daunting, franchisers will often work with the investor to secure financing. Lenders are more open to supporting franchise businesses because they have a proven success rate. Similarly, being part of a franchise can give you access to hefty discounts when ordering in bulk.
4. Experience Levels
An individual's background and experience in both the business and culinary aspect of the food service industry plays a large role in whether opening a new restaurant or buying into an established chain is the better option. Previous experience almost directly ties into the risk, creative control, and financial factors.
Independent Owner
Most new restaurant owners have had significant experience in the foodservice industry. If you have worked in food service for years, but now want to see your restaurant vision come to life, you are not alone. Many former chefs, kitchen managers, and other restaurant veterans share this dream. If you have this type of significant knowledge and experience in the industry, it is much more likely that you will feel more comfortable with being in charge of creating and executing your business's plan rather than acting under someone else's choices.
Franchisee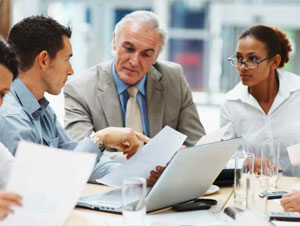 In its simplest form, a franchise is a successful business model. Consequently, entrepreneurs or former corporate executives may be the best candidates for buying a chain restaurant. If your previous work experience has provided you with a strong understanding of how to market to a demographic and retain customers' business, then you may fit the mold for successful franchise owners. These types of individuals often have made a small fortune in the business sector and have the spendable income needed to buy into a franchise.