Different Types of Flavoring Syrups
Add flavor to coffees and lattes, spice up scones and cookies, and mix fruit flavoring into cocktails with our wide selection of flavored syrups . This guide will explore the brands and coffee syrup flavors that we offer so you can begin stocking your restaurant, bar, or coffee shop!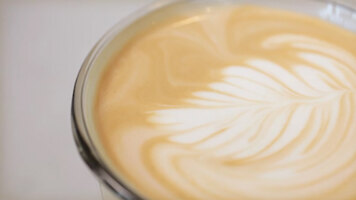 DaVinci Gourmet Flavored Latte
Watch this video and learn how to start making profitable flavored lattes for your business! Prepared using DaVinci Gourmet flavoring syrup, this video will take you through each step of the latte-making process.
Flavoring Syrups Add an Extra Element to Your Coffees, Desserts, and Confections
Make any drink or dessert taste incredible with our wide array of flavored syrups! Our coffee flavoring syrup allows you to add a burst of flavor to any hot, cold, or frozen specialty beverage, while our mixed drink syrups are sure to help you create the perfect martini or blended cocktail. With more than 100 different options, including sugar-free varieties, you're sure to find the best flavor additives for your recipes. 
Coffee flavoring syrups are staples in cafés and coffee shops, and they're also used frequently in desserts, confections, and more. Whether you own a bakery, restaurant, or diner, there's always a use for high-quality flavored syrups! Use our cooking syrups to add sweet, smooth flavors to your baked goods, or pick up a dessert flavoring syrup to drizzle some dark chocolate on your frozen treats.
We carry dozens of flavoring syrups for coffee so you can be sure you'll find the kind that works best with your recipes. From sweet sensations like chocolate and caramel to the rich taste of vanilla and cinnamon, we carry all of the coffee syrups you could need to craft delicious, memorable beverages.