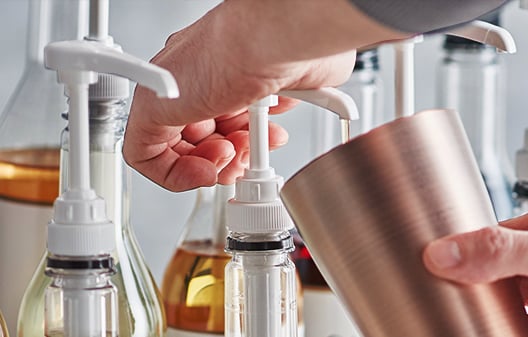 Shop Syrup & Sauce Pumps
Syrup & Sauce Pumps
Dispensing the perfect amount of syrup or sauce in your signature coffee drinks or smoothies is easy with Capora syrup pumps.
Shop Bottle Holders & Displays
Bottle Holders & Displays
Keep your flavored syrups organized and easily accessible with our Capora bottle holders and display units.
Shop Shop All Capora Products
Shop All Capora Products
Shop all Capora products at wholesale prices to outfit your business with delicious drink and dessert making supplies.
Shop All Categories
Add Rich Flavor to Drinks and Desserts with Capora Products
Add a splash of bold flavor to your signature menu items with the help of Capora products. Capora was established to provide high-quality, economical flavoring syrups to a variety of establishments across the foodservice industry. They offer a wide selection of flavors to brighten and enrich drinks and desserts so business owners can provide their customers with a memorable experience. Use Capora products in your cafe, bar, or restaurant to boost the complexities of your menu's best sellers. These flavoring syrups are perfect for desserts, smoothies, cocktails, and coffee drinks. Capora also offers bottle organizers so you can display your syrup flavor options neatly and professionally.