Find the Best Oven Mitts and Gloves for Your Business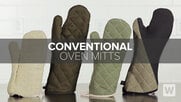 If you're shopping for oven mitts and gloves for your restaurant, diner, or bakery, our inventory of products is sure to have what you're looking for. We offer these items in several types, including conventional and puppet style mitts that separate the thumb from the rest of the fingers. Additionally, you'll find heat resistant sleeves to protect your forearms and gloves that separate each finger for enhanced flexibility and grip. These items are also constructed from a variety of durable materials that allow you to reach into hot ovens, drop ingredients into frying oil, and carry hot pots and pans without the risk of being burned. No matter what you throw at them, these heat-resistant oven mitts and gloves will have no trouble standing up to daily use. To learn more about the differences between these products, explore the tabs above and the filters on the left side of the page.
Protect your hands from burns and injury with our selection of commercials oven mitts! Whether you're handling hot pizza peels, sheet pans, or transporting chafer pans, we have the perfect type of heat-resistant glove for any foodservice operation. We even carry elbow length mitts and sleeves to protect your wrists and help prevent chef coats from catching on fire. With great options from multiple vendors, you're sure to find the perfect type of glove to protect your kitchen staff, chefs, and servers. Be sure to check out pot handle covers for handling hot skillets, pans, and other cookware. If you're wondering where to buy oven mitts & gloves, we have a large selection of oven mitts & gloves for sale at the lowest prices.