Find the Best Grill Turners for Your Business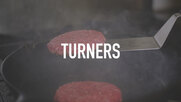 Food turners allow your cooks to easily flip a variety of foods as they prepare them, including steak, burgers, and eggs. We offer these products in several types, such as grooved turners for scraping panini grills and perforated turners for preparing melted sandwiches, burgers, and other grilled items. If you're making eggs or flaky fish, slotted turners are a smart choice, while solid turners can be used for just about any flipping application. All of these turners are also made of durable materials like nylon, wood, polypropylene, and stainless steel. Additionally, they come with several edge styles, including beveled, rounded, and squared, which means they can easily pick up and flip just about anything. Some of these turners are even NSF Listed or dishwasher safe for easy cleaning. If you're preparing items that require extremely high cooking temperatures, you can also choose from high heat capable items that will protect your chefs from burns. To learn more about the differences between these products, explore the tabs above and the filters on the left side of the page.
Whether you're serving delicious breakfast favorites in your diner or grilling mouthwatering burgers, we've got you covered. Our grill turners are designed to make it simple to flip eggs, meat, fish, and other foods. Since these tools are made from durable materials, they're sure to stand up to repeated use in your establishment. Some of our food turners also feature hooks and hanging holes, so you can conveniently store them when they're not in use. Most of these products even have a square edge shape that helps to scrape built-up grease from your griddle. For more hand tools, check out our kitchen spoons, egg rings, and garnishing tools. If you're wondering where to buy turners and spatulas, we have a large selection of turners and spatulas for sale at the lowest prices.