Find the Best Electric Countertop Fryers for Your Business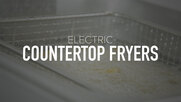 If you own a concession stand, food truck, or restaurant, an electric countertop fryer is an essential piece of cooking equipment. You can purchase a light, medium, or heavy duty fryer, so you'll have no trouble finding the perfect product for your small or large business. If you'll be frying multiple foods at once, you can also choose a product with 2 fry pots for maximized efficiency. Many electric countertop fryers are also NSF Listed, so they're easy to clean and maintain. No matter what kind of business you own, countertop fryers are a space- and cost-efficient way to boost both your output and revenue. To learn more about the differences between these products, explore the tabs above and the filters on the left side of the page.
Adding a commercial countertop deep fryer to your kitchen is an easy way to increase efficiency. These units sit on your counter, allowing your staff to quickly access them during your busiest times. Choose from light, medium, or heavy-duty electric fryers to best match your desired output. Many of our fryers are even NSF Listed, ensuring they'll be easy to clean and maintain. For more fryer options, be sure to check out our electric floor fryers and gas countertop fryers, and make sure you have proper fryer oil filtration equipment to keep your machines running at peak performance! If you're wondering where to buy electric countertop fryers, we have a large selection of electric countertop fryers for sale at the lowest prices.