What is the Difference Between a Panini Grill and a Panini Press?
These two terms are often used interchangeably, but there is a slight technical difference between them.
Panini Grill: A panini grill or sandwich grill both presses and cooks the product with its own heat source. This type of sandwich maker is great for a variety of uses, especially for frequent sandwich production.
Panini/Sandwich Press: A sandwich press (sometimes called a sandwich weight or a grill press) holds a sandwich together and "presses" it while it is being heated by another piece of equipment. This type of press works well when you want to make the occasional panini or grilled sandwich on a griddle or in a frying pan.
Panini Press Applications
The uses of panini presses are as varied as the machines themselves. Wondering how to use a panini press? They are very simple to operate: simply preheat the grill to the desired temperature, place the food on the plate, close the lid, and set the time to your recipe's specifications.
You can use panini presses for sandwiches, grilling small quantities of meat, melting quesadillas, making hash browns, or even grilling vegetables! Each unit is versatile, so the key difference when thinking about application raises this question: medium-duty or heavy-duty? When determining the best panini presses for different applications, it's important to understand:
Where the panini press will be used in the business (i.e. back or front of the house)
How often the panini press will be used
What types of foods you are preparing
For example, if you are a small deli or cafe and will be doing only a few sandwiches a day, the medium-duty panini press will do the job. But, if your specialty is grilled sandwiches and you make dozens per day, a heavy-duty panini press will help you better keep up with orders.
Panini Press Usage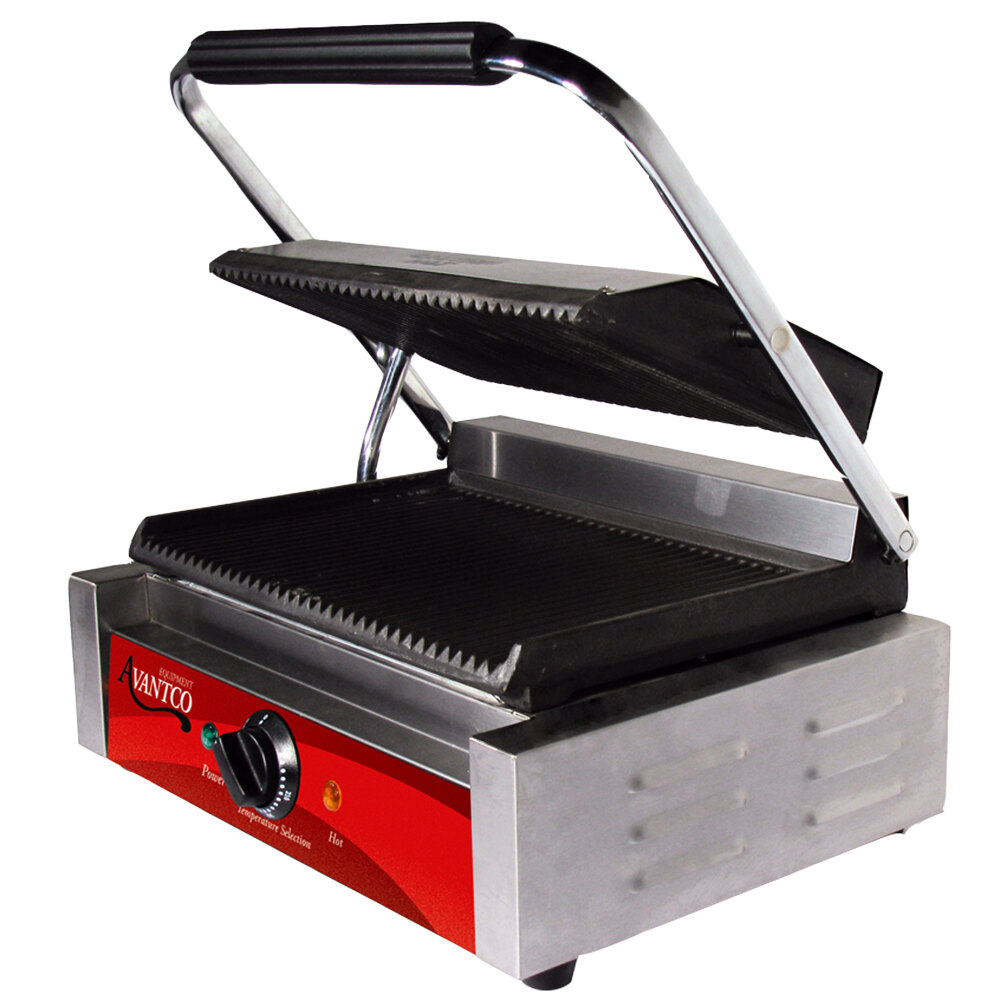 Medium-duty panini presses are great for intermittent use in a deli, cafe, or sandwich shop. They can handle longer, more frequent use than light-duty models but may not be suitable for applications that rely heavily on a panini machine. For frequent use warming tortillas, grilling sandwiches, or cooking meats, a medium-duty panini press is a good choice.
Heavy-duty panini presses work well in applications that use a sandwich grill constantly or for a variety of different tasks. Made with more durable hinges and robust bodies, heavy-duty units are designed to stand up to the rigors of a high-volume commercial kitchen. If you need a unit that will produce dozens of sandwiches every day, a heavy-duty model will fit your needs.
Panini Press Plate Materials
One characteristic that separates any single sandwich grill from the others is the plate material. There are a variety of plate materials available and each one has its own benefits, drawbacks, and ideal application. From aluminum, to cast iron, to non-stick, each type of plate is different and produces a different result when used in a commercial kitchen.
Material

Benefits
Drawbacks
Ideal Application

Aluminum

Heats up quickly
Great heat transference
Less expensive

Loses heat quickly
Requires use of release sprays or oils

Aluminum is great for applications where the unit is needed only intermittently.

Since it heats up quickly and has a fast recovery time, a unit with aluminum plates can be turned off between uses for energy savings.

Cast Iron

Better heat retention
Provides even heat for more consistent results
Can be stick-resistant when properly seasoned and maintained

Takes longer to pre-heat
More expensive
Will need to be seasoned periodically

Cast iron is perfect for establishments that use a panini press continuously.

Not only does cast iron provide constant, even heat, but it holds on to heat longer for more consistent results and can become stick-resistant when properly seasoned!

Non-Stick

Easy to clean since food won't stick to the plates
Reduces the amount of oils and sprays required
Heats up quickly

Non-stick surfaces are more easily damaged than other types

Non-stick is a great choice for health-conscious businesses looking to reduce oil and fat used in cooking!

For intermittent use in small eateries, non-stick works similarly to aluminum with the bonus of being easy to clean.
Plate Configurations
Now that you know about the different types of plate materials, it's time to choose your plate configuration. Commercial sandwich grills come in several different grill plate configuration options. Choose grooved plates, smooth plates, or any combination of the two to suit the types of foods you are going to produce.
Grooved Top and Bottom
Provides grill lines on the top and bottom of food
Extremely versatile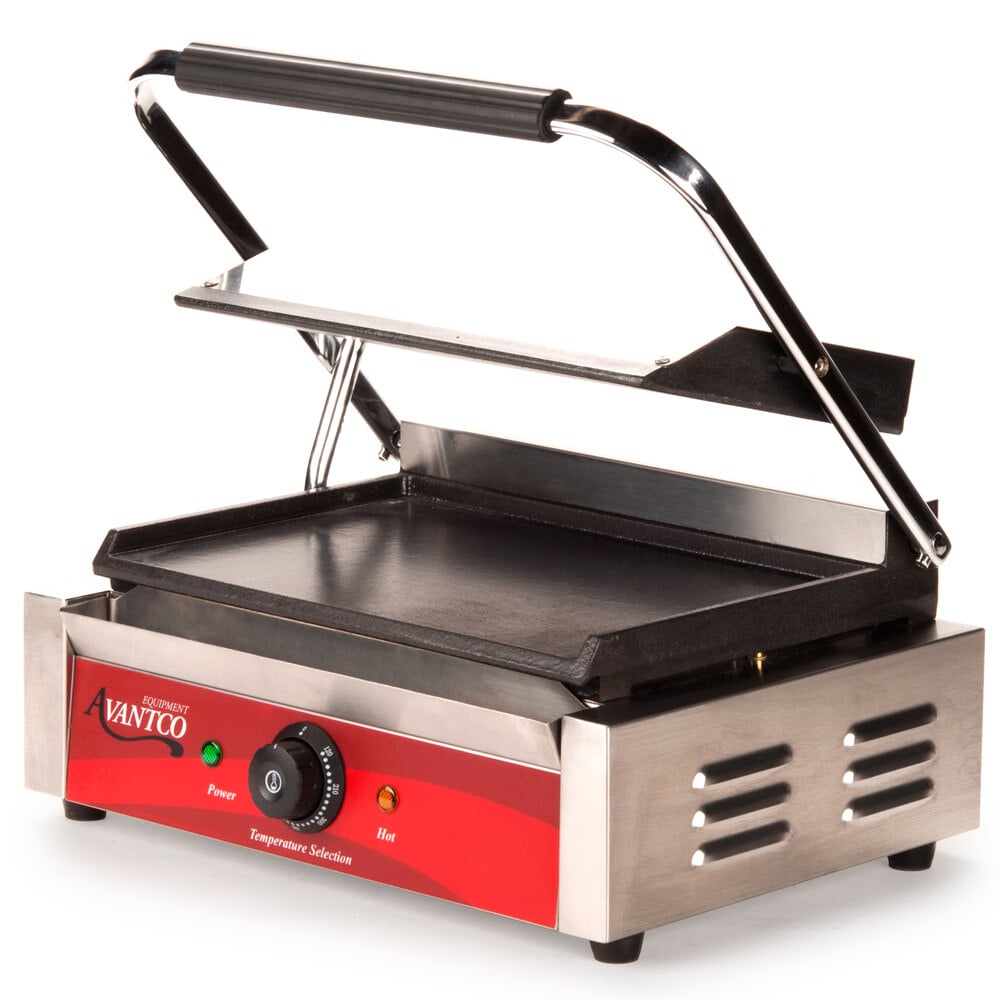 Smooth Top and Bottom
Provides complete contact to cook food evenly
Perfect for grilled cheese and quesadillas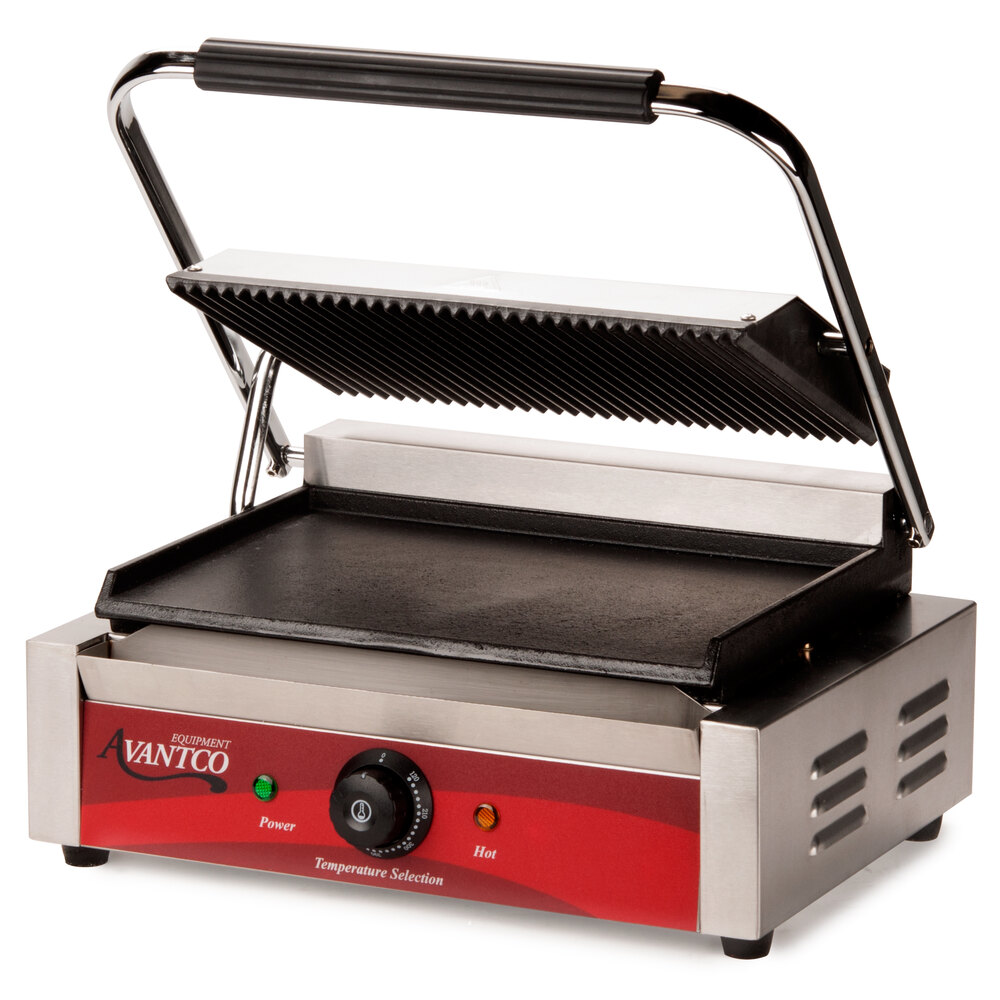 Grooved Top/Smooth Bottom
Use bottom plate seperately as a griddle
Provides greater versatility
Dual Grooved and Smooth
Grooved plates on one side and smooth plates on the other
Ideal for high-volume applications
Single vs. Dual Panini Presses
There are benefits to both types of units. A single panini press takes up less space than a double, but the split top plate of a double allows you more versatility. With a double grill you can cook different food items at once, even if they don't require the same amount of cooking time!
Type

Benefits
Drawbacks

Single Panini Press

Compact
Saves counter space
Ideal for low volume or space-efficient businesses

Limited size
Cooks only one type of product at once

Dual Panini Press

Can cook different products at once with individual cook times for each side
Combinations of plate configurations available for greater versatility

Larger units take up more counter space
Uses more power to heat up and cook foods
Other Key Features
A Floating Hinge: This is a term used to describe how a sandwich grill's top plate can adjust to cook foods of different thicknesses, from a flour tortilla to a loaded french bread panini sandwich. Different units adjust differently; some use an auto-balancing top like the Waring WFG275, while others utilize a torsion spring hinge that keeps the top plate where you place it. Purchasing a commercial sandwich grill with an adjusting top eliminates smashed and misshapen food and allows the top plate to become self-leveling so that you can be sure of even cooking. Most units with this type of hinged lid can cook foods that are up to 3" thick.
Ergonomic Handles: Something that has often been a problem in the past is the fact that panini press handles are high and hard to reach when the lids are open. Though tall people have no problem with using this old style of lid, it poses a safety risk when your shorter employees need to reach up and over the hot grill plates to close the lid. Now, lower profile designs and ergonomic, easy-to-reach handles have been introduced to eliminate reaching and stretching and ensure that all sandwich grill users stay safe. Plus, the easy-to-reach handles can help you meet ADA requirements too!
Adjustable Thermostats: Different recipes and products usually require different cooking temperatures. For greater versatility, the majority of panini presses come standard with an adjustable temperature control. The most common range is 120 - 570 degrees Fahrenheit, which allows you to merely warm tortillas or crank the temperature all the way up for seasoning and cleaning.
Timers: In a busy kitchen, there's nothing worse than wasting time. Choosing a panini press with a timer allows you to set the time you need and complete other tasks while waiting for your sandwiches to cook! This way you can keep your kitchen's efficiency up without worrying about wasting food.
How to Clean a Panini Press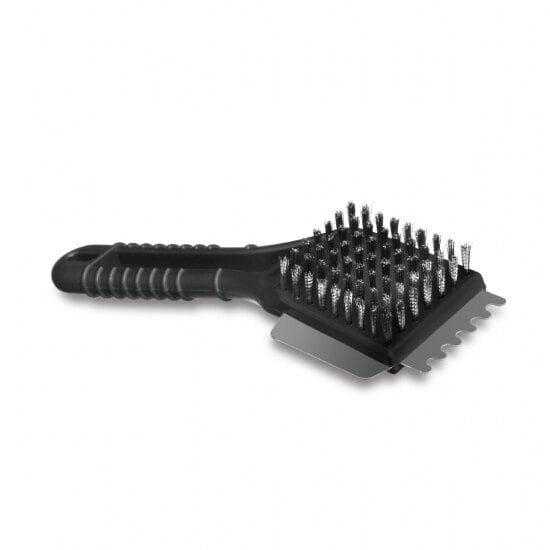 Making sure that your commercial panini press is cleaned every day is essential to keeping it running at peak performance. Allowing carbon buildup to accumulate on the grill plates reduces the grill's effectiveness, and blobs of melted or burned food aren't just a safety concern but can also prevent even cooking.
Here are a few easy cleaning tips to keep your grill in top operating condition:
1. Note that non-stick plates are prone to damage and should be cleaned according to the manufacturer's recommendations.
2. Always unplug the unit for safety.
3. Use a grill brush or special scraper tool, like the Waring CAC105 panini press brush and scraper, to remove sediment and food buildup.
4. If heavy cleaning is needed, consider a product like Noble Chemical's Formula D decarbonizer and degreaser to remove buildup.
5. Use warm, soapy water to clean the grill plates thoroughly while they are still warm from cooking but not hot.
6. Cold water should not be used on warm panini press plates.
7. You may need to re-season cast iron grill plates after several heavy cleanings.
8. Clean the outside of the unit by wiping it down with a damp cloth.
9. Remember to remove and wash the drip tray and ensure that it is completely dry before replacing it.
How to Season a Panini Press
Seasoning your panini press's plates is important to prevent rusting and reduce sticking. If you unit's plates are properly seasoned, it will minimize the amount of non-stick sprays and oils you need to use.