Utility Type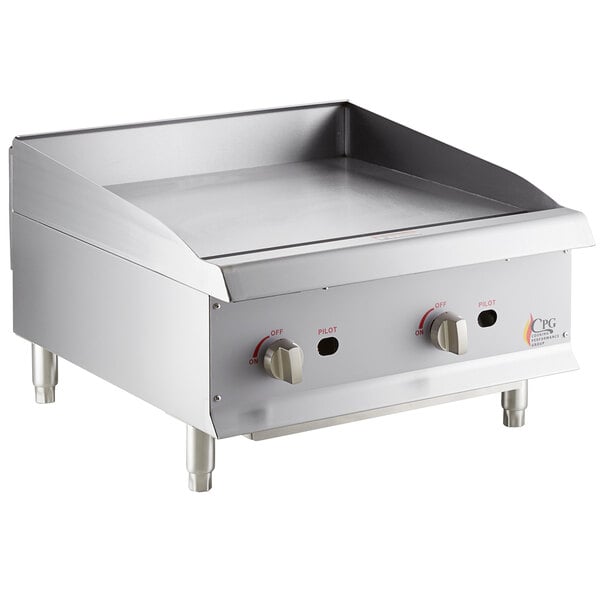 Commercial Gas Griddles feature burners that are located beneath the griddle plate. As these elements are lit, they heat the cooking surface. Gas griddles can achieve temperatures faster and recover more quickly than an electric model. Depending on your area, gas may be a cheaper utility than electric.
Shop for gas countertop griddles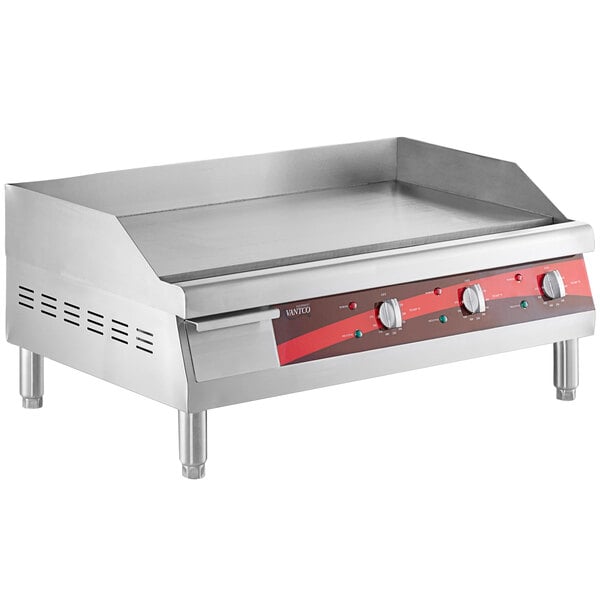 Commercial Electric Griddles have heating elements below or embedded into the griddle plate. As these elements are turned on and heat up, they then heat the cooking surface. Electric griddles are slower to heat up and recover than a gas griddle; however they are a great choice for places where gas is not an option or electric is a cheaper utility. Plus, depending on local jurisdiction, an electric griddle may or may not require the same exhaust system as a gas model. If you're looking for a commercial electric griddle, be sure to check out our electric griddle reviews!
Shop for electric countertop griddles
Types of Griddles
Countertop Griddles - These convenient units sit directly on an equipment stand or chef's base and offer the flexibility of being placed in an array of locations, provided the necessary power and ventilation requirements are met. They may be easily moved in the future.
Shop for countertop griddles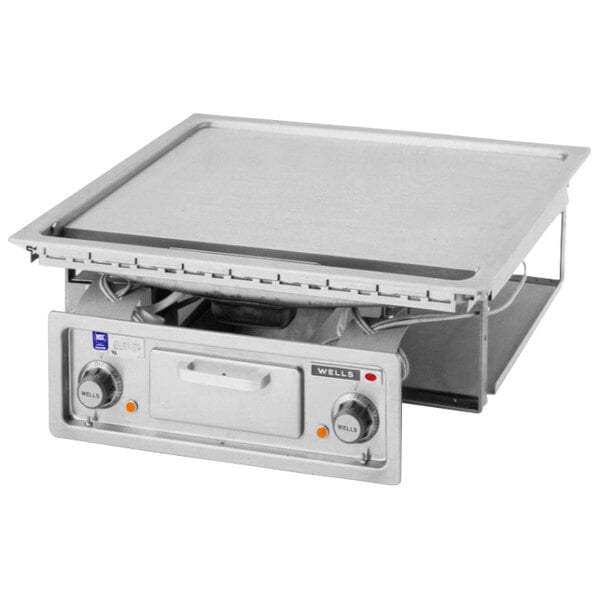 Drop In Griddles - These griddles are placed into a cutout section in a countertop or table to create a flat surface. These griddles may be a good choice when a uniform, flat look is desired throughout the kitchen, or when used in front of house or demonstration areas.
Shop for drop-in griddles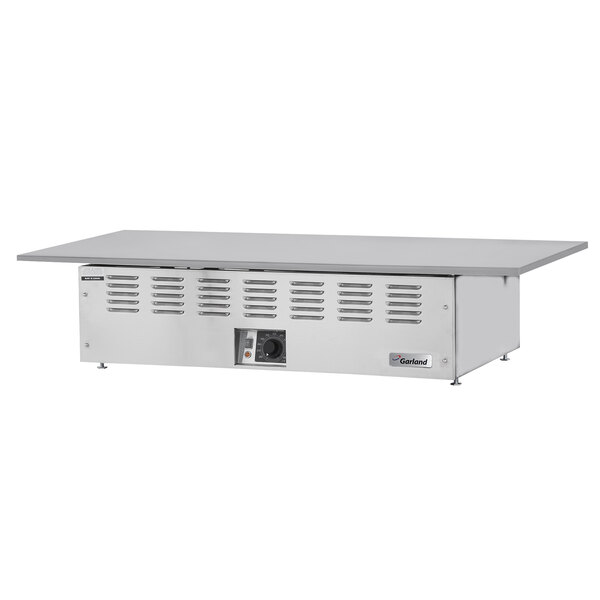 Teppanyaki Griddles - These Japanese griddles are drop-in units often found in hibachi-style cooking. They differ from traditional drop-ins due to the heating elements being located only in the center of the unit. This allows food to be cooked in the center and moved to the edges to be warmed at lower temperatures until ready to serve.
Shop for teppanyaki griddles
Plate Style
Plate Material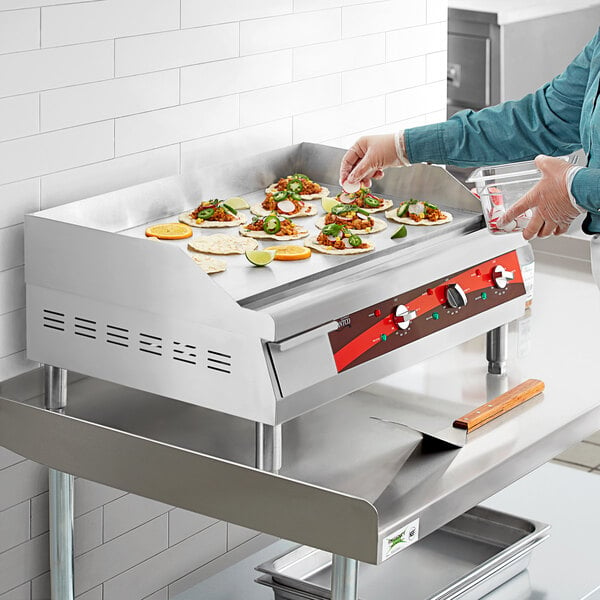 Traditional griddle plates are crafted out of durable steel, and work well in most applications. However, some establishments may find that a chrome top griddle is to their liking. Chrome griddles are simple to clean and feature an easy-release surface that is well suited for delicate items like eggs and pancakes. Plus, they take fewer BTUs to operate and have better heat retention properties than a steel plate model. This creates faster heat up and recovery times as well as a cooler kitchen environment.
Shop for chrome griddles
Plate Thickness
Establishments that do a lot of breakfast items will be well suited to have a griddle with a thin plate, while kitchens handling a lot of frozen items, meats, and other lunch products can benefit from a thicker plate. Thicker griddle plates can store more heat and BTUs, enabling them to recover faster when handling large amounts of frozen product like hamburger patties. An establishment that produces a high volume of both breakfast and lunch items on the grill may wish to have two separate griddles, if possible.
General guidelines for approximating whether a griddle is standard, medium or heavy duty can be based around the following plate thicknesses; however this may vary between manufacturers:
Standard duty: 1/2" thick griddle plate
Medium duty: 3/4" thick griddle plate
Heavy duty: 1" thick plate
Specialized types of griddles like the Teppanyaki models may provide different results despite plate thickness due to the arrangement of heating elements and the unit's intended purpose.
How to Clean a Griddle
No matter which plate style you choose, appropriate maintenance is critical. Griddles are a workhorse in commercial kitchens so, to prevent buildup, you must use the appropriate tools and chemicals. For additional information, be sure to check out our article on how to clean a griddle.
Control Styles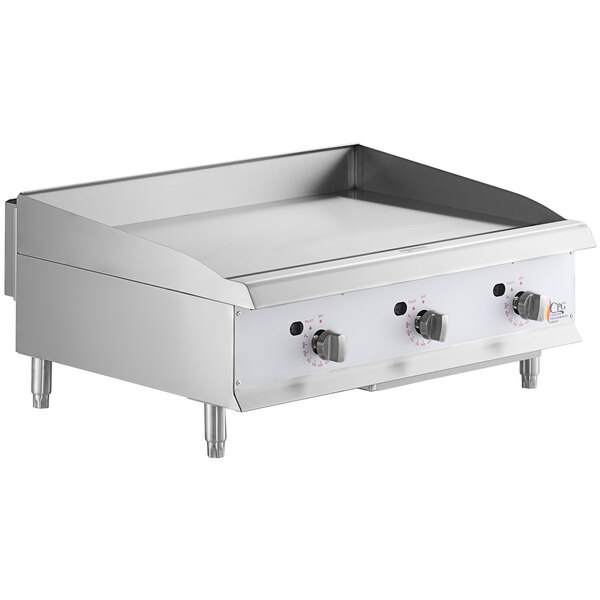 Thermostatic controls allow you to set an exact temperature, making them great for delicate items and breakfast foods like eggs or hotcakes. Thermostatic controls are also a good choice when you will be using your griddle as a holding plate for pans of food.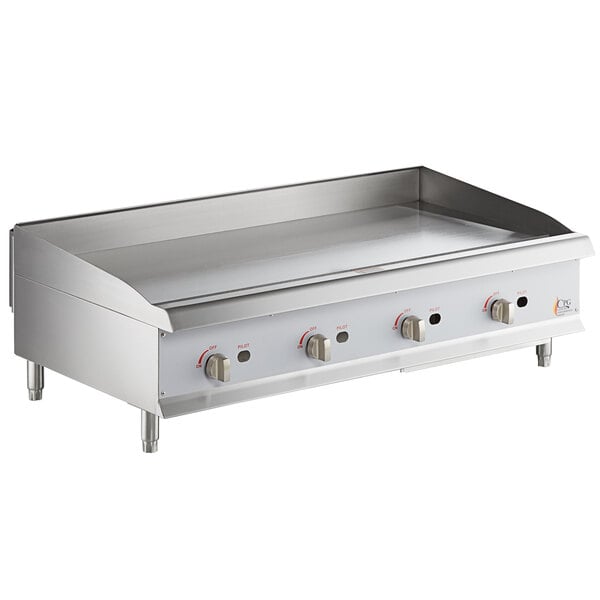 Manual controls do not offer specific temperature settings, and instead are set to more general high, medium, and low ranges. This makes them well suited for griddles that will be used to make lunch items like burgers, bacon, cheesesteaks, and other meats.
Griddle Size
Griddles are available in sizes ranging from 12" to 72" wide. A few factors to consider when choosing a unit include:
Hood size - A griddle's size needs to correlate to the size of the hood you have or are planning on purchasing. Allow six inches on either side of your unit for additional hood space, or if your griddle is attached to another piece of equipment, allow six inches from each end of the group of equipment. For example, a 36" standalone griddle will need a 48" hood.
Menu - If your establishment handles both breakfast and lunch items on a griddle, you may wish to consider a larger size that can be split into two cooking zones - one for delicate items, and the other half for heavier meats and frozen products.