If you are running a restaurant, hotel, or school cafeteria, you know the importance of having the right utility cart for the job. Whether you are transporting full bus tubs back to the kitchen or delivering meals for room service, a transport cart with the right weight capacity, caster type, and handle design can make your job infinitely easier. This guide is designed to help you narrow down the search for the best food service cart for your application by outlining factors like plastic versus metal construction, wheel types, ergonomic handle designs, and actual weight capacity.
Materials
Choosing plastic versus metal really comes down to the amount and type of use the cart will be getting, along with personal preference. Sometimes a metal cart is necessary, but in other instances a plastic cart will do the same job just as well or better.
Plastic: Carts made with plastic are often lighter and won't show wear and tear as easily as metal carts. Many of our plastic utility carts are chip, dent, and stain resistant where metal would show scratches and dents. Plastic bussing and transport carts provide an aesthetic appeal for bussing tables in the front of the house, but they can be used for transporting meals and catering supplies, too.
Metal: Many metal carts provide long-lasting durability to aid you in transporting just about any load that you need to move; however, they can be more predisposed to show dents and scratches than plastic carts. Most are made from stainless steel for excellent rust resistance to keep your cart sanitary and safe for use. Our metal utility carts come in a variety of styles so that you can find the perfect cart for your application, from light-duty to heavy-duty usage. When choosing a metal food service cart, keep in mind that the gauge of the steel plays an important part in the cart's durability. The lower the gauge, the stronger and more durable the steel will be!
Light-Duty vs. Heavy-Duty
Durability takes into account several different elements to determine how the cart will hold up under certain uses over time. Some of the factors that play a part in how durable a cart will be and how much weight it can handle include:
The gauge (or thickness) of the material used
Type of fastening used
Frame design
Size, configuration, and makeup of the casters
This table takes these factors into consideration and uses general recommendations and weight capacities to give you an idea of which type of service cart would be best for your application.
Durability

Examples
Maximum Total Weight Capacity
Maximum Daily Hours of Use
Typical Uses

Less than 300 lb.

3 hours

Janitorial
Catering
Bussing

300 - 700 lb.

12 hours

Table set-up
Receiving
Bussing
China and glassware handling
General tasks

700 - 1800 lb.

18 hours

Storage room
Receiving
China and flatware transport
If you are looking to transport more than 1800 lb., we suggest browsing our
platform truck
category for an item that will suit your needs. We offer a wide range of trucks and dollies, some of which are built to handle loads of up to 2700 lb.
Handles
Molded-in: For durability and continuity of design, molded-in handles are used in many types of carts, though primarily in plastic bussing and transport carts. Most molded-in handles are horizontal, but some may be designed with a vertical element as well.





Vertical: This style of handles is usually found on metal bussing and utility carts with greater weight capacities. The vertical design has ergonomic value in that it allows people of different heights to push the same cart safely and with correct posture. If your employees will be using a cart for several hours a day, vertical handles can help prevent injuries caused by pushing heavy loads.



Vertical cart handles allow employees of different heights to operate the cart
with correct, safe posture, reducing the risk of work-related injuries!
Shelf Configurations
Enclosed: Some carts have enclosed or partially enclosed bases with shelves inside. The benefits of this configuration include spill prevention and hiding unsightly bus boxes or cleaning supplies from view. Most often, only plastic utility carts have enclosed bases, though some manufacturers make cabinet-style metal bussing carts.
Open: Many metal and plastic bussing carts have open bases. This makes loading and unloading the cart easier and allows for easy viewing of the contents for inventory or inspection reasons.
Shelf Lip: Many carts have a lip on all four sides of the shelf or on three sides to prevent items from sliding off. A shelf with a lip on all four sides may also contain spills if you are transporting liquids like soups, beverages, or cleaning supplies.
Weight Capacities: Though a cart has a general, overall weight capacity, it is important to note that weight should be evenly distributed among the shelves. A single shelf should only hold a portion of the overall weight capacity. To find that number and help prevent injuries or damage to the cart, divide the overall weight capacity of the cart by the number of shelves. We've provided an easy-to-use weight capacity calculator at the bottom of this guide to give you an idea of the weight capacity that would work best for a cart in your application. Put in the average weight of items you will need to transport and check the boxes to tell us about the environment where the cart will be used. Once you click "Calculate", the estimated total weight capacity will appear in the last box.
Number of Shelves: We offer utility carts with 2, 3, and 4 shelves to give you the best selection. More shelves may give a cart added weight capacity, but they also limit the clearance between shelves, while carts with only two shelves will have the greatest shelf clearance. When deciding how many shelves you need, consider the actual size of the items you need to transport, not just the weight, to make sure they will fit the shelf clearance.

If your employees will be loading and unloading the cart frequently, choosing a cart with higher bottom shelves, or no lower shelves at all, can help reduce the risk of work-related injuries!
Casters
Brakes: Some service carts come with casters that have brakes, some don't. If you won't be using your cart in a place where brakes are necessary, then this isn't something you will need to consider. If, however, you are planning to use a cart in areas where floors are not flat, where securing the cart is necessary, consider a cart with one or more locking casters.
Swivel vs. Fixed: Depending on your application, one or the other (or a combination of both) might be best. If you will use the cart for bussing tables in the dining room and need maximum maneuverability, swivel casters may be best. If you will use it for transporting products up and down straight aisles, two or four fixed casters will help keep the cart steady.
Non-Marking: Also called non-marring, or no-mark, non-marking cart casters won't leave tracks on your hard floors. If your establishment is mainly carpet or industrial space, you may not need to worry about non-marking casters, but if you have hard tile, wood, or linoleum floors, non-marking casters will help prevent damage.
Bumpers: Though they look like small rubber donuts, bumpers come with some carts—mounted on the uprights just above the casters—to help protect walls, doors, and furniture. If you use swing doors in your kitchen or walk-in refrigeration, or use your cart in public areas where scuffs would be unsightly, bumpers help to prevent surfaces from coming into contact with the casters or corners of the cart.

Does your establishment have a lot of thresholds, elevators, or uneven floors? If so, consider a cart with larger wheels! It will be able to navigate this rough terrain much more easily than a cart with small casters, reducing the stress on the operator.
Storage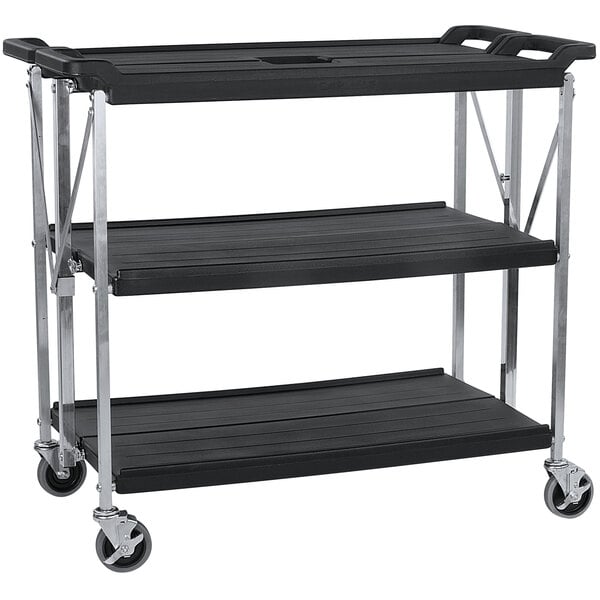 Utility and bussing carts take up a lot of valuable space to store—space that you could be using for storing consumables, disposable supplies, restaurant high chairs, or other essentials. If you want to free up some storage space, we offer standard-duty folding utility carts that offer many of the same features as our regular carts but also have folding frames for convenient storage. These carts also fold up small enough that they can be transported with ease to and from catering events to help you transport heavy chafers, insulated food carriers, and loaded food pans.
Assembly Required?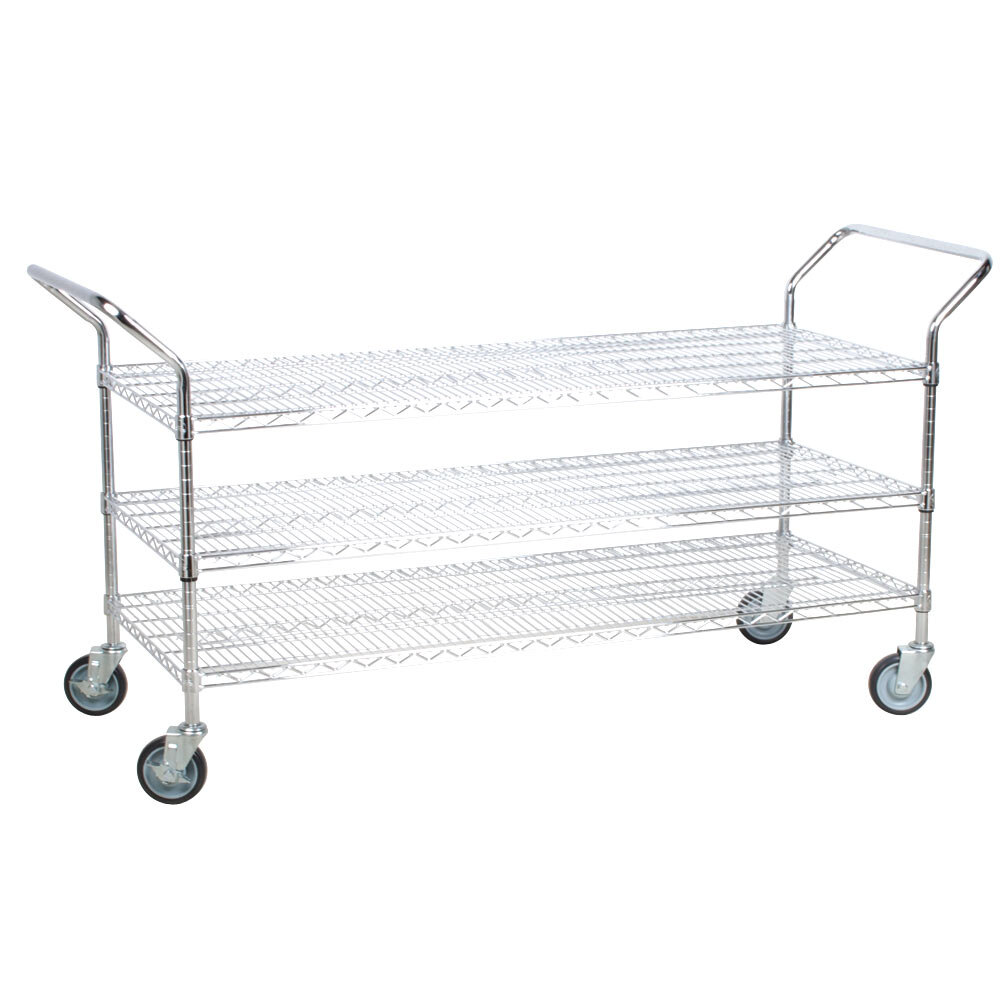 The two words "assembly required" may bring up traumatic memories for some, but our utility carts that come knocked down are actually quite easy to put together. When you consider the benefits of purchasing unassembled food service carts, it may alleviate your fears. Shipping unassembled saves money in the long run by reducing the cost of shipping, so if your business is on a tight budget, that may be the way for you to go. Be sure to check out our helpful assembly video below to see how simple it can be to put together a brand new Regency utility cart!
If you don't want to put in the extra effort to assemble a cart, we also offer many carts that come fully assembled, with the exception of the casters, which will need to be installed before use. Shipping assembled saves effort and provides maximum convenience. Though assembled carts may cost more originally and definitely come with higher shipping costs, it may be worth it if you want to start using your cart right out of the box.
How to Assemble A Regency Utility Cart
Calculator Instructions
What is this calculator?
This calculator takes into account typical environmental factors to determine the total load capacity that would work best for a cart in your application.
How do I use this calculator?
Simply enter the estimated weight of typical items you will transport. Start with 100, even if the items you will transport are less than 100 lb., to account for the base weight. Check the boxes that apply to your situation, click "Calculate", and view the total in the "Total Load Capacity" field. To clear the fields and calculate again, click the "Reset" button.
What is "Total Load Capacity"?
Total load capacity is the total weight that your cart can hold and transport. This assumes that the weight is distributed evenly over all of the shelves. To find the total load capacity, simply add together the weights of all the items on all the shelves. To find the capacity of a single shelf, divide the cart's total load capacity by the number of shelves. The total load capacity below is shown in pounds.
What are approximate weights of some common food service items?
2 cases of #10 cans of sauce = 84 lb.
2 bus tubs filled with 8 place settings = 70 lb.
1 full size pan filled with mashed potatoes = 32 lb.
1 18" x 26" x 8" box filled with 48 flatware set-ups = 48 lb.
Weight Capacity Calculator