Find the Best Platform Trucks for Your Business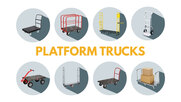 If you run a warehouse, restaurant, or grocery store, platform trucks are must-have pieces of transportation equipment. These durable, reliable products are great for moving bulk food, furniture, and boxes, so they're sure to come in handy on a daily basis. You can choose from trucks with a variety of handle styles, including continuous, dual, U-boat, and 5th wheel. Additionally, we offer several wheel types, so you'll be able to find the ideal product for any application. Some of these platform trucks are even NSF Listed, so they're easy to clean if the products you're transporting make a mess. All of these items are also tested and rated for different weights, so you can choose a truck that's sure to hold the specific items you want to move. Regardless of the type of business you own, our selection of platform trucks is sure to have the best option for you. To learn more about the differences between these products, explore the tabs above and the filters on the left side of the page.
There's nothing that wastes more time than struggling to lift and move something that is just too heavy. Transport those heavy, bulky items with a platform truck cart and save time and energy (and yourself from an injury). From lighter duty hand trucks to heavy duty platform trucks, we have what you need for easy transportation around your establishment. Our variety of capacities and styles ensures that you will find what you need for your business. Choose your perfect platform truck cart and save yourself from the frustration of moving heavy objects. Also try our mobile dunnage racks, utility A/V carts, and metal bussing carts for additional transportation needs. If you're wondering where to buy platform trucks, we have a large selection of platform trucks for sale at the lowest prices.